Archived Outdoors
A new state park: Funding and opening Pisgah View State Park will be years-long process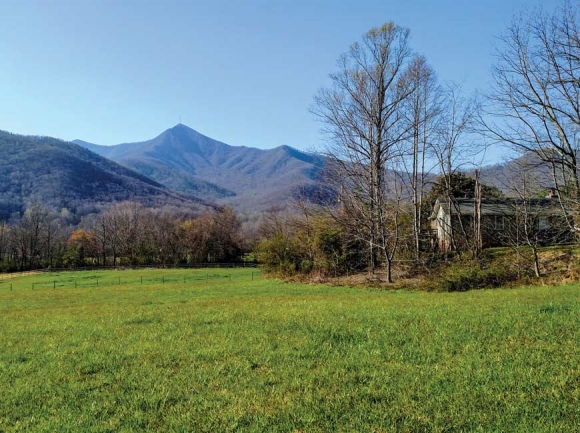 Mount Pisgah rises above the fields at Pisgah View Ranch. Donated photos
A new state park has been created in Buncombe and Haywood counties following Gov. Roy Cooper's signature on a state Senate bill July 19, but it will be years before Pisgah View State Park will bridge the gap from concept to reality.
"One of the time-consuming things is having the funding to buy all the property needed to open the state park, and also while that is going on we will start planning and design processes for the park, and that includes some initial rough plans that then go to public meetings where we get a lot of public input," said Katie Hall, public information officer for the N.C. Division of Parks and Recreation.
The state currently has a contract with the Cogburn family, owners of Pisgah View Ranch, to buy the 1,600-acre property for about $18.2 million as funding becomes available. But in order to act on that contract and start going after funding, the state needed enabling legislation to create the park.
That legislation was introduced May 2 as an amendment to an April 2 bill that sought to clarify wording on a statute dealing with the Conservation Corps of North Carolina. It passed unanimously in both the House and the Senate, with Cooper signing it into law July 19. Senators Jim Davis, R-Franklin; Chuck Edwards, R-Flat Rock; and Ralph Hise, R-Spruce Pine sponsored the bill.
"There are not many pieces of property left. They're diminishing year after year," said Davis. "People are buying them up, so when we have an opportunity to keep that significant piece of property in the state park system, I think it's a no-brainer. I was glad to co-sponsor in the legislation."
A longstanding dream
The recent legislative action represents a huge step forward in a dream that the Southern Appalachian Highlands Conservancy has held for decades.
"We really love what the Cogburns have done with the ranch over the generations, through the years, and we have talked to them off and on for a long time about trying to get to a conservation solution," said Jay Leutze, vice president of SAHC. "As you often find when there's a generational shift in ownership, it's good to check in and see what the priorities are of the heirs who are inheriting."
As it turned out, the family wanted to transition out of running the ranch as a ranch, but they also wanted to see the land preserved.
Pisgah View Ranch has been owned by the Cogburn/Davis family since 1790 and opened to the public in 1941 under the ownership of Ruby and Chester Cogburn, according to the website. It's currently owned by the children of Max Sr. and Mary Cogburn.
The property, which is located mostly in Buncombe County but includes a section in Haywood County, ranges from 2,600 to 4,600 feet in elevation and includes a view of Mount Pisgah. It is adjacent to other permanently conserved lands that connect it to more than 120,000 of contiguous protected acres, including the Pisgah National Forest, the Blue Ridge Parkway, private conservation easements and state game lands.
"This Mount Pisgah area is a very important place in the state, for animals and plants and to provide opportunities for people to enjoy being outside in its rural and forested landscapes, given it is so close to Buncombe and Haywood population centers and the expanding Asheville metropolitan region," said Hanni Muerdter, conservation director for SAHC. "We viewed this as a perfect opportunity to expand and further link this conserved land network."
While the route to the ridgeline is steep and rugged, much of the property is actually on the flat side.
"It's a spectacular piece of property," said Leutze. "In the mountains it's hard to find level ground, but this property has a lot of level ground at the lower elevations, with great views looking up at Mount Pisgah, which is an iconic peak in the landscape, a peak that a lot of people are familiar with but may not have seen at the angle you get from the Pisgah View Ranch property."
It includes about 2 miles of ridgeline along the Haywood-Buncombe County border — the Haywood side is "pretty rugged," said Leutze, so the easiest access will be from the Hominy Creek area on the east side.
Located along South Hominy Creek, the Pisgah View Ranch property connects to more than 120,000 acres of conserved lands. SAHC map
The ranch already has significant amenities, including a swimming pool, horse stables, a lodge and cabins. The family also used to run a campground on the property, and there's a good road network as well as electrical and plumbing infrastructure.
"The state does not have to start from scratch, which is great," said Leutze. "In this case the state was not just buying acreage — they were buying a working business that has a lot of buildings, a lot of structures."
The state will have to evaluate all those structures to decide which are good as they are, which need restoration and whether any are too rundown to be worth repairing. It will also go through a planning process to determine what the public's priorities are for the place.
"We start taking all that input and incorporating it into an initial master plan for the park," said Hall. "That master plan will say between that date and 20 years out, what do we want to build out in the park? What are our priorities? What user groups are we focusing on, and the priorities for both facilities and staffing and recreation?"
Once that planning process is completed, the state will be able to bid out the projects that must be completed to open the park to the public.
"We'll build a contact station and parking so we can open the park and get people able to visit the park," said Hall. "We'll start bidding out for construction of facilities and trails and things like that, and then of course we also have to have funding to staff the park."
Initially, that might be a ranger from a nearby park tasked with spending part of his time at Pisgah View, or it might be a new hire focused exclusively on the new park, even before many facilities are in place.
Funding the park
That all takes time, and it takes money. The state doesn't even own the land yet, or have the $18.2 million necessary to purchase it. Hall estimates the whole process of buying, planning and opening the park will take five to eight years.
The state is currently planning to acquire the property in five phases spread over five years, said Leutze, adding that the $18.2 million figure could shift as more exact surveys are completed — the state is required to buy property based on per-acre figures, so if surveys show the exact acreage to be larger or smaller than estimated the purchase price could change.
"They're looking at multiple funding sources, shaking the sofa cushions, finding out how much money they have for phase one," he said.
The Pisgah View Ranch property includes a variety of existing structures.
The hope is that much of the cost can be paid through grant funding from the Parks and Recreation Trust Fund, the Clean Water Management Trust Fund and the Land and Water Conservation Fund. Some private funds will be used as well — in fact, many grant programs require some private match money to augment grant funds.
"That's where the land trust can come in and help identify private donors who are interested in providing that match for the state and federal sources," said Leutze. "That's what the Southern Appalachian Highlands Conservancy has done."
A donor has already committed $1 million to the project, he said.
"We're confident that these grants that the state will seek are competitive," he added. "We wouldn't have gotten involved in the project nor would the state have gotten involved in the project if we didn't think this project is worthy of competing really well with other applications across the state who would like to see those funds as well."
That said, funds are tighter than they used to be. Before 2007, for example, the Clean Water Management Trust Fund had $100 million in it. Last year, the base budget was $13.2 million. The Land and Water Conservation Fund has also faced challenges, with its authorization from Congress lapsing for nearly six months before President Donald Trump signed a bill March 12 to permanently reauthorize the program. Bills have since been introduced in both the House and Senate to grant it permanent funding as well. The House version passed the Committee on Natural Resources by a vote of 21-13 following a mark-up session June 19.
There is still a ways to go before Pisgah View opens as the 42nd unit in North Carolina's state parks system, but the future is promising.
"We have so many different kinds of state parks in the mountain region, but nothing like Pisgah View," said Hall. "It's incredibly scenic. It's jam-packed with different habitats because the elevation of the property goes from 2,600 feet above sea level to 4,600 feet, so within that range there's a tremendous amount of different ecosystems available. It's a really special property."