Latest
One hundred years and counting: Jackson County Chamber of Commerce marks milestone anniversary
Wednesday, August 09, 2023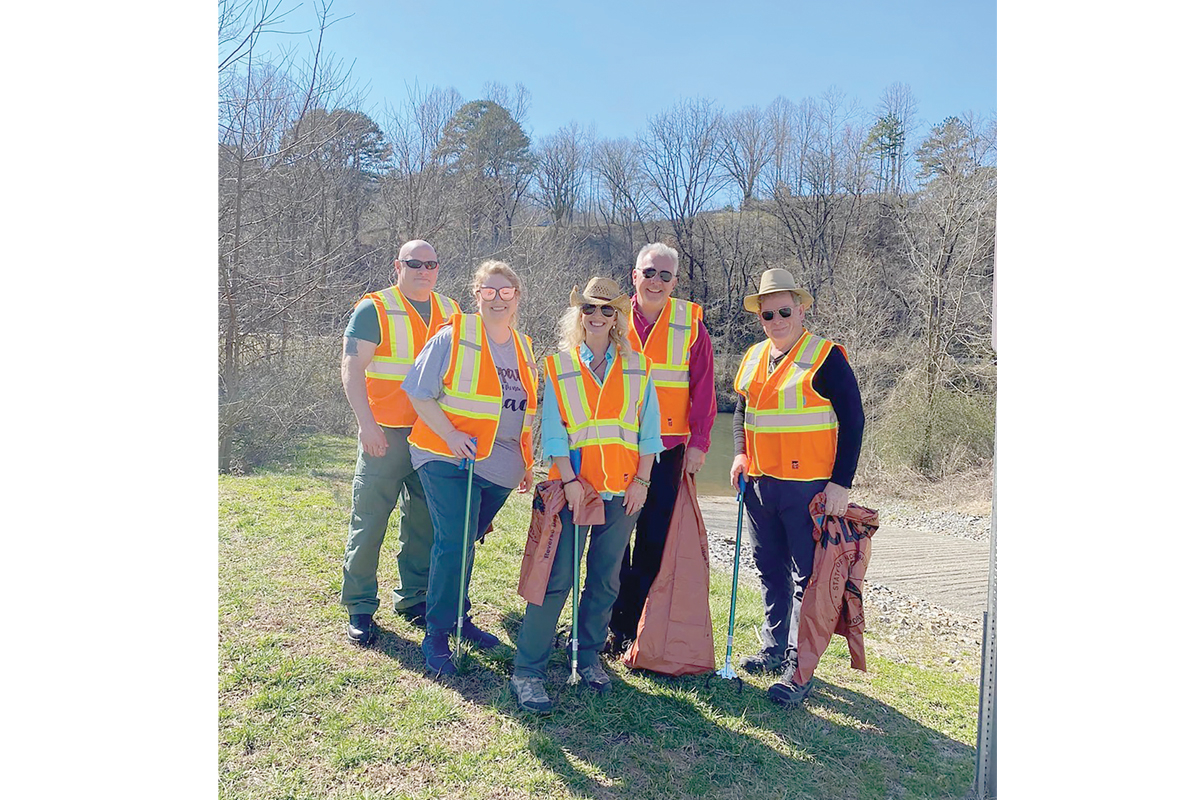 Volunteer Rick Bryson (from left), Chamber Office Manager Belinda Bryson, Chamber Executive Director Julie Donaldson, Chamber Assistant Director Kelly Donaldson and Chamber Visitor Services Representative Tom Frazier. Jackson Chamber photo
This year the Jackson County Chamber of Commerce is celebrating 100 years of work and involvement in its community — fostering both economic development and future leaders.
"We're ultimately working toward the betterment of the community," said Executive Director Julie Donaldson. "We will continue to do just that."
The Jackson Chamber was founded in 1923. That year, the Jackson Journal reported on several occasions about the rapid growth in the county, especially in Sylva, as new buildings went up and small businesses opened all over town. That same year the county formed its Board of Education to keep up with an expanding school-age population.
Just 10 years earlier, in 1913, the Town of Sylva had won the competition for county seat, which previously belonged to Webster. In the 1880s, the Western North Carolina Railroad was built through Sylva and not Webster, initiating rapid growth in Sylva and the slow decline of Webster.
As part of that growth, in 1906, prominent Sylva physician Dr. Delos Dexter Hooper built a home on Main Street. Today it is the second oldest structure on Main Street — the Harris Building of 1898 is the oldest — predating the historic courthouse which was built in 1913. In 1986, the house was deeded to Jackson County for use as an annex to the Jackson County Library. Today it is on the National Register of Historic Places, serving as the Jackson County Visitor Center and office space for the Jackson County Chamber of Commerce.
"The history of the Chamber of Commerce, obviously, is very strong in the United States of America, but also in the south where I think there is a strong culture of working together," said Donaldson. "I think that represents what the chamber does."
Donaldson has served as executive director of the chamber for more than 20 years. Hired by the board in 1999, Donaldson grew up in the community and her father had served as a county commissioner, something that showed her the importance of community involvement.
"I had some understanding of how the chamber worked within the county and worked with the community, I had that insight. But, really, I learned on the job," said Donaldson.
At the time, Tamara Crisp, a previous director for the chamber, was working as economic development director for the county.
"I feel very fortunate that Tamara was, and still is, in this community," said Donaldson. "I felt supported by her, felt like I could ask her questions and she helped lay the groundwork not just for me as a chamber director, but leadership within our county. She was one of the first female leaders that I got to interact with and see. I appreciated that."
The Jackson County Chamber of Commerce currently has 427 members. When Donaldson started in her position, there were about 250. Part of that increase can be attributed to natural growth in the community, and part to the active engagement and outreach to acquire new members. The Jackson chamber has also created a patron membership for individuals who want to stay involved with the chamber even if they are not running a business.
Chamber Executive Director Julie Donaldson (from left), former Chamber Member/Visitor Services Representatives Julia Duvall, former Visitor Services Representative Vickey Frazier, former Office Manager Sande Lolli, former Visitor Services Representative Pat Newman, former Western Carolina University intern Ronald Hedd and Chamber Assistant Director Kelly Donaldson. Jackson Chamber photo
"They can come to events, socialize at networking events, it's perfect for people in the community that are second homeowners, retired, maybe someone who is a caretaker for children or parents, but will want to be actively involved and engaged in some way," said Donaldson. "This gives me the information to get out and do things. We appreciate that because those are folks that are still contributing in some way to a healthy business climate."
Each Chamber of Commerce operates differently, with functions that vary according to the needs of the community in which it operates.
"I think that's part of being a good listener. Learning what the needs are within the community and seeing how the chamber can support it or fill in those gaps that are needed," said Donaldson.
In Jackson County, the role of the Chamber of Commerce is often to support other community organizations in their aspirations, whether that be in the form of financial assistance, manpower, or verbal/written support for certain initiatives.
"We want to create economic vitality in our communities and we feel that is an important role that we fill," said Donaldson. "We do that through creation of events and other community outreach or engagement."
One of the chamber's longest-running events is Concerts on the Creek, which provides 15 Friday nights of live music, Memorial Day through Labor Day, free of charge every summer.
Jackson County Chamber of Commerce members gather in 1988. Jackson Chamber photo
"I think consistency like that with a quality event provides credibility. It provides economic vitality to the area and that creates an amazing place to live and work and play. Whether you're just visiting here for the weekend, or you have a second home here, or you live here full time and Friday night is your date night," said Donaldson. "I love hearing from our folks in the crowd as I walk around and they're sitting there having a great time and maybe they've gotten takeout from a restaurant in Dillsboro or Sylva."
The Town of Sylva and Jackson County Parks and Recreation both help provide financial assistance for Concerts on the Creek, but the chamber is in charge of overall production and marketing.
The chamber is also in charge of events like July 4 fireworks with the accompanying live music, and Friends Night Out during certain times of the year when Sylva isn't as busy.
"Our merchants and our restaurants may need a little economic boost and bringing several hundred people into the core district to shop and eat and enjoy themselves, it's very important," said Donaldson. "Our merchants have told us our restaurants have told us that it works for them. To provide that economic boost and create that vitality, vibe and people are downtown having fun and enjoying themselves."
As the primary Sylva highway corridor undergoes a major shift with the N.C. 107 road expansion project, the Chamber of Commerce is partnering with the county as a grant administrator for businesses that are facing relocation.
"These grant funds would be used for those businesses that are required to relocate due to this project specifically, to offset costs that are not covered by their relocation to support them in those efforts," said Economic Development Director Tiffany Henry.
The N.C. 107 Business Relocation Grant program provides individual businesses with up to $1,000. Not all businesses that are relocating are members of the Chamber of Commerce, but this does not affect their ability to receive grant money.
"I go out and visit with the impacted businesses and provide them grant information, and help them also try to find a place to relocate," Donaldson said. "That has been painful, but I feel like it has been very helpful and I think our business community has been responsive to that in a positive way and have been very appreciative not only of the money, but of the assistance to help them find another place."
The Jackson Chamber of Commerce fosters leadership development through direct involvement in the chamber, and in the community.
An undated photo shows members of the Jackson County Chamber of Commerce An undated photo shows members of the Jackson County Chamber of Commerce at a ribbon cutting ceremony. Jackson Chamber photo
"We feel like the best way to help develop leaders was through having them serve in roles on our board, as an ambassador or on a committee, and it's more of a hands-on experience as opposed to a classroom setting," said Donaldson.
County Commissioner Mark Jones is one of those leaders in the community that found a passion for leadership through involvement with the Chamber of Commerce. Jones served twice as president of the Cashiers Area Chamber of Commerce and once as president of the Jackson County Chamber of Commerce.
"They're both very important to the community in what they provide and what they promote," said Jones. "The chamber helped me gain leadership experience. I know it played a role in, eventually, serving as an elected official."
"Once I got into the role of elected official, [the chamber] opens up more communication with individuals regarding issues that affect their businesses and their personal lives and their community wherever they're from."
Another leader in the community, current Sylva Commissioner and prospective mayoral candidate Natalie Newman, has been a part of the Chamber of Commerce, serving as a volunteer and a chamber ambassador.
To celebrate its centennial anniversary, the Jackson County Chamber of Commerce is hosting an event on the Hooper House lawn Tuesday, Oct. 10. Additionally, the chamber and the Historic Hooper House Preservation Foundation are teaming up to raise funds for both entities by selling engraved paver bricks to be installed on the southeast side of the chamber/Hooper House lawn.
Want to support the Jackson Chamber?
The first opportunity to support the Jackson County Chamber of Commerce is to purchase engraved paver bricks. These bricks will be offered in three sizes (4-by-8 inches, 8-by-8 inches and 12-by-2 inches), at different price points ($225, $350 and $500), with options to purchase with text only or logos and text recognizing military service, collegiate affiliation, business logos and more. There are examples of each brick size at the chamber.
The engraved pavers will be installed on the southeast side of the chamber/Hooper House lawn on Main Street in Sylva.
The second opportunity to help support and celebrate the chamber's 100th anniversary is to become a Patron chamber member. This year, the chamber is offering a "100 for 100 for 100" promotion for anyone to become a Patron chamber member. The goal is to sign up 100 new Patron chamber members for a $100 annual membership fee to celebrate 100 years of the chamber.
The deadline to order an engraved paver or to become a Patron chamber member is Dec. 31, 2023.
For more information, contact the chamber at 828.586.2155, email the chamber at This email address is being protected from spambots. You need JavaScript enabled to view it., visit the website at mountainlovers.com, or stop by the office at 773 West Main Street in Sylva.