Latest
Expanded sports betting could add to EBCI per cap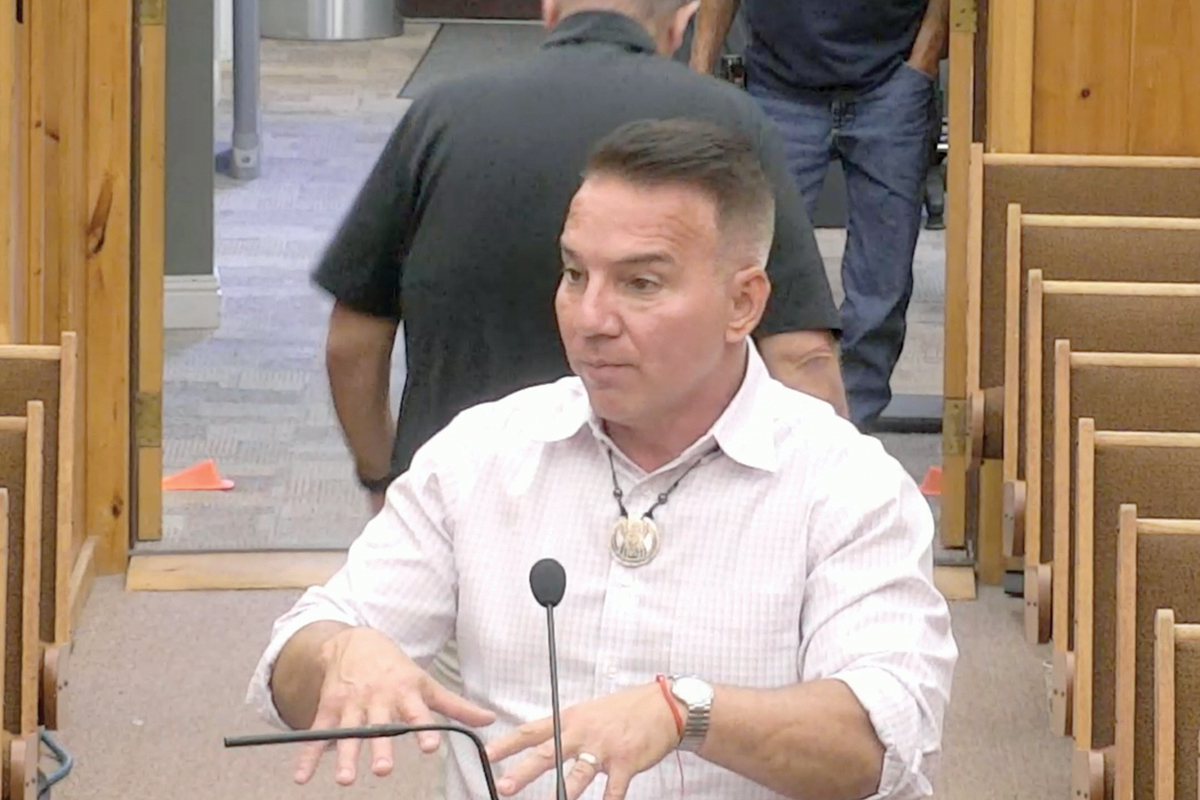 Principal Chief Richard Sneed addresses Tribal Council July 13. EBCI livestream photo
Tribal members could see their per capita checks grow after the Eastern Band of Cherokee Indians expands its gaming business in accordance with a new state law authorizing sports wagering in North Carolina.
During the Tribal Council session Thursday, July 13, Principal Chief Richard Sneed introduced a resolution directing the tribe's Attorney General Office to work with the Tribal Casino Gaming Enterprise and EBCI Holdings LLC to draft an ordinance and any company agreements necessary to distribute 75% of the proceeds from commercial sports wagering as per capita payments.
Currently, half of the profits from the tribe's casinos in Murphy and Cherokee are distributed as per capita payments. Sneed proposed distributing a larger share of commercial sports betting revenue in light of the fact that state regulators in Indiana prevented any profits from Caesars Southern Indiana Casino , whose operations the tribe owns, from being directly distributed to tribal members.
"Rather than go with the traditional 50-50 split, I went with 75-25 because it is a smaller pot of money, but it will make a larger impact on the overall per capita distribution," Sneed said.
Commercial gaming is distinct from tribal gaming in that it falls under regulation from the state rather than from the National Indian Gaming Commission. North Carolina's new sports betting law, which guarantees the tribe a license to offer mobile sports betting statewide, is expected to allow the EBCI to bring in an additional $2-$4 million each year — a lot of money for an individual pocket, but a drop in the bucket for a tribe whose current casino enterprise brings in over half a billion each year. If 75% of the anticipated $2-$4 million profit were divided among the tribe's approximately 16,000 members, each person would receive between $90 and $190 each year.
"Sports betting is not a huge moneymaker here on property," Sneed said. "So the in-person sportsbook is more an experience. It's a different kind of player. It's just another amenity. The hold for the house is like 10%. It's not a huge win for the house."
Under the new law, patrons will be able to place bets online without actually visiting casino property — but with a dozen licenses available, there will be more competition for those revenues.
While Tribal Council was amenable to Sneed's concept, members were hesitant about taking decisive action without first taking a closer look at tribal finances. Yellowhill Rep. T.W. Saunooke moved to amend Sneed's resolution so that it no longer specified the intent to distribute 75% of the proceeds. An exact number could be discussed after considering the matter more closely with the tribe's gaming entities, he said.
Earlier in the discussion, Wolfetown Rep. Mike Parker said he "love(d) the intent" of the resolution but requested that it be tabled.
"The reason for my request is just thinking through our current financial situation and everything," he said. "I think we still have not had an opportunity to sit down and discuss prioritizing tribal projects, outside projects. We all sitting around the table know we're trying to figure out how we're going to fund some of these things."
He suggested holding a work session on the bigger picture of tribal finances before passing the resolution.
"I think if we try to do this too quickly, it could cause some controversy down the road," concurred Painttown Rep. Michael Stamper.
Sneed agreed the matter needed careful consideration and pointed out that passing the resolution would not change tribal law. Rather, it would direct the TCGE and EBCI Holdings to work with the tribe to draft proposed legislation, which Tribal Council could then either pass or kill.
"All this does is authorize the Attorney General to work with EBCI Holdings to work on an ordinance to create the revenue allocation," he said. "I appreciate what you're bringing to the conversation, Rep. Parker. The bigger issue if we're going to talk about projects and funding projects is there's a need for a process on this [Tribal Council] side. Because currently there is no process."
However, Sneed did not object to Saunooke's move to remove the 75% figure from the document. Tribal Council unanimously approved both that amendment and the resolution itself, which awaits Sneed's signature.