Latest
Council axes constitution, term limit referenda Convention to continue working on document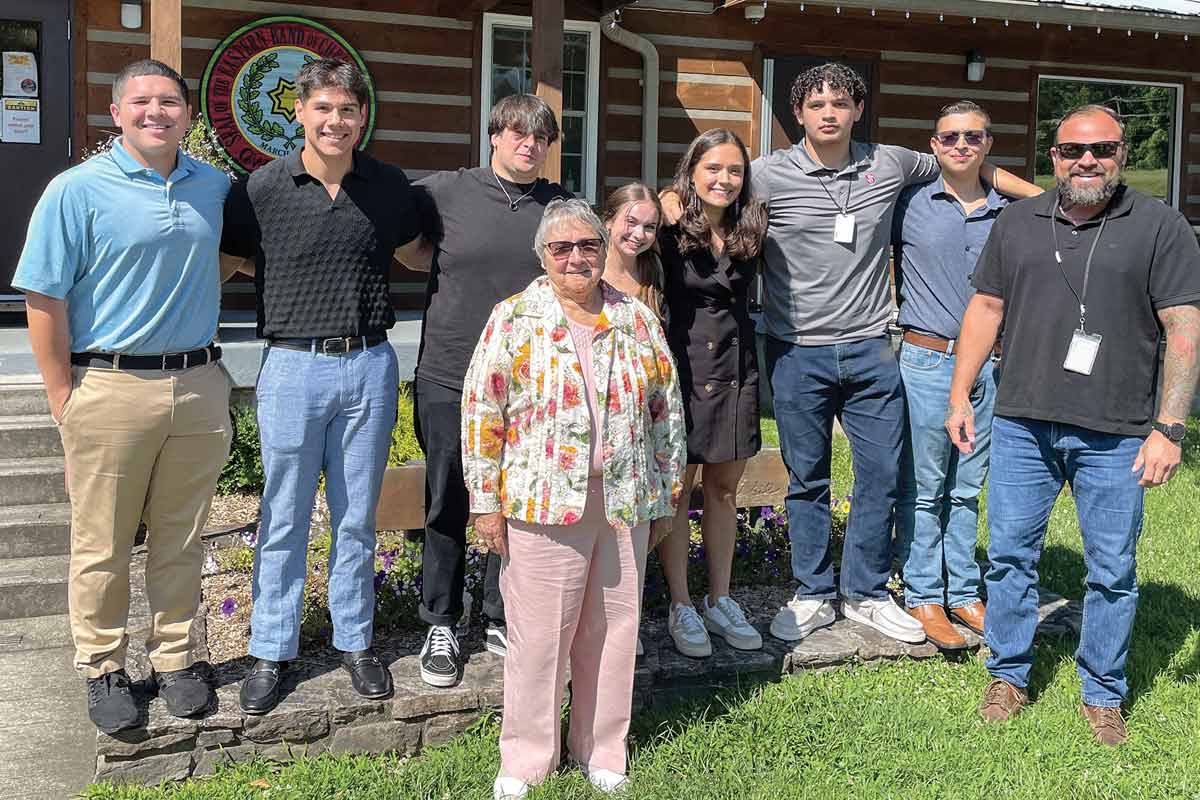 The group of young adults who addressed Tribal Council July 12 stand with Constitution Committee members Ernest Tiger (far right) and Carmaleta Monteith (center). Donated photo
After voting unanimously in April to put a proposed constitution on the ballot for approval this year, the Eastern Band of Cherokee Indians Tribal Council voted 11-1 Thursday, July 13, to indefinitely postpone the planned referendum.
A well-received request
The move came following a discussion during a Reports to Council session Wednesday, July 12. A group of young adults told Tribal Council they were concerned that the document as currently drafted would negatively impact their future and asked for a chance to be involved with shaping the constitution's final form.
"We have been taught the importance of responsibility, and sometimes that means taking a step back and taking more time and rethinking of new ways of doing things," said Birdtown community member Avery Maples, 19. "We request that you push pause on a referendum for this constitution and allow more time for more public engagement, more understanding and more legal analysis for the consequences of the most legal document of all of our futures."
The proposed constitution was submitted by the Cherokee Community Club Council following six years of work by the Cherokee Constitution Committee, including meetings and work sessions open to the public, weekly side-by-side comparisons with the current Charter and Governing Document in The Cherokee One Feather, a two-day Constitution Convention held in March to discuss amendments from members of the public and a mailing of the proposed document to all enrolled members.
However, no formal legal review of the document was performed before its passage. Despite the absence of such an analysis, Tribal Council unanimously approved the resolution within two minutes of it first being read into the record. Nobody from the EBCI Attorney General's Office spoke on the matter during that session. Weeks later, Attorney General Mike McConnell and Senior Associate Attorney General Hannah Smith attended a meeting of the Constitution Committee and said that there were significant issues with the document that would have harmful consequences if adopted. They recommended rescinding the referendum resolution and replacing it with a series of questions that would amend the Charter, a suggestion that the Constitution Committee and Community Club Council opposed.
"While this is a frustrating thing for us to come now and kind of work against it, I don't think we're truly against it," said Jack Cooper, a recent graduate of Stanford University. "I think it is a conversation of how can we improve it and make it grow and allow it to become something that … I can be up here fighting for in the future?"
Maples, who is Smith's daughter, said that in just a week the group gathered 76 signatures on a petition asking Tribal Council to postpone the constitution vote and collaborate with both the Constitution Committee and the Attorney General's Office "to implement a thorough review process that meets all of the people's needs, including the next generation's."
Despite the contentious nature of constitution discussions since Attorney General Mike McConnell first began voicing his concerns, the conversation July 12 had a positive tone, with all speakers thanking the Constitution Committee for their hard work and expressing optimism that this pause would deliver a document that would be more likely to pass and more effective at safeguarding the tribe's future. Beloved Woman Carmaleta Monteith , who has been working toward a tribal constitution since the 1990s, said there was "joy in [her] heart" after hearing the tribe's young people speak.
"These young people have stepped forward, and I'm so proud of them in wanting to be involved," she said, "because those of you who have been with us at meetings or our Community Club meetings, we just wanted this input."
Council's decision
However, the conversation took a different turn during Tribal Council July 13, when McConnell presented a resolution drafted in response to the previous day's conversation. That resolution sought to rescind not only the April vote putting the proposed constitution on the ballot but also two earlier resolutions, passed in 2021 and 2022 , that approved referendum questions asking tribal members to weigh in on consecutive term limits and conversion to staggered, four-year terms for Tribal Council.
McConnell said those resolutions were included in the list of those to be rescinded so that any potential changes to the Charter could be combined into a "more regimented discussion" and reduce the risk of "cross-threading of the issues."
But Cherokee One Feather Editor Robert Jumper, who had submitted the 2021 and 2022 resolutions, opposed their inclusion on the list of decisions to be rescinded.
"Those were not constitution questions," he said. "Those were referendum questions that were put together nearly two years ago to talk about term limits. Not a constitution."
A resolution that McConnell had introduced in June seeking to rescind the constitution referendum and replace it with four questions amending the Charter would have also rescinded Jumper's two resolutions — but that, McConnell had said, was due to the possibility of confusion if the constitution, term limits and staggered terms were all on the ballot simultaneously. With the constitution gone, that's no longer a problem, Jumper said.
"I don't understand the desire to keep the people from being able to vote on something that nobody has demonstrated any kind of harm it will do to let the people answer that question," he told Council.
Big Cove Rep. Teresa McCoy was the only member of Council to speak in favor of Jumper's position, extolling the benefits of sitting out of politics for a term or two and agreeing that Jumper's resolutions were separate from the constitution question.
"Once again, we're going to ask our people to come vote for us," she said. "And if I'm going to ask anyone in this room to support me, then I'm going to trust them to vote on something to me as simple as a term limit."
Vice Chairman Albert Rose seconded her move to strike the two resolutions from the document, but they were the only two to vote in favor of that move. Immediately afterward Yellowhill Rep. David Wolfe moved to pass McConnell's resolution with a second from Painttown Rep. Michael Stamper. That moved passed with Rose the sole opposing vote.
While the resolution cancels this year's expected referendum vote, it lays out a path forward for the constitution effort to continue. The resolution directs that one or more new constitution conventions be held to consider changes to the current draft. Rules and procedures for these conventions will be drafted by a group consisting of two delegates plus one alternate from each of the three branches of government, as well as from Community Club Council and from the population of young tribal members ages 18 to 25. The resolution does not outline how these delegates will be selected.
Convention meetings must be open to the public with quarterly updates on progress provided to Tribal Council. The delegates will be responsible for drafting the constitution, and before submitting it to Tribal Council must cause a legal review to be completed. Funding appropriated in 2019 toward constitutional efforts "shall remain available and may be supplemented by Tribal Council." The delegates will have the ability to contract with third-party subject matter experts who are not affiliated with the tribe to get input on the document — ensuring that, this time around, any proposed document undergoes a thorough legal review before it's voted on.
Adopting the constitution would require a 51% voter turnout, a bar most easily met during the chief's election every four years. Voter turnout was 57.11% during the last chief's election in 2019 and 45.3% during the 2021 election when only Tribal Council and School Board seats were on the ballot.
Reaction from the Constitution Committee
Members of the Constitution Committee had mixed feelings about what had just taken place as they gathered outside the Council House after the vote. They were glad to see the young adults' enthusiasm for the effort and felt postponing the vote was the best way to ensure ultimate success, but they were frustrated with the process over the last few months.
"Our concern was that once in September, if it did not pass, then that would be it," Monteith said. "Now we have a way forward. And that was the objective."
Monteith said she wasn't surprised to find that the document had flaws, as it hadn't undergone a proper legal review. But had Tribal Council taken more time before passing it initially, that review could have happened, and amendments could have been made ahead of the ballot deadline. Monteith said she'd expected that the original constitution resolution would have been tabled before passage.
The inclusion of Jumper's resolutions in the list of those to be rescinded was a "tremendous disappointment," Monteith said. One of the main objections Tribal Council members have voiced to the proposed constitution is that it's too much all at once, and that it would be better to implement individual changes piecemeal. That's exactly what Jumper's resolutions would have done, Monteith said.
"The fact that they have led him on is the problem, and the citizen that had worked and was working with the AG to make sure that it had been vetted legally so that we wouldn't have this," she said.
Shannon Swimmer, former clerk of court for the Cherokee Tribal Court and a member of the Constitution Committee, still has questions about what the next chapter of the constitution effort will hold. Recent college grads and current college students are often living in a period of rapid life change — will the young people who expressed such enthusiasm for engaging with the constitution effort stay engaged through the end? And what will the legal review process yield? It's not uncommon for half of attorneys consulted on any given subject to give one opinion while the other half offer an opposite opinion — thus the reason why courts exist.
The process has dragged on for so long already that waiting years longer to bring the matter to a vote is disheartening, Swimmer said. But the delay could ultimately prove beneficial to the final product.
"It's frustration, but it's also a good thing," she said. "Now all these people are talking about it. All these people are becoming involved. But it's frustrating that it's just not happening after this process has been going on for years."