Latest
Marked absent: From kindergarten through college, men struggle in school
Wednesday, January 18, 2023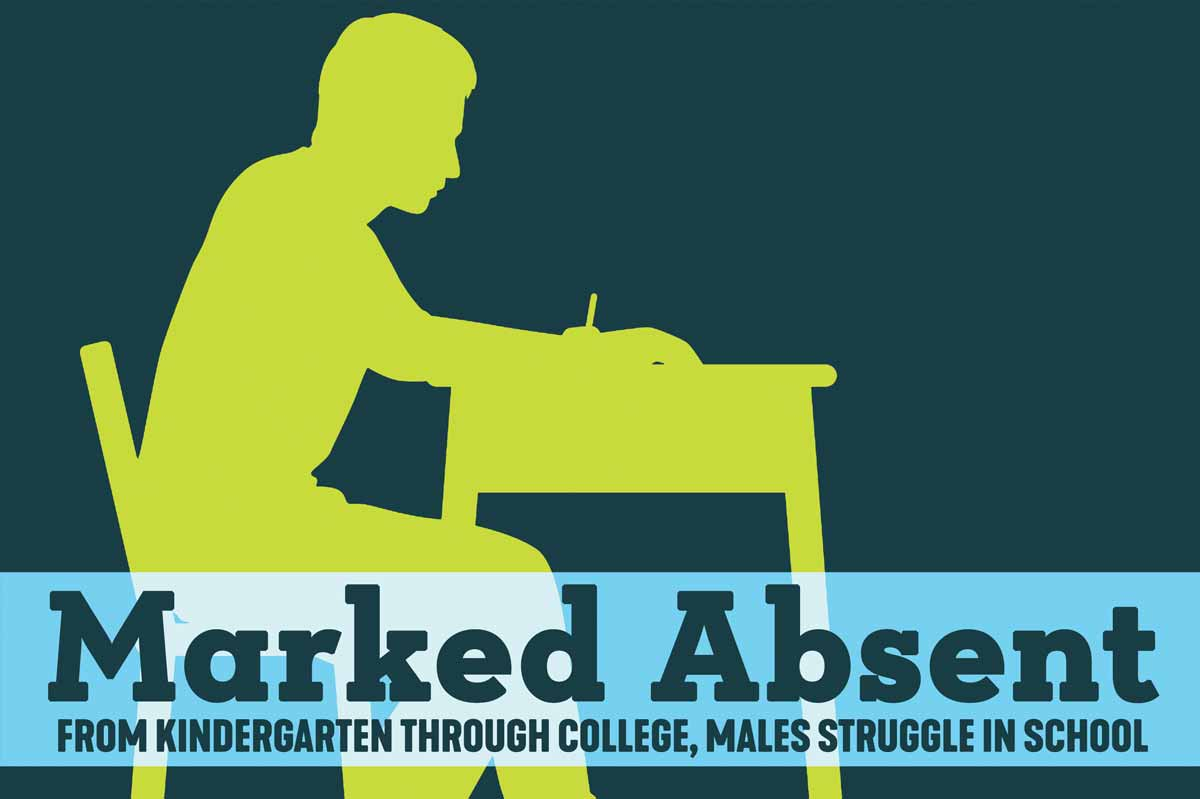 Even as an elementary school kid, Chris Cable hated school. It felt pointless, and so boring that he struggled to stay awake. Cable wanted to be a state trooper when he grew up — why did he need to know about algebra and essay-writing?
So he snoozed through high school, skating by with report cards full of Cs and B-minuses. In geometry class, his inattention left him irretrievably lost. Instead of seeking help, he just gave up.
"After half the year was up, I got out of that class," he said. "That was me when I was in high school. If I didn't understand something, I wouldn't go the extra mile to learn how to do it."
Most guys Cable knew had a similar attitude. School bored them, and their main goal for their education was to end it. A few of his friends even quit early, dropping out at 16 to help with the family business or claim a full-time job.
But the girls were different.
"The girls, they were the ones that excelled," said Cable. "And the guys did not."
After struggling through school as a young man, Murphy resident Chris Cable, 51, recently graduated from Southwestern Community College with a 4.0. Donated photo
Cable graduated from Swain County High School in 1989, 10 years into a trend that had been sharpening since 1979 — when, for the first time ever, the number of young women enrolled in higher education surpassed the number of young men. In 1972, when Title IX of the Civil Rights Act was signed into law, prohibiting sex-based discrimination in higher education, only 43.2% of 18-to-24-year-old higher education students were female. By 1979, females formed the majority, at 50.9%. When Cable graduated high school, 54.3% of 18-24-year-old students were female.
For a short time, Cable counted himself among the male minority of higher education students, enrolling in Southwestern Community College's criminal justice program. But he kept his full-time job, working 3 to 11:30 p.m. after attending school 8 a.m. to 2:30 p.m., five days a week.
"I didn't have time to study," he said. "I didn't have time to work on my stuff, and I ended up getting on academic probation because of my grades. I just decided at that time school wasn't important to me as what making money was. So I quit school and kept my job."
The gap
Cable's story is a common one. The world has changed since 1989, but the trend of male underrepresentation in higher education is no relic of the past. In the 2021-22 school year, only 41.5% of students enrolled at Title IX institutions — colleges and universities that accept federal funding — were male.
"The gap continues to widen nationwide, and I think it continues to get attention, but interestingly nothing is really being done about it," said Jim Shelley, who for the last 26 years has managed the Men's Resource Center at Lakeland Community College in Ohio, one of the few colleges in the nation to host such a center.
This national trend is playing out at colleges and universities across the country, including Western North Carolina. In fall 2022, only 41.2% of Western Carolina University students were male, slightly higher than the 40.8% recorded across the University of North Carolina System.
Among graduate students, the disparity is even sharper. At WCU, fewer than 1 in 3 — just 31.4% — of fall 2022 masters and doctoral students were male. Systemwide, that figure was 37.8%.
A similar gap exists at community colleges, with fall 2021 numbers showing that only 37% of students at Southwestern Community College enrolled in curriculum programs aimed at helping them start a new career were male, and only 35% of that population at Haywood Community College, on par with the 38% of such students enrolled across the state's community college system. However, males do comprise a majority in community college workforce continuing education programs, which offer accelerated workforce training that typically lasts about three months and culminates with a certificate. In fall 2022 they made up 59% of that population across the community college system, and 65% at both SCC and HCC.
Even if they do enroll in college, male students are less likely to graduate than their female counterparts. At WCU, the average four-year graduation rate for students starting a degree between fall 2015 and fall 2018 was 35.6% for men and 48.8% for women. By graduation, the chasm has split wide open — but it starts breaking apart years before students even think about filling out a college application.
State testing results show a gap between male and female academic achievement as early as third grade. In 2020-21 state tests, only 43.1% of male third graders tested proficient in reading, compared to 47.2% of females. In 2018-19, the last full school year before the pandemic disrupted education, overall proficiency scores were higher but the 4-point gap between male and female achievement remained.
In 2020-21, third-grade boys did edge out their female peers in math, with 2.2% more of them testing proficient, but in pre-pandemic testing years it was female students who held the advantage — an advantage they maintained for the rest of their K-12 career. In both 2020-21 and 2018-19, more female students than males tested proficient in all four high school classes with end-of-course tests — biology, English II, math I and math III.
Boys are excelling at lower rates, and, as in college, they're also graduating at lower rates. Statewide, 83.4% of male students who started high school in the 2018-19 school year had graduated by spring 2022, compared to 89% of females. High schools in Haywood, Macon and Jackson counties all have similar gaps in graduation rates. The only exception is Swain County, where the female graduation rate eclipsed the male rate by just 0.1%.
When Title IX of the Civil Rights Act passed in 1972, women quickly eclipsed men in total enrollment at schools receiving federal funding. Data comes from the National Center for Education Statistics, with totals for 1970 through 1990 reflecting for students ages 18-24 only. SMN graphic
Male students do have higher numbers than females in two areas: dropouts and expulsions. In 2020-21, 63.3% of North Carolina's high school dropouts were male. Of the 199 students who faced short-term expulsion in Haywood, Jackson, Swain or Macon county schools in 2020-21, 68.3% were male.
Conversely, only six of the 19 students in the top 10% of Smoky Mountain High School's class of 2022 were male. Perhaps it's no surprise that by the time college admissions season starts, fewer men than women seek a spot. In fall 2022, just 39.8% of WCU's first-year applicants were male.
"We're reviewing a disproportionate number of females even at the point of application," said Phil Cauley, associate vice chancellor of undergraduate enrollment at WCU. "So, it's not where you're starting with a 50-50. Our difference is somewhat reflective of what we're seeing all the way in middle school, high school and the feeders that feed our enrollment."
Currently, men comprise 41.2% of Western Carolina University enrollment. WCU photo
Growing concern
For years, the growing gender gap in education flew under the radar, with educators and policymakers still focused on correcting what had until very recently been a system that deliberately roadblocked female achievement. Today, the gender gap is wider than it was at Title IX's passage in 1972 — but in the opposite direction.
Educational and political leaders are starting to talk about how to help men and boys achieve their potential, and journalists are reporting on the issue, with extensive stories appearing in in The Wall Street Journal in September 2021 and in The Chronicle of Higher Education in December 2021.
There's a growing recognition that the situation is urgent. Male students are falling behind, disengaging from school as boys and turning their backs on higher education as men.
"It's distressing," said UNC President Peter Hans. "On one hand, you have encouraging news about female students going forward, pursuing their education successfully. And on the other hand, male students who, for whatever reason, don't believe post-secondary education is right for them."
"Hopefully it's a wakeup call for folks that we do something collectively to really help make sure that men, as well as our women, are getting that post-secondary education that they need," said WCU Chancellor Kelli Brown.
Neither Hans nor Brown is arguing that a four-year college degree is right for everyone. To the contrary, recent years have brought widespread acknowledgement of the importance of trade work, and of the high income opportunity and low school debt such pathways offer. But the men who are opting out of college are not flocking to these jobs, which are now seeing a critical shortage of applicants for needed positions. Young men's flagging interest in education of all types is concerning, Hans and Brown say, and indicates a leak somewhere in the pipeline between kindergarten and adulthood that's preventing them from reaching their full potential.
Identifying the root of the problem is no easy task. Bruce Henderson, a retired WCU psychology professor, believes that academic underperformance from men is "due to a whole bunch of little things, not one big one."
"There's a lot of speculation, I think, locally, nationally on that," said Thom Brooks, executive vice president for instruction and student services at SCC, adding, "You know, I don't think anyone has the exact answer."
Shelley would agree that there's not one answer. In a 2017 article for "New Male Studies: An International Journal," he lists ten.
Starting from behind
Lack of early success in school fueled by differences in male and female brain development — and by what Shelley terms "boy behavior" that is often at odds with classroom management goals — is likely a factor.
"Developmentally, [boys] lag behind girls in terms of developing literacy skills," Shelley said. "In kindergarten, girls are already about a year or so ahead. That gap continues throughout."
Dr. Dana Ayers is now superintendent of Jackson County Public Schools but has seen the developmental differences in boys and girls firsthand during a 24-year education career that included positions as a classroom teacher for first, fourth, fifth and six grades, then later as a middle school administrator.
"I taught sixth grade, so we did algebra, and while oftentimes females could just write it out, males would need a visual or pictorial or a manipulative to do that," she said. "And I think that goes along with the maturity rate."
Biological differences in development can lead to even bigger achievement gaps as young boys internalize the idea that they're not good at school and won't ever be, Shelley said.
"They don't want to be a benchwarmer," he said. "So, they already realize that they're not really doing well at literacy, and that already sets up a discouragement with teachers and books, the learning process."
Shelley also argues that greater emphasis in state proficiency tests and an associated decrease in recess time over recent decades has hurt male achievement. According to the EAB, formerly known as the Educational Advisory Board, average weekly recess time in the United States has fallen 60 minutes since 2001, with elementary school students receiving only 25 minutes of daily recess in 2019.
A group of students meet to study in the library at WCU. WCU photo
Young boys generally have a harder time sitting still all day than their female classmates. Physical activity can boost learning and helps control the symptoms of ADHD — Centers for Disease Control data show that boys are more than twice as likely as girls to be diagnosed with the disorder.
Tristin Goode, a 2021 graduate of Jackson County Early College, said that he felt those challenges keenly as an elementary school boy. His teachers thought he was hyperactive and unfocused. His doctor prescribed him medication for ADHD. Goode absorbed the impression that "there was this expectation that men were not as good."
"Little boys, they act differently than girls," he said. "The girls are usually more well-behaved. They try a little harder."
The standards, he felt, were lower for male students. He saw his female classmates being encouraged to join a barrier-breaking generation of female achievement, but no similar inspiration was dangled before the boys.
Goode, like boys across the country, also had fewer role models in the classroom than his female classmates. According to the National Center for Education Statistics, in the 2017-18 school year 76% of all public school teachers were female. The percentage was highest for elementary school teachers, who were 89% female, while 64% of middle and high school teachers were women.
School counseling centers have the same issue. The American School Counselor Association says that in 2018, 85% of its members were female. Research shows that matched-gender pairs tend to work better for services like counseling, putting boys at a disadvantage when seeking help from the school counselor.
"I think sometimes because I am a female, it takes longer for some male students to open up," said Paige Jeleniewski, a counselor at Smoky Mountain High School. "Sometimes male students are more comfortable with a male."
Goode is now a junior political science student at WCU, completing his degree online while working fulltime as a congressional staffer in Washington, D.C. Jackson County Schools sees him as a success story, and Goode is happy with where he is. But getting there, he said, required intrinsic motivation to keep his standards high and overcome stereotypes he perceived as a young boy.
"Pushing myself harder because of that perceived lack of capability or manners or anything like that that was kind of present all around me pushed me a little bit harder than it would have pushed other people, maybe," he said.
Stephen Moore flunked out of college as a young man but returned for a degree at SCC once he found his true passion — woodworking and making specialty pens (below). Donated photos
Seeking a destination, not a journey
Often, men falter in school simply because they don't think straight A's will do them much good in real life.
Goode reflected on the difference between his thoughts on education and those of his grandmother, who came of age in the 1970s when female educational opportunities were more limited. She worked hard to get through college and reiterated to her grandson the importance of having a diploma to hang on the wall.
"For her it's more or less the value of just getting the degree itself. That's where the value comes from," he said. "I definitely think that's partially to do with the fact that she grew up in that second-wave feminist era where you get it not just to get the degree but also to prove that you are capable of it. I think that still rings true today in some respect."
Shelley said he's seen the same thing among the women at his college — and an opposing perspective among the men.
"If they're going to commit to education, especially at the community college level, they really want to know what it will lead to, what will be gained," he said. "I think a lot of colleges — perhaps a lot of high schools — don't really do an adequate job in helping students with the career decision-making process."
That resonates with Franklin resident Stephen Moore. A Canton native, he enrolled at N.C. State after graduating from Pisgah High School in 1990. Though school bored him, Moore was a smart kid who took advanced classes and knew he was expected to go to college. But he lacked focus, and study skills. In high school he'd always been able to pass without homework or study. That didn't fly in college.
"Having never left my hometown in my entire life, I basically, at 18 years old, showed up in Raleigh, North Carolina, and found a lot of different things I would rather do than go to class," Moore said.
After two years and three changes in major, he flunked out. Moore spent a year at A-B Tech before deciding that he'd had enough of school. He got a job at a label factory and spent the subsequent decades hopping from one employer to the next.
"I like to say I squandered my higher education," he said.
Now Moore knows that the problem was all about motivation. At 18, he didn't know what he wanted to do with his life and didn't see how a college degree figured into his future. He thinks he may have had undiagnosed ADHD — his broad array of interests often distracted him from the task at hand.
But in 2019, for the first time in his life, Moore found something that could hold his attention. He got into woodworking and started making pens.
"I got to the point in making these pens that I was like, 'I love doing this so much. I wonder if I could do this for a living?'" he said.
That thought led Moore to enroll in SCC's online business administration degree program, and he approached his studies with an enthusiasm he'd never had at N.C. State or A-B Tech. In December, he graduated with a 3.9.
It's a story arc that echoes Cable's, the Swain County grad who dropped out of SCC two decades ago. Cable rose "pretty high" with the injection molding company where he worked for 24 years after high school, but he lost his job in the pandemic. Not wanting to uproot his family to find a new job, he went back to school and left SCC with a business administration degree and a 4.0 GPA. Now he's a property appraiser for Cherokee County.
"It was really a good feeling that I was able to go through that and do as well as I did," he said. "It was a feeling that I'd never had before."
Staying interested
In his book "Of Boys and Men: Why the Modern Male is Struggling, Why it Matters, and What to do About it," Richard Reeves, a senior fellow at the Brookings Institution, argues that the feminist movement's success in taking the brakes off women's achievement revealed an education system inadvertently structured in favor of girls.
"Once the brakes come off, girls just blew past," he said in an interview for the podcast Plain English with Derek Thompson. "Their natural advantage in the system could only become apparent when they started going to college."
Henderson takes issue with the argument that schools are biased against boys.
"Girls tend to succeed better in school because they are more tolerant of the way it is," he said.
The role of interests does not tend to be given enough weight in education, Henderson said. Students learn better when they're interested in the material, and less well when, like Cable, they're sleeping through high school geometry.
Superintendent Ayers said that hands-on career and technical education classes are making a comeback in public high schools, with Smoky Mountain High School offering 54 such courses catering to specific student interests. Still, much of core education revolves around literacy, and research has long shown that on average girls enjoy reading more than boys.
"Students who enjoy reading would probably perform better in school on those reading assessments, and enjoy school," Ayers said. "And oftentimes, those are female students. "
The problem continues in college, where a typical four-year plan frontloads general education classes that have little to do with a student's chosen field.
"If you take your classes with outstanding teachers, those years can be great," Henderson said. "Too often, however, gen ed courses, for many reasons, do not capture the interest of students. That puts those students with good study habits, a history of academic achievement, mature brains with better inhibitory and executive functions and more intrinsic interest (i.e., females) at an advantage."
Athletics can play a vital role in keeping students engaged in school even when they're not particularly interested in what they're learning. For both high school and college athletes, staying eligible to play in Friday night's game can be a great motivator to maintain that 3.0 GPA.
"It absolutely provides an incentive for them to try in college," said WCU Athletic Director Alex Gary. "It provides incentive for them to try in high school."
Gary knows this to be true, because he's walked in their shoes. A star baseball player in high school, he was an outfielder on the WCU team from 2001 to 2004, in 2004 earning Southern Conference Player of the Week honors before rounding out his college career at Virginia Commonwealth University. He returned to his alma mater as athletic director in 2020 and is charged with the academic and athletic success of WCU's 400 student-athletes. Gary is passionate about what he does — he says athletic programs offer a pathway to college for students who otherwise wouldn't have one, and give students who might otherwise struggle a reason to excel academically. WCU has a high proportion of first-generation students, and in athletics that percentage is even higher.
Alex Gary, a former WCU baseball star, now shepherds the school's student-athletes as its athletic director. WCU photo
"Many of our student athletes, and many athletes around the country, would not go to college if they didn't have an opportunity to play baseball or golf or basketball or whatever the case may be," Gary said. "They just wouldn't."
Competitive sports are important for both men and women, but there's evidence to suggest that men are more predisposed to value them. In a 2012 study published in the journal PLOS One, authors conducted three studies to investigate the difference in male and female interest in sports. Results showed that, across age groups, females were equally likely to participate in exercise but far less likely than males to register for intramural sports at colleges and universities, play team or individual sports at observed public parks or to report team sport participation in a survey.
"Whether measuring duration or frequency, these studies consistently find that males play sports, especially team sports, at least twice as much females do, and often much more frequently," the study says.
However, men — especially men who are not football players — have fewer opportunities to compete athletically at the college level than they did prior to the passage of Title IX, the law that removed institutionalized sex-based discrimination in education and allowed female students to start reaching their full potential. Under the law, school athletic programs must offer opportunities for male and female students in keeping with the gender ratio for that school. As it did for education in general, the law worked wonders for female athletic opportunity, which previously was often nonexistent.
Still, the law had some unintended consequences. Athletic programs cost money, and resources are limited. Complying with Title IX meant adding new programs for women, which required cutting existing programs for men — such as soccer and tennis, intercollegiate programs that WCU lacks to this day.
Of WCU's roughly 400 student-athletes, about 100 play football. WCU is now nearly 60% female, which leaves few options for male athletes in other sports. Outside of rowing, there's simply no female equivalent to football's roster size.
"At a school like ours, we're not going to have a rowing program; we can't afford it," Gary said. "So, we try to do the best we can to provide opportunities and stay in compliance with Title IX. And we are, 100%. We have had individuals suggest, 'Why don't you do this? Why don't you do that? Why don't you bring back men's soccer?' It's like, well, we can't."
In 2019, Gary's predecessor, Randy Eaton, asked the Board of Trustees to approve pursuing a feasibility study for starting a wrestling team at WCU. Wrestling is a popular sport at high schools across Western North Carolina, and Eaton thought it could help bring more first-generation students to Western. The pandemic's arrival sidelined that discussion, but even in early conversations the Board of Trustees was concerned that Title IX considerations would be a barrier.
"You have to keep that lens of Title IX on everything," Gary said, adding that finances also limit athletic opportunities. Most sports cost more money than they bring in, and athletic programs don't receive state funding.
There's no dispute that prior to Title IX, girls and women had, as stated in the PLOS One study, "vastly inferior" athletic opportunities. Change was certainly needed, and Title IX has had many positive effects.
"Nevertheless, our results do suggest that it may be a mistake to base Title IX implementation on the assumption that males and females have, or soon will have, generally equal sports interest," the study's authors conclude.
Pandemic plunge
Nationwide, male college attendance has been declining for a decade in both absolute numbers and as a percentage of total enrollment. The Coronavirus Pandemic only exacerbated the issue, slashing male college enrollment while exacting a milder impact on female enrollment. Enrollment at Title IX institutions in the U.S. fell by nearly 1 million between the 2019-20 and 2021-22 school years, with 2021-22 enrollment 4.8% lower than 2019 levels. The number of male students dropped by nearly 600,000 — 61% of the total reduction.
A similar pattern played out at WCU. The university enrolled 532 fewer students in fall 2022 than it did in fall 2019, a 4.4% drop. The male population absorbed 90.1% of that plunge, with 483 fewer male students enrolled in fall 2022 than had been the case in fall 2019.
At Southwestern Community College, total enrollment of curriculum students fell by only 49 between 2019-20 and 2021-22 — yet the number of men enrolled in such programs plummeted by 71 during the same period. Female enrollment rose by 22. Brooks, the college's executive vice president for instruction and student services, said that while there are no firm answers as to why, there's speculation that the rise of online learning accompanying the pandemic simply didn't work well for some men, especially those entering traditionally male applied technology fields.
"Many of the traditional fields that our male students are going into, some of the more applied technology fields, just don't lend themselves well to online learning," Brooks said. "It was a separation from that preferred route of learning for some of our male students, which gave them a reason to stop out and pause and haven't come back since."
In spring 2020, distance learning wasn't just for colleges. Students from kindergarten through 12th grade were asked to attend class through a screen. At Smoky Mountain High School, for example, the school building was closed through the end of the 2019-20 academic year, and throughout the 2020-21 year students attended in-person classes for only part of the week. That break from the daily routine led some students to demote the importance of school in their lives.
"We had to work really hard to get students to graduation," Jeleniewski said. "The view of what high school means has shifted."
Many took on full-time jobs during the pandemic, gawking at the paychecks they received in return. When school returned to a five-days-a-week schedule, they could no longer balance academics and full-time work. Jeleniewski said students would sit in her office and say they no longer cared about class because they were already making money. School leadership had to reach out to employers and tell them that success in school must come first for teenage workers.
"Across the board, we're finding students don't want to be in school. But I would say there are more male students," Jeleniewski said.
Since the pandemic, SMHS's tally of early graduates has multiplied. The school used to have fewer than 10 early graduates each year, but in the 2021-22 school year there were 44. Nearly two-thirds were male.
An economic question
For many students, the question of whether to seek a college education boils down to economics. Unlike his grandmother, Goode sees college as a means to an end — the end being a fulfilling career that pays well enough to support a family.
"As someone who was raised in a more conservative household, that's a little bit more centered around one day raising a family, having kids, things like that; men have to make the decision of, OK, I need to have a job to provide for my family. Do I need an education to do that, or can I just take what I already have and build off of work experience?" he said.
Goode was finishing up his junior year of high school when the pandemic set in, and for a while he gave up on the idea of college altogether. He took a welding class, liked it, and figured he'd rather have a career working with his hands than monitoring a virtual classroom, worrying about which assignments are due next week. He changed course after realizing a career in civics and politics would fit his interests and allow him to earn a living. Goode enrolled at WCU and was one of two students selected for a summer internship on Capitol Hill. That led to a full-time job, which he works while completing his degree online.
Tristin Goode, 20, found motivation in college by pairing his studies with full-time work in his field. Donated photo
As a result, he'll graduate with money, work experience, and a mute setting for the nagging voice in his head that insists any man — or boy approaching manhood — must have a job.
"Not having money, not having a job is really, really bad," Goode said. "Like, you are looked down upon in a big way. Even if you are doing college full-time, people will look down on you because you're not working."
Noah Pressler, 21, has found a similar equilibrium in the distance learning opportunities available in the post-pandemic world. He always knew he wanted to be a firefighter, viewing a college degree as a fallback should he get injured on the job. Pressler wasn't planning to start fulltime work in college, but when a paid job came open at the fire department where he volunteered, he took it.
"It's what I wanted to do, so I might as well take the opportunity while I had it," he said. "And then I just went ahead and switched all my classes to online."
For a hands-on learner like Pressler, online school is hard. He credits his success in K-12 to his elementary years at Summit Charter School in Cashiers, which he describes as a "big outdoors learning type school" where instruction involved plenty of field trips and hands-on learning. A lot of his friends in public school hated going to class, but he "really didn't mind it."
The learning style at Blue Ridge Early College, where he attended high school, was "definitely different," he said, but by his teen years he was ready to cope, and he loved the extracurriculars. Pressler played sports year-round — soccer, basketball, baseball and golf — still graduating with a 3.8 GPA.
"Staying busy is big to me, because if I stall and decide not to do anything for a while, that's when I get antsy and lose focus," he said.
Losing focus is even easier when learning through a computer rather than in a classroom, and Pressler isn't great at meshing academics with daily life. When he's home, he likes to work on his boat or go fishing — school's not on his mind.
"I find myself putting off work till the last minute sometimes now," he said in an interview during the fall semester.
The fire department job helped keep him disciplined.
Noah Pressler, 21, earned his degree in emergency and disaster management online while working full-time at the Cashiers-Glenville Volunteer Fire Department. Donated photo
"We have downtime at night, so that gives me a good chance because I have nothing else to do but for work on schoolwork," he said. "That's really honestly helped a ton. Yeah, we work 48 hours straight on our shift, but of those 48 hours I've got almost 20 of them to do schoolwork or do whatever else I want."
He treats it as a mandatory study hall, and the arrangement has worked well. Pressler graduated in December with a degree in emergency and disaster management.
"It's a lot of time and effort," he said. "But it all comes down to how bad do you want to do it?"
Redshirt the boys?
It's clear there's a problem. But what's not clear is how to fix it. When political will gathered to address female underachievement in the 1970s, it was pretty obvious what had to be done — give women and girls the same access to academic resources afforded men and boys.
The root of today's problem is different. Fixing it is not about expanding men's rights. Rather, it's about figuring out how to help boys and men claim the educational rights they already have.
"It's going to take a whole bunch of initiatives and activities, not just one," said Chancellor Brown.
Kelli Brown
In his book, Reeves makes a proposal for a sweeping reform aimed at leveling a playing field currently tilted by the differing development rates of girls and boys. Reeves believes that the default age for boys to start kindergarten should be a year later than the default age for girls, with boys receiving an extra year of pre-K before starting elementary school. This would give them one more year to mature before entering the classroom — but, more importantly, would ensure they're a year older when they reach middle and high school, when the developmental gap is largest and the stakes highest.
"Would a delayed start for boys narrow the gender gap? I don't know for sure," Reeves wrote. "Such a significant change in education policy is hard to evaluate in advance. But the evidence of studies of redshirting makes me hopeful it could help quite a lot."
Reeves wrote that a "raft of studies" show that redshirted boys are less hyperactive and more attentive in elementary school, with higher levels of life satisfaction, lower chances of being held back a grade and higher test scores.
Such a policy would be a novel shift from the status quo, but Ayers, the educator of 24 years who is now superintendent of Jackson County Schools, said it would be a good move. Recalling the year she spent teaching first grade, she said that overall the male students could have used more time to prepare for success in a school setting.
"I know to a non-educator that would sound crazy," Ayers said. "Chronologically, they're both the same age, but not physiologically. Because they haven't matured."
When asked her thoughts on Reeves' proposal, Ayers said that she "definitely agrees" with it.
Henderson, the retired psychology professor, isn't so sure. Academic redshirting might be useful for individual children, both boys and girls, but there are a host of factors for parents to consider when making that decision.
"I have recommended to parents that I have known that they consider holding out kids who face being the youngest in their class, but the decision is complex," he said. "I would still argue that the most important thing is that children are in interesting, challenging environments where they have the opportunity to exercise their curiosity, interests and focused attention. Places where they can learn how to learn and how to think critically. And where they build meaningful relationships with teachers and peers. If they don't have that, nothing else much matters."
Goode wondered if redshirting could accentuate the problem, delivering a K-12 education to women a year earlier than men, but he liked the idea of starting school at an older age — for both genders. Meanwhile, Moore argued for more time on the other end of the K-12 pipeline.
"I would say go back to school at 25, 21, 23," he said. "So don't graduate out of school and go right back into school. Figure out what you want. Because you'll be a lot happier if you did. I know I would have been."
Males make up only 35.7% of WCU's distance learning students but 43% of residential students. WCU photo
Creating role models
With only 11% of elementary school teachers being male, boys in public school are unlikely to have a male teacher until their teen years. Black boys — whose academic outcomes are on average worse than those of boys of all races — are even less likely to have a teacher who looks like them. While 13.6% of Americans are Black, the most recent National Teacher and Principal Survey finds that only 5.8% of teachers are.
Such statistics spurred creation of the Call Me MISTER program at Clemson University in 2000. The program, whose acronym stands for Mentors Instructing Students Toward Effective Role Models, aims to increase the pool of available male teachers of color in the country's classrooms. Since 2013, it has resulted in a 40% increase in the number of Black male teachers in South Carolina public elementary schools.
WCU launched the program in 2020 and is the only North Carolina institution to offer it.
Brown said she loves the program, and the idea of graduates going back to teach in their old high schools, giving young boys a role model to look up to. That program, and others like it, can help make a dent in the problem.
Though Black men are even more dramatically underrepresented in K-12 classrooms than men of other races, boys of all races have a dearth of role models in education — and WCU's regional service area has a lower proportion of minority residents than the nation overall. Would it make sense to create more programs like Call Me MISTER, but open to recruits of all races?
"I think you could also take that, and you could extrapolate it into other programs," said Brown. "It could be men and nursing, right, and so, how do you get more men into nursing? And it could be men in general."
In his book, Reeves argues for a push to recruit men into "HEAL" professions — health, education, administration and literacy — mirroring ongoing efforts to interest more women in STEM jobs. While males as a group tend to have a higher level of interest in STEM subjects and females as a group tend to be more interested in HEAL subjects, there is significant overlap between those interest profiles, Reeves said. He argued that data indicate the dearth of men in HEAL jobs is not fully explained by differences in male and female interests.
"Just as the current underrepresentation of women in engineering or in leadership roles cannot be plausibly attributed to natural causes, it is equally absurd to think that the 18% male share of social workers is an authentic representation of the true level of interest in the job among men, especially since it's half since 1980," Reeves wrote. "If certain occupations are seen as no-go zones for men, their choices are constrained, just as much as for women in the reverse case."
Shelley agrees, saying government support is needed for programs seeking to close the literacy gap between girls and boys, similar to efforts that began in the 1990s to close the math gap.
"We know that the world has become more verbal, and boys are losing out because of that," he said.
Keeping their attention
Henderson argues that changes to how school is taught could drastically improve student success, for both genders. Currently, he said, education does not give enough weight to the role student interest plays in learning.
"If I were king, I would encourage educational approaches that use individual interests more, not gendered ones," he said. "Curiosity and exploration drive intellectual development. They need a much stronger role in education."
For younger children, this means more time outside, as well as different objects, challenging problems and more resources and books to explore. For older kids and teens, more ideas, books, experts to talk with, debates, independent study and time spent in real world environments would help them succeed.
"I would change schools to make them more interesting, to the advantage of everyone," he said.
In a similar vein, Henderson would like to see a paradigm shift in college education. If he were to build a four-year curriculum, it would be frontloaded with courses that best fit students' interests, with some challenging general education courses saved for junior and senior year.
"That kind of curriculum would be better for all students, but especially males," he said.
Brown said frontloading in-major classes more would be a "really good idea," but pointed out it could cause complications for students who change their major early on. Academic clubs can provide some of those same advantages without penalizing students for changing their mind. Still, she acknowledged that students could benefit from earlier exposure to their major field.
"I think that we have to work harder at that, recognizing that for some students — and probably not just for males, probably students in general — they want to know, how's this going to help me when I become a paramedic?" she said. "Or how's this going to help me when I'm a physician, or a nurse, or a historian or an accountant?"
Cable said much the same when asked what could have helped him keep focus as a teenager at Swain High.
"If they had had at that time some sort of elective or a class that had to do with law enforcement or criminal justice or something like that and it would have went towards getting a degree or my schooling once I went to college, that might have inspired me to try harder," he said.
A WCU student engages in hands-on learning during a lab class. WCU photo
Reaching out to male students
Helping high schoolers see themselves as future college students is also part of the puzzle, Brown said. WCU's partnership with Statesville High School through a program called Students to Teachers Through Educator Pathways, or STEP, is part of that effort. Open to both boys and girls, the program lets high school students spend a week on campus, see what college is all about and hopefully leave inspired to find a way to make it happen for themselves.
"We need more of those kinds of programs," Brown said.
Brooks said SCC is making similar efforts to get high school students on campus, both in large groups for events and for small group experiences. Programs like Upward Bound and New Century Scholars target first-generation college students as early as seventh grade, aiming to equip them for success as they continue their academic career.
He relayed a story from another SCC administrator who brought a small group of male high school students to campus, giving them a chance to look around, walk into labs and chat with students.
"Over the course of an hour or so on campus, he was amazed to see the change in their level of engagement and interest after they got here," Brooks said.
However, as Cable's and Moore's experiences show, enrolling in college is only half the battle. Graduating from it can be an entirely different animal, and males struggle there too.
William Moultrie
"One of the beauties, I think, is that people are noticing there is a disparity and having additional programming to recognize that," said William Moultrie, associate vice chancellor for student success at WCU.
Few colleges and universities have a men's resource center like the one Shelley leads in Ohio. Outside of Call Me MISTER and Band of Brothers, a course on leadership and masculinity, WCU doesn't have any programs specifically targeted to men. Programs for "special populations" such as first-generation, low-income and racial groups include both men and women.
"When we touch on or when we plan initiatives and programming around special populations, we hit the men as well," Moultrie said.
Moultrie is still new to the job, starting at Western in July 2022, and he said he'll be cruising the data for insights into how best help Western students as he heads into the new academic year.
SCC is currently evaluating one such initiative following its participation in a national study funded by the U.S. Department of Education. The study examined the impact of success coaching, in which success coaches and advisors reach out to students showing signs of trouble and connect them to support services like tutoring or counseling. Overall, participating students showed only a 0.7% increase in credential completion, but male students showed a 2% increase. This was an encouraging result, but thus far SCC has not been able to replicate it.
"Research indicates often the male college student, particularly the community college male college student, may be more reluctant to ask for help, reach out for support and tutoring," Brooks said. "And to the extent that that we kind of bring that to them when we notice problems, we're more likely to connect them with the support that helps keep them here."
The solution isn't clear, but the stakes are. This problem challenges half the population's ability to fulfill their full potential, whether by obtaining a four-year degree, completing a trade school program or simply graduating from high school.
"We can't continue to let this happen," Brown said. "We can't continue to see our men not graduating from high school and/or not going off into post-secondary. It's not good for society. It wouldn't be good for their communities, and I think in the long run individually for them."
For centuries, men and boys had a monopoly on access to education and choice careers. Now, everybody is allowed to dream — but too many men and boys are choosing not to.
Leave a comment
2

comments
This is excellent article! Well researched and written to be as informative as possible. I have recommended that all my online friends read it through.

Friday, 01/20/2023

This is excellent article! Well researched and written to be as informative as possible. I have recommended that all my online friends read it through.

Friday, 01/20/2023