Archived News
Building on something good: Educational remedies for workforce deficiencies
Wednesday, October 03, 2018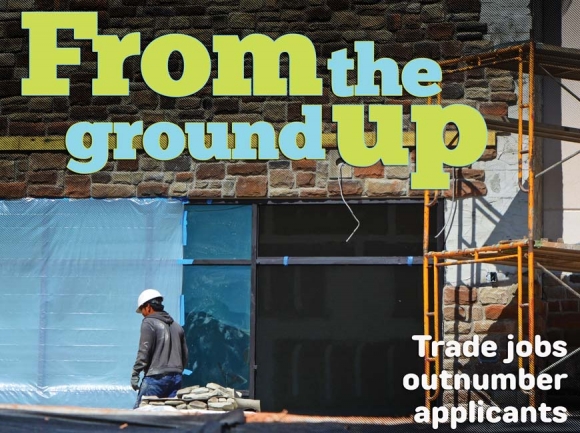 Heaters that won't heat. Lights that won't light. Pipes that won't pipe.
The modern conveniences most people have taken for granted are just that — taken for granted — until something goes awry. And when the basement's full of sewage, who ya gonna call?
A skilled tradesperson, that's who. But don't expect to see one any time soon; a critical shortage of workers in fields like carpentry and plumbing has created long waits and promises a knowledge gap that communities around the nation and around the region will grapple with now and into the foreseeable future.
Brad Waldrop manages Ward Plumbing and Heating in Sylva. The business performs both HVAC and plumbing services, and, he says, is in constant need of workers.
"There's not really a time of the year where if somebody walked in the door and showed that they were a legitimately qualified plumber or HVAC professional we wouldn't hire them," said Waldrop. "If you come in here and you say that you don't know squat, if you've got a good attitude, can fog up a mirror and want to learn a trade, we're going to pay you $12 an hour."
And that's only the beginning. Waldrop said his company offers a relatively generous benefits package, including a retirement plan, paid holidays, paid vacation, overtime and a 75 percent contribution to employee health care.
"Even as a helper, you're going to start to move up to $14, which is nearly double minimum wage," he said. "And that's still somebody who can't claim they know a trade. They're just showing decent progress in learning."
Ward Plumbing and heating in Sylva has consistent difficulty finding qualified tradespeople. Facebook photo
Waldrop said he gets a pretty steady flow of job applications, but is having trouble finding experienced workers, most of whom who can end up making $25 an hour or more in a fairly short period of time.
"Our reality is, I can only put so many helpers on without having skilled tradespeople with them," he said. "Right now with plumbers, we're running two helpers with one lead, because I'm trying to teach guys. That's expensive and it's not really productive, because with most of our stuff, you can't just keep throwing guys at it. Somebody has to know what they're doing."
As these experienced workers leave the workforce within the next decade, those coming up behind them aren't filling the gaps quickly enough to satisfy demand.
"Plumbing especially," said Waldrop. "You start asking people — and this is true in Haywood County too — you start asking people, 'Who can plumb a house? Who can plumb a building?' and they will start listing you people over 55 years of age."
According to a 2018 report by Manpowergroup, a global workforce sourcing company, the situation is already critical.
The title of the report itself — "Solving the talent shortage" — is telling, but contained in it is a laundry list of alarming statistics.
One in four employers say filling skilled trade roles is harder this year than last year, and skilled tradespeople like electricians, welders and plumbers are the hardest to find — ahead of sales representatives, engineers, drivers and technicians. The reason?
It's not the compensation; only 12 percent of employers said, "applicants expect higher pay than offered."
However, almost 30 percent of employers did say they have a general lack of applicants, and another 20 percent said their applicants don't have the experience necessary.
One reason for that could be the historically low unemployment rates in the United States today. North Carolina Department of Commerce statistics show that as of July, unemployment was at 3.5 percent in Haywood County, 3.9 percent in Macon and Swain counties, and a still not-too-shabby 4.2 percent in Jackson County, where Ward Plumbing and Heating is located.
Another reason could be an educational philosophy that up until recently told students from middle school onwards that they'd never make any money — and never earn any respect — if they didn't incur crushing student loan debt in pursuit of a liberal arts degree that would have little practical use.
According to the U.S. Census Bureau, in 1950 less than 5 percent of Americans over the age of 25 had completed a college curriculum of any type. By 2012, that number was above 30 percent. The American Bar Association showed a 382 percent increase in the amount of law degrees awarded between 1963 and 2013.
Such educational attainment hasn't been as much of a possibility in the trades.
"Unless something has changed, Southwestern Community College used to offer HVAC on demand if they could get enough students, but no plumbing," Waldrop said. "Part of the challenge is, they can't even find anybody to teach a plumbing class."
Haywood Community College Dean of Workforce Continuing Education Doug Burchfield has some insight as to why, exactly, that is.
"I think the recession hurt that industry, you can point to that for a lot of it. A lot of your experience left and very few of them came back," Burchfield said. "Now we're going to have to rebuild a pool of folks for supply and demand purposes, to get folks back into those fields and interested in those fields and meet the needs of homebuilders and the community."
He's not just talking about plumbers, either; new construction, from the ground up, involves an array of tradespeople during all phases of the build, and all of them are in short supply.
"You've got framing carpenters, finish carpenters, you've got masonry folks involved in that, you've got the roofers, HVAC installers," he said. "You can run the whole gamut of these folks and there's just an overall shortage of those folks all together, for what it takes to build a house. They're struggling to find subcontractors in any one of those areas, plus they're struggling to find just regular employees to come out and help on the job site."
Burchfield thinks the remedy for that is to begin offering a suite of classes at HCC that will prepare students to fill those roles, and fast.
"My intent with this is I'm starting off slowly, but eventually I want to work this into a kind of 'homebuilders academy,' where we offer most of those disciplines," he said.
In just days, HCC will begin offering an "intro to homebuilding" class.
"When they walk onto a job site, they will understand the mentality, they will understand the lingo and they will be able to get to work and be an immediate impact for the employer from the day they start," he said.
The class will be taught by Haywood County native and custom homebuilder Richard Lanning.
"He's probably got over 30 years of experience in the homebuilding business, that's been his life for many, many years," said Burchfield. "He's made a good living out of it, he's done well for himself, he's got a very good reputation, not to mention he's got a teaching background as well. He taught vocational classes once upon a time, so he understands the classroom mentality and what it takes to teach in a classroom."
If the class goes well, Burchfield says he has the tools to add additional courses to his "academy" concept, including masonry and HVAC. But like the employers he seeks to supply with talent, Burchfield himself is feeling the pinch.
"I've got to build my instructor pool as well, to make sure I have highly qualified folks that are delivering this," he said. "I want to make sure we have industry experts."
Enrollment in the intro class will be open up to and including the first day of class, Oct. 8.
"Even if this class doesn't make it, and we're not able to pull it off and get enough students, we're going to offer it again in the spring. I'm not giving up on this," he said. "That will give me more time to advertise it next time and we can start building on something good from there. To me, this is very important to our community to have these folks out there."
'Introduction to homebuilding
and construction' class

The Workforce Continuing Education Department of Haywood Community College will offer an introduction to homebuilding and construction class beginning Monday, Oct. 8. Classes will be held on Mondays, Tuesdays and Thursdays from 5:30 to 9:30 p.m. and led by local custom homebuilder Richard Lanning. The course will last about 16 weeks, and costs $230. For more information, call 828.564.5128 or email This email address is being protected from spambots. You need JavaScript enabled to view it..