Archived News
Leading Catamount Nation: WCU's new chancellor discusses her path to Cullowhee and vision for the university
Wednesday, August 21, 2019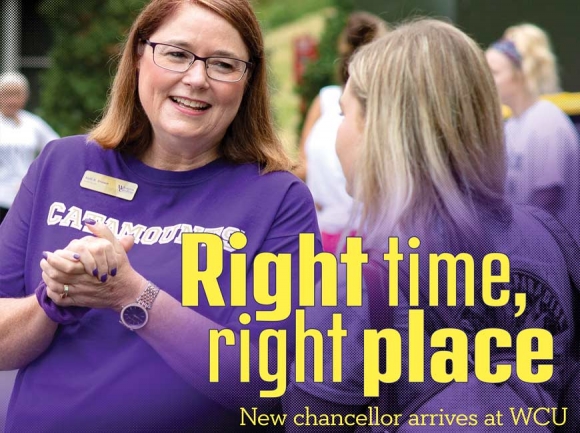 Western Carolina University's newest chancellor is fairly certain that, of the teachers and students she knew years ago while pursuing her undergraduate degree, none would have guessed that she'd one day end up leading a thriving campus of 11,000 students.
Like the university itself, Kelli Brown's educational journey got off to a humble start. Her first post-secondary pursuit was an associate's degree in dental hygiene, a program that landed her a job at a dentist's office in Toledo, Ohio.
"It's an unusual background I think, in many ways," she said during an interview in her new fifth-floor office overlooking campus and the mountains beyond.
Brown, who now holds a Ph.D. in education, didn't set out in search of a career in academia. Rather, the career found her, thanks to a series of bosses and teachers who believed in her and pushed her toward the next step, then the next, and the next. First it was night school classes toward her bachelor's degree, which she took while working full-time. Then it was a faculty member who recommended she go for a master's degree, offering her the chance for an assistantship. And then the pivotal moment, when the dentists she worked for proved more than willing to adjust her work schedule in support of her academic aspirations.
"They said, 'You can work part-time. We want you to get your master's degree,'" said Brown. "That's an example, I think, of the kinds of nudging and support and nurturing that we provide here at Western — when someone says, 'We can make this work, and we're going to open up this door for you.' If they had said no, I'll tell you, I have no idea where I'd be today."
Today, and since July 1, Brown is the 12th permanent chancellor of WCU and the first female to hold the title at Western, a university of more than 11,000 students that offers 40-plus graduate degrees and certificates and is rated in the top five nationally for undergraduate research. But, like Brown's, WCU's story started off simply. It began in 1888 when a group of families in the Cullowhee Valley banded together to create a school for their children. The teacher they hired, Robert Lee Madison, had a vision — to train competent teachers for rural classrooms. He obtained state funding to support a teacher training department at Cullowhee Academy, and by 1918 the institution was offering a six-year program that culminated with a junior college degree.
In 1925, the school became a junior college teacher training institution called the Cullowhee State Normal School, and in 1929 it was renamed yet again to Western Carolina Teachers College, reflecting its new status as a four-year college offering additional majors. The school continued to grow, with enrollment reaching 610 by 1950. It changed it's name to Western Carolina College in 1953 and Western Carolina University in 1967, adding programs and growing enrollment all along.
That history has shaped WCU's focus on small class sizes and outreach to students who come from rural areas and might be the first in their families to attend to college. The idea of seeing and nurturing potential in places you might not expect to find it appeals to Brown, whose husband of 30 years, Dennis, is himself a first-generation college graduate.
"My guess is looking back, nobody ever thought in that undergraduate bachelor's program I was in, taking classes at night, that I would someday be chancellor of a university. I'm 100 percent certain of that," said Brown. "You can never assume anything about the folks you have in your classrooms, because they all have potential."
SEE ALSO: Jackson County welcomes new chancellor
'I never turned back'
That master's program changed Brown's life in more ways than one. The experience showed her that she was meant to be a teacher. The only problem was that she lacked the Ph.D. necessary to teach at the college level, so she got one — a doctorate in education from Southern Illinois University at Carbondale.
"Ever since then, I have never turned back," said Brown, who is now 60. "I have loved every minute of it."
She secured her first teaching position at Western Illinois University, where she worked from 1987 to 1994. Again, her pursuit of a higher goal stemmed from the encouragement she received from those around her.
"From there I had folks again who kind of tapped me on the shoulder and said, 'We think you have some leadership abilities,'" said Brown.
Brown rose through the ranks at WIU to become the graduate program coordinator in the Department of Health Sciences and ultimately assistant to the dean in the College of Health, Physical Education and Recreation. She then chaired the Department of Health Sciences at Illinois State University, where she worked two years before joining the faculty at University of South Florida's College of Public Health in 1996.
From there, Brown took on a series of increasingly responsible leadership roles. She was the interim dean of USF's graduate school from 2003 to 2006 and then went to the University of Florida, where she was the associate dean for academic affairs from 2007 to 2012 and interim dean and professor for the College of Health and Human Performance from 2012 to 2013.
In 2013, Brown joined Georgia College as a professor in the School of Health and Human Services and — but for a six-month stint as interim president at Valdosta State University from July 2016 to January 2017 — remained there until leaving to take the job at WCU. By the time she left, she was serving as provost and senior vice president for academic affairs, with achievements including revitalizing a Center for Student Success, centralizing academic advising and increasing the four-year graduation rate by 25 percent.
In late fall 2018, Brown said, she was notified that somebody had nominated her for consideration as WCU's next chancellor. She was "quite flattered" by the nomination and submitted her application in January.
"I knew a lot about Western, because Western just has such a great reputation," she said. "They are known to be solid faculty, great teaching innovators, very well-known in the undergraduate research world."
The more she started looking into Western, the more it looked like a place where she wanted to be. The students who go there, she said, truly want to be there. They feel like it's home, and they have faculty and staff to nurture them along the way. Hard numbers underscore the anecdotal evidence — Western's graduation and retention rates exceed national averages.
All of that led up to Brown's first day of work in Cullowhee on July 1. She and her husband, who is retired from his career as an engineer, had uprooted their lives and possessions so she could take the job. But it didn't take long to know they'd made the right decision.
"I walked in, and it just felt so right," she said. "I really do believe my 30-plus years in higher education has prepared me to be here at Western Carolina University, in this role, at this time."
Forward momentum
Brown's taking the reins of a school that in many ways has entered its prime of life. Western has seen record enrollment for three straight years, and this fall the university expects to exceed 12,000 students for the first time ever. In 2018, 80 percent of the previous year's first-time, full-time freshmen returned as sophomores — a staggering accomplishment in light of the fact that as recently as 2007 the figure was down to 67 percent. At WCU, 6 out of 10 students graduate in within six years.
Applications are up, and average GPAs and SATs of incoming freshmen are on the rise. Earlier this month, Kiplinger ranked WCU among the nation's 100 "best public college values" in its annual review of nearly 1,200 public and private four-year schools, placing WCU in 62nd place in value for in-state students and 66th for out-of-state students. That high value has a lot to do with the advent of N.C. Promise, a state tuition-reduction program deployed at WCU and two other University of North Carolina System schools in fall 2018 that slashes undergraduate tuition to $500 per semester for in-state students and $2,500 for out-of-state students.
In addition to the lower cost of attendance, Western has more ability than ever to help students bridge the gap financially following the more-than-successful wrap-up of its Lead the Way Campaign, an initiative started by the Belcher administration that aimed to raise $50 million for scholarships by December 2021 and instead ended up with $61.9 million at the final tally in May. That money, donated by 12,368 people, will fund 176 endowed scholarships and 24 annual scholarships.
Brown wants her administration to continue that forward momentum by focusing on three major goals — emphasizing the quality and excellence of the overall university experience, expanding diversity and inclusion efforts and sharpening the focus on regional economic development.
"Universities like Western Carolina University, regional public comprehensive universities, they are known for being very focused in certain areas," said Brown. "We want to maintain our excellence among that group of universities, so how do we continue to be better all the time at what we do, and being regionally engaged, student-focused and innovative?"
Chancellor Kelli Brown, pictured in her new office at Western Carolina University, has been on the job since July 1. Holly Kays photo
Doing that well will require care. When N.C. Promise arrived, the value of Western's existing assets of natural beauty, academic opportunity and teaching-oriented faculty compounded and began drawing larger numbers of students. The challenge will be to use that heightened interest to further strengthen the school while also continuing to serve the rural region where Western makes its home.
"It will be a balance," she said. "I think what we'll continue to do is we'll continue to work to make sure we continue those small class sizes that we're very much known for. That is a hallmark of Western — those small class sizes, the engagement with faculty and students. So we'll continue to do that."
It's important to understand, she added, that Western was growing for years before N.C. Promise was even "a gleam in a legislator's eye." The tuition-reduction program simply makes the assets that were already drawing students to Western available to a wider demographic.
"This growth is because of success. We are good at what we do," said Brown. "We are good at educating students. We are good at providing degrees for students, so that success breeds students that want to come here as their first choice, and students that may never have thought that they could come here can come here because of N.C. Promise."
WCU stands alone among UNC System schools in that it is the only one located in an unincorporated community rather than in a town or city. As Western has grown, so has Cullowhee, an area that until 2015 had no zoning rules at all. In recent years an increasing number of student housing developments has popped up in the otherwise rural area, and the resulting traffic has caused problems on roads that weren't built to handle the load associated with a bustling campus community. The N.C. 107 project currently under discussion in Sylva was brought about partly due to traffic related to the comings and goings of students, faculty and staff at the university.
Brown acknowledges that WCU does not and cannot operate in a vacuum and said that, as chancellor, she'll seek to be involved in the larger community outside of campus.
"We're going to grow, and we're going to do things here with community input," she said. "It wouldn't behoove us nor anyone else to grow without input from and understanding of what this would mean for the community."
The university's community focus is part of its very mission as a regional comprehensive university, she said.
"What that means in definition is that we are embedded in communities and we work very closely with the communities," she said. "That is one of the hallmarks of being a public regional institution."
Brown will keep that focus in mind as the university continues to plan development of its Millennial Campus — whatever goes on that land, she said, should be planned with the regional economy in mind.
Mayor of Cullowhee
Leadership of a university is often compared to leadership of a business — seen as a job of managing budgets and productivity, organizing the labor force and ensuring the whole operation stays afloat.
"Really, it's more like a small town, and I'm like the mayor," said Brown.
WCU has its own steam plant, its own water system, its own police force. Workers range from accountants to lawyers to maintenance workers to tenured professors. There's a lot going on, and it's impossible for one person, even a chancellor, to be the expert in everything.
That's why Brown is grateful to find herself at an institution where good leadership is already in place. Her management philosophy, she said, is to give staff a task and then let them carry it out how they see fit.
But all those tasks should funnel toward one big goal.
Brown's predecessor David Belcher was driven by one oft-repeated mantra: "We're in the business of changing lives."
In her short time at WCU, Brown has already taken that mission on as her own.
"David Belcher had it right," she said to a crowd of more than 300 people during an event held Aug. 19 at Innovation Station in Dillsboro. "We are in the business of changing lives, and in my role as chancellor I'm rolling up my sleeves and getting down to the hard work of promoting and advocating on behalf of our university, Western Carolina University, and I need your help to make that happen."
Having first graduated with a technical degree, rather than with a bachelor's degree that includes general education components like history and English and math, Brown has perhaps a better perspective than most on the value of a well-rounded education that extends beyond the technical boundaries of any one particular field — and on the life-changing potential of such an education.
"We want students to be able to go out and understand authors. We want them to see through different lenses," she said. "We don't want them to just be trained as I was as a dental hygienist."
The liberal arts education gives a well roundedness that allows graduates to hold a conversation with and understand the world of countless different types of people. But beyond that, said Brown, it builds a foundation for success in the workforce that extends beyond the nuts-and-bolts skills of a given field.
"I would argue that you have to have a liberal arts understanding to be a good nurse, to be a good engineer, to be a good accountant," said Brown. "Because without those basic understandings all you have is being a teacher (for example). And at the same time, remember a lot of those things that are oftentimes referred to as 'soft skills' are the skills that make you a better leader. So if you're going in and you're a teacher, you now become a leader in that school. If you go in and you're an engineer, you now become a leader within that."
Brown's seen that transformation — from timid student to fearless leader — happen before her eyes countless times during her years in academia, and it's what inspires her to continue centering her life around the college campus.
She spoke to The Smoky Mountains News while still anticipating the Aug. 16 new student convocation planned at Western — it would draw nearly 2,000 freshman students, wide-eyed and just a little overwhelmed by this new chapter in their young lives.
"Four years later, they walk across that stage, and they have self-confidence, they have leadership skills, they look different," she said. "You can just see in them they exude the ability to go out there and do whatever it is they came here to learn to do."
When those students leave to go do that thing they are so excited to try, they'll be forever changing their own lives and the lives of their families and spouses and children. Couple with that the power of a university like WCU to work for the good of the community it serves, and you have powerful combination.
"Hopefully when people ask me about my legacy, they'll look back and say we're continuing to change lives, but at the same time we're not only changing the lives of their families," she said. "But even better than that we're changing the communities, because we're able to help bring about this idea of economic development, this economic engine for the region."
It's a big job, but Brown believes she's up to it.
"If everybody could have this job and have as much fun as I do in it, they would all be beating down the doors," she said.