Archived News
Local school boards becoming more politicized
Wednesday, October 05, 2022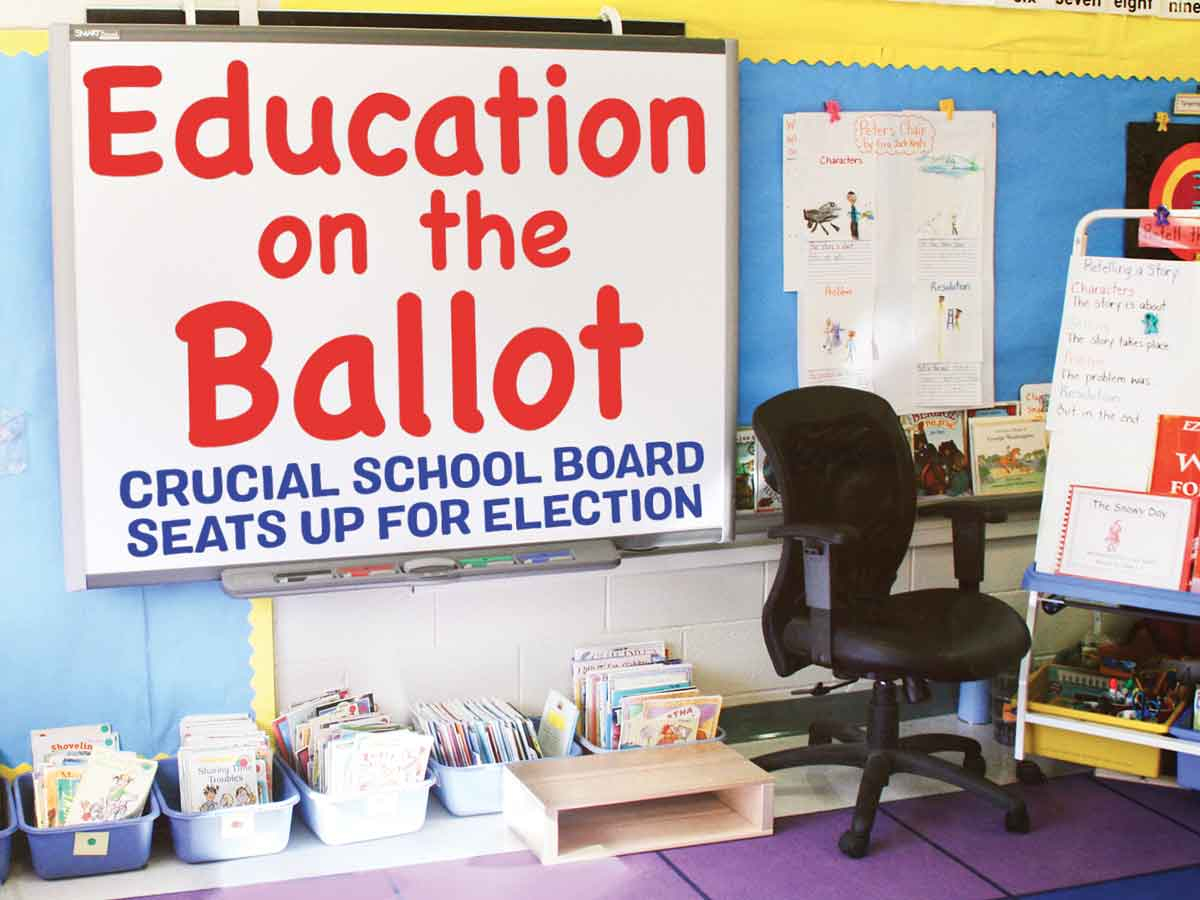 Public schools have grappled with constant change over the last several years due to the impacts of COVID-19.
As most schools work through the first "normal" school year of the last three, the challenges are abundant. Learning loss accumulated during the height of the pandemic when students were engaging in class virtually is rebounding, if slowly, despite a growing shortage of faculty and staff. Through it all public school boards have been tasked with making the key decisions that will have impacts on the lives of students for years to come.
These key decisions being made by school boards at a quicker pace, combined with the growing responsibility of parents and guardians in a student's learning due to in-home school, is largely what drove herds of parents to school board meetings with increasing frequency throughout the pandemic months, centering school boards in countless political debates.
"We have seen a national trend recently that has brought school board elections and school board members into the crosshairs of partisan politics," said Chris Cooper, Madison Distinguished Professor and director of the Public Policy Institute at Western Carolina University. "Part of that is because of the increasing nationalization of all politics. Voting patterns are increasingly consistent from dogcatcher to president, and school boards are no exception to that."
The pandemic brought several sensitive healthcare decisions before boards of education, decisions in which parents wanted a say. Even before those healthcare choices had to be made, students spent months at home learning virtually and parents were tasked with even more duties than non-pandemic parenting involves, giving them an up close and personal view of what their children were learning and how they were learning it. Throughout the whole process, public comment sessions, usually a sleepy affair, became longer and more heated.
"The masking issue and the school shutdown issue clearly were an accelerant to a fire that was already burning," said Cooper. "We've been becoming increasingly partisan. Our school boards are becoming increasingly partisan, and the pandemic absolutely contributed to that."
During the pandemic, school boards were required to be public and transparent in the decisions they made. One requirement instituted statewide at the end of August 2021 mandated that school boards take a monthly vote on mask mandates, or lack thereof. Not only did this give parents an opportunity to understand the board's decision-making process, it also gave them a monthly opportunity to share their opinions on the subject of administrative pandemic decisions, along with anything else they thought relevant to their child's education.
"Many of the national political issues are also inherently local issues," said Cooper. "The national conversation over the degree to which critical race theory is taught in schools is not a decision that's determined at the national level; it's one that is determined at the state and particularly the local level. So you've got national politicians using rhetoric that can only be implemented by local politicians, in this case, school board members."
This politicization is not a new process. It has been happening for decades, long before the pandemic.
"There's no question that school boards have become increasingly politicized," said Cooper. "They have made political decisions, of course, for years, but they operated a bit in the shadows. The average voter was sort of unaware of what school boards did and might even be unaware that they voted for school boards."
At the state level, Reps. Mark Pless (R-Haywood) and Mike Clampitt (R-Swain) introduced a bill earlier this year that would have made all boards in Haywood County, including school board, partisan-elected.
The bill did not make it off the ground and while several current board members expressed ambivalence about the idea of partisan boards, Chuck Francis, Steven Kirkpatrick, Larry Henson, Jimmy Rogers and Bobby Rogers have all switched party affiliation from Democrat to Republican since the last time they ran for school board. What used to be a 6-3 Democrat majority board is now a 6-3 Republican board. Jimmy Rogers, Kirkpatrick, and Henson are all up for reelection this November. Rogers and Kirkpatrick are running unopposed in their district; Henson is challenged by unaffiliated candidate Mike Graham.
Billy Handley is running for school board this election season in Macon County and is one of only a few candidates who supports the idea of partisan school boards.
"I feel the school board is already a partisan position, and I would not have thought so before I started running," said Handley. "Personally, I think it should be a partisan position."
Some of those school board members and candidates who are in favor of partisan school boards say that these boards are already partisan in everything but name.
As Marla Morris, candidate for Haywood County School Board, pointed out, a candidate's party affiliation is public record and local political parties will list which candidates the party supports, even for nonpartisan boards.
If school board candidates already embrace political parties, even if they aren't running for a partisan board, does it matter if these local leadership positions become partisan? Cooper said partisan school boards could result in, among other things, a decline in trust of local schools.
"If half the country's bright blue and half the country's bright red and a school board is controlled by the red or blue faction, the other side is going to distrust them," said Cooper. "So I worry about it from that perspective, regardless of who's in charge. It's a convenient excuse to distrust the system."
Then there are the faculty and staff to consider, the people whose very livelihood is wrapped up in the work, advocacy and decision of school boards.
"People are being elected to school boards on the promise of making changes to teachers' jobs, and teachers are going to feel that," said Cooper. "Whether they can follow through with that change is a different question, but the rhetoric is certainly felt by teachers and is contributing to the crisis we have in this country of teachers leaving the profession."
The loss of public school staff is a growing problem in Western North Carolina. North Carolina teachers already make around $10,000 below the national average for public school educators, even when accounting for local supplements. According to a report from the North Carolina School Superintendents Association, there were an estimated 11,297 vacant positions in North Schools prior to the start of the 2022-23 school year, up from 7,639 at the start of the 2021-22 school year.
Still, a large majority of the candidates interviewed for the impending school board elections told the Smoky Mountain News that politics have no place in the classroom or the school board. Except for a few outliers, many of them never want to see the day that their local school board is a partisan-elected board.
"Politics have no place in education, especially at the local level," said Brooke Haynes, a candidate for Haywood County School Board. "Rather than divide our nation and community even more, nonpartisan races seek to unify us in the best interest of our children."
This November there are school board races taking place in Haywood, Macon and Swain counties. Jackson County held its school board election during the primary election earlier this year and now has three new members.
There are two seats up for grabs on Swain County's five-seat board of education. Because Swain's school board is a partisan board there are two Republicans, R.L. Taylor and Lisa Loftis, and two Democrats, incumbent Travis Hyatt and Jamie Fisher, running for the open seats. All voters in Swain County will have the opportunity to vote for two candidates and the top two vote-getters will join the board.
The Haywood County Board of Education is made up of nine seats, four of which are up for election this fall. Two incumbents, Jimmy Rogers and Steven Kirkpatrick, are running uncontested in their districts of Clyde and Fines Creek, respectively. The third incumbent in the race, Larry Henson, is challenged by Mike Graham for the Bethel district. In the Crabtree district Brooke Haynes and Marla Morris will compete for a seat, meaning that whoever wins will become the sole female representation on the board.
In Macon County, districts two and four are up for election. District two incumbent Tommy Cabe was running for reelection but passed away last month. Danny Reitmeier, Stephanie Hyder Laseter and Billy Handley will compete for the seat. In district four incumbent Carol Arnold is challenged by Diedre Kaye Breeden.
Leave a comment
1

comment
I wonder if the author of this article (Hannah M) would mind double checking the party affiliation numbers for the Haywood School Board? She lists a 6 to 3 Republican leaning among the 9 board members, but I thought it is 8 to 1 Republican?

Tuesday, 10/11/2022