Archived News
Haywood Schools still face deluge of flood repairs
Wednesday, August 17, 2022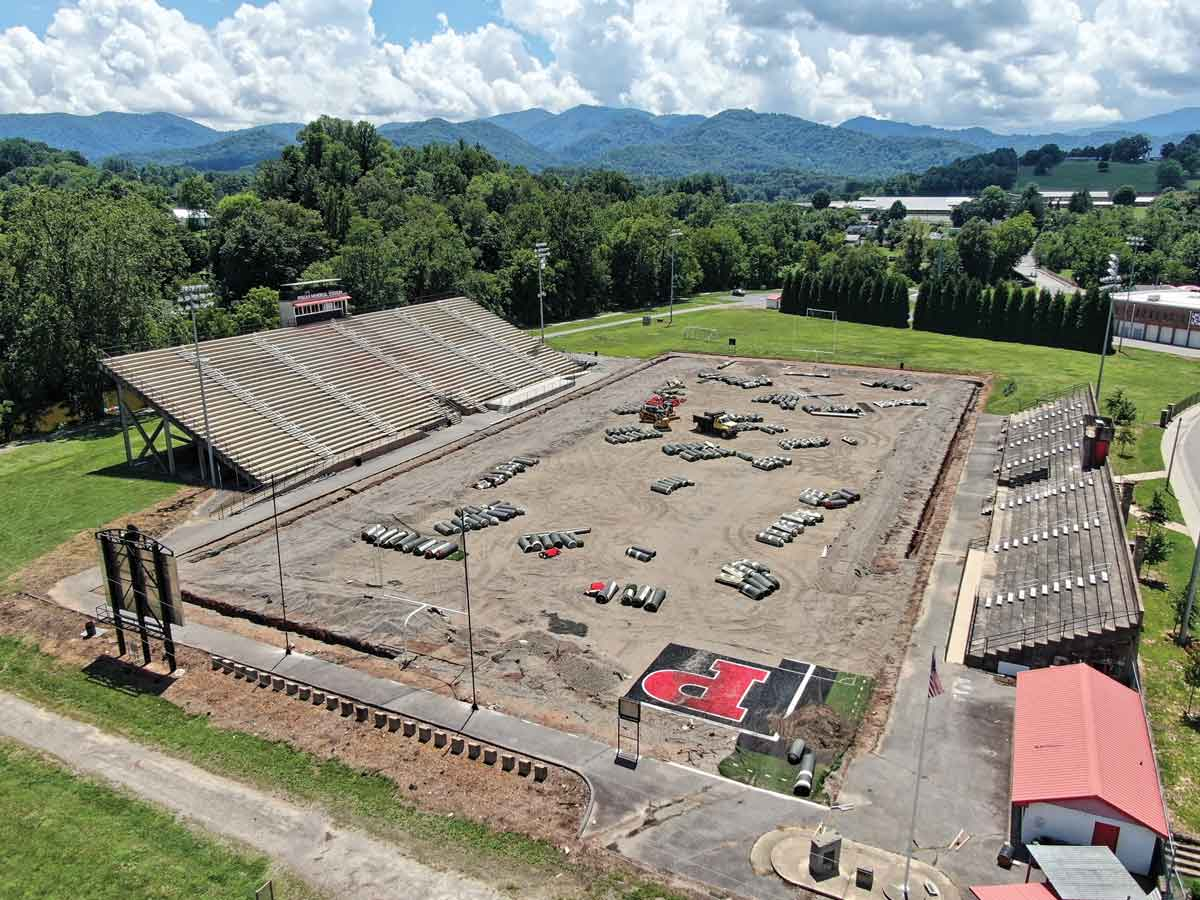 The work has been ongoing at Pisgah Memorial Stadium since last year's flood. During that time, teams have had to play home games at other venues. Allen Newland photo
On Tuesday afternoon, Aug. 17, 2021, the second day of the school year, Haywood County Schools Superintendent Dr. Bill Nolte announced that school would be closed the following day. "Early and extensive flooding from Tropical Storm Fred" had damaged several roads used for bus routes, and there was uncertainty about scheduled food deliveries to the school system. It would be an optional workday for teachers, not a remote learning day for students.
As that afternoon wore into evening, it became apparent that several students and staff in Haywood County Schools would not be able to return home. Roads were flooded, bridges were impassable, and some homes had already been lost. School officials stayed with those students overnight, all while making plans to reunite the students with parents the next day.
On the morning of Aug. 18, the breadth of the damage was coming into focus. The school system would have to wait for authorization before cleaning or repairing indoor and outdoor facilities, but Haywood County Schools staff were out early that day taking stock of the destruction, trying to get a hold on what the rain had brought with it and what the swollen Pigeon River had left in its path.
"In looking at the devastation, I was sickened because I knew that it would be many months, years down the road before we could get recovered," Associate Superintendent Dr. Trevor Putnam told The Smoky Mountain News.
An announcement from Nolte early that morning laid out the damage that could be seen with the naked eye.
"One school bus was stranded beyond a flooded bridge, all other buses were returned to schools; Central Haywood High School has some damage but we are hopeful it will be useable shortly after clearance; the Education Center adjacent to Central Haywood has been spared significant damage; Pisgah Memorial Stadium, as well as other athletic facilities in Canton and Waynesville, were damaged."
The full scope of the damage would become apparent over the next couple of days. School was canceled again on Thursday and Friday and the Board of Education scheduled a remote emergency meeting for Thursday night.
"We ask for public patience as we work through the appropriate steps to reopen schools," Nolte said that Wednesday morning. "We are so proud of our school community. As in the past, the community has responded to a crisis situation with hard work and determination. Thank you from the Haywood County Board of Education, our administration and staff."
Of course, this wasn't the first time Haywood County Schools had dealt with serious flood damage, and for many, chilling memories resurfaced from the floods of 2004 .
"I was saddened of course, to learn of another flood that we were suffering," said Board of Education Chairman Chuck Francis. "It was so vivid, the previous floods, and to know that this tragedy was going to impact people again … It was a shock, to be honest, I was shocked."
Estimates put the total dollar amount of damage to Haywood County School properties from Tropical Storm Fred at $10.5 million .
That Thursday night, the school board held its emergency meeting and unanimously passed a motion to request emergency funding from the Federal Emergency Management Agency, the North Carolina General Assembly and the governor related to damages from Tropical Storm Fred.
It was decided that students would return to school Monday, Aug. 23, with the exception of those attending Central Haywood High School. Due to significant damage to the building, those students would begin remote instruction.
Putnam laid out the destruction for the board. The school system finance and technology departments would be relocated to the temporary Central Office, located in the old Central Elementary School. Central Haywood High School, Pisgah Memorial stadium and softball and baseball fields used by Pisgah High and Canton Middle School would all be unusable and in need of repair.
As the path forward became clear, so too did one paramount need — a FEMA disaster declaration .
"We are also reaching out to Federal Officials regarding a FEMA disaster declaration," said Nolte. "Without this declaration, we will not receive federal funding relief for costs related to clean-up, recovery and repairs. I want to thank county officials and Dr. Putnam for working on the FEMA disaster declaration."
Even after the destruction from Tropical Storm Fred had been fully assessed and it was clear what repairs would be needed, the path to making that reconstruction happen was filled with obstacles.
As it turned out, the Pisgah Memorial Stadium was not included on federal flood maps. This means that instead of the typical arduous process of waiting for a FEMA disaster declaration, getting FEMA to approve a funding amount for the repair of each damaged property and then finally getting to rebuild, there would be several more steps involved.
Haywood County Schools would have to get a no-rise study done in order to obtain a permit for the stadium in the floodway to get it onto flood maps. Any project in a floodway must be analyzed by an engineer to determine whether or not it would increase flood heights before a permit can be issued. The community's permit file had to have a record of the results of the analysis, which could be in the form of a no-rise certification.
"In working with FEMA and federal regulations, a permit is required," said Putnam. "We did not exist on any federal flood maps."
When repairs were needed following flooding in 2004, money for restoration came from the North Carolina General Assembly, not from FEMA. This meant that the school system wasn't required to meet all the standards that are necessary when rebuilding using money from FEMA. This time around, before any repairs could begin, no-rise studies had to be completed.
"Basically, a no rise study shows the impact your structures have on the flood in the floodway," said Putnam. "How much water do these structures displace? And the reason that's important is because it could potentially make the flood path larger or wider."
In order to be approved for permitting to be included on flood maps, Haywood County Schools also had to prove that this structure existed prior to the creation of flood maps in the 1970s.
In 1968, Congress passed the National Flood Insurance Act and created the National Flood Insurance Program. This act required that flood zones be established to define locations subject to a higher probability of flooding. Maps were created that showed the location of the 100-year floodplain, known as the Special Hazard Flood Areas. The first of these maps came out in 1973.
HCS staff was able to procure old pictures that did show the stadium existing prior to the creation of flood maps in the 1970s. The only part that did not exist back then is what is now the home side set of bleachers. In order to obtain approval to keep the home set of bleachers, a hydrology study had to be completed that measured the surface area of the columns holding up the bleachers, and any footprint they have in the flood path.
"Through a historical search, we could show that the football field and stadium had been there," said Putnam. "The visitor's side was grandfathered in. And because the obstruction to the flood path on the home side was not substantial, we were able to achieve the no rise certification. This allowed us to get a permit and the permit allowed those structures to be drawn in on a flood map."
The no-rise study was completed in early February, and the permitting needed to be included on the flood maps was issued in March.
The rising sun painted an ugly scene at Pisgah High School's Memorial Stadium. Greg Boothroyd photo
Once all the work to get these structures onto the flood maps had been completed, Haywood County Schools could begin the process of getting money for projects from FEMA. This was another lengthy step in which the school system and FEMA went back and forth several times to finally settle on an amount to be paid.
Pisgah Memorial Stadium's field is in the process of repairs now. After an environmental review, it was determined that the gravel bed beneath the turf would have to be removed along with piping for drainage and fencing. There would also be some ancillary repairs needed for busting up concrete around the edge of the field.
All these necessary repairs went into a request for proposal, and bids from contractors came in between $1.8 and $2.1 million. At first, FEMA offered the school system $1.3 million, minus whatever insurance coverage the school system would receive for the field. With a coverage of $427,000, the school system was left with $873,000 from FEMA.
"There was a big shortfall," said Putnam. "So then what happens is, you determine all these costs and you begin to negotiate with FEMA."
FEMA requires each individual part of a project to be competitively bid, but in reality, a lot of the projects can't be split up. According to Putnam, FEMA would like to see a bid for gravel, turf, fencing and other items all separate for the stadium project. But the same entity that installs the turf at the stadium will have to install the gravel beneath it in accordance with artificial grass protocols. The base for the fencing is set deep into the concrete that surrounds the field, which itself serves as a tightener and stabilizer for the turf.
"We had to convince them that these projects have been competitively bid, and these are the amounts that they can complete the work with," said Putnam. "So even though it's not an itemized competitive bid, it is a competitive bid for the entire project."
Even though work has already begun at the stadium, it will not be ready for play this football season. After all repairs have been completed on the field and the stadium, all utility boxes must be moved up and out of the floodway, even though they service buildings that are in the floodway.
The plan for the Pisgah football program is to play two "home" games at Tuscola's C.E. Weatherby Stadium, and all others on the road.
Initial quotes for restoration of the Pisgah softball field were $846,666 and $1,319,982 for the Pisgah baseball field. Repairs to both fields began last week. Quotes for restoration of the Canton Middle softball field were $95,000 and $897,038 for the Canton Middle baseball field. Repairs to both fields also began last week.
The Tuscola softball field sustained minor damage, estimated at $525.
Central Haywood High School weathered the most damage of any Haywood County Schools property, and now it appears unlikely it will be repaired at all. On an initial walk-through with FEMA officials, they suggested seeking relocation.
However, for FEMA to help pay relocation costs, necessary repairs to the building must exceed 50% of the total property value. If this is determined to be the case, HCS will have to apply for a separate FEMA program in which it will receive funding for construction of a new building. Initial quotes for repairs to the school building were estimated at $5,065,000.
"The only thing FEMA will not pay for, if that is the case, is land for the relocation. That would be the responsibility of the school system," said Putnam. "At this time, we're waiting to see if we're even eligible for relocation."
In the meantime, Central Haywood High School will have a new home in the old Central Elementary School building. Haywood County Schools Administration was using the building last school year as its central office building but was able to move into its new office building in June of this year. Beginning this school year, Central Haywood High School will occupy one wing of the building, and the HCS instructional technology department will occupy the other. The Haywood Community Learning Center will also move from its current location in Hazelwood to the old Central Elementary kindergarten building.
"Diplomas for HCLC are issued by Central Haywood High School, so it makes sense that they're on the same campus and can share resources," said Putnam. "It's a lot more efficient."
This isn't the first time — or the last — the Pigeon River will flow beyond the confines of its usual path.
"It's flooded several times," said Francis. "Just since I've been on the board, the stadium's gone underwater three times. Central Haywood High School and the Education Center have gone underwater as well."
In 2004, the remnants of hurricanes Frances and Ivan barreled through Haywood County, leaving the school system with what was estimated at $2.4 million in damages. The destruction caused by that pair of storms was eerily similar to what transpired following Tropical Storm Fred.
Central Haywood High School got hit the worst; those students had to move buildings and take classes in the old Hazelwood Elementary School. The second largest expense was Pisgah's football stadium, which needed more than $400,000 in repairs. Like now, much of that cost back then involved replacing the drainage system under the field, as well as gravel and soil. The Education Center in Clyde, Pisgah softball and baseball fields and Canton Middle softball and baseball fields all sustained damage.
At that time, the Board of Education agreed to try and find new land for Pisgah and Canton Middle softball and baseball fields.
This time around, the school board is considering all its options, including the possibility of alternate locations for the properties that have been ravaged by floods multiple times. However, this daunting prospect is not considered lightly.
"I think that we would want to weigh the risk benefit ratio of [relocation]," said Francis. "I understand that there's a lot of local value in Memorial Stadium being where it is and there's strong emotion there. That's something that we need to weigh in the future to try to find something that would meet the specification of being something that would respect and honor the wishes of the people of Canton. I would proceed with extreme caution on relocation, at this point in time, of Memorial Stadium."
"When you look at the historical pattern of flooding, in my mind, it's not a matter of if, it's a matter of when," said Putnam. "So I think it's wise to consider alternate options."
Whether or not relocation is the path the school board eventually decides to take, several factors will be different the next time flooding occurs.
"The next time this happens, there are a lot of things we will not have to go through," said Putnam. "People who follow me won't have to do a no-rise study, they won't have to obtain permits, and they will not have to replace every piece of electrical instrumentation we have because it will have been taken out of the water level."