Archived News
2004: Floods ravage Western North Carolina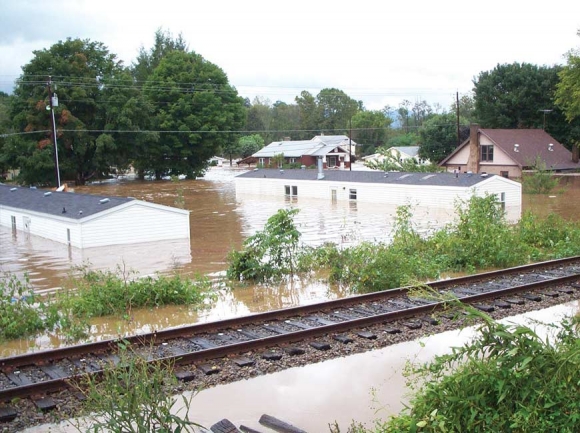 Many, including these residents of Clyde, lost everything. File photo
The tiny central Haywood County town of Clyde lies more than 270 miles from the Atlantic Ocean, more than 400 miles from the Gulf of Mexico and more than 2,500 feet above both of them, so it must have seemed like a cruel joke when back-to-back hurricanes over the course of about a week caused unprecedented regional flooding.
"The floods that ravaged Canton, Clyde and Asheville are no laughing matter," wrote Smoky Mountain News Publisher Scott McLeod in his Sept. 15, 2004, opinion piece. "The best news is, no lives were lost."
And that was about the best of it — as category 4 Hurricane Frances degraded to a tropical storm after grinding its way across Florida, the massive storm then entered the Gulf briefly before making a second landfall, pounding the Panhandle for good measure.
From there, Frances slowly moved north through Appalachia, dumping more than 7 inches of rain on Haywood County as it drifted northeast, directly over Western North Carolina. Mount Mitchell received more than 23 inches of rain before Frances plodded back out to the Atlantic, by way of Pennsylvania, New York and Ontario. All told, the storm killed 49 and caused more than $10 billion in damage.
Right in the middle of it all was former Smoky Mountain News Staff Writer Becky Johnson, who chronicled in extensive and agonizing detail the oft-futile local attempts to stave off casualties and property damage.
Around dinnertime on Sept. 7, workers at Blue Ridge Paper in Canton silenced the mill's mighty smokestacks for the first time in 99 years. Students and parents at downtown Canton's Bethel Christian Academy helped move belongings to higher shelving, and laid down sandbags that would do little to stem the 14 feet of water that eventually flooded the school.
Local videographers Daniel Hart, Nathan Ledford and Joel Noland had spent much of the day atop the concrete bridge that spans the Pigeon River near Iron Duff. When the water reached the bottom of the bridge they remained undaunted, but soon wisely retreated to higher ground after midnight.
"We sat on the porch all morning and just watched stuff floating by," said Hart, who with his friends saw bales of hay, washing machines, a goat, someone's front porch, vehicles, propane tanks, stuffed animals, coolers, toys, grills, lawn chairs and a 50-foot truss bridge.
Johnson went on to provide another two dozen anecdotes of flooded homes, wrecked businesses and ruined lives, but also a few shining examples of neighbors helping neighbors in need.
Around noon that Thursday, a man was reported "clinging to a branch" in the Pigeon River near Clyde; he'd been in a canoe, using a snow shovel as a paddle, and was trying to check on an elderly resident whom he hadn't been able to reach by phone.
When his canoe approached a bridge, he bailed, just as his vessel was dashed to pieces.
Once rescued, he "took off running through town" and arrived at the home of 84-year-old Virginia Sanford, who'd been evacuated to the Folkmoot Friendship Center in Hazelwood the previous night by the Red Cross.
Canton native and then-Duke student Zeb Smathers remembers his dad Pat Smathers, mayor of Canton at the time, contacting him.
"Getting that phone call, and hearing the tremble in dad's voice, the pictures and the stories and the chaos, it was unbelievable," Zeb Smathers, now Canton's mayor, told The Smoky Mountain News in 2017. "And then a week later, the second storm hit."
That's right — Frances was only the beginning of the muddy mountain misery. Right about the time McLeod's opinion piece was hitting newsstands across the region, category 5 Hurricane Ivan was making landfall near Gulf Shores, Alabama, packing winds of 120 miles per hour.
Retracing Frances' path, Ivan gutted the Heart of Dixie before moving onto a region where the previous week's storm had left soils saturated and rivers swollen.
"We were ready, but we still didn't anticipate the level of damage from this second storm," said Greg Shuping, who was then and is still head of Haywood County's emergency operations. "Ivan affected not just the major waterways but the tributaries and smaller streams."
Ivan would eventually drop 17 inches of rain in parts of Haywood County, cause more than $26 billion in damage across its path and kill 92 people, including an elderly Crusoe resident who drove into the floodwaters. Several residents of Peeks Creek, near Franklin, also perished when a half-mile long, 20-foot wide landslide tossed large boulders "like bowling balls," according to Cullasaja Fire Department volunteer Mike Bryson.
Recovery was slow, but steady; Pat Smathers advocated for a relief bill on the floor of the N.C. General Assembly even as well-known politicos like senators John Edwards, D-South Carolina, Elizabeth Dole, R-North Carolina, and Rep. Charles Taylor, R-Brevard, joined N.C. Gov. Mike Easley in visiting the area to survey the damage.
Today, the floods remain a cultural touchstone for the region, especially in hard-hit Canton and Clyde. Most people remember where they were and what they did, what they lost and who they lost, but most importantly, how they rebuilt with an eye on the future.
Perhaps emblematic of that spirit is Clyde's River's Edge Park, which only just reopened to the public last month; in actuality, the park — which sits on the banks of the Pigeon River just off Thickety Road — is a flood control measure first, and a park second.
"It's been a task, to say the least, but we're really pleased with how it's turned out," Clyde Town Administrator Joy Garland told SMN last month. "The design is working — it's holding. It is not washing away."