Archived News
WCU enrollment dips
Wednesday, February 02, 2022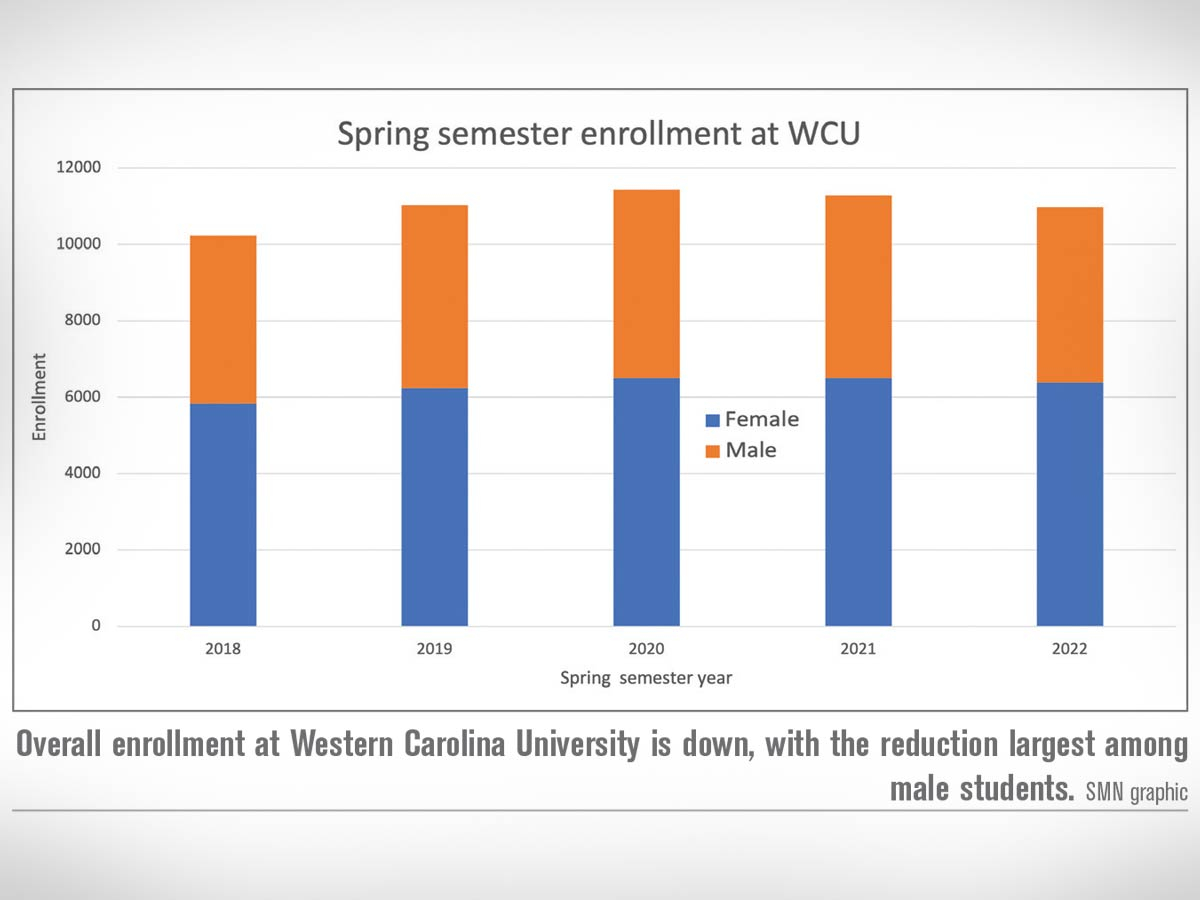 Enrollment at Western Carolina University is the lowest it's been for any spring semester since 2018, according to student census data collected Jan. 24. The school cites the ongoing pandemic and its impact on student finances as drivers of the 2.7% decrease in enrollment between the 2022 and 2021 spring semesters.
"Some students we've heard from have expressed the pandemic has been hard on them and they wanted a break before resuming their collegiate career, while others found it easier to move into distance education programs rather than face-to-face," said Chancellor Kelli R. Brown. "We are working hard and putting in place different strategies so that we can remain focused on student success and helping our students to achieve their goals."
Despite these challenges, fall-to-spring retention for first-time, full-time freshmen increased slightly, coming in at 86.54% compared to 86.51% last year.
Male, in-state enrollment declining
The university collects student census data on the 10th day of classes each semester. According to the spring 2022 census, 10,977 students are enrolled at WCU compared to 11,284 at the same time last year. That's an overall drop of 2.7%, but the undergraduate student population saw an even bigger dip, with the 9,287 undergrads enrolled this semester representing a 3.1% decrease from January 2021.
That reduction was mainly due to falling enrollment among male students and in-state students. In-state enrollment fell 3.8% compared to spring 2022, even as the number of out-of-state students grew 4.3%. Meanwhile, male enrollment came in 4.02% lower than last spring while female enrollment saw a more modest slump of 1.77%.
While a gender breakdown of in-state versus out-of-state students in spring 2022 was not available as of press time, data on past semesters indicates that enrollment has been falling fastest among students who are both in-state and male. Between spring 2020 and spring 2021, the number of in-state male students decreased 4.2%, while in-state female enrollment and out-of-state male enrollment grew. Out-of-state female enrollment decreased slightly, falling 1.21%. A comparison of fall 2020 and spring 2021 figures reveals similar trends.
According to Associate Vice Chancellor for Undergraduate Enrollment Phil Cauley, female enrollment has, for various reasons, most often outpaced male enrollment since the university's inception. Males comprised about 43% of the student body between 2013 and 2019, though that number slipped below 43% for the first time in 2020 and has continued falling since, both as a percentage of total enrollment and in absolute terms. These data mirror a nationwide trend of declining male college enrollment.
According to the current census, men make up only 41.81% of WCU's student body, with 4,589 enrolled compared to the high point of 5,280 in fall 2019. Meanwhile, female enrollment grew to a high of 6,999 in fall 2020, dropping by just 15 students the following fall and coming in at 6,388 this semester.
The number of in-state students has also been falling since 2019, when it hit a high of 10,679 that fall semester and 9,962 the corresponding spring. Out-of-state enrollment rose slightly over the same time period, now sitting at 1,551. Multiple factors are impacting these trends, Cauley said, including the N.C. Promise Tuition Program and an overall decline in North Carolina high school graduates . Fall 2022 is expected to produce the fewest North Carolina high school seniors in decades.
Distance learning keeps growing
While overall enrollment was down, WCU saw growth in distance learning enrollment and recruitment of new graduate students. Graduate student enrollment was down by seven students compared to last spring, less than 0.5%, but the number of new graduate students increased by 13%.
Meanwhile, distance learning enrollment grew by nearly 5%, now accounting for 24.83% of total enrollment — an all-time high. Prior to the pandemic, distance learning enrollment was holding steady at around or just under 20%, but interest increased as the pandemic unfolded.
"People see it as an opportunity," Associate Director of Distance Learning Tony Miller told The Smoky Mountain News for an Aug. 18 story . "It's an economically affordable and convenient way to finish the degree and still manage the work-life balance, and I think that's what appeals to the adult students getting their degree."
The spring 2022 data was compiled by WCU's Office of Institutional Planning and Effectiveness and is considered preliminary until verified and sent to the University of North Carolina System Office.
Spring semester 'close to normal'
Western Carolina University continues "close to normal" operations this semester as the pandemic continues.
Campus life includes in-person classes, sports, campus events and activities, community engagement, normal hours and increased capacity for buildings and facilities like dining halls and the campus recreation center, and full-occupancy residential living.
However, face coverings are required for all indoor public spaces, and all members of the campus community — students and employees — are asked to report their vaccination status. Because the N.C. Commission for Public Health is the only entity authorized to mandate immunizations for college students in North Carolina, vaccination is not required. Vaccination status information is used to inform WCU's ongoing preparations and planning related to COVID-19. Any unvaccinated student or employee is expected to be part of a regular testing regimen.
As of Jan. 31, there were 410 active COVID-19 cases among students, employees and contractors at WCU, with only 5% of campus quarantine beds in use. In the past week, 142 students, 21 employees and five contractors tested positive, with a testing positivity rate of 23.2%. At WCU, 68% of students and 82% of employees are vaccinated.