Archived News
Freshman enrollment at Western Carolina high for '17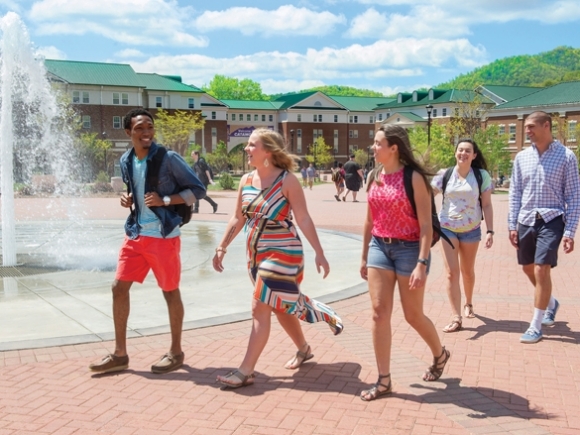 The tuition reduction program N.C. Promise won't go into effect until 2018, but its impending implementation could already be affecting Western Carolina University's enrollment numbers.
"This is the number that has everyone kind of shaking in their boots," Mike Langford, WCU's director of undergraduate admissions, told the university's board of trustees June 1. "Right now 2,178 have committed to attend (in fall 2017)."
That's 97 more than at the same point last year and 242 more than the number attending the first day of classes in fall 2016 — a significant increase, especially considering that the school actually sent acceptance letters to slightly fewer students than it did last year. By June 30, 2,147 freshmen had committed to attend. As of the end of May, WCU had received 19,533 applications compared to 18,282 at the same point in 2016 and admitted 7,431 of those applicants compared to 7,445 admitted last year.
"We hit most of our targets except commitments," Langford told trustees. "We got a stronger commitment rate than we expected based on our historical record, and I think that is largely due to N.C. Promise."
When the program goes into effect next year, tuition for in-state undergraduates will be capped at $500 per semester at three University of North Carolina System schools — including WCU. This year's high commitment rate could indicate that prospective students are already anticipating the upcoming tuition reduction. And that could mean that this year's admissions cycle contains some lessons for dealing with the effects of N.C. Promise going forward. WCU might start placing some applicants on a waitlist while it gives the actual admission offers, Langford said — a model typical of highly selective universities.
"It's also possible we have to have a smaller freshman class next academic year in order to accommodate the larger interest," he continued. "We might retain them at a higher rate, so it's not just the one-time impact of admitting a freshman class."
Not that long ago, retaining freshman students through to the sophomore year was a struggle for Western, with only 67 percent of first-year students returning as sophomores in 2007, but the school has worked to boost that number and celebrated an 80 percent retention milestone in 2015. Langford theorizes that the number might see another jump once the lower tuition resulting from N.C. Promise gives students another incentive to stay at Western.
Addressing financial aid
While N.C. Promise will substantially reduce the cost of attendance at Western, a four-year education in Cullowhee will still carry a considerable price tag. In addition to the $500 tuition, students would still be responsible for paying fees and costs for meal plans and dorms or apartments. The total cost to an in-state student living on campus with an average meal plan would therefore sit around $14,000 per year under N.C. Promise, down from $17,000.
With a high number of students who come from lower-income families or are the first in their families to attend college, boosting affordability is key in Cullowhee. Over the past five years, WCU's leadership has been working to overhaul its scholarship offerings and take a bite out of student indebtedness. At WCU, 72.6 percent of students carry a loan, with graduates leaving school with an average loan size of $24,000.
"There's still a challenge in meeting student needs in terms of affordability," Phil Cauley, director of student recruitment and transitions, told trustees June 1.
Five years ago, WCU completed a scholarship audit that led to the conclusion that scholarships at the university were "kind of a jumble" with no central source of information for scholarship opportunities. Western then created the director of university scholarships position to lead an overhaul of the system.
Tasks have included reviewing existing scholarships to ensure that they comply with current standards — for example, some older awards were restricted based on the applicant's race or gender — making sure that all available scholarships are awarded and identifying any additional funds that could be used for a scholarship.
As of the end of May, during 2016-17 WCU had awarded 736 scholarships to 599 students for a total of $11 million, with individual award amounts ranging from $109 to more than $16,000.
There's still work to do, especially when it comes to wrangling the constant question of whether to emphasize giving as many awards as possible or giving as large amounts as possible.
"Do you give a lot of money to a few, or do you give a lesser amount to more?" Cauley asked. "At least our philosophy has been trying to find that sweet spot."
That "sweet spot" being awarding a large number of students for outstanding classroom performance while also making the awards big enough that they have an actual financial impact for the recipient.
Another goal involves allowing more flexibility on application and award timelines. For most undergraduate students, the existing schedule makes sense. But for others, such as graduate students, the schedule might not make sense and could prove cumbersome to achieving their educational goals on time.
Western's ability to make college affordable will also depend on what happens at the federal level. It's uncertain what the final budget, the first to be passed under the administration of President Donald Trump, will look like, but Trump's proposed budget included significant cuts to the Federal Work-Study Program and elimination of the Federal Supplemental Educational Opportunity Grant, which goes to students with an expected family contribution of $0. Additionally, the Federal Perkins Loan Program, a subsidized loan program, is set to expire on Sept. 30 and will require congressional action to continue.
Changing demographics
Demographics will also affect the future of enrollment at WCU. Projections through 2030 show an overall decrease in the number of graduating high school seniors in the United States. While numbers in North Carolina, South Carolina and Virginia aren't expected to decline as much as the rest of the Southeast, these states will still see lower numbers of graduates and will likely face greater competition for students from schools in other parts of the region.
In North Carolina, Langford said, 2017 is expected to see one of the smallest graduating classes over the next 10 years, with nearly 81,000 fewer graduates than 2013.
Nationwide, and likely statewide as well, demographics of those graduates will see a shift. The decline will come mainly from those students identifying as white, with their numbers falling by 178,000 nationwide from 2017 to 2030. The number of black students will fall slightly, by about 10,000. Numbers of Hispanic and Asian/Pacific Islander students, however, will increase significantly, with 105,000 more Hispanic students and 57,000 more Asian students. For every 100 Caucasian students lost, Langford said, 150 non-white students will be gained — Hispanic enrollment will increase by more than 50 percent by 2025.
"It could mean lots of different things in lots of different ways," Langford said of the trends.
At the most basic level, the stats mean that Western is set to become a more diverse place. Practically, that could translate to a greater need for bilingual admissions counselors and bilingual promotional materials. New student groups could form to support the needs and interests of the diversified student body. And Western could also find itself upping the services it provides to first-generation students. Serving students who are the first in their family to go to college has historically been a focus for the university, but the demographics indicate that demand for those services could increase in the future.
Western has already taken some steps toward anticipating the future. Admissions has hired some bilingual counselors, and last year the university created the position of chief diversity officer, hiring Ricardo Nazario-Colon to fill the role.
With competition for admissions increasing and demographic trends indicating a shift in the future, some things could change at Western over the coming years. However, Langford stressed, Western's identity and Western's mission will stay the same.
"I would like to make sure that people understand who we are here in Western North Carolina, that Western's not trying to become anything that it hasn't already been," he said. "We are here for Western North Carolina."