Archived News
UNC strategizes for sustained enrollment
Wednesday, September 18, 2019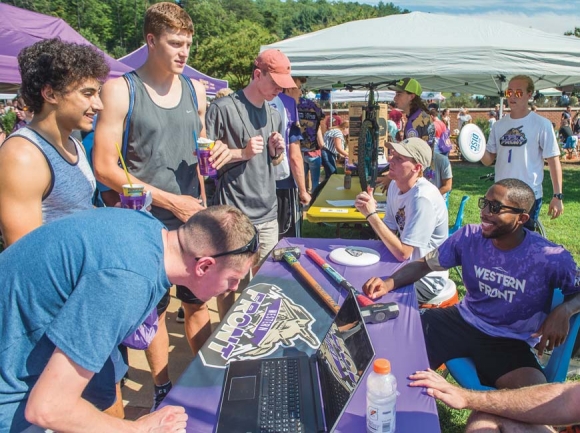 Enrollment at WCU has been on the upswing over the past decade, but that growth is expected to moderate given demographic trends. WCU photo
It's no secret that Western Carolina University is a growing community, with enrollment topping 12,000 for the first time this semester following an upward swing that's seen the student body increase for eight out of the past nine years.
But that growth could falter if wider trends in population and educational attainment are any indication.
"We have a dramatic decline in fertility rates," Andrew Kelly, senior vice president for strategy and policy at the University of North Carolina System Office, told the WCU Board of Trustees during a Sept. 5 presentation. "People really stopped having kids in the recession as you might expect, but it actually hasn't rebounded. It's just been reset to a lower level."
Kelly presented his research on demographic trends in North Carolina with a long-range view looking out to 2038, when children being born now will be in the 18-to-24 age range that makes up most of WCU's student body.
Over that period of time, the size of the college student market in North Carolina is expected to shrink due not only to declining birth rates but also due to demographic changes and an aging population. In the next 20 years, high school graduates in North Carolina are more likely to be Hispanic, a group that is statistically less likely to go to college or have a parent with a bachelor's degree, and more likely to be low-income.
"The storyline is we need to think a little bit about our market and our market share and how we move forward as a system," said Kelly.
The predicted decrease in the number of high school graduates in the next 20 years extends nationwide, but the curve is softer in the southern states than in the rest of the country. The region has an overall larger number of high school graduates — roughly double that of the northeastern states, with the gap projected to grow — and that means that North Carolina needs to watch out for schools in other states, also faced with declining enrollment, looking to poach its students.
"These places have enormous higher education footprints, and they're not going to have as many students left to enroll nearby, so they're going to come to North Carolina and recruit ours, as they're already doing," said Kelly of institutions in the northeastern U.S.
This whole issue — declining numbers of high school graduates, lower fertility and increased competition for college students — is a critical one for WCU, and for the UNC system as a whole. UNC schools receive funding based on the number of credit-hours enrolled.
"If your entire funding model and discretionary model come from enrollment growth but there are fewer students to grow your enrollment, what happens to the business model of our institutions?" said Kelly. "Again, a decade out in some respects but we should plan for it now."
Kelly said he's continuing to drill into the data to see what where students go when they look out-of-state for their education, and why they make that choice. But there's already a good bit of data on how many North Carolina high school graduates go to community college versus UNC schools versus some other type of institution.
Data from the My Future N.C. Commission shows that of 2009-2016 high school graduates who enrolled on time, 42 percent went to a UNC school and 39 percent went to a community college. Another 10 percent went to a private, in-state school and 9 percent went to a four-year, out-of-state school.
However, those numbers shifted dramatically when students delayed their entry into post-secondary education by just two years or less. Of that group, only 10 percent went to a UNC school. A full 72 percent went to a community college in North Carolina, with 4 percent going to a private in-state school, 8 percent going to a four-year out-of-state school and 6 percent going to a two-year out-of-state school.
The share of UNC students diminished even more for students who delayed their education by more than two years — of those, just 6 percent went to a UNC school. Another 60 percent went to a North Carolina community college, with 4 percent going to a private in-state school and 10 percent to a two-year out-of-state school. The share attending a four-year out-of-state school grew dramatically, to 20 percent.
"I think there's an opportunity for our system to think more about people over the age of 25 who might be juggling work and family commitments, and creating more pathways into our system," said Kelly.
More than 1 million North Carolinians ages 25 to 64 have some college credit but no degree, said Kelly. The top five four-year institutions attended by high school graduates who delayed their education by more than two years were American Public University System; Strayer University-Washington, D.C.; University of Phoenix; University of Maryland-University College; and UNC Charlotte. The first three in that list are online, for-profit schools, while UMUC is an online, nonprofit school.
"I'm not suggesting that they're necessarily well served by those providers, but there's clearly something they're offering that we're not. So thinking about that as a challenge for our system to solve, and I say 'our system' because not every institution is going to want to solve it," said Kelly.
The system could also do better at attracting students from poorer counties designated as Tier 1 or 2 by the state Department of Commerce. Of the 23,439 students who graduated from high school in 2017 and met UNC's minimum admission requirements, 17.8 percent did not enroll in any college, compared to 13 percent of the 30,804 students from Tier 3 counties. Statewide, the figure is 15 percent, more than 8,000 students.
"Given what we know about the economy and changing demand of the economy, some subset of those 8,000 would likely be well served in enrollment somewhere," said Kelly.
Similarly, 34.7 percent of Tier 1 or 2 students attended a UNC System school compared to 46.5 percent of Tier 3 students. The Tier 1 and 2 counties saw a much greater share of students who chose to go to community college, however, at 31.6 percent compared to 21.1 percent of students from Tier 3 counties.
Kelly told trustees that the demand for workers with a bachelor's degree or higher is likely to increase in North Carolina. According to the Georgetown Center on Education and Workforce, 38 percent of jobs will require such a degree by 2027, but only 33 percent of workers currently have one.
A bachelor's degree could prove a buffer against threats from automation, said Kelly. According to the McKinsey Global Institute, nearly 40 percent of Americans are in occupational categories expected to shrink by 2030, and people with a high school diploma or less are four times more likely to hold highly automatable roles than those with a bachelor's degree.
Rural areas are especially susceptible, according to McKinsey, with 25 cities responsible for 66 percent of job growth over the past decade while rural areas saw 360,000 fewer jobs in 2017 than in 2007.