Archived News
Canton town manager suspended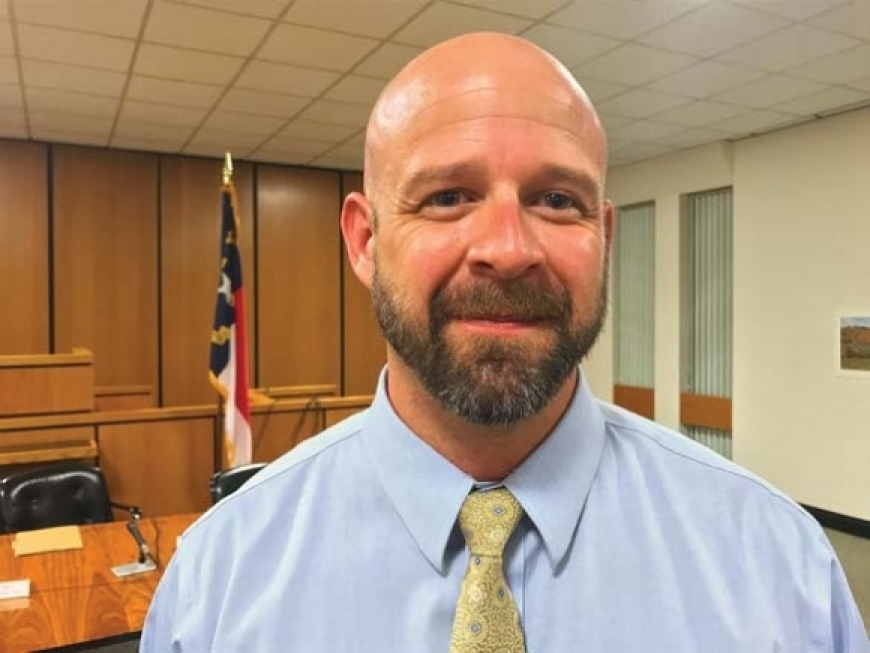 Pictured here in 2017, Jason Burrell has served in Canton administration since 2009.
Cory Vaillancourt photo
Effective immediately Canton Town Manager Jason Burrell has been suspended indefinitely without pay pending further board action, Mayor Zeb Smathers told a meeting of town employees earlier this afternoon while accompanied by Mayor Pro Temp Gail Mull.
"I am on administrative leave effective April 8, 2021, for a period of time to be determined by the Town of Canton Board of Aldermen/women," Burrell said when reached via text just before 1 p.m.
Burrell, 40, is a native of the Candler area and a Western Carolina University alum with a political science degree and master's of public administration. He's served as Canton's town manager for nearly four years, but had served as Canton's assistant town manager for eight years prior to that, working under former town managers Al Matthews and Seth Hendler-Voss.
During his tenure as assistant manager Burrell was lauded for taking the lead on economic development initiatives that have revitalized parts of Canton's formerly disused downtown district, and he's maintained that focus as manager.
Although many aspects of municipal government are public record, personnel matters generally are not, so Smathers is prohibited from issuing any other details about Burrell's suspension.
There was no indication of anything amiss during the brief April 9 meeting of the Town of Canton Board of Aldermen/women, however the meeting ended with a motion to enter into a closed session. Per statute, closed sessions can only happen for a few specific reasons. The reason given for the closed session was North Carolina General Statute 143-318-11(a) 6, which is commonly cited as "personnel" and reads:
To consider the qualifications, competence, performance, character, fitness, conditions of appointment, or conditions of initial employment of an individual public officer or employee or prospective public officer or employee; or to hear or investigate a complaint, charge, or grievance by or against an individual public officer or employee. General personnel policy issues may not be considered in a closed session. A public body may not consider the qualifications, competence, performance, character, fitness, appointment, or removal of a member of the public body or another body and may not consider or fill a vacancy among its own membership except in an open meeting. Final action making an appointment or discharge or removal by a public body having final authority for the appointment or discharge or removal shall be taken in an open meeting.
Statute also forbids Smathers and aldermen present at the meeting from confirming that the session was about Burrell, although Smathers did say the session, which began around 7 p.m., lasted until after 11 p.m. No board action was taken at the conclusion of the lengthy closed session.
The town's Assistant Manager, Nick Scheuer, will assume Burrell's responsibilities for the time being.
"As it already exists in his established job description, our assistant town manager will fulfill the day-to-day duties of the town manager, assisted by Town Clerk Lisa Stinnett, and Natalie Walker, our CFO, as they continue in their roles," Smathers said. "They will be joined by town employees and staff who will continue to serve in their amazing and accomplished roles. Citizens will not see any change in daily operations. As for myself and the board, our confidence remains steadfast in our town employees to perform their duties. We support them, and we stand by them."
Scheuer was hired by the town on April 30, 2018, to fill Burrell's former role as assistant town manager and brought with him previous experience working with the North Carolina Department of Transportation's Bicycle and Pedestrian Division. Scheuer has been an integral part of Canton's recreational aspirations, including the mountain biking facility currently under construction at Chestnut Mountain Park. Scheuer also has experience in grant management, planning and zoning.
The Town of Canton Board of Aldermen/women's next meeting is on Thursday, April 22. The town also has a budget retreat scheduled for April 26.
This is a developing story. Be sure to check back as more details become available.