Archived News
Ghost Town developers reach major milestone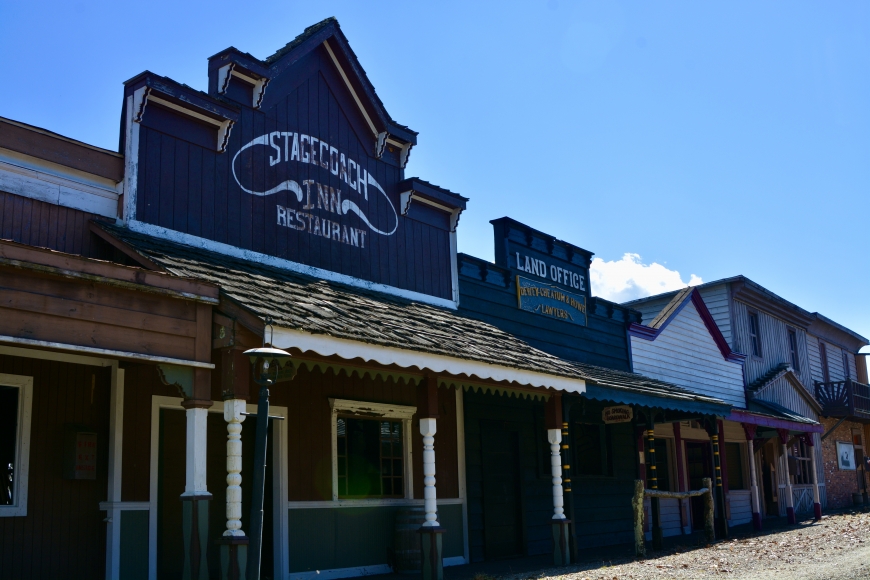 Developers plan to breathe new life into Maggie Valley's Ghost Town in the Sky.
Cory Vaillancourt photo
In another encouraging sign of progress, ownership of the land upon which Maggie Valley's Ghost Town in the Sky amusement park sits has been transferred to developers, clearing the way for work to begin on the complex, multi-faceted redevelopment project.
The five parcels that make up the bulk of the shuttered amusement park total nearly 250 acres and have an assessed value of more than $5 million. Haywood County land records show that in mid-March, registration was changed to another entity, Ghost Town in the Sky LLC.
Developers have been speaking exclusively with The Smoky Mountain News since October, 2019 about the project, which is estimated to bring more than $200 million in investment to Maggie Valley over the course of the next decade.
Less than a month ago, developers told The Smoky Mountain News about elaborate plans for the much-beloved but long-shuttered amusement park that first opened in the early 1960s.
Those plans include a complete rehabilitation of the town's iconic Main Street to include niche retail and residential units in the style of Biltmore Village, as well as a new hotel located in the west end of the parking lot at the base of Buck Mountain.
But the concept for the project is much more than a simple facelift of the mountaintop park, where luminaries like Burt Reynolds once performed live-action gunfights in keeping with the park's western theme.
Developers say there are several affiliated projects currently underway that are intended to support the revitalized Ghost Town, its guests and its 200-person workforce.
A number of affordable housing units are in development elsewhere in Maggie Valley, and a manufacturing facility that will construct modular homes – bringing more jobs – is planned for another site somewhere in the county. Additionally, work is underway to bring restaurants, a grocery store and an urgent care facility to town.
There's also another adornment in the works – a large cross, near the top of the mountain.
"I like the idea of the cross because it's a symbol that I believe in and I think that there's a lot of people here in this part of North Carolina that are true believers as well," said one developer, speaking on condition of anonymity. "As a little kid coming up here, I enjoyed Ghost Town and I think that's something that means a lot to me. We're already in the engineering part of it and we're hoping very soon that construction will get started on the cross."
The cross won't be the only new addition to the park; developers envision a multi-level experience comprised of separate but related "worlds" for guests to explore as they venture up the mountain.
To help with the design, planning and fabrication of the reimagined park, developers have enlisted Storyland Studios, whose chief innovation officer is Matt Ferguson – a Disney alum who owns a home in Maggie Valley.
"His business is based around theme parks and design work," a developer told SMN on March 28. "The company is very well-recognized inside and outside of this country. They really know what they're doing. I think their company would be one of the best companies to work with, and not just because he's local and wants to see it happen."
Ferguson and his family have a long history in Maggie Valley, and he's a partner in the recently opened Route 19 Inn, not far from the entrance to Ghost Town.
Storyland Studios is a group of former Disney Imagineers, Pixar animators, and other creative professionals that specialize in storytelling through strategic spatial and digital means. Ferguson said they'd been involved with a number of high-profile projects over the years.
"We masterplan theme parks, we design the storylines for those parks and then manage the projects and lead the completion of the parks, bringing together all the different resources we need whether it's ride engineers or architects or whatever," Ferguson said.
Previous work by Storyland includes the Hogwarts Express train for the Wizarding World of Harry Potter at Universal Studios and other projects for Cedar Fair Entertainment Company, which owns a number of North American amusement parks including Carowinds, in Charlotte.
"Our plan is to bring back Ghost Town in the Sky as an amusement park, and we want it to have all the good things we remember about it, with better attractions and entertainment than ever," he said.
Stay tuned to The Smoky Mountain News for further details on the redevelopment of Ghost Town in the Sky as they become available.