Archived News
Alaska Presley, business titan and longtime Ghost Town owner, dead at 98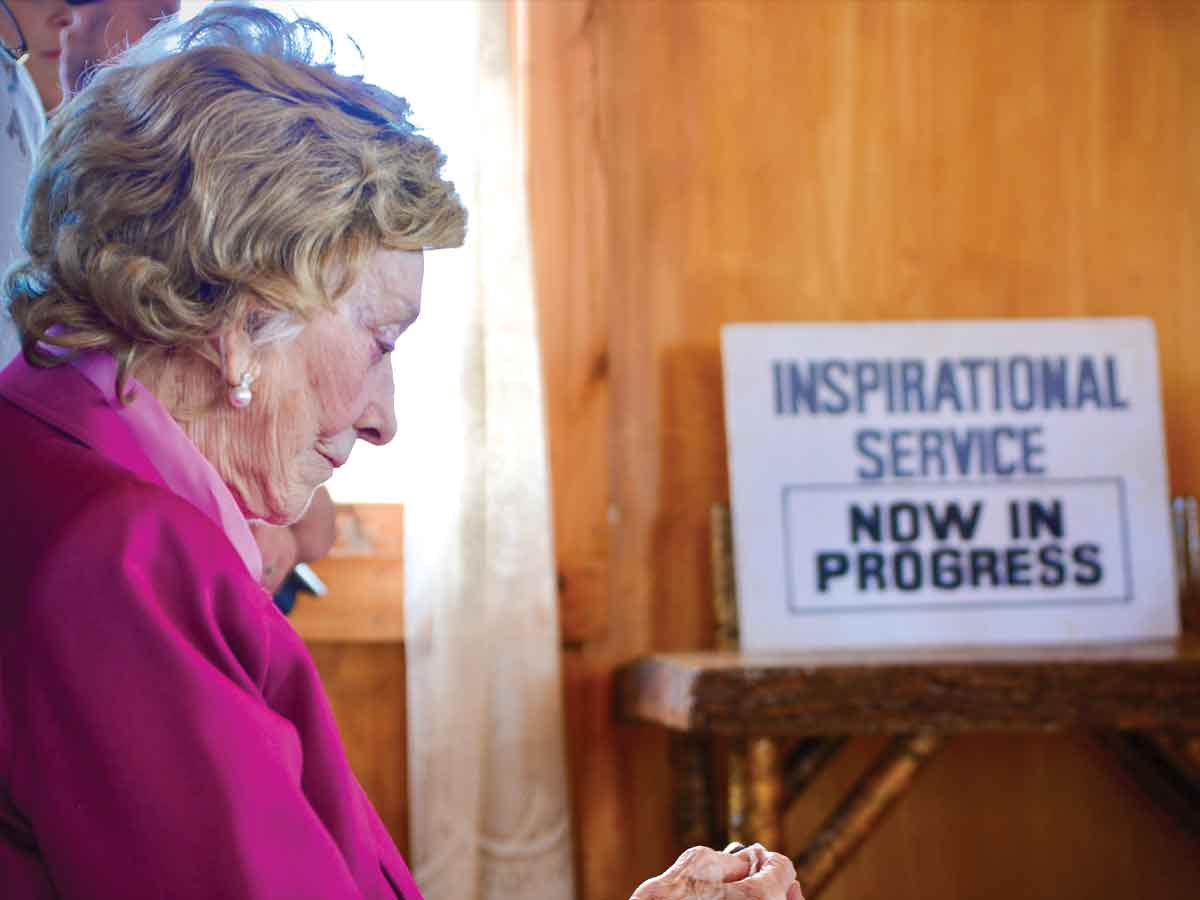 Seen here in the small church at Ghost Town in 2021, Alaska Presley held out hope that she would live to see the park rejuvenated again. Cory Vaillancourt photo
Small in stature but towering in her decades-long influence on Haywood County, Alaska Presley passed away on April 7 at Smoky Mountain Health and Rehabilitation, according to an obituary from Wells Funeral Home.
Presley is best known for her almost six-decade association with famed Maggie Valley mountaintop amusement park Ghost Town in the Sky, although she also held interests in a number of unrelated businesses across Haywood County.
In 1955, Pressley and her late husband, Hubert, came to Maggie Valley.
"Well, it was a little ol' nothing," Presley told The Smoky Mountain News in 2019. "It was one straight road, it's still one straight road. It was not very much inhabited at that time. But the tourists was coming through, and it was still good business in the summertime."
That led the Presleys and R.B. Coburn to shave the top off Buck Mountain and construct a unique attraction that would draw more than half-million visitors a year for over 50 years.
"It brought the people in," Presley said of Ghost Town, which opened in 1961. "You couldn't take care of the people, there was so many of them. I stood there at Ghost Town many a time and made more of them mad than anything else, because I couldn't get them up on the mountain."
A longtime resident of Maggie Valley, Presley is seen here in her home in 2019. Cory Vaillancourt photo
At the time, Maggie Valley was an unincorporated hamlet, home to less than 200 people. Many of them worked at the park alongside movie and television stars like Burt Reynolds, Cowboy Coward, Robert Bradley and Dan Blocker of Bonanza in the park's live-action cowboy shootouts.
As tourism began placing incredible strain on Maggie's non-existent infrastructure — there were no sidewalks and sewage was often straight-piped into Jonathan Creek — the Presleys became instrumental in the fight to incorporate the town, which finally happened in 1974.
Presley is seen here during a meeting of moonshiners in 2021. Cory Vaillancourt photo
Eventually, the Presleys sold the park, which continued to operate through the early 2000s. After years of neglect and bad business dealings, the park began a long, slow descent into obsolescence and finally bankruptcy.
In 2012 at age 88, Alaska Presley purchased the park for $2.5 million at auction with an eye toward reviving it. Although Ghost Town did open periodically and sporadically for the next three years, it never regained its former glory and left a gaping hole in the local economy when it finally closed in 2016.
Over the next decade, a number of attempts were made to resurrect the park in conjunction with a relentless stream of developers looking to cash in on the enduring popularity of Ghost Town, but all efforts came up empty.
It's not yet clear how, if at all, current efforts to redevelop the park will be affected by Presley's passing.
Leave a comment
1

comment
Rest In Peace

Wednesday, 04/13/2022