Archived Arts & Entertainment
Cosmopolitan country: Waynesville restaurant celebrates 15 years
Wednesday, August 03, 2022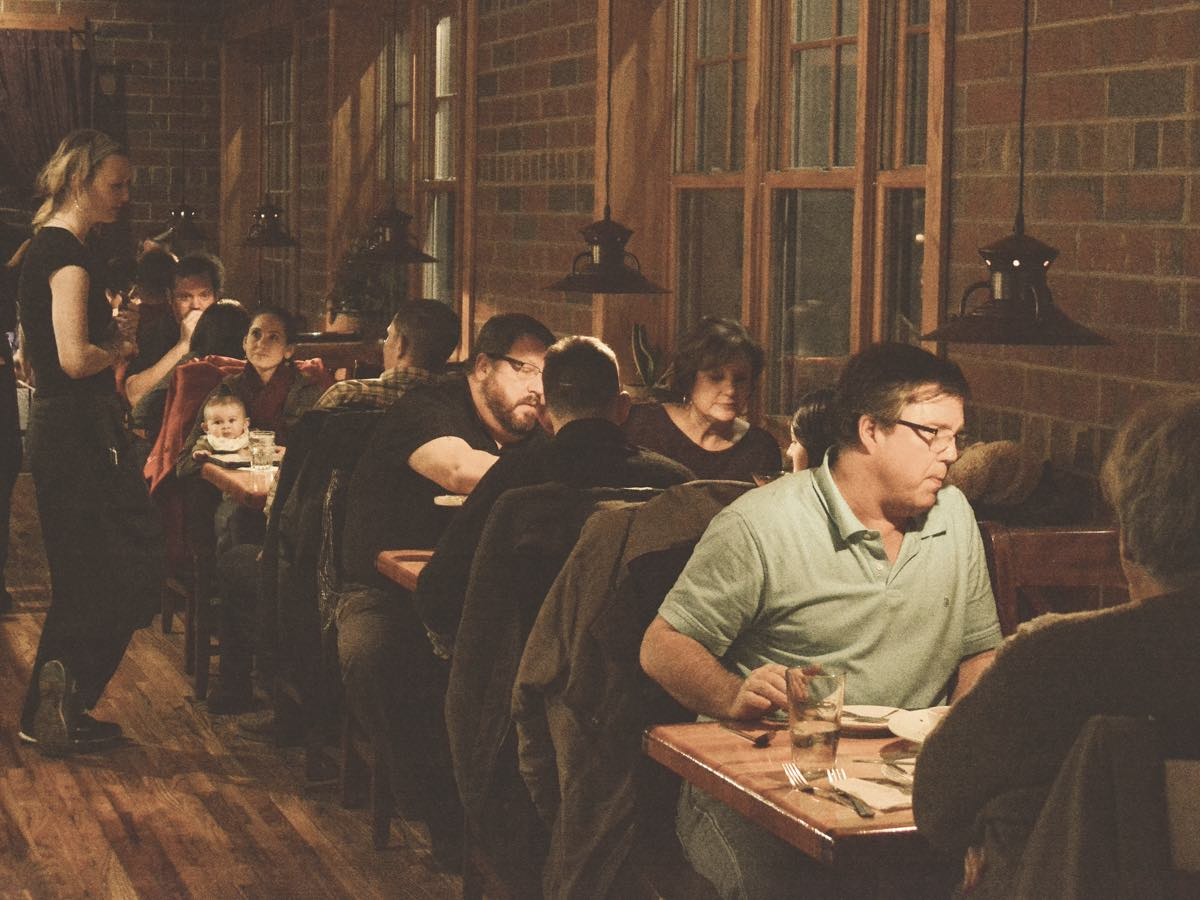 Specializing in a "cosmopolitan country" type cuisine, The Sweet Onion in downtown Waynesville recently celebrated 15 years in operation. Garret Woodward photos
It's Thursday morning. In just about a half-hour, The Sweet Onion restaurant in downtown Waynesville will open for lunch — another rush of locals and visitors alike soon to walk through the door on Miller Street.
Sliding into a booth in the dogleg-shaped dining room, Doug Weaver and Dan Elliott, co-owners of The Sweet Onion, are looking through the day's to-do list — food orders, payroll, and an array of other urgent priorities that keep an extremely busy restaurant running at full steam.
"Restaurants aren't the type of businesses where there is a 'top of the mountain,'" Weaver said. "Every single day, you have to make sure you're doing your best and presenting the finest product you can — even after 15 years of being open, we're still walking up the mountain."
Weaver is the executive chef at The Sweet Onion, with Elliott the general manager. The two launched the restaurant in July 2007 and have remained at the helm and on the ground floor ever since then. Specializing in Southern-style cuisine, the menu is part comfort food, part higher-end offerings, a combination dubbed "cosmopolitan country."
Celebrating 15 years in operation, The Sweet Onion is a well-oiled machine of organized culinary chaos, one with the duo at the center of it all, something that plays into the tough-as-nails ethos of their friendship and business partnership.
"I think we're just both very logical, patient people," Weaver said. "One thing that I've learned over the years is that being mad about things and fighting about stuff doesn't help anything or anyone involved. There's a lot of stress in this industry and we've gone through a lot together, which plays into how we've been able to survive all this time."
Originally from Iowa and learning the ropes of the restaurant world in Minneapolis, Minnesota, Elliott found himself in Waynesville in 2005 when he became a partner in the former O'Malley's Pub on Main Street. A year later, Elliott sold the business and was looking for a new venture.
Hailing from Sarasota, Florida, Weaver ended up in Hayesville running a family restaurant before landing in Waynesville and opening the Wildfire restaurant in 2002 (where Sauced is currently located), just a couple of doors down from O'Malley's.
Doug Weaver and Dan Elliott, co-owners of The Sweet Onion.
Eventually, Weaver and Elliott became friends and starting talking about possibly going into business together. By 2007, plans for The Sweet Onion were in motion. Weaver soon closed Wildfire and headed to Miller Street with Elliott.
Not long after launching The Sweet Onion, the former Wildfire building became vacant again, with Weaver and Elliott filling the space by opening the Tipping Point Brewing in 2011. After a handful of years running two highly-successful businesses, Weaver and Elliott sold their share of the brewery and focused solely on The Sweet Onion. Under new management, the Tipping Point shut its doors in August 2017.
With all of their attention on The Sweet Onion, Elliott and Weaver have a built a beloved culinary establishment from the ground up, one that has garnered a well-earned and widespread reputation as one of the finest foodie destinations in Western North Carolina and greater Southern Appalachia.
"Your business has to always be consistent," Elliott said. "People come in here and have certain expectations as to what the food should taste like and what the atmosphere should feel like. They want a good, quality meatloaf or a delicious chicken salad sandwich, and great service — you have to be consistent."
Fifteen years of blood, sweat and tears reside within the walls of The Sweet Onion. Whether it's the front of house or on the line back in the kitchen, the name of the game is keeping the ship running smoothly.
It's also a decade and a half of weathering the storms that are economic downturns, rollercoaster food prices, an ongoing pandemic, and now a national labor shortage. And yet, The Sweet Onion remains — steadfast and true.
"Since we've opened, we've made so many lifelong friends that were initially customers, and we've had employees that met here and got married — it's those things that mean the most to us," Elliott reflected.
"That's ultimately what it is, what it's all about — the people," Weaver added.
Want to go?
The Sweet Onion is located at 39 Miller Street in downtown Waynesville. The restaurant is open Tuesday through Saturday for lunch (11:30 a.m. to 3 p.m.) and dinner (4:30 to 9 p.m.). For more information, call 828.456.5559, click on sweetonionrestaurant.com or email This email address is being protected from spambots. You need JavaScript enabled to view it..