Archived Arts & Entertainment
Meet me where the music calls: Chuck Garvey of moe.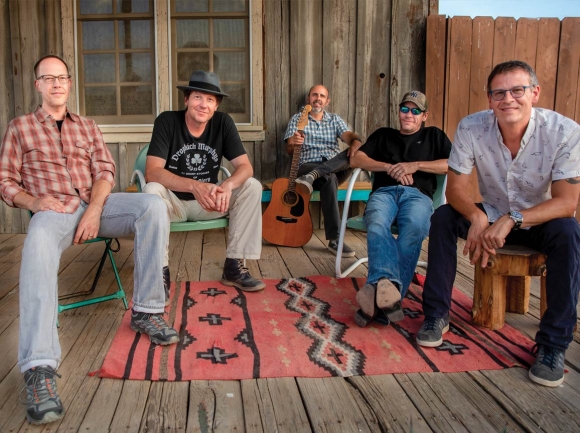 (From left) moe. is Chuck Garvey, Rob Derhak, Al Schnier, Jim Loughlin and Vinnie Amico. (photo: Paul Citone)
For over three decades, moe. has remained a pillar of the ongoing and ever-evolving jam-band scene — this melodic entity blending the raw power and essence of arena rock bravado with the subtle, intricate nature of jazz improvisation.
Emerging from Upstate New York in the late 1980s, the legendary ensemble is well-regarded for its incendiary live performances and master musicianship, which includes the like of guitarists Chuck Garvey and Al Schnier, both ranked by Rolling Stone as two of the "Top 20 New Guitar Gods" in recent years.
And what started out as a casual Halloween party jam between friends in Buffalo, New York, has morphed itself this many years later into a juggernaut of sound and purpose — something not lost on Garvey and the rest of his bandmates.
Smoky Mountain News: One of things that I really love about moe. is that both sides of the microphone are just as excited about being there, and being in that moment of musical possibility.
Chuck Garvey (guitarist, moe.): Yeah, it can be pretty magical sometimes. You strive for finding those kind of magical moments, where something brand new is happening or a connection is being made — whether it's between the musicians onstage or between the audience and the band.
SMN: Is that something you're still consciously chasing every night onstage?
CG: Definitely. Some of my favorite moments are [when] there's a large amount of time my eyes will be closed and I'm just trying to concentrate on the music and that interaction — what that feels like, what you're trying to get across.
But, the best part of what I like about being in a band are when you're communicating really well with the whole band, [where] everybody is spontaneously working on the same idea. It's unconscious, [where] we haven't laid out the plan for it or talked about it, but it's something everybody is extemporizing and you're getting something new.
There's a specific energy to that. There's kind of some danger involved. And it's not just something that you memorized, it's not a saying that you memorize from a book — you're trying to do something in real time that's living and breathing.
That's the thing that we react to, and what everybody listening reacts to.
SMN: Right before the shutdown, moe. crossed over the 30-year anniversary. And I was curious if you reflected on that — what that number means to you, and the trajectory of the band that keeps going?
CG: Well, we kind of missed out on the 30th anniversary victory lap. But, we talked about it amongst ourselves a bit. And it was fun just to look back on where we started and everything that's happened in the last 30 years surrounding this lifestyle that we chose, the career that we have.
So, it's definitely been interesting to talk about it, where we have so many funny stories we'll occasionally circle back to and retell, to remind ourselves that we've definitely had a very rich life — traveling so much and meeting so many inspired people.
SMN: When you think about those early years of the band, the late 1980s and early 1990s, what sticks out most?
CG: When the band first started in 1989, it was Ray Schwartz, our first drummer, [moe. bassist] Rob [Derhak] and I. We did a Halloween party, [playing] covers of second invasion British bands, R.E.M., Elvis Costello, Jimi Hendrix.
Shortly after that, we started adding stranger stuff. So, the personalities started to go from a fun party band to what weird stuff we wanted to get into and accomplish. That became [us] curating some stranger covers, but then it turned into writing strange, original music pretty quickly.
That was really fun to just try and — without having done it before — start writing original music that made us laugh or that we were excited to play.
It was only a short time before [moe. guitarist] Al [Schnier] was in the band and eventually [moe. percussionist] Jim [Loughlin] is playing drums just a year or two later. It all happened pretty quickly.
We wrote a lot of music, and the thing was to make it as weird or interesting or funny as possible — and that's always kind of been the idea.
SMN: What does it mean to you when, after 30 years and you're onstage, you look over and it's still those guys there with you?
CG: That's the family thing. And especially with the brotherhood [side of] things, it's always been a lot deeper than [something like a] sports team. There's that added dimension, that added depth, of having a family to do that with for a large amount of time, and to be able to communicate with [each other] on a level that's deeper than [anything else] — and it's such an added bonus to be able to do that with people that you really know and [have] loved for a long time.
Want to go?
A special intimate drive-in performance by rock icons moe. will be hosted by The Grey Eagle at 7 p.m. Thursday, May 27, at the Maggie Valley Festival Grounds.
The show is all ages. Gates open at 6 p.m. For more information and/or to purchase tickets, go to www.thegreyeagle.com/calendar/.