Archived News
What's left behind: Canton mill closure leaves complex environmental footprint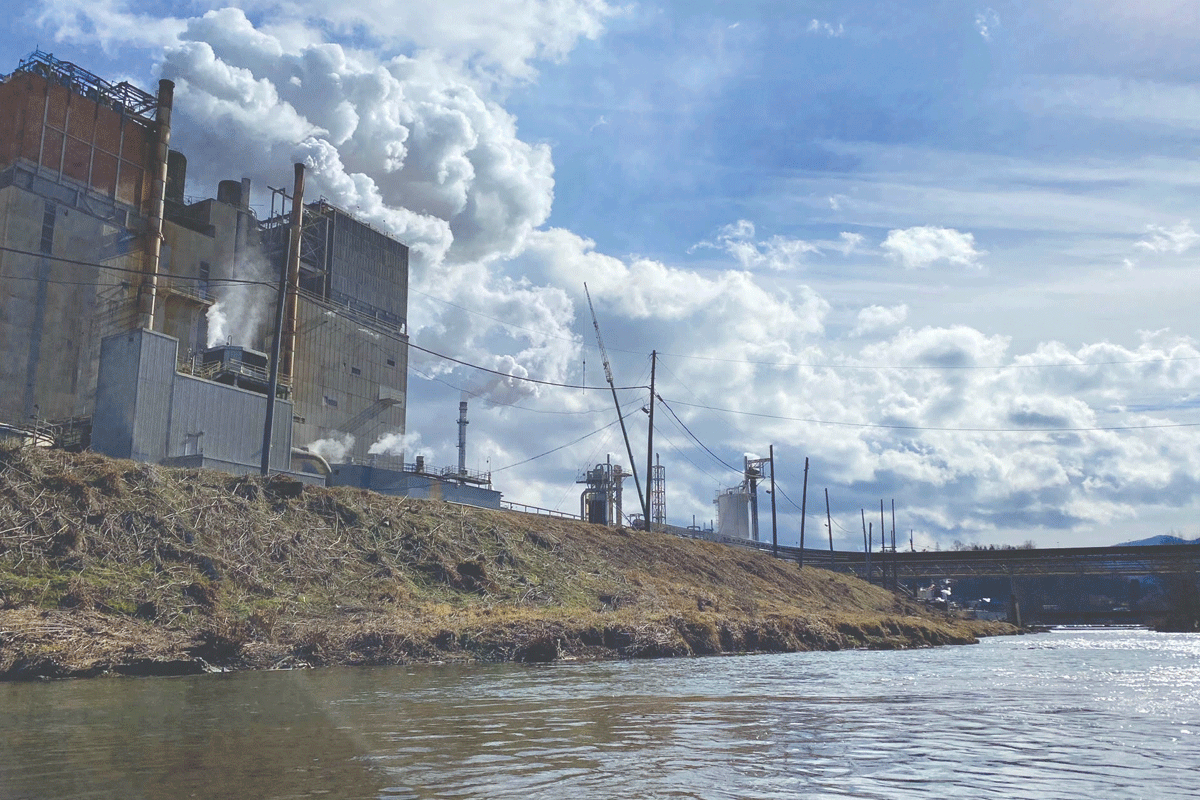 A kayak-view photo looks upstream from the paper mill site in Canton. Anna Alsobrook/MountainTrue photo
The paper mill has been closed for years now, but the cleanup is ongoing.
Shortly before the plant shut down, a group of fishermen found a dark substance seeping out of the riverbanks. It was black liquor, a caustic byproduct of papermaking that is extremely toxic to both humans and aquatic life. The discovery spurred a year of litigation that ended in March 2021, with the company agreeing to pay $650,000 in fines — and to clean up its mess.
So goes the story for Luke, Maryland, a tiny town of 85 just down the Potomac River from the larger small towns of Piedmont, West Virginia, and Westernport, Maryland — populations 700 and 1,800, respectively. Built in 1888 by Scottish emigrant William Luke and his sons, John and David, the mill was a mainstay employer in rural Western Maryland until April 30, 2019, when its owner, Verso Corporation, announced that in just one month, production would cease forever.
It's been four years since the mill's nearly 700 employees clocked their last shift, and the industrial complex that was once the town's lifeblood remains idle. But the community is still working to hold Verso accountable for the environmental toll it left behind.
"They're still in the process of mitigation," said Brent Walls, Upper Potomac riverkeeper for the Potomac Riverkeeper Network. "They're still in the process of pumping out groundwater and cleaning it, and they have excavation plans to remove contaminated sediment."
Environmental recovery from 135 years of riverside industry has been far from immediate. But four years out from the closure, the improvement is obvious. The "chocolate" discharge from the mill is gone, leaving the stream "clear as a bell," Walls said. The mill closure, together with aggressive treatment for acid mine drainage that had also affected the area, is remaking both the river and the economy.
"You're seeing a huge explosion of species," Walls said. "Fishing is just the economic driver for that area now."
Planning to pull out
As Luke navigates the middle chapters of its comeback story, Canton is still in the early pages of what promises to be a similar tale. On March 6, the 1,200 employees of Canton's 115-year-old Pactiv Evergreen plant found out the mill was closing for good.
The last shift ended June 8, ushering the region into an unprecedented period of dazed transition. The next chapters of Canton's story will deal with questions about economic stability and cultural identity in a post-papermaking world — but also with the mill's environmental legacy , and what it means for the region's future.
Like the mill in Maryland, the Canton mill has left behind some messes.
Currently, there are two active cleanups onsite resulting from issues with above-ground storage tanks. The first , discovered in February 2021, was a release of gasoline from an underground pump supply line from a tank. A 1-foot-thick layer was found during groundwater sampling in a nearby monitoring well. Oil containment booms were deployed, and three monitoring wells were installed. Pactiv Evergreen must continue operating then until contaminant concentrations fall below regulatory standards.
The second was a release of No. 6 fuel oil that was observed on the Pigeon River in June 2021. The source was determined to be either a tank or transfer line on site. Oil booms were deployed, and a firm engaged for a subsurface investigation. But in August 2022, an oil sheen was once more observed on the river, presumed to be from the same source. A 466-page workplan filed June 15 outlines a schedule of sampling and analysis for this summer, with a technical memo to be submitted in October.
These aren't the only ongoing environmental issues associated with the mill. In January 2022, the mill's environmental staff found black liquor — the same toxic substance that triggered the lawsuit in Maryland — in the Pigeon River. It's associated with an old groundwater seep, which received its first notice of violation back in 1994. The Division of Water Quality has issued notices of violation to both Pactiv Evergreen and the mill's previous owner International Paper in connection with the issue.
Pactiv Evergreen's decision to cease operations in Canton doesn't absolve the company from its responsibility for environmental issues associated with the mill. It must continue to abide by the rules contained in the numerous permits it holds, including landfill, wastewater treatment, stormwater and discharge permits. Requesting to transfer or terminate the permits would trigger separate processes.
But Walls said his experience with Verso has shown him that it's up to grassroots organizations and the local community to hold the company's feet to the fire.
"That's why we headed the lawsuit, because we wanted to make sure that the state didn't fold or didn't cave," Walls said.
The State of Maryland later joined the Potomac Riverkeeper Network in the Verso lawsuit.
N.C. Department of Environmental Quality Secretary Elisabeth Biser has made some strong statements about her intention to ensure Pactiv Evergreen lives up to its responsibilities.
"The DEQ's role in this is to hold the responsible party accountable, to make sure that the right steps are taken, prevent further impacts to the town and residents and also first and foremost to make sure that the site is remediated for future productive use," she said during a May 2 roundtable discussion with local leaders. "We will hold the company accountable for responsible closure."
While that may be encouraging to hear, it doesn't mean the local community should let its guard down, Walls said. Sometimes states will talk a big game but then "fold quite easily," allowing industry to get a pass.
"It's not a sure thing," he said.
Ensuring the state develops a quality site closure plan is key, he said. The plan should include an assessment examining what contamination the mill has left behind. It's been more than a month since the Canton mill stopped making paper, but the state has not yet completed such a plan. However, the process is underway, said DEQ Public Information Officer Sharon Martin.
"We are investigating the known environmental issues through the appropriate programs and divisions with department-level coordination, as we determine next steps to ensure a full assessment of the site," she said.
The Pactiv Evergreen plant in Canton pumps out paper during its last weeks of operation in May. Max Cooper photo
Looking at landfills
It's hard to say what that assessment will turn up. The mill has been operating for more than a century, first taking up its place on the banks of the Pigeon River 64 years before the Clean Water Act became law.
"I suspect that there is a long legacy of pretty toxic chemicals just because the bleaching and heat processes involving chlorine would necessarily have produced a lot of chlorinated hydrocarbons, including dioxin," said Hope Taylor, a chemist by training who has served more than two decades as executive director of Clean Water for North Carolina.
Dioxins are highly toxic chemicals that can cause cancer, reproductive and developmental problems, immune system damage and hormone interference.
The mill used more chlorine during its first 100 years of operation than in more recent years, meaning that earlier operations would have resulted in more toxic byproducts. Taylor said she suspects, but doesn't know, that some of that waste might be on or near the mill site, which is in the floodplain, but much of it is likely buried in off-site landfills. These landfills — the oldest of which are unlined — are what she is most concerned about.
"My concern is that the bulk of the sludges … would have been deposited in landfills that were completely unlined for most of the life of the mill," she said. "It would have been enormous quantities, millions of tons a year would be leaching into the groundwater. I would be concerned about anyone who was on wells in that area."
Walls said he would also be concerned about coal ash. Though the Canton mill was running on natural gas at the time of its closure, for most of its history, it was powered by coal. Since the mill opened its current landfill facility in the 1980s, coal ash has been stored into a lined landfill "heralded for its state-of-the-art design and high-caliber engineering," according to a 2014 story from The Smoky Mountain News. However, mill waste has not always been stored to such high standards.
At its current landfill, Pactiv Evergreen is permitted for an average annual waste disposal rate of 450,000 cubic yards per year on the 244-acre property just south of U.S. 74 and west of Canton. The permit lists 109.1 acres of landfills on that property, of which 70.6 acres are operational. The remaining acreage is for landfills that have closed after reaching capacity.
Three other landfills are also associated with the paper mill, though not with current owner Pactiv Evergreen. Champion Landfill No. 1 is an 8.36-acre landfill used from 1960-1970, Champion Landfill No. 2 is a 78-acre landfill used from 1970-1982, and Champion Landfill No. 3 is a 46.3-acre tract used 1973-1983. All three are located along the Pigeon River, and all three are unlined.
They have also all been investigated under the federal Comprehensive Environmental Response Compensation and Liability Act of 1980 — more commonly known as Superfund — due to the large quantity of dioxin-containing sludges disposed of there. However, no environmental violations have been noted for the closed landfills, said a DEQ spokesperson. International Paper, not Pactiv Evergreen, is the responsible party for these landfills.
When a landfill closes, the DEQ requires that monitoring wells be installed to check for a host of contaminants leaching from the site. Regardless of whether it's still making paper in Canton, Pactiv Evergreen is responsible for continuing to monitor the wells listed in its permit — but only for a certain period. Once a landfill closes, it must be monitored for 30 years in the same way it was while open. If it violates groundwater standards during that time, then the 30-year timeline can be extended. But if no issues crop up, monitoring can cease.
The three unlined landfills that International Paper is responsible for don't fall under that requirement. Landfills created before 1983 are sampled and monitored only if there are contamination concerns at the site — meaning the onus is on citizens, not the company, to watch for signs of pollution.
Additionally, for DEQ to hold the company accountable, an accountable company must exist. Should International Paper and Evergreen Packaging one day go out of business, a situation could arise in which no entity exists to take responsibility for environmental issues related to the mill. In that case, public dollars could end up footing the bill through the federal Superfund program, which is funded through excise taxes and environmental income taxes.
According to a DEQ spokesperson, Pactiv Evergreen has "existing financial assurance" to ensure its ability to fulfill monitoring requirements on its existing, regulated landfills.
In addition to the toxic substances known to be housed in the mill's landfills, Taylor is concerned that a less-understood class of chemicals called PFAS, or "forever chemicals," could be there as well. PFAS chemicals are often used to make commercial products stain- and water-resistant. Their components break down extremely slowly over time, and they have been found in the blood of people and animals all over the world, and at low levels in a variety of food products and in the environment. The science is still young on how they affect people, but studies have linked exposure to various health issues.
PFAS is often used in the paper industry, especially for food product packaging like that made in the Canton plant.
"I'm assuming there was a lot of it used, maybe not at the Canton mill, but at the Waynesville operation I would be almost certain, even though I don't have any documentation," Taylor said. "But because it was so widely used in the food packaging industry, it seems very unlikely that it would not have been used at the Waynesville facility."
If so, PFAS would also be buried at the mill's permitted landfills.
"If you have those chemicals on site, and they have leaked or leached into the ground, then that can be a serious problem," Walls said.

Downstream of the mill, the water is darker and invites much less recreational use than the upstream reach. Holly Kays photo
Change in the stream
While the assessments to follow Pactiv Evergreen's departure may reveal new details about the environmental impact the mill had during its lifetime in Canton, initial observations indicate a swift improvement in the downstream water quality following its closure.
Each year, stream sites in Haywood County are given a water quality grade based on sampling performed by Haywood Waterways Association and its volunteers. In 2022, the Pigeon River below Canton was rated as "poor," with an overall score of 54.1 out of 100 — even though the river upstream from Canton received a "good" score of 83.3. "D" grades for phosphorus and conductivity, as well as "C" grades for turbidity and ammoniacal nitrogen contributed heavily to the outcome downstream.
While there has been only one round of sampling at the site since the mill closure, results are promising, said Preston Jacobsen, executive director for Haywood Waterways Association. Notably, the river's conductivity, which indicates levels of metals, dropped in the most recent sampling.
"We're seeing a reduction in the tannins that's kind of bringing down the color, and we can in spots now start to see the channel bed," Jacobsen said. "So all these are good, positive, trending in the right direction indicators that the river downstream of the mill is improving."
In addition to impacts from the paper mill, the Pigeon River has had to recover from Tropical Storm Fred. When the flood tore through in August 2021, it swept away most of the river's aquatic life . In its sampling, Haywood Waterways saw large populations of leeches, typically an indicator of bad water quality, move into the river. However, those populations have been declining, and during its most recent sampling no leeches were found, Jacobsen said. To the contrary, during a snorkeling event held in Canton June 15 — the event was held above the mill where the water was not affected by the closure — Haywood Waterways found a hellbender. The giant salamander is extremely sensitive to poor water quality and had not been found in that stretch of river for years.
When the mill's impending closure was first announced, The Smoky Mountain News spoke to multiple water quality and fish experts, who predicted that water quality and fish populations would bounce back quickly after production ceased. The Pigeon River is fed by many small tributaries, many of which are clean, healthy and full of aquatic creatures that will readily migrate into the main channel once it's cleaned up. The river is low enough in elevation that it's unlikely to be cool enough for trout, said N.C. Wildlife Resources Commission District 9 fisheries biologist Powell Wheeler, but it could become a popular fishery for smallmouth bass, largemouth bass and redbreast sunfish. Luke Etchison, western regional aquatic wildlife diversity coordinator for the Wildlife Commission, is in the process of conducting sampling to determine the closure's impact on aquatic life there.
"I would be very surprised if within a year or less of the discharge ending those organisms don't replenish themselves, just because there's this new healthy habitat in the main body at the river," Taylor said in a March interview.
But only time will tell, Jacobsen cautioned.
"I don't want to put the message out there that the water quality is improving without more data to back that up," he said. "We are data driven. And I'd like to get more monitoring samples behind us before we put that message out there. But yes, the trend is in the right direction."
Down the river in Tennessee, water quality hasn't changed much since the mill closed, said Deborah Bahr, executive director of Clean Water Expected for East Tennessee. For more than a decade, she's been pushing to get the mill to clean up its act , claiming — along with many others in Cocke County — that the plant was sending smelly, dark, rash-inducing water downstream. Bahr has always suspected it of adversely affecting the community's health.
"The smell is still there," she said. "But we're very hopeful."
Each week, CWEET conducts E. coli testing in Clyde that goes into Swim Guide , an online tool people can use to make decisions about where to safely go swimming. There, the water "looks better than I've ever seen it this time of year."
"If that's an indication, I'm hopeful for what will come our way," Bahr said.

The mill sits on 185 acres in the heart of Canton along the Pigeon River. Allen Newland photo
Between two dams
Bahr remains skeptical that the mill's impact will vanish completely. The Pigeon River is impounded upstream from Cocke County behind Duke Energy-owned Lake Waterville Dam, and Bahr worries about what's in the sediment on the lake bottom. What toxic chemicals have settled there, she wonders, and when might they find their way downstream?
Taylor is a bit less concerned about that, because she believes most of the contaminants have already moved on.
"Right after the hurricanes in 2004, the dioxin concentration in the fish came down very dramatically in Waterville Lake," she said. "I think there's a good chance that the huge flows that were coming down the river actually washed a lot of that sediment downstream. While there is undoubtedly still some toxic sediment there, my guess is that it's been covered by cleaner sediment that's come down from upstream."
Upstream from the plant is a second dam, this one owned by Pactiv Evergreen. It holds back Lake Logan, a reservoir the mill used to ensure sufficient flows on the Pigeon River to support its operations. Completed in 1931, the 62-foot dam was most recently inspected on March 9, three days after Pactiv Evergreen announced the mill's closure.
The mill inspection report from DEQ flags several concerns. Perhaps the most significant finding was cracks, spalling and seepage on the concrete downstream dam face.
"Due to the age of the dam and number of concrete defects, it is strongly recommended that an analysis be performed on the structural integrity of the dam," the inspection reads. "Repairs [sic] all cracks and seeps and continue to monitor dam for any increase in cracking, new cracks or seeps and increased flowrate or color change in existing seeps."
A dam failure would carry high potential for serious property damage and possible loss of life, the inspection states. Should such an event occur, Pactiv Evergreen would be the responsible party so long as it remains the owner of the dam.
"Pactiv Evergreen has not communicated any information on its intentions on future ownership of the dam on their property to DEMLR," said a spokesperson for DEQ's Division of Energy, Mineral and Land Resources.
Waiting for the future
For more than a century, the life of Canton's paper mill has been intimately tied to the life of Canton, Haywood County and the larger Western North Carolina region. Its closure is guaranteed to have significant impacts on both the economy and the environment, for years to come.
Some impacts will be as immediate as the disappearance of the white dust that has plagued Canton throughout 2021 and 2022, or the bottom of the riverbed emerging from its cloak of dye.
Others will be slower to move, slower to settle. What will happen to the Lake Logan Dam? Will black liquor seeps continue to be a problem in the Pigeon? And what will the final site assessment reveal about the now-vacant 200-acre mill property?
Only time will tell.