Outdoors Latest
Future of the forest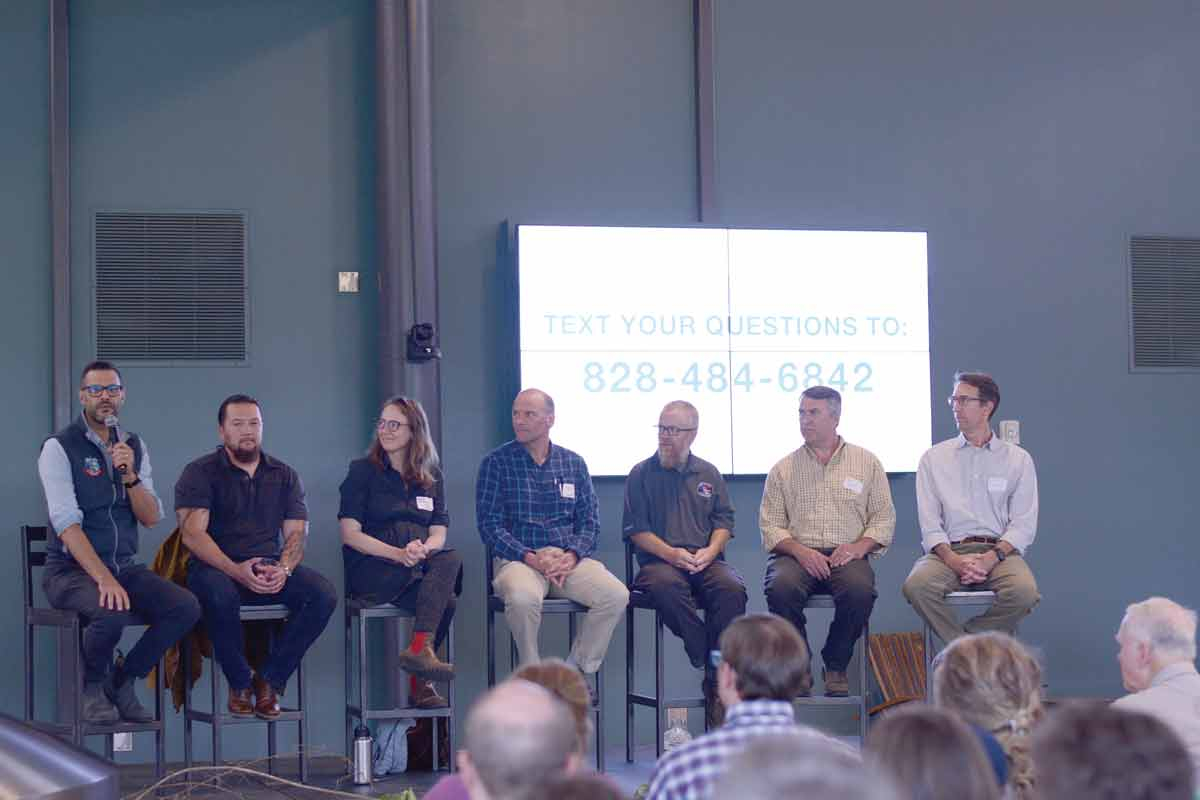 National Forests in North Carolina Forest Supervisor James Melonas speaks during a panel discussion May 18 at New Belgium Brewing. Holly Kays photo
Mill closure looms large in discussion of challenges facing WNC forests
The familiar challenges of climate change, invasive pests and development pressure peppered the conversation during a May 18 panel discussion on the issues facing forests in Western North Carolina — but the impending closure of Canton's century-old paper mill dominated it. The closure is likely to have an earthshaking impact not just on the region's economy, but also on the health of its forests.
"We're trying to touch on an important issue in an important way," said Lang Hornthal, co-executive director of event host EcoForesters, as he welcomed guests. "We're going to talk about it together in discussion and appreciation for what everybody brings to the conversation."
The discussion came at a critical time for forestry in Western North Carolina. In February, the Forest Service adopted a new management plan for the million-acre Pisgah-Nantahala National Forest, concluding a decade-long process. The document will likely guide management decisions for the next 20 years. A month later, Pactiv-Evergreen announced plans to close Canton's 115-year-old paper mill, a decision that will have a critical impact on regional demand for timber in the years ahead. Meanwhile, demand for both homes and outdoor recreation opportunities in WNC continues to increase — as does property value.
A crowd of about 150 people attended the event, which was held at New Belgium Brewing in Asheville, representing a cross-section of conservation and forestry organizations. The six-member panel included speakers from EcoForesters, the U.S. Forest Service, the Eastern Band of Cherokee Indians, Pactiv Evergreen, the Southern Appalachian Highlands Conservancy and Duke University.
"My dad said he used to manage by benign neglect and just leave nature alone. It would take care of itself," said Tait. "And that might have worked 50 years ago. But sadly, now with non-native invasive species, climate change and past mismanagement, that has been alluded to things are changing, and we need to take active steps."
These factors are spurring a change in species composition throughout the mountains, said Alex Finkral, a professor in the Duke University Nicholas School of the Environment. As these changes continue to unfold, the impact "will be significant in terms of wildlife and other ecosystem services, watershed and water quality, carbon sequestration kinds of issues that are important to all of us."
Joyce Kilmer Memorial Forest within the Nantahala National Forest is famous for its old-growth trees. File photo
Irreplaceable market
The closure of the paper mill will likely exacerbate these challenges, the panelists said.
Most people who are familiar with the region's history are familiar with the large-scale logging that affected nearly every Southern Appalachian mountainside through the early 1900s. One of the many issues with the type of logging practiced during that time was high-grade harvesting — the practice of cutting down the biggest, most valuable trees, and leaving behind the smallest, scrubbiest stems. But the paper mill was a different kind of customer — it needed wood, and a lot of it, but that wood didn't have to come from large, perfectly formed trunks. The mill offered a market for less valuable trees. Now, that market is gone.
"Without a market for those low-grade trees, it's probably going to be a great increase [in high-grade harvesting], just because there's no market for those low-grade trees," Tait said. "So that's the big issue I see is the high-grade harvesting, the removal of the fittest — really the antithesis of evolution going on out there."
Unfortunately, no new industry stands at the ready to fill the gap that Pactiv-Evergreen's exit will leave, said Rob Elliott, who is a member of the N.C. Forestry Association Board of Directors and the procurement forester for Pactiv Evergreen. Most pulp mills in North America consume about 2 million tons of wood a year — roughly 100,000 truckloads. That scale, Elliot said, is "irreplaceable," especially when considering how many other paper mills in the region have closed during recent years.
"You have to go to Covington, West Virginia, before you get to a large-scale, pulpwood consumer in the Appalachians," he said. "Everything in the South has been shut, so it's not just Western North Carolina, even though that's what we're focused on here. It is an extremely large-scale issue. That is the entire Southern Appalachian region."
This makes the quest to replace this "irreplaceable" timber market even more challenging. Communities in Eastern Tennessee that have endured paper mill closures of their own are scrambling to attract the same industries that WNC will soon be courting, Elliott said.
A seemingly obvious prospect is the wood pellet industry, which is a large consumer of pulpwood harvested on the eastern end of the state. Most of that product is shipped to Europe, where wood pellets are a major source of heating fuel. However, Elliott said, producing supplies for the overseas wood pellet market in WNC could be challenging. Harvesting wood in the mountains is more expensive than logging in the coastal plain, and seaports are far away, driving up the cost for potential buyers.
However, Elliott said, new opportunities are on the horizon. For example, numerous large air lines are now pursuing plans to derive increasing shares of their jet fuel from plant-based materials.
"It's a tough, tough situation, but I do have faith," he said. "I think that some innovation — I think it will come."
Sam's Knob in the Pisgah National Forest offers one of the forest's most iconic views. Holly Kays photo
Logging as a tool
While logging is a controversial topic in some quarters, panelists spoke of the positive impacts that sustainable, professional forestry practices can have on a landscape riddled with issues from invasive plants and other pests.
"Healthy, growing trees can fight all the pests easier than a suppressed tree or an unhealthy tree," said Michael Cheek, assistant regional forester for the N.C. Forest Service. "Most of our forests in Western North Carolina, they're all cutover, maybe early 1900s, 1920s. Most of our forests are 85 to 100 years old. Most of our forests are overstocked. If we can do some work, some tending practices, if we can thin them out, open them up, make them healthier, they are more likely to withstand pests of any sort."
Even before invasive pests existed, active forest management was tradition in the Southern Appalachians, said Tommy Cabe, forest resource specialist for the Eastern Band of Cherokee Indians.
"We weren't really fond of leaving landscapes untouched," he said. "We engaged in landscaping. We had a relationship with timber and sometimes that landscape said, 'Burn it.' We burned it. Sometimes those big old growth forests said, 'We make good canoes.' We made canoes. And so bringing all this knowledge back to the 21st century is going to be a challenge. But I think with everybody having open ears and more importantly, an open heart, I think that we can make an impact."
Timber harvest also offers an economic incentive for property owners to keep their land forested, and a revenue source to carry out management activities. With 70% of the 4 million acres of forest in the 26 western counties in private ownership, landowners' individual decisions add up to a big impact.
"Traditionally, our demand for products allowed loggers and industries to go and remove trees. In the absence of that, how are we going to do the work that's necessary to keep forest healthy?" Hornthal asked the panelists.
Hanni Muerdter, conservation director for the Southern Appalachian Highlands Conservancy, said that efforts from land trusts like the one she works for could be part of the answer.
"If you have 200 acres and you're wondering what to do with it, and you traditionally worked with a forester, with a logger, to log it, and the economy isn't there for pulpwood or what you're trying to achieve, I would say conservation is a route to bring funding to landowners in general," she said. "It doesn't bring all the funding and sometimes it's a one-time pot of funding. But conservation and land trusts are there to help landowners who maybe are land rich, cash poor."
The mill closure makes this work more urgent than ever, she said. It is widely expected that the closure will boost real estate prices and development demand over the long term. For a land trust, buying larger, undeveloped tracts is always more effective for conservation and less expensive than piecing together parcelized tracts.
Many such tracts exist along the largely forested Haywood-Bumcombe County line just east of Canton. It's a vital corridor for wildlife species seeking protected routes to move around the region. Without conservation easements in place, these properties are vulnerable to development.
"As a conservancy right now, we're thinking a lot about how is that mill closure going to affect real estate sales and how is it going to affect development in Canton," she said. "But it's really across the whole area. The Asheville metropolitan area is expanding, and some of those key wildlife corridors are unprotected."
No silver bullet
The issues are many, and complex. While development of the Nantahala and Pisgah National Forests Land Management Plan spanned 10 years and elicited tens of thousands of public comments, the end result is a document that guides management on only about a quarter of the region's forestland. That reality means partnerships are key to making a lar ger impact.
"If we're going to make a difference on a landscape of watersheds, we have to be working across boundaries," said National Forests in North Carolina Forest Supervisor James Melonas. "We have to be thinking about private forestland, how we work with our tribal partners to do work at the scale that's needed."
For landowners, various pots of public funding are available to help plan and carry out management activities on their property. From the Forest Service perspective, unprecedented funding contained in the federal Inflation Reduction Act and Infrastructure Investment and Jobs Act offers the chance to increase forest management efforts on national forest lands. In November, the Forest Service and the EBCI signed a co-stewardship agreement to collaborate on managing the tribe's 54,000 acres of forest.
"We do have an opportunity with more funding available to do the right work on the ground than we've seen a long time," Melonas said. "And I think the partnerships and things that we have, we're well situated to take advantage of that."
Still, there's no simple solution to the multifaceted challenges facing WNC forests. In the years ahead, these challenges will continue to evolve, as will the strategies to address them and the roster of groups engaged in the effort.
"We don't have any silver bullets," Hornthal said. "If you're looking for silver bullets tonight where we're all out. Instead, we have to make informed decisions, and we're going to monitor our results, and we're going to then adapt as needed. That's forestry in a nutshell."
Leave a comment
2

comments
Please note that the nearest paper mill is in Covington Va, not West Virginia.
Paragraph 11

Monday, 05/29/2023

Please note that the nearest paper mill is in Covington Va, not West Virginia.
Paragraph 11

Monday, 05/29/2023