Outdoors Latest
River in rebound: After mill closes, a healthier Pigeon could help Canton recover
Wednesday, March 15, 2023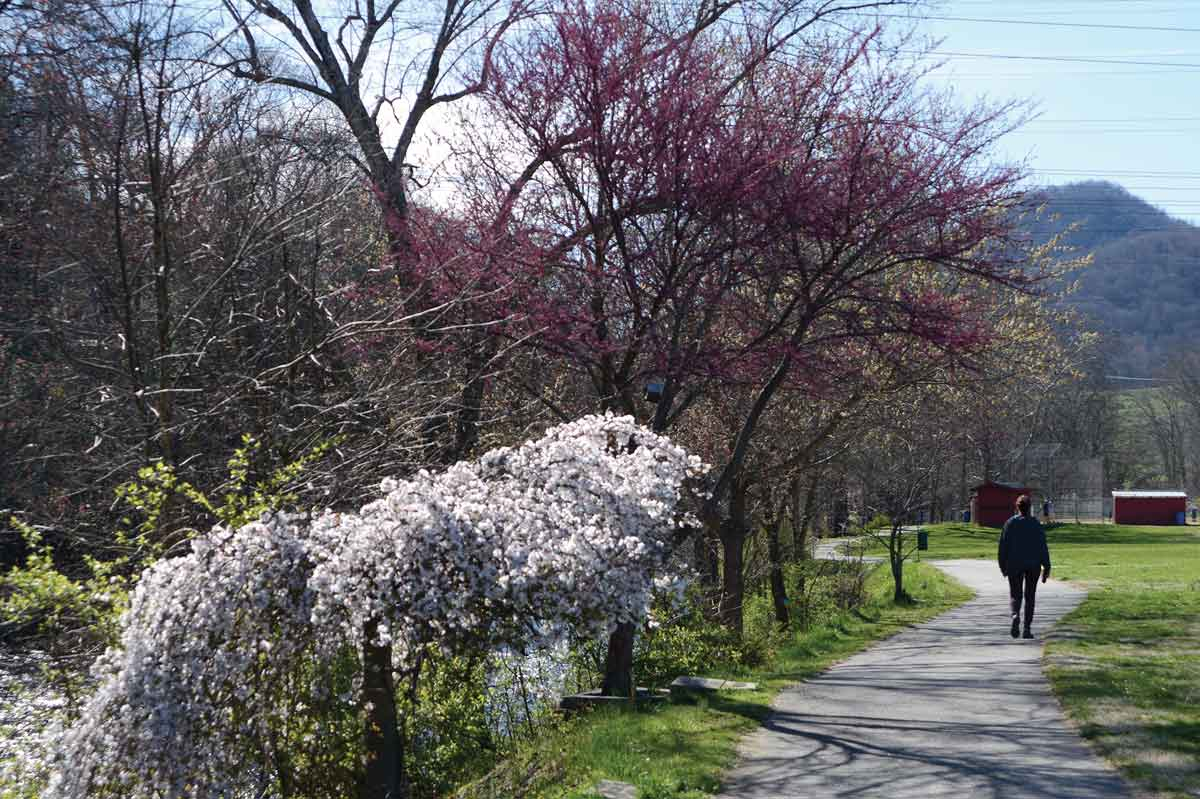 Trees bloom along the riverside path at the Canton Recreation Park. Holly Kays photo
For decades, concern about water quality has been the central tension between Canton's paper mill and the environmental advocates monitoring it. When the plant closes this year, those issues are likely to fade with the final whistle — but even the mill's longtime critics aren't rejoicing.
"We had a lot of empathy for the workers at the mill and met with them repeatedly and believe that many of them were quite sincere about wanting to improve the environmental performance at the same time as they were protecting their jobs," said Hope Taylor, who retired as executive director of Clean Water for North Carolina in 2021 after decades of efforts to realize environmental improvements at the mill. "It is very sad that it's come to this."
"We are not celebrating this," agreed Kevin Colburn, national stewardship director for American Whitewater and an Asheville resident who has paddled that stretch of the Pigeon for nearly 30 years. "I think it will be a good thing for the river, but the first reaction that I've heard from everyone, and that I felt myself, was just concern for the community and everyone who's lost jobs and had the fabric of their community profoundly altered."
Trey Dykes, who is a year into his second term as mayor of the downstream town of Newport, Tennessee, also acknowledged that the closure might bode well for water quality but said his first reaction is empathy for the workers. Newport lost its own mainstay employer, ConAgra, in 2021, putting 800 workers out of a job. Dykes has seen firsthand what such an exodus can do to a small town.
"We're very empathetic about what's going on up there, and it's going to affect the entire region — not just that county," he said, adding that a handful of Pactiv Evergreen's workers live in Cocke County.
But at the same time, he looks forward to seeing the Pigeon River start running cleaner.
"It's kind of a bittersweet thing," he said.
Regardless of whether anybody in Western North Carolina wants the mill to close, close it will — and soon. On Monday, March 6, Pactiv Evergreen's 1,100 Haywood County workers were informed that due to poor market conditions and high facility upgrade costs, the company is closing the Canton mill and severely scaling back operations at its Waynesville facility. The paper mill that has been Haywood County's mainstay employer since 1908 will be no more. Amid breaking waves of shock, grief and disbelief, the countless people whose economic fortunes are tied to the mill have been asking themselves — what now?
In what is otherwise an emotional and economic blow to the entire region, improved downstream water quality will offer a welcome silver lining to this suddenly rising cloud. That clean-flowing Pigeon River could prove a vital asset as Canton writes the next chapter of its ongoing comeback story.
Chemical color
Back in the 1980s and '90s, all you had to do was glance at the Pigeon River to know it was polluted. Jet-black water carrying blocks of foam tumbled along a river channel nearly devoid of fish, a visible reminder of the cost of upstream economic security. But over time, things got better.
A lot better, in fact.
"When I first started paddling in the 90s, your eyes would burn, and any cuts would burn, and things like that, but I haven't experienced that in recent years," Colburn said.
Hard-won changes to the mill's wastewater discharge permit were behind that transformation, Taylor said. The most rapid water quality improvements came between 1997 and 2001 following requirements stemming from a December 1997 settlement agreement. Various water quality groups and the state of Tennessee contested terms of the mill's 1996 wastewater discharge permit, resulting in requirements that Taylor said made a "big difference" in just three years. Later, the 2011 permit process brought some improvements to water temperature as well.
The river is now more of a light taffy brown than jet black, and aquatic life survives in the downstream reach. Still, it's far from pristine. There's much less biodiversity below the paper mill than there is above it. The temperature is warmer, the color darker, and there's still an odor.
Even now, few people paddle the Pigeon between the mill and Waterville Lake, which Colburn said is a "really nice" section of river. He attributes the lack of use mostly to public perception and aesthetic issues like color and odor.
"Honestly I don't know how much of a deterrent water quality still is for actual use numbers, but certainly it would change the experience if the water changed color and quality," he said.
Taylor argues these aren't merely aesthetic issues, but that color, especially, represents real environmental impact due to the "absolutely absurd" amount of chemicals the mill releases into the river. During the 2021 hearing, multiple paddlers from Cocke County told the Department of Environmental Quality that the river water still irritates their skin.
"Color is an indicator of that complex soup of thousands of chemicals that come out of the pulping process, many of which are irritants, and several of them are toxic," Taylor said.
The chemical complexity of the pulping process may have influenced the mill's willingness over the years to treat the town's wastewater, Taylor said — the high levels of nitrogen in human sewage help balance the carbon-containing waste from the pulping process.
Luke Etchison, the western region aquatic wildlife diversity coordinator for the N.C. Wildlife Resources Commission's Inland Fisheries Division, said that while there are "a lot of unknowns" about how the dye impacts the river, "the reality is there's probably something on a chemical level that just is not great for aquatic life."
Some species missing from the downstream reach, such as river chubs, are fairly tolerant of the warmer water temperature presumed to be responsible for the bulk of the mill's current impact on biodiversity. River weed, an important food for some fish, is also absent. There's no evidence to suggest color is driving these differences, but it's "definitely a symptom of something," Etchison said.
When mill operations cease, both Taylor and Etchison expect to see a rapid, positive impact to the river's ecology.
"There are a lot of small tributaries to the Pigeon River," Taylor said, "and many of them do have healthy aquatic life in them, so I would be very surprised if within a year or less of the discharge ending those organisms don't replenish themselves, just because there's this new healthy habitat in the main body at the river."
Downstream of the mill, the water is a bit darker and much less used. Holly Kays photo
Cooling down
While the dye's impact on water quality is still a topic for debate, the impact of temperature is well documented. The water Evergreen releases back to the river is warmer than the upstream reach. For species adapted to cool mountain streams, that's a problem — cooler water will mean more aquatic diversity downstream.
The mill's current wastewater discharge permit measures temperature compliance based on weekly averages, meaning that cooler temperatures some days can mask the impact of hot temperatures other days. During the 2021 public hearing discussing the permit, environmental advocates called for water temperature limits to be based on daily monitoring instead, but that request was not granted.
Data gathered in preparation for the permit renewal showed that between 2016 and 2018, the average temperature difference was 6 degrees, Etchison said. There were 161 days with a temperature difference greater than 10 degrees, and 118 days with downstream water temperatures greater than 80 degrees. One day in 2016 when the river above the mill measured 77 degrees, the downstream reach marked its peak temperature of 90 degrees.
For a mountain stream, anything over 80 degrees is incredibly warm.
"In that range is where you start having mussels getting stressed or just dying from temperatures," Etchison said. "Temperature is a really important factor in when fish are spawning too. That's a trigger, so if that stuff's messed up it can potentially cause some issues with reproduction of fish."
Etchison named a list of species that reliably appear upstream from the mill but are absent for multiple river miles after it. Two freshwater mussels — the federally endangered Appalachian elktoe and the state-listed species of special concern wavyrayed lampmussel — occur as far down as the Canton Recreation Park but not below it, though efforts to reintroduce the wavyrayed lanpmussel at some points downstream have proven successful.
Eastern hellbenders, iconic giant salamanders whose numbers have dropped in recent years, have also been captured at the Rec Park but don't show up again until 15 river miles later, Etchison said. Likewise, crayfish, creatures known to be sensitive to thermal changes, thrive upstream of the mill and in Pigeon River tributaries but aren't found for 11 river miles below it.
"Basically, anything close to the area where the mill discharges, there's not very high diversity," Etchison said.
Once it closes, that could change — and quickly.
"The temperature thing, in theory that should immediately be fixed, and from there we'll have to see what else really needs to be remediated for aquatic life to reach its full potential," he said.
However, even without heat from the mill, the downstream river is unlikely to become prime trout territory, said the Wildlife Commission's District 9 fisheries biologist Powell Wheeler.
"Without the hot water in the Pigeon, people might think that it would be trout habitat below the paper mill, but that really wouldn't be the case," he said. "It's so far down in the watershed it would already be too warm for trout."
That doesn't mean the river won't see heightened interest from anglers. That stretch of water holds smallmouth bass, largemouth bass and redbreast sunfish, but people rarely fish there.
"I've always wondered if people were afraid of the stuff coming out of the mill, even though I don't think there's been a reason to worry about that for many decades," he said. "And so I'm hopeful that maybe in the future people will feel more comfortable fishing down through there."
Fishing and paddling are leisure activities, but they're also economic drivers. In North Carolina, the outdoor recreation economy made up 1.8% of the state's gross domestic product in 2021.
A mountain river like the Pigeon, which runs through the heart of Canton and boasts everything from flatwater to nearly impossible whitewater along its path into Tennessee, could be key to spurring that economy's growth in Canton. The potential impact goes beyond outfitters and gear shops. Rivers can also draw manufacturing and entice young entrepreneurs looking for a place to start their business and raise a family.
"I hope the Pigeon can play somewhat of a supporting role in the recovery of the community," Coburn said. "It is just such a unique asset that the towns along it have. If you take stock of what's special about the area, the river is on the list."
Leave a comment
2

comments
Excellent writing, as someone who lived downstream from the mill for quite a number of years, you notice that the kayaks get pulled out ahead of the mill discharge. You notice that the fishermen are above the mill. The black liquor discharges were not by accident, nor were a lot of the chemicals and that dye. Nothing last forever, at some point things need to change. Nothing could be more evident of that fact, in the closing of the mill. I don't know that the river will come back to life in my lifetime, but it will ultimately recover.
What I have to say to the staunch supporters of the mill is that I am sorry for the loss of your jobs, however, this is a big win for the environment and everyone downstream.

Wednesday, 03/22/2023

Blah blah blah. From a local that's sick and family gone. I could care less how sympathetic you write this paper. In no way has anyone cared about how your economical security was a compromise. People had died for years with lawyers helping those coverups. Just call it papertown and pride your money making ways as less pathetic as it is. Please. I hope you people burn for what you have done to us. The only reason anyone cares now is the rich politicians need a healthy environment to multiply and replicate, like the virus you are. You have breed so much mistrust. My government has failed me. I'm sorry a lot of locals can't see it as more the economical security. Just pathetic. Ignorance is blind. Probably from that black water that hasn't burned anyone in a long time. Because it's light brown now. Jesus….help us. We need you more then ever.

Thursday, 03/16/2023