Archived News
Crowe to plead guilty to federal charges; tribal court process expected to continue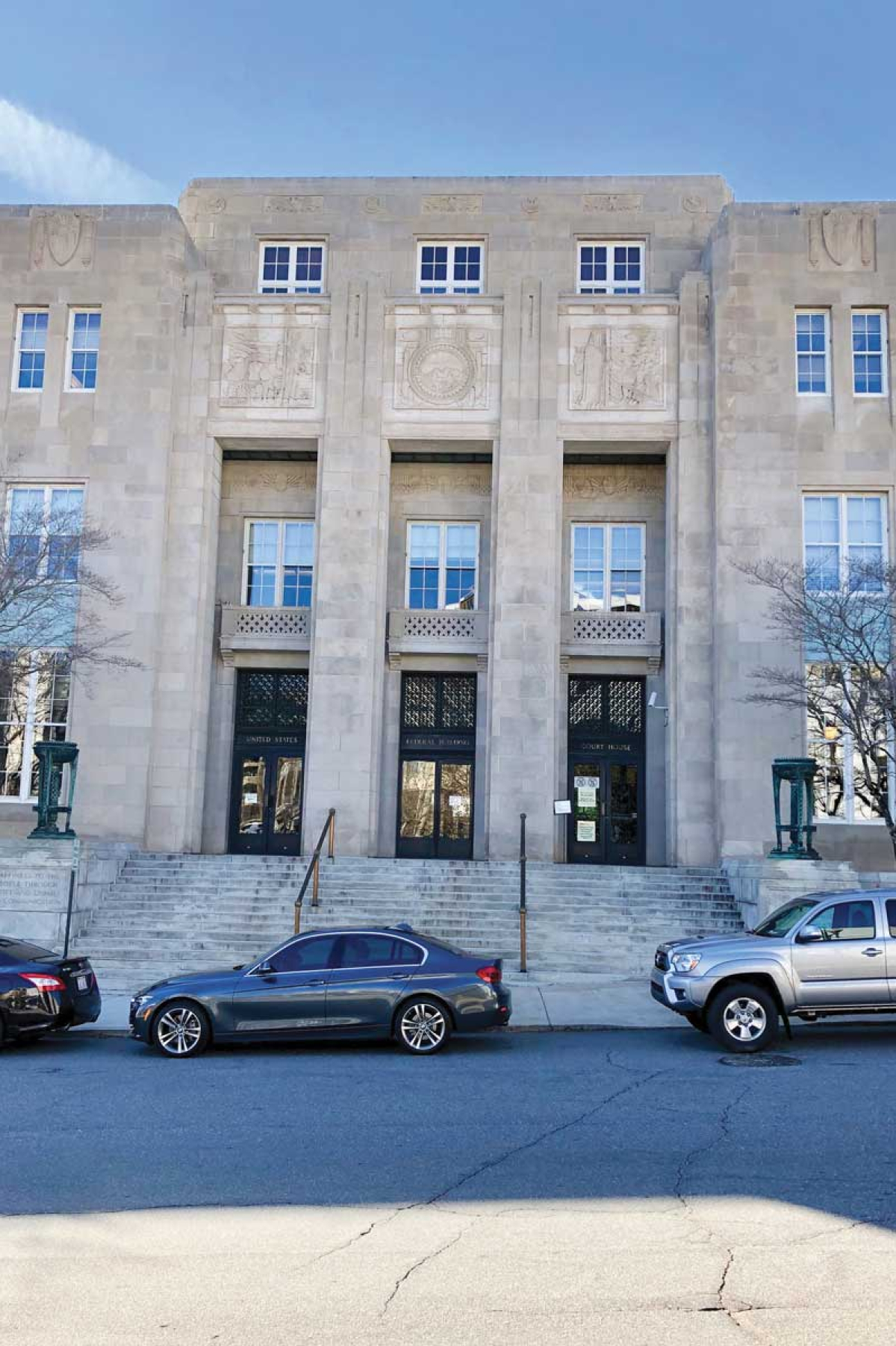 U.S. District Court of Western North Carolina
With more than six months gone since tribal charges were brought against former Wolfetown Rep. Bo Crowe following an alleged assault in January, the federal government has decided to take up the case.
Crowe has agreed to plead guilty to misdemeanor assault in federal court, his attorney, Caleb Decker told The Smoky Mountain News, but that doesn't mean the tribal charges will disappear.
"As of today, the tribe continues to maintain their position that they're going to prosecute Mr. Crowe regardless of what happens in federal court," Decker said June 15. "That's the last word I got."
The federal charges were filed Tuesday, June 13, along with a plea agreement, which is sealed. Crowe won't officially enter his plea until a July 7 arraignment hearing in Asheville, but Decker signed a document, filed with other court documents, that states the facts of the case as agreed to by Crowe.
"I am satisfied that the defendant understands the Factual Basis, plea agreement and Bill of Information," reads the statement Decker signed. "I hereby certify that the defendant does not dispute this Factual Basis."
The description of the offense in the Factual Basis is very similar to that filed with the original charges in tribal court.
On Jan. 6, the document states, Crowe "initiated" an assault by punching the victim in the valet parking area of Harrah's Cherokee Casino Resort in Cherokee. Crowe landed "several punches" before he "maneuvered so that he was on the back of" the victim, rendering him "momentarily unconscious." As a result of the assault, the victim "suffered bodily injury, including bruising, swelling, scratches and other injury," eventually seeking medical attention.
In tribal court, Crowe faces three charges related to the same incident, two of which are felonies: assault inflicting serious bodily injury, assault by strangulation, aggravated reckless endangerment. Tribal court documents accuse Crowe of striking the victim, placing his arm around his neck and squeezing, rendering him unconscious.
Decker said Crowe plans to maintain his not guilty plea in tribal court. When asked whether a guilty plea in federal court might make it harder to defend against the tribal charges, Decker said he does not believe it will.
"They are technically different crimes," he said, "and Cherokee will understand that Mr. Crow made a decision to resolve the federal case based on a lot of factors, primarily economic."
After discussing how much it would cost to defend the federal case and the potential sentence if he were convicted, Decker said Crowe decided that a guilty plea made the most sense. Crowe was exposed to "years in prison and a hefty fine," Decker said, but the assault charge he plans to plead guilty to carries a maximum of one year in prison. Sentencing guidelines recommend zero to six months for somebody with limited or no criminal history.
However, the tribal charges carry the potential for a significant sentence as well — a maximum combined prison sentence of seven years, with fines and temporary banishment also on the table. Additionally, a felony conviction could end Crowe's political career for good. Tribal law renders anybody who has been convicted of a felony offense ineligible to run for or hold elected office.
Crowe, who was serving his fifth term on Tribal Council and intending to run for principal chief before he resigned in January, is now attempting to regain his Tribal Council seat in the Sept. 7 General Election. He has been enormously popular with the Wolfetown/Big Y voters he represents throughout his career, and the June 1 Primary Election was no exception. He came in first amid a field of six candidates, with a 7.4% lead over second-place Mike Parker.
Despite the allegations against Crowe, many in the Cherokee community have voiced support for him, believing that he acted to protect his teenage daughter and niece. During comments to Tribal Council Jan. 10, Crowe's niece, Livia Crowe, described her uncle as a "hero" who came to her rescue that night. Following a May 22 hearing, Decker said his client planned to fight the charges and was confident that "when all the facts come out on this, folks will understand why things came out the way they did."
Should Crowe be convicted of a felony, he could still have a path to future political participation. Tribal law allows for felons who have completed "in full every component" of their sentence to petition the tribal court to reinstate their civil rights, including their ability to run for office. This process requires the person to file a petition supported by at least three affidavits "concerning the defendant's moral character," after which the court, "with or without a hearing, shall promptly grant or deny the defendant's petition."
Crowe is scheduled for an initial appearance, arraignment and plea hearing in federal court at 10 a.m. Friday, July 7, at the U.S. District Court in Asheville. In tribal court, a pre-trial bench conference is scheduled for Wednesday, Aug. 9.
"I anticipate that it will be after the election before we have a trial at Tribal Court," Decker said.
A spokesperson for the U.S. Department of Justice declined to comment on the case.