Archived News
Former Chief Hicks to face Sneed in Cherokee's September election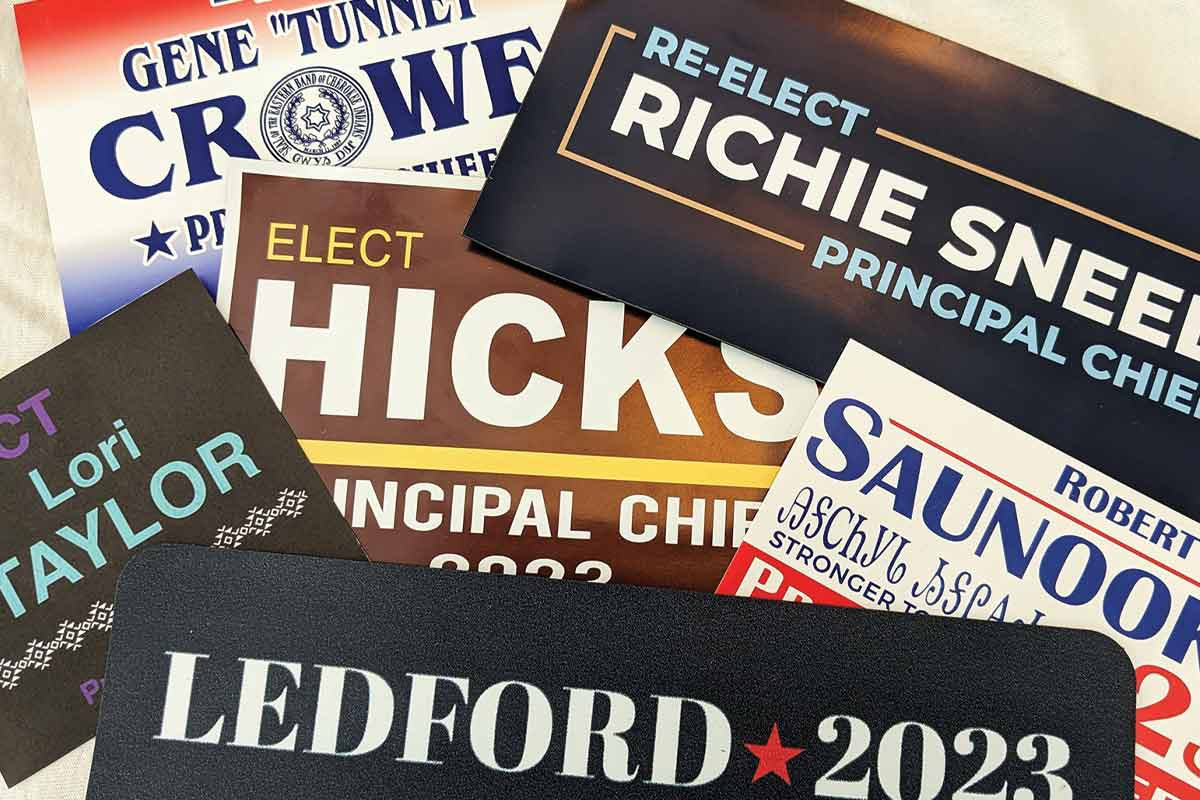 Former Principal Chief Michell Hicks will seek a fourth term as top executive for the Eastern Band of Cherokee Indians after dominating the field in a Primary Election held Thursday, June 1.
Hicks rose to the top from a field of six candidates, drawing 1,075 votes to command support from 41.7% of voters. By contrast, incumbent Richard Sneed received only 548 votes, 21.8% of the total. He edged third-place Robert Saunooke, who received 441 votes, to claim a place in the General Election.
During a debate held May 17, tribal finances were a frequent topic of discussion, with challengers criticizing Sneed for heavy spending to fund a variety of tribal business ventures during his time in office. Hicks, who is a certified public accountant and held the office of principal chief 2003-2015, styled himself as a known quantity with a proven track record in tribal government and the ability to get tribal finances back on track.
"As we move forward in the coming months, I want to assure you that I am fully committed to outlining a comprehensive sustainable plan that will strengthen and uplift our tribe," he said in a Facebook post following the election. "I recognize the immense responsibility that comes with this position, and I assure you that I take nothing for granted."

During the debate, Sneed said the spending was necessary to diversify tribal investments as local competition increases for the casino business that fuels tribal revenues. Without such investments, he said, tribal services would suffer as competition stiffened. In a Facebook post following the election, Sneed thanked voters for propelling him to the General Election, saying that he was "heartened" by their support.
"As always, it is an honor to serve the Principle [sic] People as your Principal Chief," he wrote. "I humbly ask for your continued support and your vote on September 7th so that, together, we may continue to build on the progress we have made."

Sneed also came in second during the 2019 Primary Election amid a field of five candidates, then returned for a decisive win in the General Election. However, the margin was much smaller during that primary, with less than 1% of the vote separating Sneed and Teresa McCoy.
The principal chief race was just one of six last week, but the only one in which tribal members from all townships were eligible to vote. While Tribal Council members are elected to two-year terms, the principal chief serves for four years. He or she has the power to veto acts of Tribal Council and, together with the vice chief, is charged with executing legislation and administering day-to-day operations of the tribe.
The 12 members of Tribal Council — two from each township — form the legislative body and are responsible for passing laws and approving budgets. The top four candidates from each township will progress to the General Election.
While all eight Tribal Council incumbents with primary challenges made the cut to compete in the General Election, some could face a tough fight in September. Of the eight, three — Albert Rose, Andrew Oocumma and T.W. Saunooke — finished below the top two spots, with Saunooke placing fourth in his race. In both Wolfetown and Birdtown, the top vote-getter was a person who previously sat on Tribal Council but is not in office now.
Bo Crowe was the top vote-getter in Wolfetown, pulling in 31.8% of the vote just months after resigning the seat in January. Crowe faces criminal charges in tribal court related to an alleged assault but has received widespread support from community members who believe he acted to protect his niece and daughter. Incumbents Mike Parker and Andrew Oocumma — both of whom won their seat by special election within the past year — finished behind Crowe, with 24.4% and 24.2% of the vote, respectively. Bo Crowe's brother Peanut Crowe will round out the General Election ballot for the race after pulling in 12.4% of the vote.

Jim Owle, who sat on Tribal Council for multiple terms in the early 2000s, was the highest vote-getter in Birdtown with 27.3% of the vote. His brother, incumbent Birdtown Rep. Boyd Owle, was just four votes behind with 27%. Rounding out the top four contenders are Vice Chairman Albert Rose with 19.1% and former First Lady of the tribe Cyndi Lambert with 18.4%.
Sean "Michael" Stamper, who at 32 is the youngest member of Tribal Council, finished first in Painttown with an overwhelming 37.5% of the vote after just a handful of months on the job. During a special election in December, voters chose him to fill the seat left vacant when longtime Rep. Tommye Saunooke died in office last fall. Fellow incumbent Dike Sneed came in second with 21%. Jeff Thompson, who manages a trio of tribal housing and building maintenance programs in Snowbird and Cherokee County, was in third place with 20.3%, just five votes behind Sneed. Attorney and Qualla Enterprises Board Chair Carolyn West will also advance after securing 10.1% of the vote.

In Yellowhill, incumbent David Wolfe was by far the most popular candidate, securing 31.8% of the vote. Former Rep. Tom Wahnetah finished second with 20.1%. Just 14 votes behind him was Community Club Council member Stephanie Saunooke French, who edged incumbent T.W. Saunooke by a scant six votes.
Also on the ballot last week was a seat representing Painttown on the Cherokee School Board. According to reporting from The Cherokee One Feather, Micah Swimmer and Regina Rosario will progress to the General Election in that race. The School Board race results were not livestreamed with the rest of the election results, and the Election Board had not returned a request for the results as of press time.
In September, Cherokee voters will weigh in on all of the above races, plus five more. No primary race was required for vice chief, Snowbird/Cherokee County and Big Cove Tribal Council or Big Y and Yellowhill school board. Jennifer Lynn Thompson is running uncontested for the Yellowhill School Board seat, but the other races all have enough candidates to promise a General Election showdown, but too few to warrant a primary contest.
Primary Election results will become official once certified by Tribal Council.
Primary Election unofficial results
Principal Chief

†Michell Hicks, 1,075 votes (41.8%)
*Richard Sneed, 548 (21.8%)

Robert Saunooke, 441 (17.1%)
Gary Ledford, 254 (9.9%)
Gene Crowe Jr, 141 (5.5%)
Lori Taylor, 117 (4.5%)
Birdtown Tribal Council
†Jim Owle, 362 (27.3%)
*Boyd Owle, 358 (27%)
*Albert Rose, 253 (19.1%)
Cyndi Lambert, 244 (18.4%)
Joi Owle, 109 (8.2%)
Wolfetown Tribal Council
†Bo Crowe, 400 (31.8%)
*Mike Parker, 307 (24.4%)
*Andrew Oocumma, 305 (24.2%)
Peanut Crowe, 156 (12.4%)
†Chelsea Taylor, 70 (5.6%)
Qiana Powell, 22 (1.8%)
Painttown Tribal Council

*Sean "Michael" Stamper, 239 (37.5%)
*Dike Sneed, 134 (21%)
Jeff Thompson, 129 (20.3%)
Carolyn West, 64 (10.1%)
Andre Brown, 51 (8%)
Richard Delano Huskey, 20 (3.1%)
Yellowhill Tribal Council
*David Wolfe, 191 (31.8%)
†Tom Wahnetah, 121 (20.1%)
Stephanie Saunooke French, 107 (17.8%)
*T.W. Saunooke, 101 (16.8%)

Ernest Tiger, 81 (13.5%)
Painttown School Board
Micah Swimmer, 162 (48.4%)
*Regina Rosario, 97 (29%)

Keyonna Hornbuckle, 76 (22.7%)
* incumbent
† previously held office
Anticipated General Election candidates are shown in italics.