Latest
Visions of leadership: Principal chief candidates debate the issues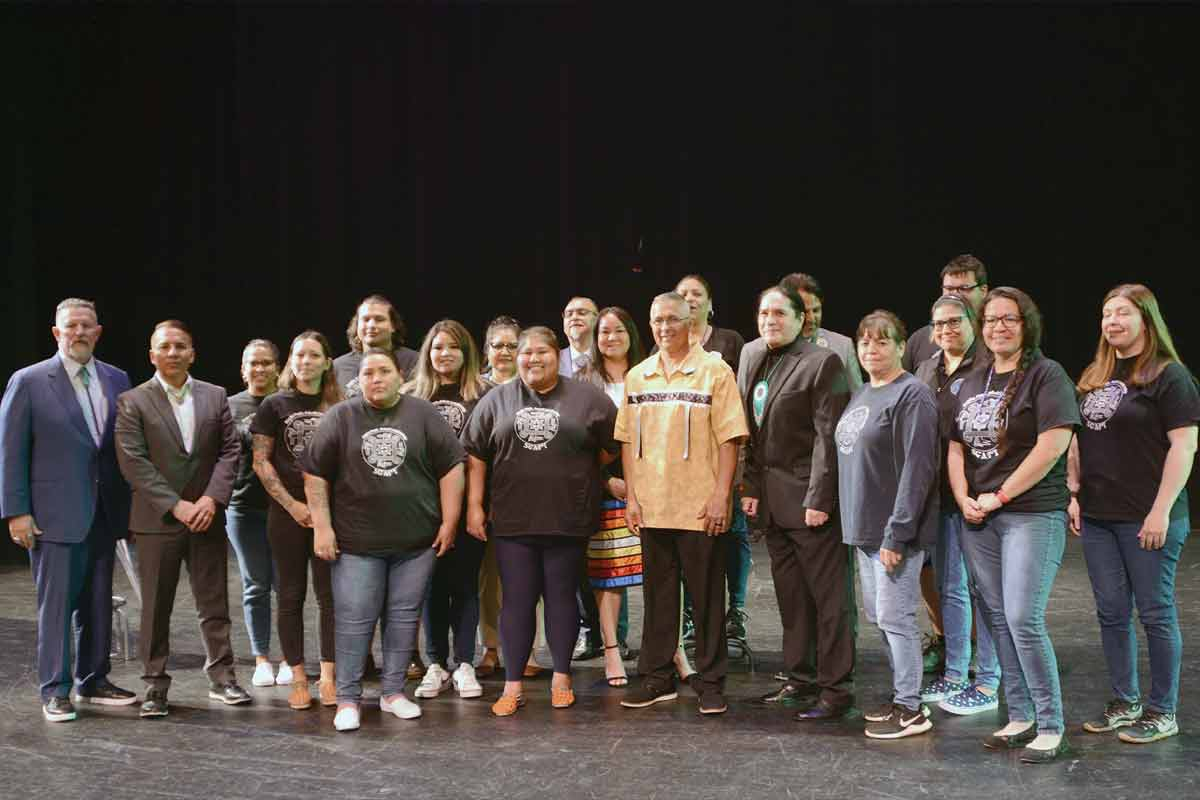 Candidates stand with the Right Path Leadership Alumni, who hosted the debate.
Holly Kays photo
The tribe's financial future was the crux of the conversation when all six candidates in this year's race for principal chief of the Eastern Band of Cherokee Indians appeared for a debate Wednesday, May 17, at the Joyce Dugan Auditorium at Cherokee Central Schools.
For more than 20 years, the tribe has had a monopoly on the regional gambling market, allowing its casinos in Cherokee and Murphy to provide a steady river of revenue to tribal members and tribal programs.
But that monopoly has come to an end.
In 2021, the Catawba Indian Nation opened its casino in Kings Mountain, near Charlotte, and the new Hard Rock Casino in Bristol, Virginia, opened its doors in July 2022. Both casinos are still operating out of temporary structures — once permanent facilities go up, they're expected to intercept a sizeable chunk of Harrah's business. Over the last several years, EBCI leaders have worked to ensure the tribe's long-term financial future by investing in diverse — and expensive — business endeavors.
Challengers call for change
The debate, which was organized by the Right Path Adult Leadership Alumni, covered a broad range of topics, but the candidates' opening statements made it clear that tribal finances are at the core of each campaign.
"We were in great financial position when I left in 2015, and I will tell you there are concerns currently in regard to our financial stability," said former Principal Chief Michell Hicks, who led the tribe 2003-2015. "There's a lot of work to be done. I believe that it's going to take a strong team to get us back online with where we need to be."

During the debate, Hicks styled himself as a known quantity with a proven track record in tribal government who will do a better job of balancing outside investments with expenditures to improve the quality of life for tribal citizens.
The next speaker, attorney Robert Saunooke, has not held elected office within the tribe before, but he also emphasized experience in his message to voters. Over the past three decades, he said, he's represented tribes across the country, gathering valuable insight as to which financial strategies work and which do not. He's worried that the EBCI is spending its money on questionable investments while its people struggle to meet basic needs like housing and secure healthcare services such as dentistry and optometry.
"I've heard it said we are a blessed tribe, and we are a blessed tribe. We have a lot of opportunity, but I think it's been misplaced," Saunooke said.
Gene "Tunney" Crowe Jr., a former Tribal Council member and current chairman of the Cherokee Police Commission, also emphasized the need for prioritizing issues like health care, housing and workforce challenges — not just business investments far away from the Qualla Boundary. He described himself as a leader who would "never throw anyone away," but rather look out for the welfare of all tribal members.
"With my leadership skill, I feel like we — not I, but we, as the tribe — can move forward, work out things, move forward, plan for our future and make sure each and every kid, adult and senior citizen is taken care of," he said.
Lori Taylor, a Big Cove resident who has run in several tribal elections over the past decade, said that the people want change, and that she would be that change. Taylor is the only female on the ballot and said she would bring the empathy and sympathy to the office that "only a woman can bring."

"I'm the strongest candidate. I'm the strongest woman to lead our tribe to where we need to be and get us out of debt," she said. "We were close — 2007 was closely out of debt. But now we're in debt over our ears. Do you call that good leadership? I don't."

The final challenger, Air Force veteran and business analyst Gary Ledford, presented himself as a qualified candidate with a track record of service to others who will bring needed change to tribal leadership.
"Do you want four, eight or 12 more years of the exact same thing that you've had for 18 years where you have no say in government, none whatsoever?" Ledford said. "Especially how your money's spent? And that's the thing, people. That's the thing. Every single penny that comes into this tribe belongs to you."
Sneed defends his record
As the incumbent, current Principal Chief Richard Sneed spent much of the two-hour debate defending his record over his past six years in office as his challengers sought to criticize him on it. Sneed described himself to voters as a man of principle who successfully led the tribe through a series of potentially crippling chapters of its history — the aftermath of a divisive impeachment, a cyberattack that temporarily paralyzed tribal operations and the Coronavirus Pandemic.
Other candidates criticized him for approving hundreds of millions of dollars in expenditures for faraway business ventures, but in his opening remarks Sneed said that community projects and services are his first priority, with more than $200 million invested in these efforts during his administration. He couched economic diversification in the face of the gaming monopoly's end as a priority that fits underneath the focus on community services, securing new revenue streams to support tribal programs should casino receipts falter.
"My commitment from the beginning is to ensure that the best-paying jobs and benefits that we have continue," Sneed said. "We are a blessed community. My commitment is to ensure the benefits we enjoy now will be here not just for us but for our children, our great-children and seven generations to come."

That said, the candidates agreed that the tribe's current financial position is shakier than it was a few years ago. Co-moderator Jayson Crusenberry told candidates that it's "not uncommon to hear, 'The tribe is broke,'" asking their opinion on the tribe's financial situation and the best road forward.
Sneed said that "the tribe is broke" is a misconception stemming from a letter he sent to tribal entities this year, saying the tribe would no longer be distributing cash for projects Tribal Council authorized to be financed through debt — during a time when the economic picture in America looked much different.
"After the March Budget Council, I met with Council to talk to them about the memos that I had sent and let them know that because of the state of the economy, that right now is not the time to take on debt," Sneed said. "The fiscally responsible thing to do would be to hold the projects."

Sneed said he's introduced a resolution in the June Tribal Council agenda to do just that. Tribal government should prioritize which projects should be completed now and which should be held until the country's financial situation improves.
Sneed's challengers agreed that the tribe is not "broke" but said its financial situation is worrisome — and not just because of the larger economic forces affecting the entire country.
"The tribe is not broke," Saunooke said. "People are still getting paid. Things are still going forward. The issue is the tribe's focus is broken. It's not hard to spend money, especially when you have the reserves and the silos that are built into the gaming code. The question is do we spend money the correct way."

That's not what's been happening over the last four years, Saunooke argued. He took particular aim at the decision to spend $24.5 million to allow Kituwah LLC to purchase the Sports Illustrated Resorts brand. That purchase "does nothing," Saunooke said, without the tribe spending tens of millions of dollars more "to build something to put that label on." Tribal Council allocated an additional $300 million for that purpose.
Hicks criticized the funding mechanisms used to pay for ventures like the Southern Indiana Casino in Indiana and the Danville casino project in Virginia, both of which are led by the tribally owned EBCI Holdings LLC. Debt related to Harrah's Cherokee Casinos on tribal land was always siloed with the Tribal Casino Gaming Enterprise, but now three tribal funds are collateralized for various projects, Hicks said.
"I think the question you should ask is, 'What is the unrestricted cash that we have on hand currently to do business as a tribe?'" he said. "That's the question."

Crowe questioned what good these outside investments do for tribal members, who do not receive per capita payments on those revenues like they do on receipts from the Murphy and Cherokee casinos. Taylor questioned the process used to make decisions like the Indiana casino purchase. Improved policies and procedures — and adherence to them — are needed in the future, she said. Meanwhile, Ledford focused on Cherokee's lack of a local economy capable of turning paychecks sent out from the tribal government or casino into renewed spending within the community.
"Here we are creating jobs and opportunity in Sevierville, we're creating jobs and opportunity in Danville. And there is nothing on the ground that helps us become a self-sustaining economy and turn something back into the system," Ledford said. "It's to me, it's absolutely absurd."
Candidates discuss proposed constitution
The debate wasn't just about money. Candidates also discussed other issues of vital importance to the tribe's future, including language and cultural preservation, mental health, and healthcare services and plans to ensure that political appointees are held accountable for their actions. While candidates had varying perspectives on these topics, perhaps the starkest differences were displayed in response to a question about the proposed constitution.
On April 6, Tribal Council unanimously passed a resolution placing a proposed constitution — developed over the course of six years by a wide-ranging group of volunteer community members — on the Sept. 7 ballot for referendum vote. But two weeks later, Attorney General Mike McConnell told the Constitution Committee that he believed the document as written would bring unintended consequences on the tribe. Instead of amending the proposed constitution prior to the July 1 deadline for ballot printing, McConnell suggested an incremental process to amend the current Charter and Governing Document, which currently serves as the tribe's most authoritative legal document.
During the May 4 Tribal Council session, Painttown Rep. Dike Sneed said he would request that the constitution come back before the body in June to work out some issues before the referendum. As of press time, an agenda had not been published for the June 1 meeting. Sneed allowed the resolution to go into effect unsigned and had not made any public statements about the current proposed constitution prior to the debate.
During the debate, Sneed said that while he "commends" the Constitution Committee's work, he has real concerns about the final language. He listed several concerns, including that the document does not state the chief's responsibility for the tribe's day-to-day affairs or require per capita distributions.
"We all want a constitution, but I agree with all the other comments that have been made," he said, referencing other candidate statements critical of the constitution. "It's not something that we should rush to, but instead we need to work out all the details first."

The constitution also "expressly waives the tribe's sovereign immunity," Sneed said, likely referring to a section waiving immunity for claims brought before the tribal court system concerning constitutional rights.
Saunooke said "we should all question why" McConnell's office "is just now weighing in" when the constitution effort has been public and ongoing for years. He also has issues with the document, particularly language in the oath of office requiring candidates to swear to uphold both the tribal and the U.S. constitution. Those documents could sometimes be at odds. But he also sees the need for even stronger protections regarding the right of tribal members to sue their own government.
"The biggest issue I have with both our charter and our constitution is something I highlighted earlier, and that's accountability," he said. "Everyone hopes the constitution is going to give us some protection, but until there's language in it that allows tribal members to petition the court, to address grievances by a limited waiver of sovereign immunity, to make the Tribal Council and its leaders answer for the things they do wrong, then the constitution, even if it passes, will be no stronger than the charter we currently have."

Hicks also saw a "disconnect" between the Attorney General's office and the Constitution Committee and sees "critical elements that need to be cleaned up around jurisdiction, around sovereignty, among other things" before the document should be adopted. Once those issues are dealt with, he said, he would support the constitution — but not before.
Likewise, Crowe said there is "a lot of concern" about the proposed document and that he would like to sit down with the Constitution Committee to help them resolve questions and concerns from the Attorney General's Office and others. He questioned whether it's something the tribe should be voting on right now.
"Do I believe that we need a constitution? Absolutely I do, but what we need to do is make sure it's right from the get-go instead of having to go back and fix it later on," he said.
Ledford said he would like to see more specific qualifications for the office of principal chief. The chief is the leader of a large, wealthy, complex tribe — a person holding the office should have some leadership training. But Ledford's biggest objection concerned the Grand Council. In the proposed constitution, the Community Club Council is responsible for calling a Grand Council. The body's decisions require at least 30% of eligible tribal citizens to attend and concurrence from Tribal Council to be effective.
"I have a problem with this one big time," he said. "At some point in time, somebody wrote into our laws that any business conducted at the Grand Council carried no weight until the sitting council approved it. That is most ridiculous. That stripped your voice completely away."

Taylor was the only one of the six candidates to voice unequivocal support for the proposed constitution — she said she's in favor, "110%."

"Because we vote on this in a referendum to the people, I just think it's odd that we have a government that doesn't want to hear from our people," she said. "It shouldn't be that way."

The two-hour debate was barely long enough to scratch the surface on the complex issues facing North Carolina's only federally recognized tribe, but it gave voters a chance to see candidates discuss them side-by-side. About 100 people attended in person, and livestreams of the debate had drawn nearly 2,000 more views as of press time.
Ballots cast Thursday, June 1 — and in early and absentee voting — will decide which two of the six candidates take their message on to the General Election Thursday, Sept. 7. Then, voters will choose who they want to lead them through the next four years of challenges, opportunities and unexpected twists of fate that await the EBCI.
On the ballot
Six candidates are running to hold the office of principal chief for the 2023-2027 term.
• Michell Hicks
• Gene "Tunney" Crowe Jr.
• Robert Saunooke
• Richard Sneed
• Lori Taylor
• Gary Ledford
Early voting has now concluded. Polls will be open on Election Day 6 a.m. to 6 p.m. Thursday, June 1. Registered voters can cast a ballot at the polling place in their township. These are Big Cove Community Center, Birdtown Community Building, Big Y Recreation Center, Cherokee County Health Clinic, Painttown Community Building, Jacob Cornsilk Complex, Wolftown Recreation Center and Yellowhill Activity Center.
Watch the debate
The full debate is available online at livestream.com/accounts/10717024/events/10861520/videos/236245175 or via the EBCI Communications Facebook page.