Archived News
Haywood schools announce new leadership
Tuesday, February 28, 2023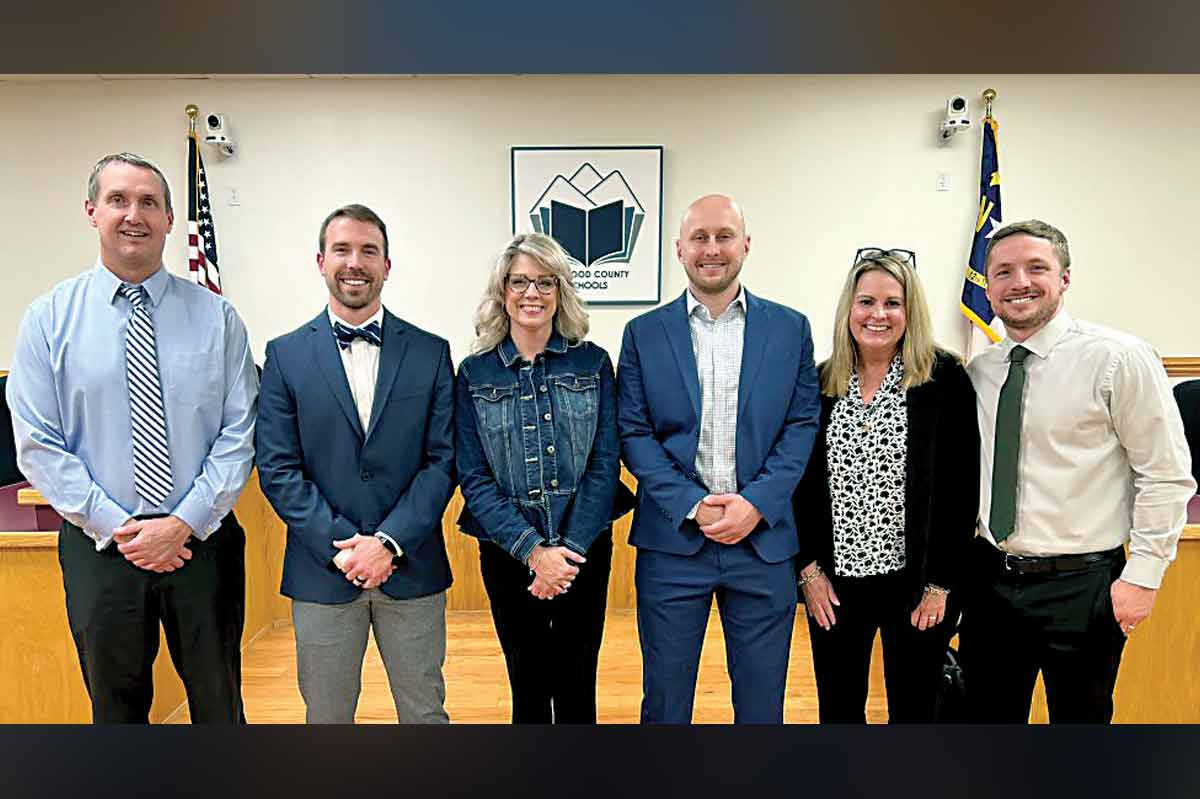 Casey Conard (third from right) has been hired as principal at Tuscola High School. HCS photo
Haywood County Schools has new leaders at several schools after the resignation of the Tuscola High School Principal left a vacancy to fill.
"It has been a long, exhausting interview process," said Superintendent Trevor Putnam. "We have gone through a ton of really highly qualified applicants. We've exhausted a very talented interview pool."
Casey Conard, who previously worked as principal at Waynesville Middle School, has been appointed to fill the position of principal at Tuscola High School, replacing Heather Blackmon who resigned earlier this month. Conard was appointed to lead Waynesville Middle School in October after its principal, Graham Haynes, was selected to serve as Assistant Superintendent when Bill Nolte retired and Trevor Putnam was hired as Superintendent of the school system. Before his brief time at Waynesville Middle School, Conard worked as assistant principal at Pisgah High School.
Conard began his career in Haywood County eleven years ago at Hazelwood Elementary School. Prior to moving to WMS, he had spent the last five years at Pisgah High School.
"I am so thankful for the opportunity to lead Tuscola High School," said Conard. "My experiences in Haywood County have been exceptional and I look forward to continuing to serve my community in this capacity. Leaving Waynesville Middle School is very bittersweet for me. I'm leaving an amazing leadership team, great staff and most importantly wonderful students. To those folks, although I will not be walking the halls with you each day, I will be a part of your community and I will be cheering you on from the hill. Waynesville Middle School is an amazing place and I'm so thankful for the love, support and enjoyment that I've felt there."
The position at Tuscola High School became available after Blackmon resigned due to an incident related to the suspension and resignation of football coach Chris Brookshire. Brookshire had been accused of sexual harassment by fellow employees. Because both employees resigned, rather than getting fired or undergoing a hearing with the board of education, the circumstances surrounding their suspensions and resignations are not available to the public.
"I'm going to approach the principalship at Tuscola High School in the same way I've approached all my positions in Haywood County," said Conard. "I'll bring a love for people, a competitive mindset and a strong work ethic. I will make student-centered decisions, and work as hard as I can to make the Tuscola experience the best experience for all students. Simply, I want the best for students. I believe in and love Haywood County Schools and appreciate the trust you've put in me."
Jennifer Reeves will move into the principal position at Waynesville Middle School, replacing Conard. Reeves was previously working as principal at Jonathan Valley Elementary, where she has been since 2019. Prior to that she worked for five years as assistant principal at Waynesville Middle School. She has been teaching since 1998.
"I would like to thank you all for entrusting me with the opportunity to return to my middle school roots," said Reeves. "Twenty-one of my 25 years in public school have been in middle schools. I spent some time at Bethel Middle and even Waynesville Middle School. I will truly miss the Jonathan Valley family. I love Jonathan Valley. The students, families, faculty and staff have taught me so much about elementary school. Jonathan Valley is a great place to be, and I know that their new principal who will be taking my place will take great care of them. Thank you for your trust and faith in me at Waynesville Middle and I'm looking forward to being a mountaineer again and serving the Waynesville Middle School Community."
Taking Reeves' place at Jonathan Valley Elementary School is Jacob Shelton, who was previously working as assistant principal at Tuscola High School. Shelton served as lead administrator at the school over the last few months during the suspension and eventual resignation of Blackmon.
"I am thrilled to join the school that I went through, kindergarten through fifth grade. I went to Jonathan Valley. I hold that place dear in my heart," said Shelton. "I'm going to put everything I've got into Jonathan Valley. I'm excited for this opportunity, I'm grateful for it."
"It is hard to leave Tuscola, a place that I call home and have since I graduated from there in 2004, but I know Mr. Conard is going to do a fantastic job. He puts the kids first and that's what they need. It's a great place. I am thrilled to start this new journey, go from kids with beards and as tall as me to kids that look like my amazing son. I'm thrilled for this; I appreciate the opportunity."
The school board accepted Putnam's recommendations for appointments unanimously.