Archived News
Admin shuffle following Nolte's retirement
Wednesday, October 19, 2022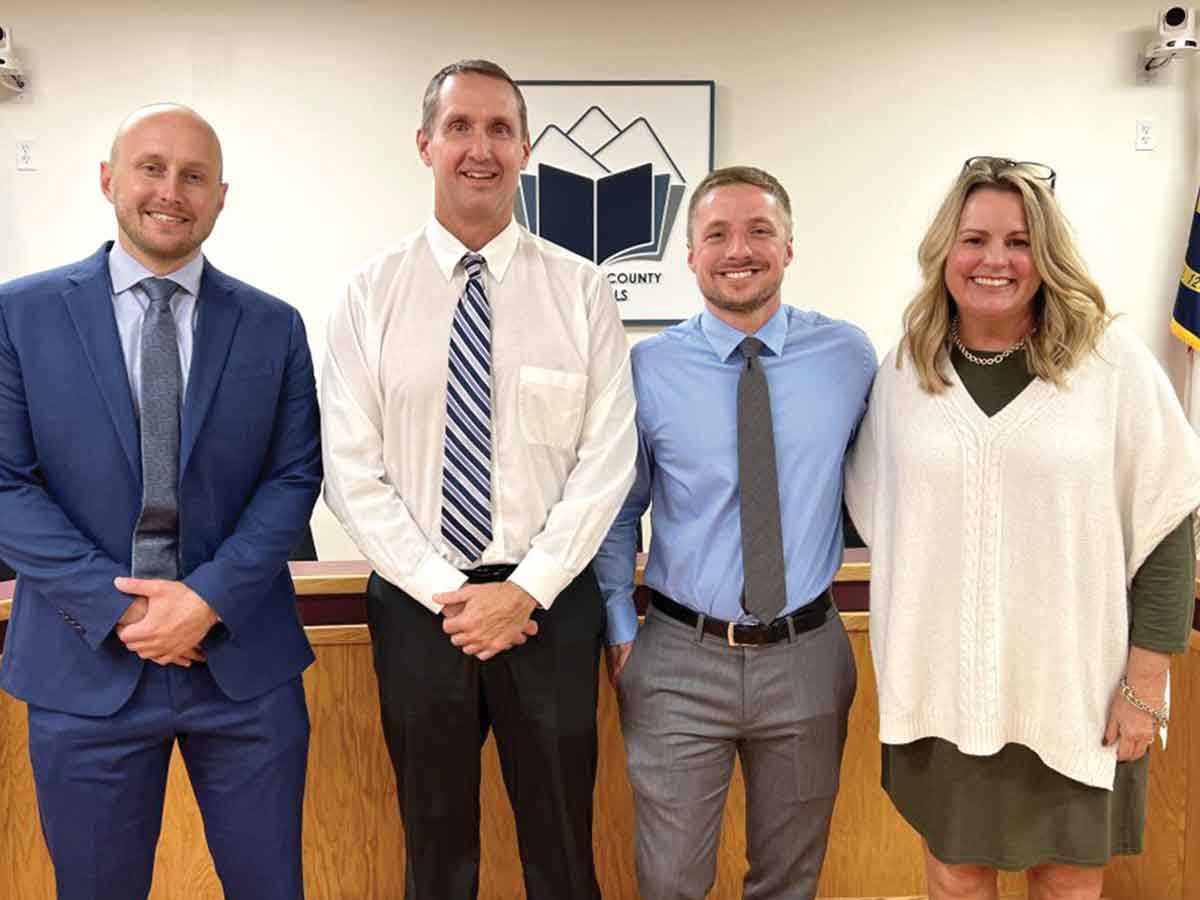 Casey Conard (from left), Trevor Putnam, Graham Haynes and Jill Barker pose at the Oct. 10 school board meeting. HCS photo
Earlier this school year, Haywood County Schools Superintendent Dr. Bill Nolte declared his impending retirement. Shortly thereafter, the school board announced it had selected his replacement, Associate Superintendent Dr. Trevor Putnam. Now, the school system has chosen which administrators will fill in the positions left open down the chain of command.
"Mr. Chairman, members of the board, it's a pleasure to number one, stand in front of you unofficially as the next superintendent, that's very exciting to me, but also to name the first step in a replacement plan," Putnan said during the Oct. 10 Board of Education meeting. "I've never had to replace myself, but it was pretty easy, because it's pretty likely that they're going to go up, you go up from there."
Putnam went on to introduce Graham Haynes, who has been working as principal of Waynesville Middle School, as the next Assistant Superintendent. The replacement plan that Putnam referred to was divulged as the unofficial system for choosing new superintendents in Haywood County Schools during the meeting in which Putnam's appointment was announced.
"Five or so years ago, we asked Dr. Nolte to put together an organizational structure that would prepare Haywood County Schools for success beyond his tenure as superintendent," said Haywood County School Board Member Bobby Rogers during the Sept. 12 school board meeting. "During the five years that we've had the opportunity to work with Dr. Putnam as associate superintendent, we've always found his work to be exemplary, always exceeding our expectations, therefore I move that we forgo a search process and extend a four-year contract for superintendent of Haywood County Schools to Dr. Trevor Putnam."
At the time of the appointment, school board Chairman Chuck Francis confirmed that the board did ask Nolte to come up with a succession plan when he was hired on as superintendent, and that Putnam was part of that plan. Searching for and hiring a superintendent is among the responsibilities of the elected school board.
Haynes has worked at Waynesville Middle School as a teacher, coach and principal. He also worked for a time as an assistant principal at Tuscola High School, where he was also Athletic Director.
"I've gotten to witness him grow and learn over the years and deal with some really tough situations, and he did so with class and dignity," said Putnam.
"I'd like to thank my wife and my family first," said Haynes in his address to the board. "I'd like to thank Dr. Putnam for giving me this opportunity and for entrusting me in this role, for helping me be a better leader throughout the years and to be a better person as well. As assistant superintendent my goal is just to keep Haywood County Schools on that upward trajectory that we are on. Haywood County Schools is a great school system, Haywood County is a great county. To be able to serve in a role like this and to help lead a school system that helped shape you as a child, that you came through, and a community that you grew up in and are still a part of, it's a dream come true and it's amazing. I look forward to working with you all."
Casey Conard will be filling the position of principal at Waynesville Middle. He was previously working as Assistant Principal at Pisgah High School.
"Casey is a one hundred percent go-getter. He has a lot of with-it-ness; I've never had to worry about Casey's loyalty to kids, to me, to Pisgah High School. I'll miss that," said Pisgah Principal Clint Conner as he announced Conard's new position. "He's a hard worker. I've never ran across anyone that didn't like his personality and what he stood for. I think Waynesville is getting a gem."
Conard began his career in Haywood County eleven years ago at Hazelwood Elementary School. He has spent the last five years at Pisgah High School.
"I believe in and I love Haywood County Schools, and I appreciate the trust that you guys have put in me to lead," said Conard. "I appreciate the opportunity. I won't let you down."
During the meeting, Chairman Francis thanked Nolte again for his service to Haywood County Schools, noting that it was under his leadership that the school system rose to seventh in the state.
"I noticed tonight the family atmosphere that we have here," said Francis. "These young ladies are going to be charged with, when the men come home at night, tired and worn out and want to punch a hole in the wall, let's hopefully not have to get the guy out there to repair the sheetrock. I know there's going to be frustration, but I know that you've got tremendous support, not only here but at your churches and family gatherings as well."