Archived News
No search, no problem: Putnam named superintendent
Wednesday, September 14, 2022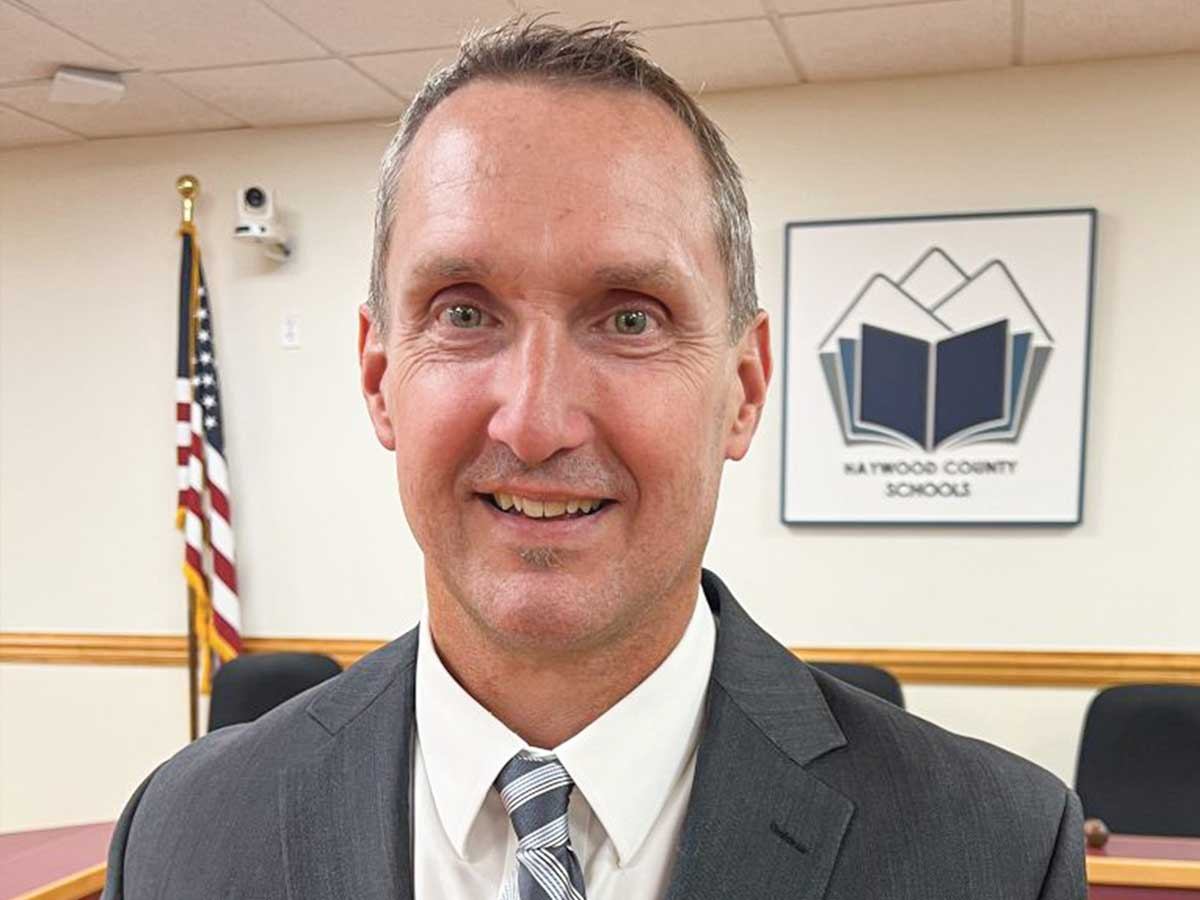 Trevor Putnam will assume the role of Superintendent Nov. 1. Donated photo
Just over a month after Superintendent Dr. Bill Nolte announced his impending retirement, the Haywood County School Board has chosen to forgo a search process in favor of its established succession plan and selected its new superintendent — Dr. Trevor Putnam.
"I am grateful and honored to serve as Haywood County Schools' Superintendent," said Putnam. "We have a long history of perseverance and excellence. Our strength can be found in our students, staff and communities. I will work hard to garner that strength and embrace all of the things that make us uniquely Haywood as we continue our path of excellence."
Putnam has worked in Haywood County Schools for 26 years and has served as associate superintendent under Nolte for five years. He was previously a teacher, coach, assistant principal and principal within the system.
Putnam told The Smoky Mountain News he plans to "continue the growth and trajectory that we've started on, which will be accomplished through the strength of our staff."
"Five or so years ago, we asked Dr. Nolte to put together an organizational structure that would prepare Haywood County Schools for success beyond his tenure as superintendent," said Haywood County School Board Member Bobby Rogers during the Sept. 12 school board meeting. "Dr. Nolte not only led Haywood County Schools to seventh in the state by composite score, but also surrounded himself with good, competent, hard-working people. One of those people was Dr. Putnam, who has been very successful in his position as associate superintendent. During the five years that we've had the opportunity to work with Dr. Putnam as associate superintendent, we've always found his work to be exemplary, always exceeding our expectations, therefore I move that we forgo a search process and extend a four-year contract for superintendent of Haywood County Schools to Dr. Trevor Putnam."
The motion by Rogers to forgo a search process and appoint Putnam was seconded by Larry Henson and approved unanimously without any open session discussion by board members. School Board Chairman Chuck Francis did confirm that the board asked Nolte to come up with a succession plan when he was hired on as superintendent and that Putnam was part of that plan.
"We're seventh in the state, we have a great administrative team, and we felt confident that Dr. Putman would have greater insight into Haywood County Schools than any other candidate coming from the outside," said Francis. "And we wanted to follow the succession plan, as well."
School boards hiring a new superintendent can undergo an open search in which they make the position available for any candidate. Often the search and interview process is a lengthy one and school systems will hire an interim superintendent to lead the school system while searching for the right candidate, as in the case of Jackson County Schools prior to hiring current superintendent Dr. Dana Ayers. Occasionally in an open interview process, the board will make the final candidates public in order to garner input from the community they serve.
"When we went through the process with Dr. Bill and interviewed everybody, there were some great candidates, but none of them knew our system, knew the local community, knew the politicians that they were going to be dealing with," said Francis. "There's experience there that you can't really get from someone on the outside. Not saying they might not bring a different perspective or whatever, but it's been pretty successful."
According to Francis, no other candidate from within Haywood County Schools was considered for the position. Assistant Superintendent Jill Barker has worked in the school system longer than Putnam, but said she was not in pursuit of the superintendency.
"That's not a job at this point in my life that I'm interested in," said Barker. "I love what I do right now in curriculum leadership, working with our principals, which hopefully directly impacts our schools and our kids, but that is not a job that I sought out or that I wanted. I'm very happy for Dr. Putnam and the opportunity he's got; we've worked together for a long time."
Some in the community felt an open search for a candidate was important, even if the best candidate happened to be one already working within the school system.
Brooke Haynes is running for a seat on the Haywood County School Board this fall.
"I am disappointed that the board failed to open the position to both internal and external applicants," said Haynes. "These gentlemen had the opportunity and responsibility to both students and teachers to ensure the best candidate was placed in this position. By failing to form a search committee, they failed to ensure their decision reflects the best interest of every student."
At the Sept. 12 meeting where Putnam was appointed superintendent, Carol Eggleston, current vice president of the Haywood County NAACP, spoke during public comment urging the board to undertake a thorough, open search process for the next superintendent.
"As the Haywood County School system embarks on the journey of hiring a new superintendent, it is an important time to think about the values, expertise and priorities that will best lead our schools forward. As leaders of the Haywood County NAACP, we're writing today to ask that the board include the missions of diversity, equity, inclusion and belonging as high priorities for our new school leader," said Eggleston. "We are looking for a commitment to diversifying employees. How does the person chosen plan to relate to initiatives in our schools? How will the new superintendent deal with racism among students and staff and create a safe space where incidents can be reported?"
Francis told The Smoky Mountain News the remarks made by Eggleston in regard to the selection process were well received.
As to the plea for diversification and attention to racism in schools, Putnam outlined his intentions. "My goal will be to meet with as many people as possible," he said. "I want to be well informed. I have plans to meet in small groups and large groups in a variety of settings."
Nolte announced his retirement Aug. 9. He came to the school system during the 1984-85 school year. He previously worked at the University of North Carolina at Charlotte, where he served as the Sports Medicine Clinic Coordinator. He has served in many capacities in Haywood County Schools including Central Office Director, assistant principal at Pisgah High School, principal of Bethel Elementary School, principal of Waynesville Middle School, associate superintendent and superintendent.
"I applaud the board of education for making a great and obvious choice," said Superintendent, Dr. Bill Nolte. "As I finish my time as superintendent, I will support Dr. Putnam and the board as they work to establish a smooth and effective transition."
"On behalf of the Haywood County Schools Board of Education, we congratulate Dr. Nolte for his many years of service to our school system," said Francis. "Dr. Nolte has served our administration, teachers, staff and students very well. We appreciate his leadership and the board wishes him well in his retirement."
The total compensation package for the new superintendent will be public information but has not yet been worked out by the school system.
"Haywood County has had its successes, its setbacks, its failures; it has suffered floods, economic downturns, plant closures," said Putnam. "It is the resiliency and values that come from Haywood County along with incremental and intelligent change that make us uniquely Haywood. That is why I am honored and blessed to serve, so thank you."
Leave a comment
1

comment
We are a diverse community. The children in our schools and their adult caregivers are also diverse. It is sad that the school board just practiced "Keep On Keepin' On" by not opening the search. May Mr. Putnam do the work needed by most of us white people to better understand all the people in our community, and to serve all.

Friday, 09/16/2022