Archived News
Cooper visits TWSA, announces funding
Tuesday, February 28, 2023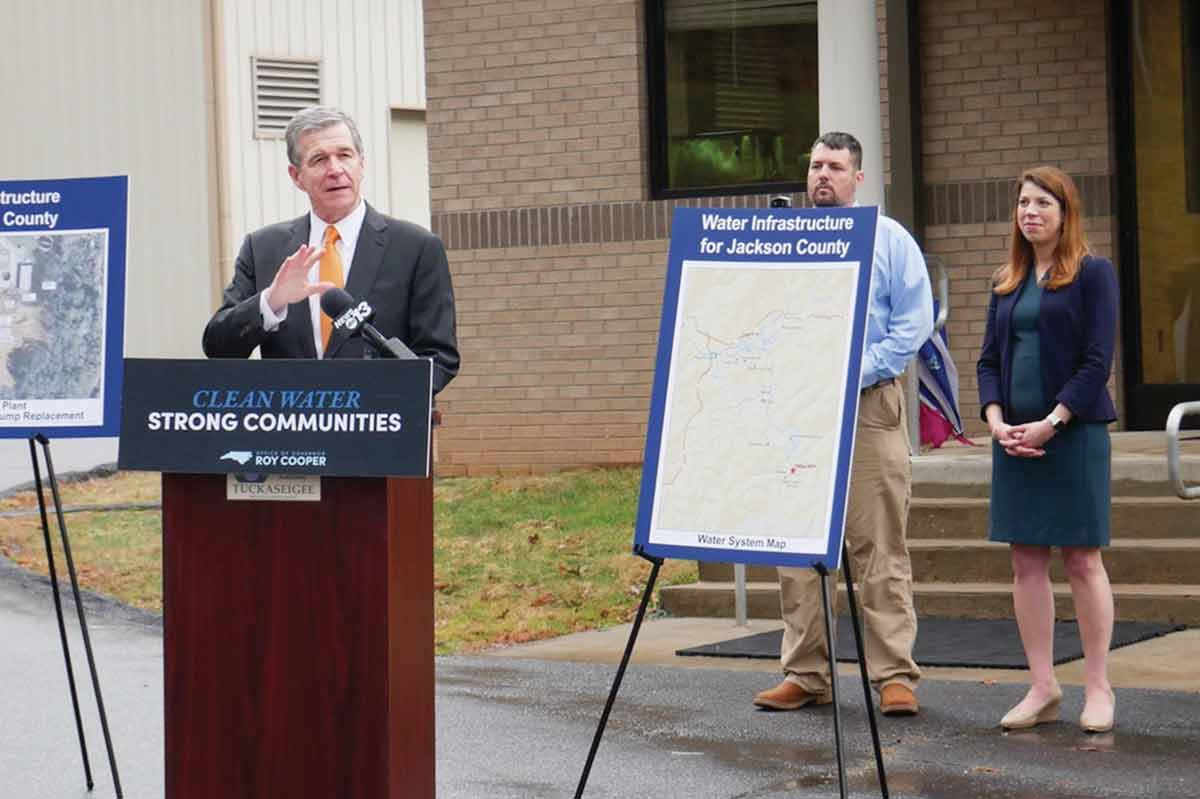 Governor Roy Cooper speaks during a visit to the TWSA facility. Governor's Office photo
Tuckaseigee Water and Sewer Authority received a visit from North Carolina Governor Roy Cooper last week as he announced $462.9 million in funding for water infrastructure projects around the state.
"When we think about the economic development that we need to have, you've got to increase your water and wastewater capacity, and these funds are going to help us do it," said Cooper.
In Jackson County, TWSA will receive $4.1 for a drinking water treatment plant clearwell and a high service pump replacement. TWSA was created in 1992 when Jackson County, Dillsboro, Sylva and Webster consolidated their water and wastewater utilities.
A clearwell is an enclosed tank that comprises the final storage tank in a municipal drinking water treatment system. It can be used to store and mix water with specific disinfectants that keep the water free of dangerous levels of microbes as it sits in the plant and as it travels through the water system to its destination.
The high service pump being replaced is required to move high volumes of treated water into distribution systems serving communities.
"Being able to move forward with the clearwell and high service pump replacement project makes our system much stronger and more resilient by adding much needed storage within our treatment process," said Daniel Manring, Executive Director of Tuckaseigee Water and Sewer Authority. "This in addition to the high service pumps, will allow us to manage and maintain our distribution system in a more effective manner. Our goal is to be able to serve our community without disruption regardless of the circumstances and this is a big step to ensure that level of quality that we are known for. Having support from the NC Department of Environmental Quality in this program, along with several other programs we have participated in, is much appreciated."
The Department of Environmental Quality received 649 applications from 91 counties in North Carolina for this round of grants. The funding is provided by a portion of the $2.3 billion from the American Recue Plan Act, State Revolving Funds and Community Development Block Grant Funding.
"Investing in water infrastructure provides communities with reliable, affordable access to clean water and the opportunity for future economic growth," North Carolina Department of Environmental Quality Secretary Elizabeth S. Biser said in a press release. "The amount of funding requested highlights the extensive need for infrastructure investment across North Carolina."
Both Governor Cooper and Secretary Biser toured the TWSA facility last Thursday, Feb. 23, and got an up-close look at the clearwell and high service pump replacement project.
"Every single North Carolinian deserves clean drinking water, and aging water systems are a threat to the health and economies of too many of our communities," said Governor Cooper in a press release. "Thanks to investments initiated by the Biden administration, we can make a once in a generation transformation in rebuilding water infrastructure for towns and counties throughout our state."
Also in The Smoky Mountain News' coverage area, the Town of Waynesville received $400,000 for its Comprehensive Stormwater Master Plan, and Bryson City received $200,000 each for a sewer and water system asset inventory and assessment.