Archived News
Sylva selects new town commissioner
Tuesday, February 28, 2023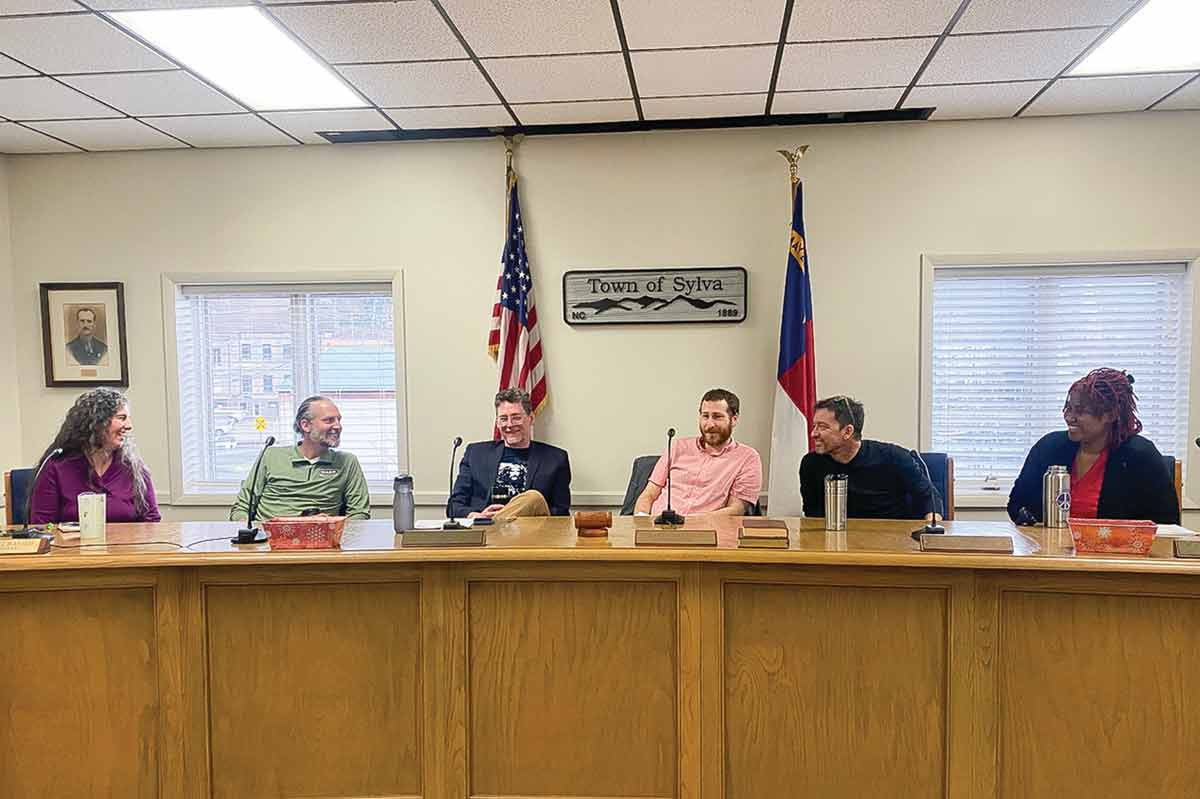 Brad Waldrop (second from left) was selected as Sylva's newest commissioner.
The Sylva Board of Commissioners selected Brad Waldrop as its newest member, filling a seat that had been vacant since the resignation of Mayor Lynda Sossamon in January.
"There were three applicants," said Mayor David Nestler at the Feb. 24 town board meeting. "They are all very good candidates and on behalf of the town I would like to thank all of those candidates for taking an interest and being willing to serve."
Waldrop won a majority of the votes in the first round of voting.
"I'm very humbled by them putting their faith in me," Waldrop told The Smoky Mountain News. "It's certainly a humbling thing to be chosen to do something this important and represent this many people. They're my neighbors and friends and people to work with and people I work with and people I've known most of my life. I'm very gracious to have the opportunity to help."
Waldrop was born and raised in Sylva and graduated from both Smoky Mountain High School and Western Carolina University. He is the co-owner and general manager of Ward Plumbing, Heating & Air, has been a member of the Sylva Rotary Club for over two years and has served on the Jackson County Planning Board for one year.
"I feel largely invested in the community. My family lives here, I grew up in Sylva, I recently had a daughter, she'll be three in April." said Waldrop. "I'm hopeful that I can work with the board and town to create an environment where she has a great childhood like I did here, and that people can be happy here in a well-run community."
While Waldrop had not previously considered running for town board, he says that after the appointment, he will consider running for the town board seat come November elections.
"The growth and change happening in Sylva are very exciting," Waldrop wrote in his application for the position. "It would be my humble honor to play a small, responsible part in helping the town become an even more amazing town for residents and visitors."
Before Waldrop outlines specific goals for his time on the board, he wants to spend time with town staff and board members, get caught up on everything the town is working on and listen to community members about their wants and needs.
In his application for the board seat Waldrop said he would like to see the town board work to establish maintenance and upkeep requirements for downtown buildings related to awnings, lighting, windows and more, an area in which he thinks Sylva trails neighboring towns. He is also an advocate for public art — the Sylva postcard mural adorns the side of the Ward Plumbing office on Mill Street — and would like to see the town focus attention on both public art and a walking, biking culture.
Waldrop will be sworn in at the next regular meeting of the town board and will serve until the November elections at which time the seat will be up for election.
After Sossamon resigned at the start of the new year, the town board voted to appoint Nestler to the mayor's seat. The board then appointed Commissioner Mary Gelbaugh as mayor pro tem, the seat Nestler had previously occupied. This left one seat on the board of commissioners vacant, and with elections not taking place until November, the town solicited applications for those willing to take on the role in the interim.
The board received applications from three Sylva residents — Guy Phillips, Brad Waldrop and Destri Leger. Using a ballot voting system, Waldrop won the vote with Commissioners Ben Guiney, Greg McPherson and Natalie Newman voting in his favor. Commissioner Gelbaugh voted to select Guy Phillips.