Archived News
'A Warrior's Way' to fight cancer
Wednesday, February 15, 2023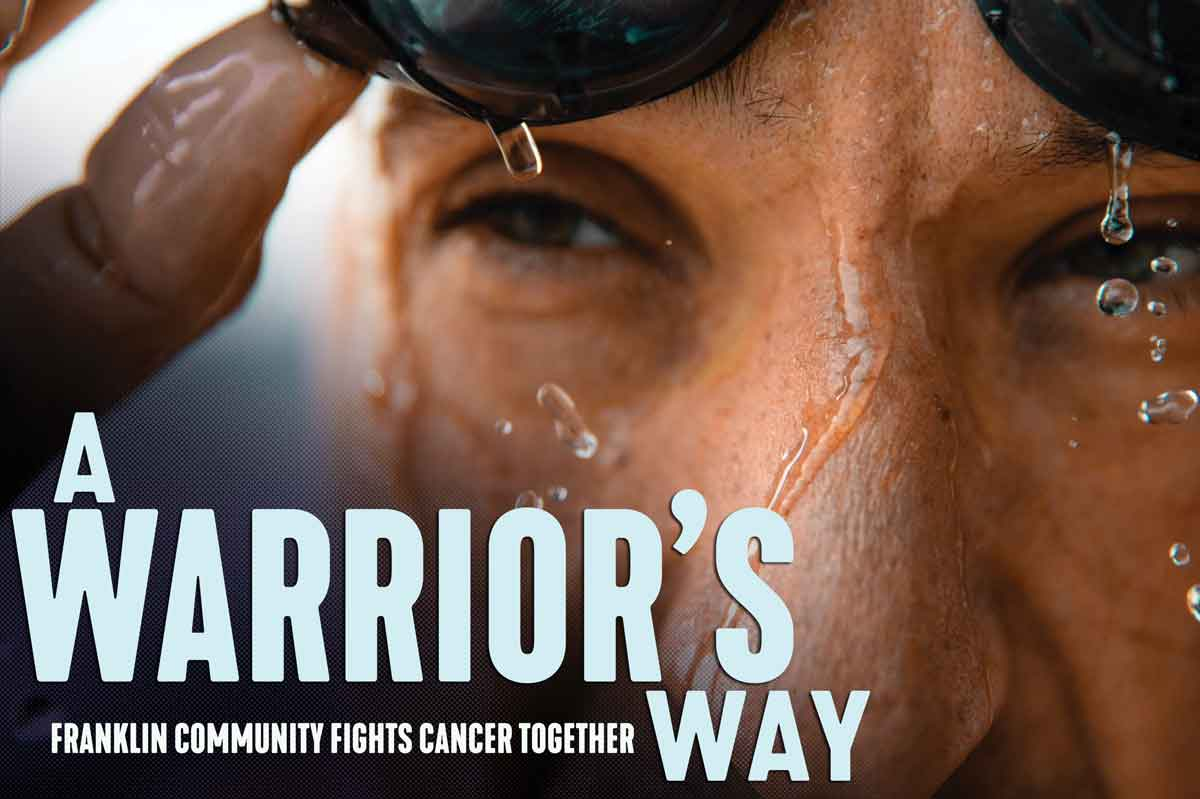 In a few short weeks, 47 people will charge from the shores of the island home to the infamous Alcatraz Prison into the freezing water that isolates it. Those brave souls will battle frigid temperatures, currents, wildlife and weather for two miles in an open water swim race to the California mainland, with little else than a swim cap, goggles and the thick skin of wetsuits to shield them from those unpredictable elements.
However, among the frenzy making its way across San Francisco Bay, there will be at least one bare human body bracing the cold without neoprene protection.
The elements, and anyone else that gets close enough to witness, will see that the bare skin is covered in a thousand tiny symbols that make up the names of hundreds of people who have encountered cancer in their lifetime.
Braulio Fonseca prepares to swim from Alcatraz Prison to the California mainland as part of a fundraiser for 'A Warrior's Way Cancer Fund.' Ronny Knight photo
Braulio Fonseca was born in Costa Rica in 1982 and moved to the United States with his mother at an early age. Growing up in the rural Burningtown community of Macon County, he was hyper-creative and wildly athletic, playing almost every sport he could find his way into throughout middle school and high school. But there was one place he saw his future going.
"I was raised by a truck driving, typical white American stepdad and we grew up on Vietnam movies and Army movies, and I was in Burningtown, North Carolina," said Fonseca of his childhood. "So it was like we were little soldiers our whole lives and never aimed in the way of college. That was not even in the discussion, it was Army forever."
With the military weighing heavily on his childhood existence, Fonseca would write letters to those serving in the armed forces. Once in high school he wrote for the Franklin Press.
"I've been a writer my whole life," he said. "But as a child, I thought [the military] was the greatest accomplishment, it was the best that was there. That was really the most respectable thing I could do."
And so four days after high school graduation, Fonseca enlisted in the United States Army and soon thereafter found himself stationed in Korea. While there, some of the practice missions Fonseca and his unit were assigned to involved air defense — firing off TOW missiles, a type of anti-tank weapon guided by wires. In wartime, when TOW missiles are fired, personnel cut the wires and keep moving. However, because these were practice missions, there was cleanup to be done. The next part of the job involved using a wheel and that wire to crank the missile cartridges back in.
"We were bringing back this depleted uranium packaging, putting it back in our tanks and then taking it back to our base where we would dispose of it in some other fashion rather than leaving it out," said Fonseca. "A lot of people came back with stuff."
Sept. 11, 2001, would change everything about his military experience. After that day, nothing was the same.
"The military changed a lot after 9/11," said Fonseca. "There were a lot of different things happening between the lifestyle that is Korea versus stateside military bases."
Prior to 9/11, Fonseca swam competitively and ran for the Eighth Army Track Team, but after the terrorist attacks, those types of activities went out the window.
"When I got home everything was setting up for deployment," he said. "Before, we were just playing games. When you're stateside your commanders don't live on base with you, they go home. But this time, they're all there, in the barracks, the captain and everybody, we're all in this together. We're deployed for a year or more. Everyone's away from their families and everyone reacts to that differently. So you get to see sides of your leadership that you don't normally see. That can be a positive or a negative."
In the first year after returning from Korea, Fonseca developed unfamiliar and concerning health symptoms. Ever the athlete, he had become engrossed in biking upon his return to the states, but after a while, he was unable to even sit on a bike. There were times when, while hanging out with friends, he would pass out, experience severe groin pain or have bouts of nausea. The pain became so intense and regular that Fonseca's vision could go black and he would stay completely aware, engaged in whatever he was doing.
Eventually, he found the mass.
"The moment I touched it, it felt like I just got arrested," Fonseca said. "Like that anxiety when you get blue-lighted, or if you're getting in trouble. I knew instantly that that's what it was. It wasn't even a doubt in my mind. I had surgery within 24 hours."
Doctors diagnosed Fonseca with testicular cancer and within a week he started radiation treatments.
"It's one of the weirdest things to say but that saved my life," he said. "It saved my life from who I was. I was an angry 18-year-old boy, with no identity and this stripped down the ego of that kid and created me. I was a totally different person."
Fonseca would be in and out of the Army before he was 21 years old. Once it was clear that he would survive the cancer and its treatment, he was given the option to stay in or get out.
"At that point, one, I'd seen enough to come to the realization that it wasn't this thing that I dreamt it was. I was actually so disappointed in the leadership, the people, I mean I just wasn't expecting what it was," Fonseca said. "And, two, I'm an artist. I had no business being a soldier. That was not for me."
Years later, after reconnecting with someone from his unit while on a road trip from Chicago to Florida, Fonseca would find out that he was discharged just five days before several members of his unit were killed in Afghanistan.
"So it saved my life spiritually from creating a new person, but literally I could have been in one of those Bradleys that got hit with a roadside bomb," he said.
Leaving Fort Hood after treatment and discharge, Fonseca put it all behind him. He not only left the Army, but almost all memory of what had happened.
"I don't know if it is because of the cancer treatments or whatever," Fonseca said. "Once I drove off the base it was like it never happened. The Army, the cancer, nothing."
Fonseca moved to Florida, became a lifeguard, grew his hair out and lived life to the fullest. He remembers feeling truly happy during that time. Meanwhile, the memories of what had passed were stored tightly away somewhere in the back of his mind. He was starting over.
Fonseca in the midst of his second battle with cancer. Sandro Miller photo
Willow Wright is seven years old. She lives in Franklin with her brother and parents Amber and Jay Wright. She is the daughter the Wrights never thought they would have.
Jay was one of 18 children, 14 of whom were adopted. The Wrights always knew they wanted to adopt in addition to having children of their own. Years of expensive fertility interventions aimed at getting pregnant were to no avail and about eight years ago, the Wrights found out that one of the young children they had been fostering was ready for adoption. Shortly after their first child, a 4-year-old boy, came to be a permanent part of the family, the Wrights found out that they were six weeks pregnant with Willow.
Willow will turn eight years old on May 1 . Her parents describe her as the type of kid that runs a mile a minute. In her father's words she is "nonstop smiles and fun, doesn't know a stranger. She'll meet a kid and two minutes later come and ask if her new friend can come over."
One day last fall, Willow began exhibiting flu-like symptoms, running a fever and throwing up. Jay had just gotten off of the night shift for Macon County Sheriff's office where he works and Amber told him that Willow would need to stay home with him that day. She crawled into bed with her father and they both fell asleep.
The next day the fever had not abated and her parents took her to the doctor. Tests for the flu and other common illnesses were negative so the doctor suggested running tests for appendicitis. Instead of appendicitis, scans showed a large mass on Willow's kidney. She needed immediate transfer to Mission Hospital in Asheville, but the ambulance wouldn't be ready to take her until four o'clock that afternoon. Jay and Amber weren't taking any chances. They signed a waiver and drove Willow directly over to Mission on their own.
Further testing revealed that the mass on Willow's kidney was solid, and she underwent surgery to remove it on Oct. 26, 2022. Doctors told the Wrights that Willow had a Stage 3 Wilms Tumor, which means that the cancer found in the kidney could not be completely removed with surgery. Intense chemotherapy and radiation would follow.
"There are a lot of ups and downs, good days and bad," said Jay. "Thankfully she has not lost her personality. If she wore a hat and you didn't know her hair was missing, other than a little bit of weight loss you wouldn't know any difference."
Her treatment has been harsh. The first week after surgery Willow received radiation every day, as well as chemotherapy on the first and last days of the week. For the next two and a half months she received chemotherapy every week, with a double dose every third week.
"Those days are really rough on her emotionally and physically," said Jay. "She feels sick and she vomits. You try to stay strong but sometimes you've got to walk away, cry in a corner by yourself or away from her so you don't show it to her."
For Jay and Amber, the grief and stress come in waves. Seemingly at random, driving down the road or glancing at a picture on a cellphone, comprehension becomes total and the emotions are too much to handle.
"For the most part, Willow's been so strong," said Jay. "She gets tired easily in the afternoon, things that didn't used to bother her or wouldn't upset her will sometimes make her just break down. My wife has been very strong. It's probably going to hit her after all this."
"After all this" will begin this spring, after Willow receives her last scheduled treatment on May 15.
Willow Wright sits with her parents Jay and Amber Wright. Jay Wright photo
After some years working as a lifeguard in Florida, relishing in the warm weather, healthy lifestyle and time and space to write, Fonseca received another surprise. The amicable boss he had looked up to for so long fired him.
"I was surrounded by an incredible group of people, and they had an enormous influence on me in a phenomenal way," said Fonseca. "My boss was like, 'look, you can't sit out here forever.' I did get comfortable, very comfortable. It was like living in Neverland. Every day was Saturday, getting paid to sit on the beach and exercise and read."
"It was just a beautiful time. But not stimulating. I wasn't growing as a human. My boss was a phenomenal mentor. He was like 'you gotta go to school.'
So Fonseca took off for Columbia College in Chicago to study writing. Five years later, in 2012, he received his degree and began traveling back and forth between LA and the Windy City as he built a successful creative career. First in commercials as a production assistant, and eventually on into set design, prop styling, and from there, pivoted into print advertising photoshoots.
Bonnie Brown is a freelance artist and producer. She lives in California and met Fonseca when he was hired as a production associate for a photoshoot she was running in Chicago. She was impressed with him from the start, both personally and professionally, and they would stay close in the years to come.
"Braulio is a team player in every sense of the word, and super professional, strong as an ox," said Brown. "He is skilled at most aspects of photography production and is an incredible photographer to boot. He is a gentle soul. An old soul."
Shortly after his first opportunities in print advertising photoshoots began to materialize, symptoms similar to those he had experienced 15 years earlier while in Fort Hood, Texas, began to return.
"I knew it in the same way I knew it the first time. I knew I had it again except this time, totally different mentality," said Fonseca.
It was cancer, again. But this time, Fonseca's mental health spiraled and he couldn't find it in himself to put life and work on hold in the manner that cancer treatment demands.
"I don't care, I'm not doing chemo. I'm not doing that again," Fonseca recalls thinking. "The mental health side of it started to come tumbling down. I felt like the only thing I had was what I'd been working for, those opportunities. I thought, 'I'll just work till I die, whatever.' I was in print and just started getting into some big, big deals. I put off chemo to do an NBA photoshoot and was sick as a dog."
Fonseca knows how it sounds. Denial? Perhaps. Determination? More likely. He had worked hard at doing what he loved to have the opportunities that could make or break his career. Getting the chance to work on an Adidas/ NBA photoshoot was not something he was willing to give up, no matter the consequences.
"It took a long time to start making the real money," said Fonseca. "This was that job, that paycheck that changed my life."
Eventually, he did decide to seek treatment for his second bout with cancer. A creative connection made through work, in part, provided the impetus he needed. A colleague worked with him to photograph the whole, grueling process of treatment. He captured Fonseca in his lowest moments, when chemo stole his hair and ravaged his body, all the way through recovery.
"The only way I was going to do chemo, is if I did something with it," Fonseca says of the decision. "I wanted to make a project. It had to be creative. I wasn't just going to do it to save me, I wanted to create something while it was happening. So I decided to write a book."
This time around, the cancer was situated in Fonseca's lymph nodes, which meant it would require chemotherapy. Receiving chemo three times per day, he was unable to leave the hospital throughout the entire treatment process. While radiation uses high-energy beams to target and kill cancer cells at a specific tumor site, chemotherapy targets cancer cells throughout the body, usually by using cytotoxic medications administered intravenously.
"It was very dark," he said. "Very, very dark experience. Nothing like the first."
It was a weighty ordeal; one he was unwilling to put others through. No one was allowed to come to the hospital. Even his mother was never permitted by his side. But this didn't keep his community from doing what they could to help Fonseca survive.
Following treatment he went back to sunny Clearwater, Florida, where friends from his time lifeguarding had room for him to live while recovering. There was space and support for the fragile state in which he found both his mind and body. In addition, his creative community conducted a fundraiser which amassed over $30,000 in two days. It changed Fonseca's whole attitude toward healing.
"It blew me away," he says, choking back tears. "I was not really fighting until that happened. And then I just felt this love, you know, like all these people, strangers around them, everywhere. That kind of money and everything, I was like 'I gotta do better. I can't sit here and be this way.'"
Thanks to the support of his community, he was able to recover in relative peace. He could maintain an apartment in Chicago and live in Florida with his friends, focusing all his attention on getting healthy. Moving his body, especially swimming, became central to recovery.
"I jumped in the pool with my two girlfriends and there's something about being physical, I'll never forget it," Fonseca said. "The action of watching my arm and taking that breath and every time I breathe I couldn't help but think about being in that bed. How miserable I was."
"I'll do this forever," he remembers thinking. "I can do this forever. Like this is it? This isn't even hard anymore. Training, this is all I want to do."
Movement was it. All he wanted to do; all he could do. He didn't stop moving, whether walking or swimming all day long. Anything to keep from sitting, or worse, lying down.
"Because once you're in that bed with a port in you, you're handcuffed, you're in prison," he said. "It was a weird combination of survivor's guilt, because at the end of the day, my cancer doesn't compare to what real suffering is. People go through way worse cancer experiences than what I did. I just felt I had to do something for them."
After his first open water swim, the Hurricane Man 2.4-mile, all bets were off. Fonseca knew he wanted — even needed — an event like that every year.
"That's when everything really changed," he said.
The next year he upped the ante, swimming around the Florida Keys, a 12.5-mile open water swim. By the end of it, finishing in third place, Fonseca's body was arrested with cramps. He had finished, but he was suffering, when an announcement came over the loudspeaker for everyone to cheer on another finisher who was about to complete the race. There, a man without arms, who had just completed the entire swim, was making his way out of the water.
"I felt that big," Fonseca says with pointer finger and thumb squeezed together. "And that changed my life. I don't even know what suffering is at all. Way off."
In that moment his mindset shifted. He never wanted to win anything ever again. He didn't even want to be in the top three. He wanted to find something so impossibly difficult that he would fail.
"That's my dedication. That's my truth," he said.
He would find that failure the very first time he attempted to swim from Alcatraz Island, across San Francisco Bay to the California mainland with no wetsuit to protect from the freezing cold water.
Fonseca swims in sub-50-degree water across San Francisco Bay. Jason Lindsey photo
In the years following his second great battle with cancer, Fonseca began to formulate how he would help others through the fight he knew all too well. He decided he would raise money to go directly to someone in the midst of the struggle. Not some large, money-making entity with obscure tactics and little to show after years of work and billions of dollars, but one real human, fighting a very real fight.
"Braulio is a powerhouse, it seems unfathomable to think he had once been struggling for his life," said Brown. "Here is a guy who not only has beaten cancer twice but has taken it upon himself to raise awareness and funding so that others can survive cancer."
Fonseca decided to couple those fundraising efforts with his own desire to seek out the limits of existence, the wild in the world — the need to move his body, the need to be challenged, perhaps even defeated.
The swim from Alcatraz to St. Francis Beach was the perfect trial, and in 2019 he plunged from the shores of the island for the first time, no wetsuit, but with something else adorning his skin.
On his chest, Fonseca bore the names of two close friends. On his back, the names of 100 others. Anyone he knew, anyone his friends knew who had been affected by cancer whether they had passed away, were currently fighting or had survived their battle.
"I call them cancer warriors, not survivors," said Fonseca. "Everyone was a warrior. Because for me to say that I survived and then my two girlfriends didn't, to say that they lost their battle just didn't really sit well with me."
Fonseca named the newly born nonprofit aimed at helping those in their battle with cancer 'A Warrior's Way Cancer Fund.' It became an emotional process for everyone involved, especially for those people who had lost loved ones to cancer.
"I put it out there to the universe and said, I need these names to help me get across. They're powerful and they're alive," he said. "These are spirits reincarnated and active. They say they're seeing them alive. It changed the way I thought about it, the way the family members thought about it. I didn't know what it was going to do to me but every new name, every new story, everything that would happen, any donation, it's a lot to hold."
"And then of course that year, I didn't make it."
Part way through his first attempt to race across the bay in 2019, hypothermia closed in gradually, and then all at once. Fonseca woke up in the emergency room. He had done what he had set out to do, attempted something so difficult, he had failed. But even that failure didn't register as success.
"That was no way to pay tribute, I just felt like I failed all these people," said Fonseca. "But there's something really beautiful about failing, trying no matter what the outcome is. That's the epitome of what people do when they fight cancer."
Because Fonseca had a clear understanding that someone losing a battle with cancer is not failure, he was able to tune in to whatever was coming next, accepting the first swim as just that. The first of more to come.
With the onset of the COVID-19 Pandemic, Fonseca moved home to the mountains of Western North Carolina. He studied Wim Hof, the Dutch cold water and breath work enthusiast, started protracted cold-water immersion, trained in Lake Glenville and at this point in time hasn't had a warm shower in years.
"It was brutal," he said, "but it worked."
With more time to prepare, more names covering his skin each year, Fonseca has crossed the bay in sub-50-degree water two years in a row, each time raising money for someone facing their fight with cancer. Now, he's aiming to do it again. On March 11, with a list of names that continues to grow, Fonseca will swim in honor of 7-year-old Franklin resident Willow Wright. All donations raised for the swim this year will go to Willow and her family as they face what lies ahead.
And it's not just the money that is making an impact.
Last spring, Brown underwent an annual mammogram. The test found a small tumor which, after more testing and a long week of waiting, turned out to be invasive ductal carcinoma — a fairly common type of breast cancer.
"That phone call really does change your life — which at that point became all about gaining knowledge, and working through fear, towards survival," said Brown. "I didn't know of anyone I could talk to, who had survived cancer, so it was comforting that Braulio was out there, as a beacon of hope during that time."
This year, when Fonseca takes to the freezing water, Brown's name will fit in somewhere alongside the hundreds of others scrawled across his skin.
"It will be an incredible honor," she said. "I'm getting choked up thinking about it."
The list of names Fonseca bears on his skin during the open water race grows every year. Braulio Fonseca photo
After Willow's diagnosis last fall, her mother Amber made a post on Facebook to help inform friends and family of what the family was facing. Not long after, Jay got a call from Fonseca, someone he hadn't seen in years but remembered playing sports with when they were growing up in Franklin.
"He asked if he could raise funds for Willow," said Jay. "We were surprised and extremely thankful. One of the benefits of living in a smaller community is the output of support you get which has shown through this entire process. We were blessed, thankful and honored that he would choose Willow to be who he focused his fundraising for this time."
Throughout all of this, Jay and Amber have witnessed their daughter's strength, watched as she has held tight to her vivacious personality, and been in awe of her ability to remain herself.
"She makes a lot of people laugh," said Jay. "She just wants to enjoy life and have fun and she doesn't let anything stop her."
Want to help?
To learn more or donate to A Warriors Way Cancer Fund, visit gofundme.com/f/swimming-for-willow-wright.
Leave a comment
1

comment