Archived News
Investigations cause shake-up on tribal alcohol board
Tuesday, February 14, 2023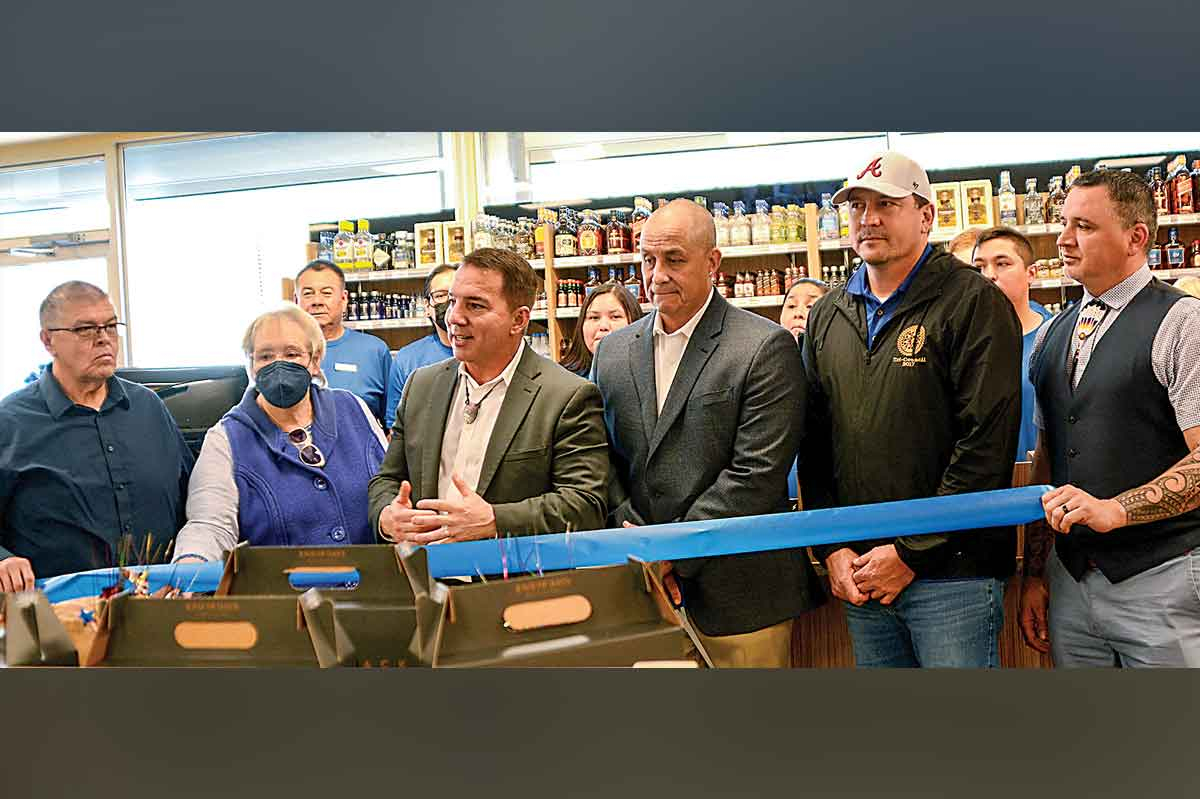 Pepper Taylor, third from right, stands with Principal Chief Richard Sneed and members of Tribal Council during a grand opening for the ABC Store Thursday, March 10, 2022. Holly Kays photo
A pair of reports investigating issues at the Tribal Alcoholic Beverage Control Commission has resulted in turnover on the board and turmoil in Tribal Council chambers.
The documents, which the Eastern Band of Cherokee Indians Office of Internal Audit and Ethics completed in November, probe allegations of financial mismanagement within the board and of repeated misconduct by one of the board's members while consuming alcohol at Harrah's Cherokee Casino. As a result, TABCC Chairman Pepper Taylor has resigned his position and Principal Chief Richard Sneed is urging Council to remove TABCC Commissioner Shannon Ross.
Excessive spending
The first document, a review of internal controls at the TABCC dated Nov. 2, turned up a parade of red flags, including debit card transactions for food and beverage purchases totaling $76,421 over 15 months and $133,039 on travel and training in the same period.
The TABCC's five commissioners were responsible for 62.6% of those travel and training expenses, while the remaining 37.5% was split between the organization's seven alcohol law enforcement agents. Internal Audit found that 71% of analyzed travel expenses did not comply with a policy stating that travel must be reconciled within five days of return. Additionally, the TABCC made $213,074 in donations and sponsorships without documenting alcohol education provided with them, as the commission's policy requires with each donation.
The audit turned up other issues as well. The TABCC, which had a budget of $2.46 million in 2022, was operating without bylaws, a formal governance structure or segregation of duties in major processes. There was no fiscal management policy and no process for adding vendors to the accounting system. Some transactions such as professional services were not supported with a contract.
Since it was established in 2009, the TABCC has gone from serving one customer — the casino — to regulating alcohol sales throughout tribal lands and operating a liquor store with eight employees. In fiscal year 2021, the organization brought in $2.7 million and distributed $389,000 of that back to the tribe. Over the past year, the TABCC's seven ALE agents have provided alcohol training to 2,200 casino employees as well as employees of the 29 establishments permitted to sell alcohol, also responding to an estimated 375 calls and performing about 500 compliance inspections.
Despite this broad scope of activities, the TABCC Chair is solely responsible for overseeing day-to-day operations with direct reports to the office manager, store manager and Chief ALE agent.
The TABCC offered a response to each of Internal Audit and Ethics' eight major findings, saying that it agreed with the findings and planned to implement changes addressing them by Dec. 9. In particular, the TABCC said it had started the process of switching from debit/credit cards to credit cards to improve accountability, and that it would be reviewing the credit card policy to make any changes necessary to fit program needs.
But Sneed said a mea culpa wasn't enough to absolve Chairman Pepper Taylor of responsibility and told him he could resign or face removal. Taylor chose to resign. Sneed said he asked for Taylor's resignation and not for the whole board's because Taylor had control of the debit card and was responsible for all the questionable transactions in the itemized list Internal Audit and Ethics provided him.
"They sent me their spreadsheet and the spreadsheet had the date of the charge, where it was charged at and who made the charge," Sneed said in an interview. "And they were all by Pepper Taylor, every single one of them."
Mara Nelson is the board's new chair.
Misconduct at the casino
Just a few weeks after providing tribal leadership the document that led to Taylor's resignation, Internal Audit and Ethics finished an investigation of a different TABCC member, Shannon Ross.
The complaint lists three dates — Aug. 20, 24 and 25, 2022, — on which Ross falsely identified himself as an alcohol law enforcement officer to a casino bartender, attempting to get the bartender to serve him a second drink while he still had his first in hand. The report's conclusions were based on interviews with TABCC commissioners and ALE officers who witnessed or were aware of the incidents, Harrah's Cherokee Casino personnel and video from the casino.
On the second occasion, Aug. 24, Ross was "being loud and obnoxious and using terrible language causing guests to leave the area," the report says, and when the bartender encountered him later that evening Ross tried to get the bartender to serve him a second drink while he already had one in hand. When the bartender told Ross that would be a violation of casino policy, Ross said he was an ALE officer, was responsible for writing the law, and knew the bartender was wrong about the policy, the report says. Just after midnight Aug. 25, the beverage supervisor was called to Sports Book Bar 2 to deal with Ross, who again identified himself as an ALE officer and argued that he should be served a second cocktail while he still had one in hand. Ross was red-lighted for being intoxicated and driven home by Chief ALE Officer Josh Taylor, the report says.
The investigation concluded that Ross was guilty of four violations of the tribe's standards of ethical conduct. Ross used the prestige of his office to advance personal interests; threatened, intimidated or disciplined another person as reprisal for a legitimate action taken by that person; participated in a private activity that detracted from the dignity of the office or interfered with performance of official duties; and failed to maintain or enhance the honesty and integrity of his office and safeguard the reputation of the EBCI as a whole, Internal Audit and Ethics found.
Removal resolution withdrawn
As he did in Taylor's case, Sneed offered Ross the opportunity to resign. But Ross chose not to — prompting Sneed to submit a resolution to Tribal Council seeking his removal.
"At the end of the day it's a privilege to be in an appointed position, and when you are on the alcohol commission and you are tasked with compliance to the regulations set forth in 18B of the Cherokee code and you go to the casino, which is the largest customer, and you're berating bartenders and you're intoxicated, being belligerent and you get red-lighted, that's a problem," Sneed told Tribal Council Feb. 2.
However, Tribal Council wasn't eager to follow through on Sneed's recommendation. During a meandering 45-minute discussion, Tribal Council members initially hedged about discussing the contents of the report at all, saying it wouldn't be proper to do so without Ross present to defend himself.
Painttown Rep. Dike Sneed relayed a request from Ross that the resolution be tabled until March, when Ross could be present. He noted that the report states Internal Audit and Ethics received a response from Ross on Sep. 6, five days after a copy of the complaint was initially sent him, but said that Ross had yet to be interviewed on the matter and was simply given a copy of the "one-sided" report. However, the report states that Ross was scheduled for an interview on two occasions but failed to show up to either.
Several other Council members said they had been in contact with Ross about the allegations, and some maintained that because the report concludes with a recommendation that Ross be fined $1,000 and submit to an alcohol assessment — but does not recommend his removal — Tribal Council should not take it upon themselves to remove him.
"I have read through the report, and the recommendation for the violation is just a fine and some alcohol assessment classes," said Vice Chair Albert Rose. "It doesn't say removal."
"I think that if we allow Ethics to go through with their recommendation, then we shouldn't jerk him up and kick him again," added Big Cove Rep. Teresa McCoy. "I understand the situation is serious. I understand from the ethics documentation, but I also want to say on behalf of anybody that goes through the ethics, they need to really pay close attention to did they or did they not get a due process. Do they get a real hearing? That sort of thing."
However, Attorney General Mike McConnell said there's a simple reason the report doesn't recommend removal.
"They won't make that recommendation," he said. "I've had this conversation with them, and they won't make it because it's not within their authority to do it."
Tribal law states that only a majority vote of Tribal Council can remove a member of the TABCC board. Removal must be "for cause," the law says.
Others implied Chief Sneed wasn't going far enough by seeking to oust Taylor and Ross from the board. Surely impersonating an officer and logging such large amounts of questionable expenses would trigger criminal charges, they said.
"The things that's alleged, why didn't procedurally he get charged?" said Big Cove resident Lori Taylor. "I mean, impersonating an officer is a felony."
Tribal law states that it's illegal to "falsely pretend to hold a position in the public service with the purpose to induce another to submit to such pretended official authority or otherwise to act in reliance upon that pretense to his prejudice." The crime is punishable by up to three years in prison and $15,000 in fines.
In a follow-up interview, Sneed said that to his knowledge the Internal Audit and Ethics reports have not been sent to the tribal prosecutor. He said there is "no clear indication" that a crime has been committed, as there was no fiscal management policy in TABCC at the time for Taylor to violate and that Ross "wasn't flashing a badge or anything like that" when he claimed to be an ALE officer.
"Whether or not saying, 'I'm an ALE officer' constitutes impersonating an officer or an actual criminal act, I don't know," Sneed said. "We will definitely look into that. But right now, I'm just trying to get through this process of having him removed because he's disqualified himself from serving in that capacity."
Throughout the conversation ran an undercurrent that burst to the surface with a comment from the audience that led Chairman Richard French to clear the chambers — though the meeting continued to broadcast.
"I'm married to his ex-wife," Sneed said, voicing the tension. "That's it. That has no meaning or purpose in this discussion."
Sneed married his wife, who had previously been married to Ross, in January 2022. He beat back against rumor that his efforts to remove Ross were borne out of personal animosity, pointing out the investigation did not originate from his office and that he responded to the findings against Ross and Taylor in the same way — by offering them a chance to resign and pledging to seek their removal should they choose not to.
"Had I treated him differently than I treated Commissioner Taylor, there might be some validity to that argument, but the reality is I treated both gentlemen the exact same way," Sneed said.
Seeing that the resolution had little chance of passing, Sneed requested that Tribal Council withdraw it, and that move passed unanimously.
"If that's how it's going to be, I will withdraw the resolution, and I will wait for TABCC to bring in a resolution to have him removed, and then there can be zero conflict where they're saying, 'Well, this is just me going after Shannon,'" Sneed said. "Because I'm not."
Shot down solutions
Over the last couple decades, the tribe has created a growing number of independent boards and commissions that operate with large budgets and make consequential decisions. Asked what he'd like to see change to prevent future findings like those contained in the report that prompted Taylor's resignation, Sneed pointed to an ordinance he tried to introduce in January but which Chairman Richard French refused to place on the agenda.
The ordinance would have required the tribe's boards, committees and commissions to appear before Tribal Council quarterly and answer the body's questions about their activities. Typically, any ordinances submitted on time and in the proper format are included on the agenda, read into the record, and brought back for a vote or debate the next month.
However, Sneed's ordinance was not placed on the agenda and French did not give a direct answer when Sneed asked what aspect of the submitted format was improper. After spending 30 minutes debating the merits of the resolution Sneed had not been allowed to submit, Tribal Council voted 7-5 against adding it to the agenda. Opposing a motion to consider the ordinance were Painttown Reps. Michael Stamper and Dike Sneed; Wolfetown Reps. Andrew Oocumma and Bo Crowe; Big Cove Rep. Teresa McCoy and Chairman Richard French; and Vice Chairman Albert Rose.
Nevertheless, Tribal Council is likely to discuss Sneed's suggestions again. The February agenda included an ordinance that Sneed said is "almost the exact same" as his, but submitted by the Community Club Council. That submission was deemed read and tabled without issue.
"In the short term that gives some level of oversight," Sneed said. "That's all it does, give some level of oversight, some level of accountability."
In the long term, Sneed would like to see the tribe contract with an outside attorney to go through the disparate sections of code setting up the tribe's various appointed bodies and bring in ordinance changes to establish some continuity between them.
"These boards and commissions have been created over the course of the last 25 years," he said. "And there's not a lot of continuity between the reporting, the accountability, how people are appointed, how people are removed."
Neither Taylor nor Ross returned a request for comment.
Leave a comment
3

comments
From this article, it appears that Chief Sneed is attempting to run things in a logical and orderly manner, but the Council is creating a road block. Why? What exactly are their objections? Personal loyalties or associations can have no influence on the tribe's executive decisions. The Cherokee communities deserve to know the facts.

Sunday, 02/19/2023

You should get the whole story before reporting on this matter. This isn't the whole story.

Wednesday, 02/15/2023

What is the problem. You sold him the alcohol. He's an alcoholic. He buys it, drinks it, and acts like all alcoholics do. so what is your problem. Stop selling the stuff. Can't do that? Lose money? That's why you sell it, right? You are going to have the same problem with marajuana. It's not what they do when they are drugged up or drunk, it's the money, Right? Live with it.

Wednesday, 02/15/2023