Archived News
Jackson Schools lay out capital needs
Wednesday, February 08, 2023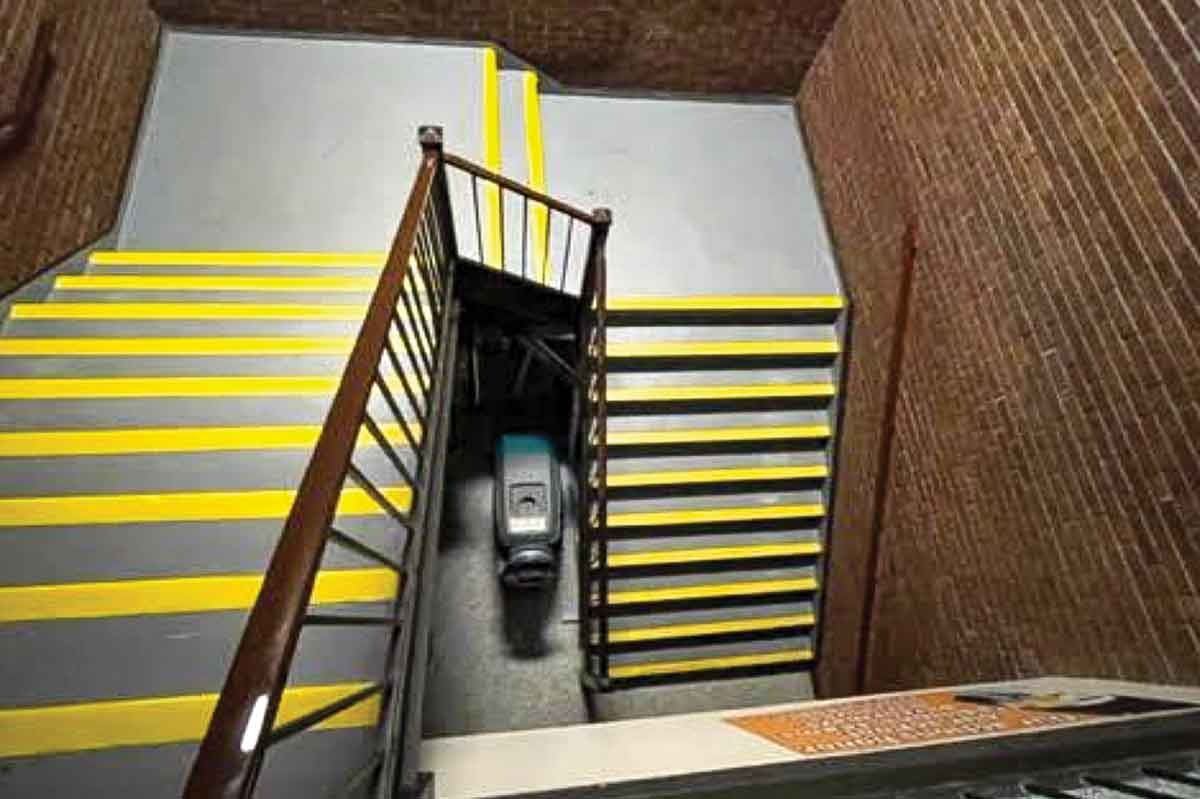 Those who can't access the Fairview cafeteria via the stairwell must navigate a ramp outside the building (below). Dana Ayers photos
During a recent meeting between the Jackson County Commission and Board of Education, the school system laid out its most pressing capital needs. The county commission, responsible for funding public school capital projects, will determine funding level for the school system when it undergoes budget discussions in the coming months.
"These are funds that are allocated to us annually," said Superintendent Dana Ayers.
The total operating budget for Jackson County Public Schools this past year was $8.6 million, with the capital budget making up $1.45 million of the total. Within the capital budget, the school system spends the most money on technology, which accounts for about $400,000.
"One of the questions that always comes up is why we need to continue with purchasing for capital outlay one-to-one," said Ayers. "That is because as we all know, in this world of technology, once you get a device it is old. So, we have a plan for every four to five years that we are getting new devices into the hands of our students and our staff."
The remaining funds are spent almost equally on capital outlay, preventative maintenance and one-to-one devices. The school system spends about $25,000 of its capital budget on school security.
Several years ago the Board of Education created a capital outlay priority list, which the current board updated during a work session last month. The top budget priority for the school system now is the cafeteria and classroom expansion at Fairview School. According to Ayers, the current cafeteria is undersized and underequipped. Additionally, access to the cafeteria is problematic. Students who have mobility challenges cannot navigate the stairwell. Those who are unable to use the stairwell must exit the building and use a steep ramp outdoors to get back into the cafeteria.
Fairview cafeteria is situated in a basement-like area of the building. The relatively small space serves the entire 778-student school population, but it can only seat 300 students at one time.
"We know that all 778 students aren't going to eat lunch at the same time," said Ayers. "But we start lunch there around 10:40 a.m. everyday and run all the way until a little after 1 p.m."
The project would involve not only a cafeteria, but also additional classrooms at Fairview School. The tentative plans would be to construct a two-story building with a cafeteria on the first floor and classrooms on the second floor. The school currently offers band but does not have a band room and needs additional space for choral programs as well as Career and Technical Education classes.
"This has been a priority for the school system for some time," said County Manager Don Adams. "What really has delayed the conversation was the opportunity for grants. This was a priority for the last couple years but because there were state grants that potentially help fund this it was decided to wait and see."
Second among the school system's capital outlay priorities is a traditional middle school. Excluding students at Blue Ridge School, there are 724 middle-grades students in the school system split among four K-8 schools.
The third priority for the school system involves renovations and ADA upgrades to the Smokey Mountain High School stadium property and its concession stand. School administration also brought this project up as a need during a county commission's budget workshops last year.
The school system previously applied for needs-based grants through the state for the Fairview cafeteria and classrooms; renovations and ADA upgrades to the high school stadium; and Blue Ridge gym and performance space. It did not receive funding for any of those projects.
Other projects listed as capital needs include a track on the Jones Street Property, new bus garage on the current site, erosion control at Scotts Creek School, Blue Ridge School gym and performance space, and softball upgrades at Webster. However, according to school administration, if the idea for a traditional middle school can become a reality, erosion control at Scotts Creek and softball upgrades at Webster could be removed from the list of priorities.
"Our boards will collaborate with you all as the board of commissioners, knowing now what our priorities are," said Ayers. "Now we're all on the same page about what our public schools desire and priorities are so we can meet the needs of our students."
Jackson commissioners will hold a budget retreat at 10 a.m. on Feb. 21 at the SCC Burrell Building. Additionally, the commission is holding a regular meeting this month at 6:30 p.m. Feb. 21, as well as a work session at 1 p.m. Feb. 14.