Archived News
Webster Park project approved
Wednesday, January 25, 2023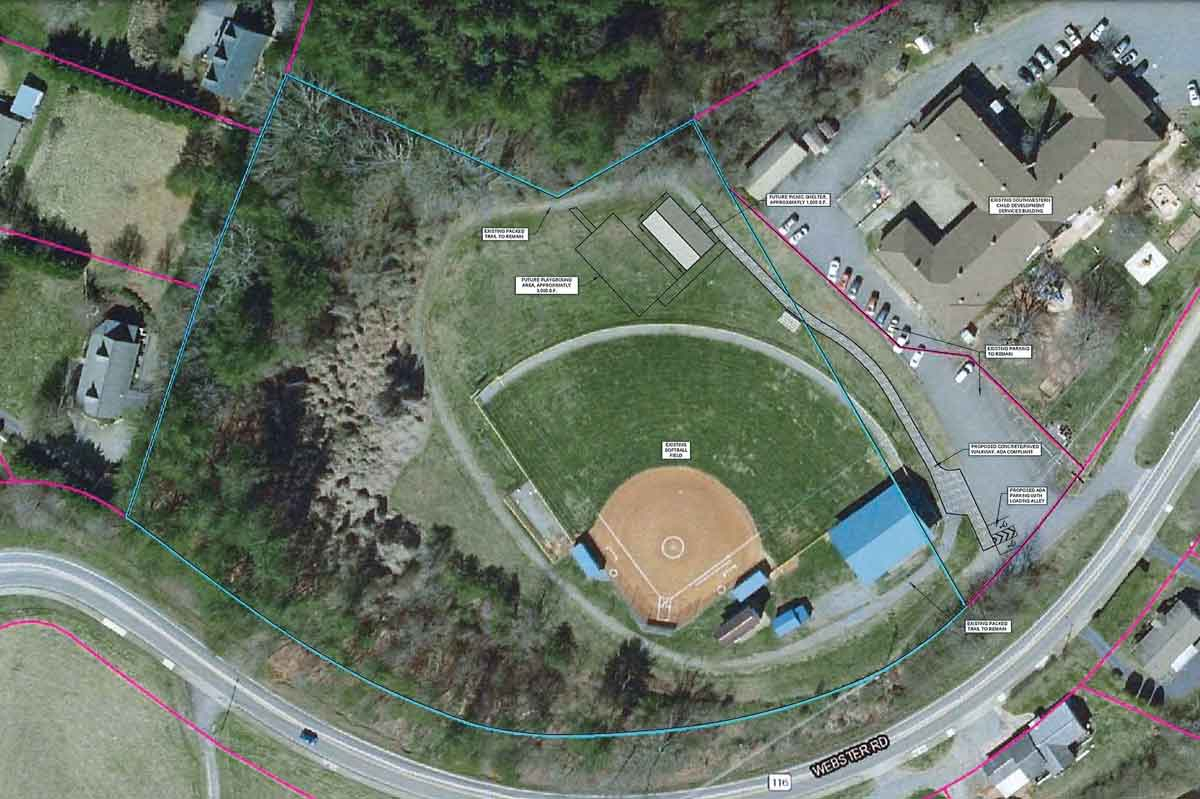 Webster Park is slated for a number of upgrades, including the construction of a new pavilion. Jackson County Parks and Recreation photo
Webster Park is slated for a host of upgrades and new construction, including a pavilion, after Jackson County Commissioners approved funding for the project earlier this month.
"This allows Mr. Ellis to get started on everything so we'll have a usable facility hopefully in the spring sometime," said County Manager Don Adams.
The project will include construction of a picnic shelter with a concrete floor and metal roof; electricity and lights for the shelter; protective netting around the softball field; trail screenings; two pet waste stations; ADA parking and sidewalk; and six picnic tables.
Senator Kevin Corbin and Representative Mike Clampitt recently secured a $90,000 grant to go toward a pavilion at the park. This money must be used by June of 2024.
"We're looking at possibly doing a shelter with electricity to it with lights as well. But after talking with [Manager Adams], there are certain items that need to be implemented before we do that," said Parks and Recreation Director Rusty Ellis. "One of those would be the ADA compliant parking area."
The parking area will have two handicapped accessible spots, as well as a concrete sidewalk that will lead to the pavilion to be an access for wheelchairs and handicapped individuals. Cost estimates were around $9,500 for this portion of the project as of Jan. 10.
Netting around the softball field will provide a safer environment and better access to both the field and the walking trail as walkers and ball players will be able to use the amenities at the same time with walkers shielded from action on the ball field. The first estimate for this portion of the project was around $6,500, but with prices rising quickly in the construction sector, the cost estimate is now around $10,000.
"If you were to go into a phasing aspect of Webster Park, that would be the main things we would want to look at first, building the pavilion obviously and then doing the ADA compliant parking and then the netting as well," said Ellis.
With $90,000 in funding from the state, Jackson County only had to commit the remaining $15,000 needed for the project that has a total cost estimated at $105,000. Additionally, the county commission approved Webster's municipal grant application earlier this month in the amount of $5,000 which the town will use to purchase trash and recycling receptacles as well as a bench for the park.
As part of a separate contract the county will consider constructing an all-abilities playground at Webster Park when it gets into budget discussions in the coming months.
"Something I'd really love to see at this park would be an all-inclusive playground which has a pour-in-place rubberized flooring to where wheelchairs can go out and take part in that playground," said Ellis.
The cost of this type of playground was around $75,000 as of the beginning of the year.
"I know that's a hefty price, but that's actually almost doubled from when I started getting prices about a year and a half ago," said Ellis. "So that tells you the price increase over the years and what's happening with that."
The county commission unanimously approved the $15,000 in funding for Webster Park which will allow county staff to begin work on the project. The board will continue discussions regarding a playground at the park.