Archived News
New indictment in Moody case adds two more defendants and multi-state conspiracy charges
Friday, December 16, 2022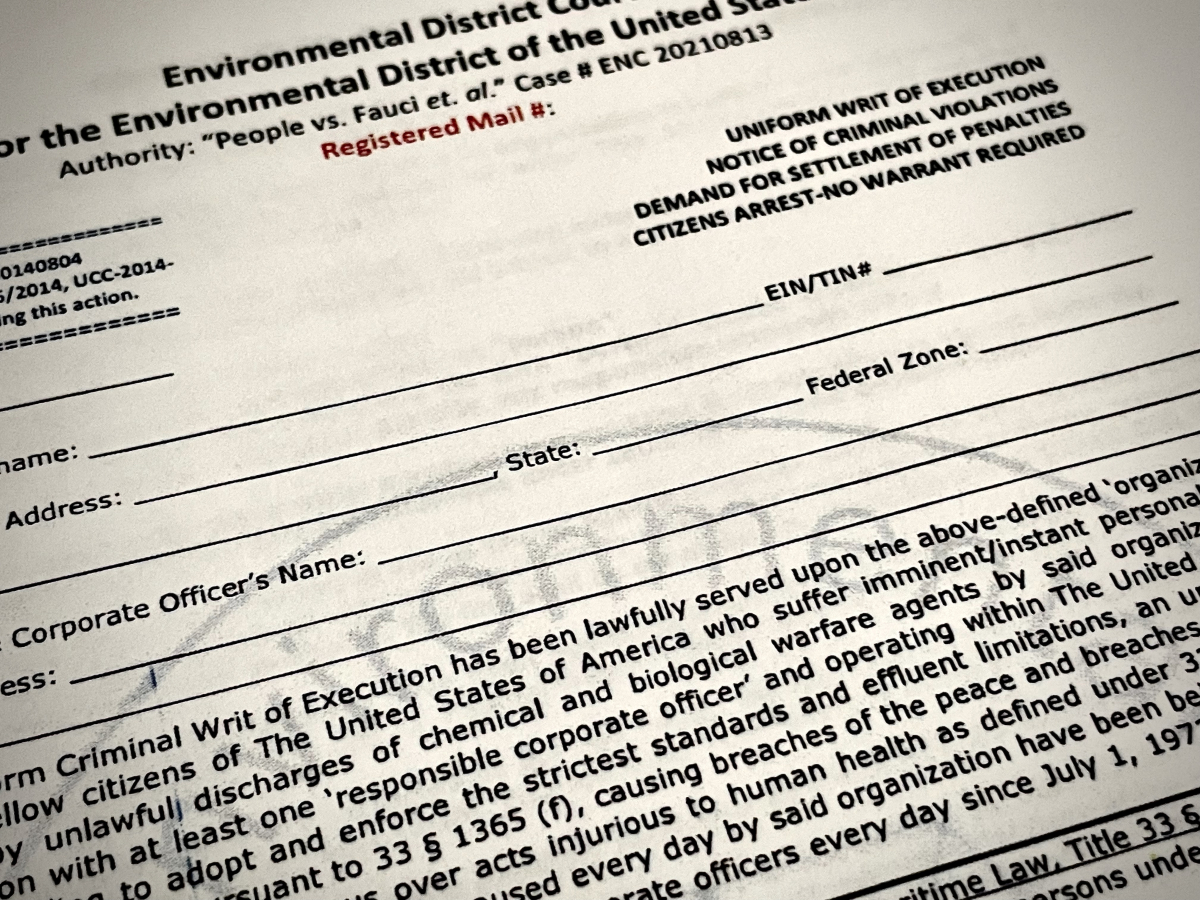 The new charges represent a serious escalation in the case of Darris Moody.
File photo
The case against a Haywood County woman accused of threatening elected officials by sending phony writs from a sham court has now grown into a multistate conspiracy, according to a superseding indictment filed by the U.S. Attorney's office on Dec. 14.
Darris Gibson Moody was arrested by the FBI on back on Sept. 7, just hours after The Smoky Mountain News published a story that contained her confession.
That story came as the result of an SMN investigation the previous month detailing a series of threats faxed to elected officials across the country, the state and the Western North Carolina region.
The phony writs of execution that were "served" on Democrats and Republicans at federal, state and local levels of government allege acts of treason and various environmental crimes, and demand that the officials surrender to a tribunal. Those who don't turn themselves in, the writs explain, could be subject to bounties of $10,000 to $20,000 for their apprehension.
During an initial hearing on Sept. 12, Moody — through retained counsel, Asheville attorney Sean Devereux — was given bond by Judge Carleton Metcalf and promised to comply with the court's orders, despite her previous assertions that she did not recognize the legitimacy of the United States government or its legal system.
On Oct. 4, Moody was indicted on 58 counts of interstate threatening communications, and one count of conspiracy to commit kidnapping.
Moody's cooperation, however, was short lived. She failed to show up for her Oct. 14 hearing and was taken back into custody by the FBI later that day. Devereux withdrew from the case.
Since then, Moody's filed a flurry of motions asserting her Sixth Amendment right to represent herself and has been steadfast in her assertion that the proceedings against her are illegitimate. In several filings, she calls the United States a fictitious non-injured plaintiff.
On Dec. 9, the court allowed Moody to proceed pro se, albeit with appointed standby counsel.
Five days later, on Dec. 14, Moody was given four additional counts of interstate threatening communications.
Two additional defendants were also added to the case.
One, Timothy Michael Dever, is known to readers of The Smoky Mountain News as Tim Dever, of Downers Grove, Illinois.
According to LinkedIn and Facebook, Dever is a "CEO and freedom fighting cereal [sic] entrepreneur" and operates an arcade game sales, repair and rental company called Monkeys Arcades in Oswego, a far western suburb of Chicago.
Dever hosts the website for a group called "The People's Bureau of Investigation," which claims to have nearly 8 billion agents worldwide. The PBI website accepts donations, sells merchandise and offers a cryptocurrency called "Freedom Tokens."
The site contains copies of the writs Moody is accused of sending, which are available for download by people who want to serve them. Instructions on how to serve the writs are available on the site.
The site also contains a robust database of people who have been served with the phony writs. The database is updated by users as the writs are served. According to the PBI, anyone who "serves" a writ qualifies for a $2,000 reward.
When reached by The Smoky Mountain News on Aug. 16, Dever said that the writs were lawful and "from the Environmental Court regarding poison water." At that time, Dever also denied any criminal activity.
Dever was arrested by the FBI in Downers Grove and had his initial appearance in federal court in Chicago. His second hearing is slated for next week.
Generally, when individuals are arrested outside the Western District of North Carolina on a federal indictment filed in the district, they'll have their initial hearing in federal court within the jurisdiction where they were arrested. They are later transferred to the Western District where their case will ultimately be litigated.
Not much is known about the other defendant added to the case, Dee Thomas Murphy, 74.
Murphy purports to be an inventor, and according to a change.org petition from eight years ago, he seems to subscribe to the same sovereign citizen ideology espoused by Moody and Dever. His exact role in the conspiracy isn't yet known.
Murphy is still at large, and may have ties to California. A warrant has been issued for his arrest.
Moody's trial date has been set for Jan. 4, 2023, in Asheville, but that could change after her arraignment in the coming days.
All told, Moody, Dever and Murphy will face 62 counts of interstate threatening communications and one count of conspiracy to kidnap. It's likely they'll be tried together, although that's not set in stone.
The maximum penalty for the interstate threats charge is five years in prison per each count charged.
The maximum penalty for the conspiracy to commit kidnapping charge is life in prison.