Archived News
Phony writ from sham court offers bounties for national, state and local lawmakers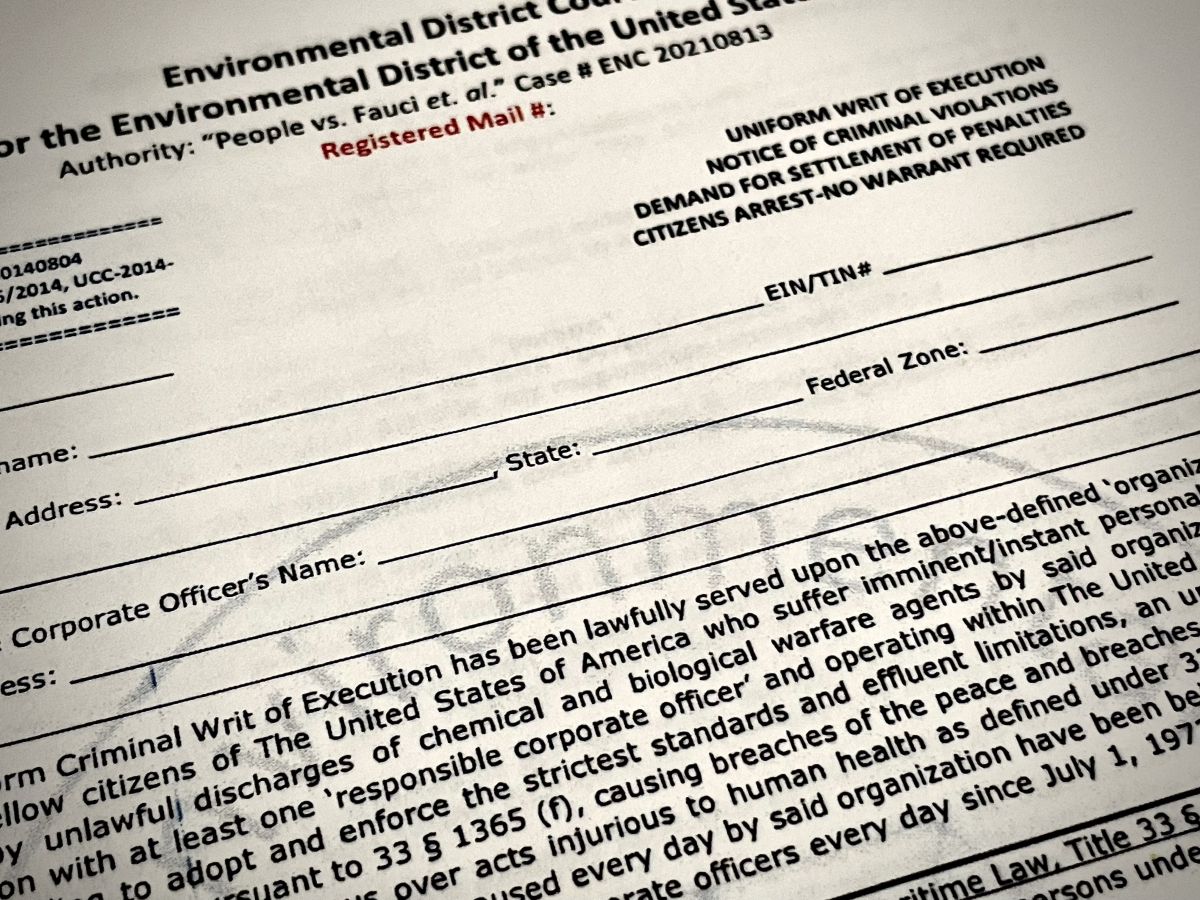 The case has caught the attention of the Federal Bureau of Investigation.
Cory Vaillancourt photo
More than three dozen Western North Carolina judges, elected officials and municipal employees have been "served" with a bogus judgement from an illegitimate court that offers rewards for their capture if they do not immediately satisfy the terms.
Supposedly emanating from a 2013 indictment issued by an "Independent Grand Jury of the people" that resulted in a judgement issued by the "U.S. Environmental District Court" — which is not a real court — the judgement makes several serious but unfounded allegations up to and including treason and also alleges the unlawful discharge of chemical and biological warfare agents into the nation's water supply.
On Aug. 9, The Smoky Mountain News was allowed by one recipient on the condition of anonymity to review the so-called "writ of execution" but was not permitted to copy, photograph or take notes regarding its contents.
A writ of execution has nothing to do with capital punishment, but everything to do with utilizing police power to satisfy a judgement issued by a real court.
The official-looking writ examined by SMN demands payment of a $1 million fine and that the recipient surrender themself to a tribunal. Those who do not, the writ claims, will be subject to citizen's arrest, for which a $20,000 bounty would be paid by "the court."
A similar but slightly different version of the writ can be found on a website run by a group called "The People's Bureau of Investigation."
Both the site and the writ feature vague references to sovereign citizens, the so-called "patriot movement," globalists, "the deep state," the "China virus," the New World Order and debunked Qanon conspiracy theories.
The four examples of the writ known to The Smoky Mountain News had all been delivered via fax, with at least one of them signed, "ThankQ." The writ examined by SMN seems to be fixated on common public health practices as a tool of the deep state.
"The deep states [sic] foundation is based on sewer revenue," reads the PBI website, which can be traced back to an Illinois man named Tim Dever.
According to LinkedIn and Facebook, Dever is a "CEO and freedom fighting cereal [sic] entrepreneur" and operates an arcade game sales, repair and rental company called Monkeys Arcades in a far western suburb of Chicago. The website accepts donations, sells PBI merch and offers a cryptocurrency called "Freedom Tokens."
Anyone who "serves" a writ qualifies for a $2,000 reward, according to the PBI. Instructions on how to "serve" the fictitious writs are also available on the site.
The PBI maintains a database on its website of who's purportedly been "served." Neither the database nor the writ examined by SMN list the names of the persons who "served" them.
According to the database, nearly a thousand of these writs have been sent to public servants in 41 states and the District of Columbia since early April.
Elected officials from all points along the political spectrum were targeted, including President Joe Biden, California Gov. Gavin Newsome and Georgia Senate candidate Stacey Abrams on the left and Florida Gov. Ron DeSantis, Texas Gov. Greg Abbott and Tennessee Sen. Marsha Blackburn on the right.
Writs were sent to California and Florida the most, with 282 and 214 respectively, followed by Oregon's 89. North Carolina ranked fourth with 62. More than half of them were directed to public figures with ties to Haywood County.
All were sent beginning in late June, culminating in mid-July.
District Attorney Ashley Welch and judges Donna Forga, Roy Wijewickrama and Kaleb Wingate were each sent one. Sheriff Greg Christopher and Chief Deputy Greg Haynes both got one. The entire Waynesville Board of Aldermen, along with Mayor Gary Caldwell and three of the town's water/sewer/streets employees, were also on the list.
Former Waynesville Town Attorney Woody Griffin even had one sent his way. Two were allegedly sent to Haywood County Commissioners, Jennifer Best and Kirk Kirkpatrick. Canton Mayor Zeb Smathers and his father, School Board Attorney Pat Smathers, were each allegedly sent one as was Chairman Chuck Francis and his entire eight-member school board.
Elections Board Chairman Danny Davis and his wife, Ann, were included per the database, along with Haywood Regional Medical Center CEO Greg Caples and Chief Nursing Officer Susan Mahoney.
One was allegedly sent to Sylva Mayor Lynda Sossamon, and to Brevard Mayor Maureen Copelof.
Public officials in Buncombe County weren't overlooked, as the database also lists Sheriff Quentin Miller, two Buncombe water service employees, Asheville Mayor Esther Mannheimer, Asheville City Attorney Brad Branham and Judge Jacqueline Grant.
In addition to sheriffs Miller and Christopher, Henderson County Sheriff Lowell Griffin was also named in the database as a recipient.
Further afield, North Carolina Supreme Court Justices Anita Earls, Sam Ervin, Robin Hudson and Paul Newby were all supposedly sent copies, as was the vice chair of the North Carolina Real Estate Commission. Several public officials from the town of Kenly and almost a dozen Charlotte-area judges were named, along with another judge from Henderson County.
On the morning of Aug. 12, Haywood County Sheriff Greg Christopher confirmed that he had indeed previously received one of the writs and that he'd forwarded the entire matter on to the Federal Bureau of Investigation.
Later that same day and in response to an SMN public records request, Haywood County Sheriff's Office Public Information Officer Christina Esmay said that HCSO would not provide a copy of the writ served to Christopher, and directed henceforth all communications on the matter to the FBI.
Shelley Lynch, a public affairs specialist with the FBI's Charlotte division, told SMN hours later that the FBI has been in "regular contact" with elected officials in Haywood County.
"While we cannot provide additional details," Lynch wrote, "we want to remind the public the FBI takes seriously any allegation that individuals may engage in criminal activity against elected and appointed officials."
Citing Department of Justice policy, Lynch declined to comment on whether or not an official investigation is underway, and on what the potential criminal activity she mentioned might be.
When reached via email, Dever told SMN to "go away," and said there was no criminal activity because "they are lawful writs from the Environmental Court regarding poison water."
Leave a comment
2

comments
Cory. Maybe you should do your homework before putting out bad information. The water we cook with, shower in, and drink at restaurants is toxic. Do you know what carcinogens are?? Do you know our tap water is 50 year old recycled sewage water?? When we crap in the toilet then flush it goes to an incinerator, from there chemicals are added just to make it appear clear.
Do you know what a water electrolyzer is? It separates organic and inorganic components from water molecules.
Did you know out of the 14 contaminants in my city's water only 2 of them don't cause the body to display symptoms of covid?
The laws that demand the most advanced available demonstrated controllable technology to clean our drinking water at the source we're established by Congress in 1972. The technology to clean water at the source was presented over 4 decades ago and was ignored yet it is currently being used by the military for bases overseas.
A court is not a building, a court is the conditions set forth within a document known as its constitution and the post office gives it its actual registration. The people have the right to prosecute.
Clearly you have never read the documents that govern the laws of the United States, as they refer to a corporation with a Dun and Bradstreet number, not the geographical United States.

If you want to do some real journalism contact me and I will send you the evidence right from the CDC's website that proves indisputably:
1. They never could test for any actual Covid virus other then in theory.
2. The goal of the cdc in regards to covid is to advance vaccines, not improve our health.
3. The only thing that gives confirmatory results for a covid positive is a computer algorithm that decides if an individual is a risk to their community (spreading a contagious virus.)
4. The metals contained in the Air we breath within the atmosphere have been put there intentionally to modify the weather which also cause our ferritin protein levels to become unbalanced. (Don't believe me spend a few hours researching HARRP)
5. Metals/plastics in foods and healthcare products not only cause our ferritin levels to become unbalanced they also react when in contact with specific frequencies.
6. Our communication system's radio waves disrupt our ferritin level balance and cause other health issues (Cancer).
7. The last 3 points are ignored and not taken into consideration.


I highly doubt you like drinking sewage water coffee and want the people of this nation to be poisoned with carcinogens. Then again maybe you do.

I will gladly mail you a package containing all exhibits and or speak with you over the phone.


I'll leave another comment here in about 30 days giving an update on your response/non response.

Saturday, 09/03/2022

Thank you for that thoroughly researched article.

Monday, 08/22/2022