Archived News
SMAC brings in two new coaches
Wednesday, October 12, 2022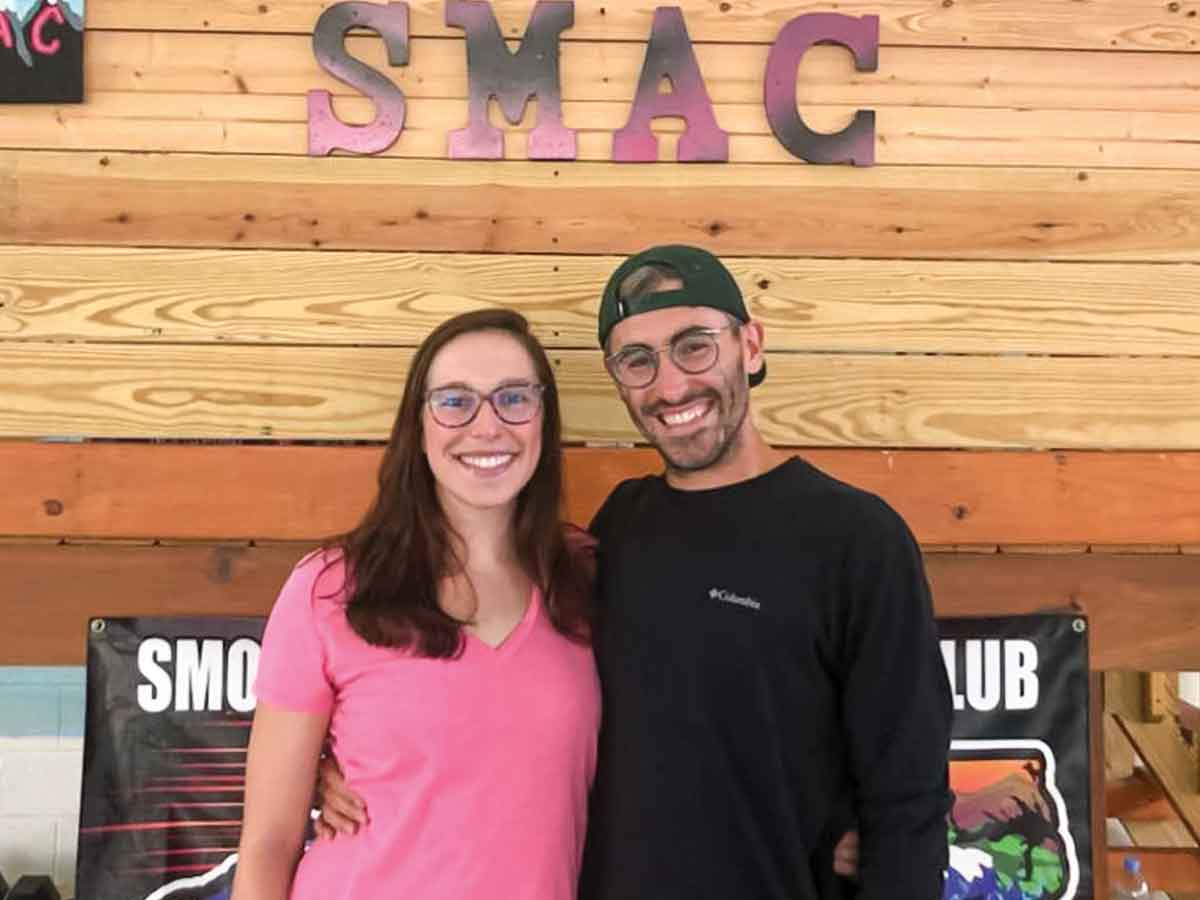 Sydney and Dan McGuire have taken the helm at Smoky Mountain Aquatic Club and are excited to get to work. SMAC photo
Smoky Mountain Aquatic Club has not one, but two new coaches at the helm that know a thing or two about swimming, leadership and working together. The newly married couple, Dan and Sydney McGuire took the reins of the now 20-year-old team this September.
"It has been a fun environment so far," said Sydney. "Everyone has been so kind."
Sydney McGuire started swimming at the age of 12 in Greenville, South Carolina — where she spent summers with her father — after her stepmom signed her and her siblings up for the sport.
"I'd never really done sports before and I wasn't terrible at it," said Sydney. "Swimming helped my self-confidence go up and it helped me make friends. I had been spending summers in South Carolina since I was eight and just hanging out with my siblings. Swimming gave me a friend group, a community to latch onto."
Anyone who has spent time around competitive swimming knows that there are two distinct categories of the sport, summer swim and year-round swim. Sydney dove into year-round swimming after that first summer and has been engrossed in the sport ever since. She progressed throughout middle school and high school and eventually went on to swim for George Mason University in Virginia.
After her freshman year of college, Sydney began coaching summer swim teams in addition to furthering her own career in the pool.
"I realized how much fun it was and how much I wanted to help the kids improve and help build an inviting atmosphere," said Sydney.
During her time at George Mason, Sydney swam at elite national meets and in 2016 she competed at the Olympic Trials in the 50-meter freestyle. Her love of swimming didn't fade after university. She graduated with a degree in kinesiology that advanced her understanding of the sport at a fundamental level.
"It helps give me an understanding of the human body," said Sydney. "It was nice not knowing just how to write a set, it was nice knowing OK, this is how your body functions and this is how we can apply different things to make people better swimmers."
After college Sydney spent five years as a private instructor in the D.C. area, also coaching club teams like SMAC, but much larger.
Dan McGuire likes to joke that his swimming career wasn't as prestigious as his wife's. If you google either of them, he notes, you will find photos of Sydney during her swimming days, but not him. Still, the sport is an important cornerstone of his experience and one that continues to fascinate him.
Because his family moved around quite a bit when he was younger, Dan first learned to swim while living in England. When he was around the age of 6 the family moved back to Raleigh and Dan followed in his sister's footsteps and joined a local year-round swim team. While the sport didn't stick for his sister, Dan was hooked.
"My sister found out she did not like swimming, and I found out I loved swimming," said Dan.
The family relocated again when Dan was 13, this time to Virginia, and though Dan kept swimming, unfamiliar team environments and unruly coaches stole some of the joy from the sport. But by 16, he had found the right team and the right coach that kept him inspired and connected to swimming.
"I found a new love for swimming when I was around 15 or 16," Dan said. "That coach spurred me to want to stay in swimming. He was super supportive, the perfect blend of being hard on me, being funny and getting to know us, not just looking at us as pieces of meat in the pool."
Dan also went on to swim in college, and he also coached summer swim teams on the side. But, during his time at university he prioritized studies and travel over swimming.
"I didn't go as hard into swimming as Sydney did in college," Dan joked.
After college Dan continued to work in the swimming world for a few years before taking off again to explore the world — this time in Thailand. When he came back to the United States he began co-coaching a club team and quickly fell into the role of head coach.
It was around this time that the couple met. They both were working for Swim Box, a swimming video analysis company. Because both Dan and Sydney had been part of the highly competitive swimming world that is Northern Virginia, they think it is likely they had crossed paths before, but when they met at Swim Box in 2018, there was an instant connection.
While most kids and adolescents participate in one sport or another during their school years, whether to appeal to college admissions offices or overbearing parents, few of those young athletes go on to coach the sport in which they grew up competing.
For Dan and Sydney, coaching is about something larger than the sport of swimming — it's about connection. Throughout their swimming careers, both have been inspired by the highs and lows of coaching they experienced.
"I had a phenomenal coach growing up," said Sydney. "I swam for a YMCA in Richmond, Virginia, during the school year and I had a very close relationship with my coach. Then my senior year he left to coach in a different country and my new coach and I did not have a good relationship at all. I actually ended up quitting swimming my senior year because of that relationship."
Though she went on to have a successful college swimming career, the importance of that negative relationship stuck with Sydney and made the easy relationship with college coaches all the more special.
"The coach who I had [in college] was really, really kind to me," said Sydney. "I think just knowing that the coaches were there to help me not only build myself in the sport and become better, but also continue my love for the sport, I think it was something I wanted to share with other people and share with kids to help them realize, this is a fun thing to do."
Just last weekend Dan and Sydney had their first swim meet with SMAC. At that competition, one of the younger boys on the team did not want to swim. Sydney made sure to impress on him that the meet was not meant to be solely competitive, but an opportunity to hang out with friends, watch other athletes, be a good teammate and have fun.
"It's meant to be an environment which is helping people grow as individuals, not just as athletes," said Sydney. "That's something that's very important to me."
Being part of the swimming world for so many years, Dan has also seen the good and the bad of coaching. He has been on deck with those types of coaches that will list off the names of fast swimmers they've coached as if they were trophies to be collected.
"What I realize keeps me coming back is the different levels of success that I can see," said Dan. "There isn't really a word for the look on a kid's face when they talk to you about something they thought they couldn't do or thought was really far off, and then they accomplish it. Maybe it's qualifying for a really big meet, or maybe it's completing their first 50 freestyle."
During the COVID Pandemic, Dan worked with kids who were struggling to maintain mental health through all the unknowns.
"That was not an easy time to be coaching kids. When pools were shut down up in Virginia, we were swimming outside in the winter, it was like 27 degrees out. But to be able to get through that and watch these kids' faces when they finally succeed, it makes me feel like it's all worth it," said Dan. "Ultimately, it's all about making sure that we can give these kids that feeling of success and happiness that Sydney and I have both felt in swimming ourselves. I just want to make sure that these kids are experiencing those same things and realize that it's nothing to live or die by, but it can be an outlet for stress, and it can be a community rather than just a competitive sport. It can be more than that."
After years of coaching in an ultra-competitive, big team environment, both Dan and Sydney realized they were ready for a change. They wanted to continue in the swimming world somewhere besides the crowded suburbs of North Virginia. When an opportunity came up to coach in the mountains of Western North Carolina, they jumped at the chance.
The relocation to WNC has been a whirlwind of new, different and exciting experiences. The couple moved here at the beginning of August, got married before the month's end, jetted off for a two-week honeymoon in Thailand and started swim practice at the Waynesville Recreation Center pool just two days later.
"It was really great to see all the kids who showed up and all the varying ability levels, it's just been a great, great start," said Sydney. "I have loved it down here. Everybody is so nice."
There are currently 55 swimmers on the SMAC team, and new members are always welcome. For two coaches that came from large programs, Dan and Sydney are relishing the ability to coach fewer swimmers of differing levels.
There is also the adjustment to living in a new town and a more rural environment. While at their old team swimmers may have shown up late for practice because of traffic, Dan was recently told by a late swimmer that the family's pig had escaped and had to be chased down before leaving the house.
"[The transition] has been fun for me and Sydney," said Dan. "Swimming can touch so many different communities. We're just happy to be here and super happy that SMAC has welcomed us with open arms."