Archived News
'In perpetuity': NPS director celebrates National Public Lands Day in the Smokies 

Wednesday, September 28, 2022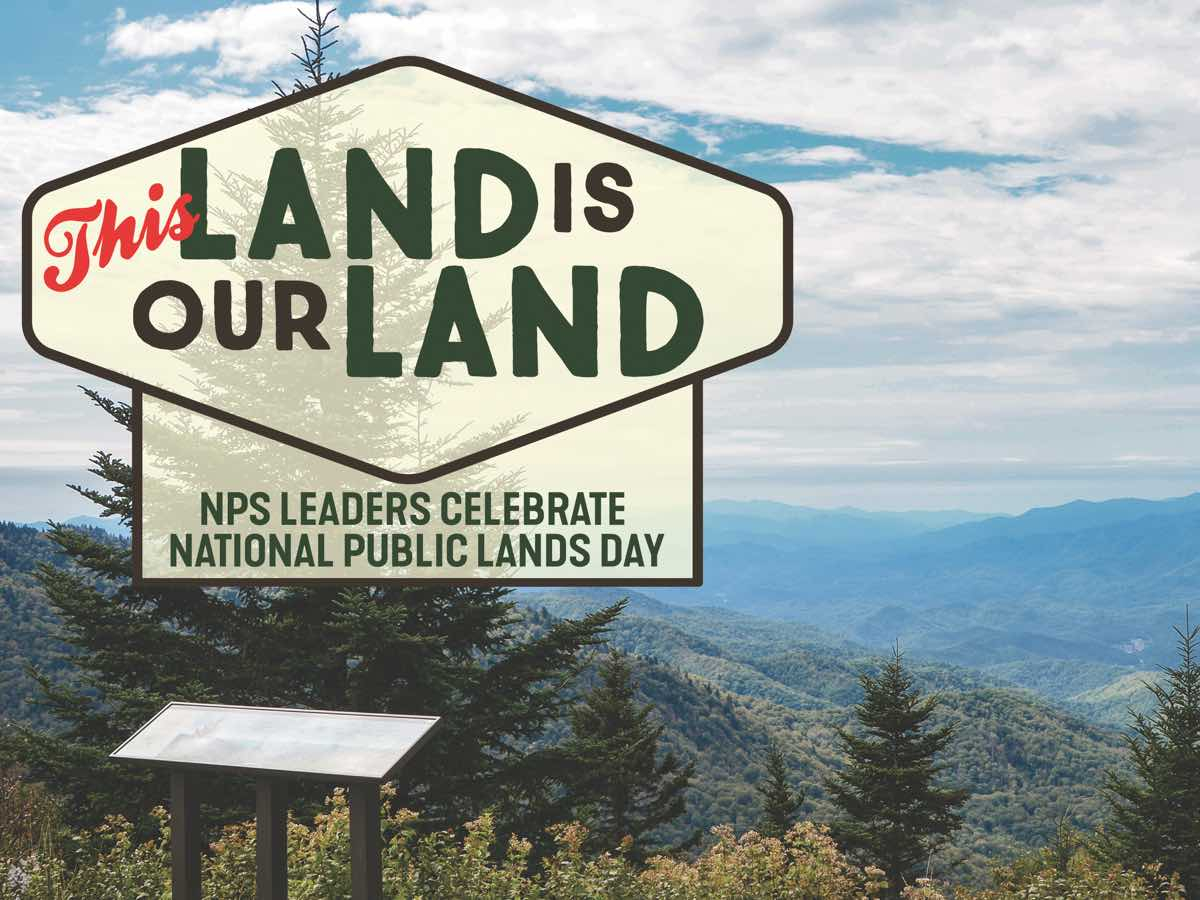 National Public Lands Day dawned crisp and cool Saturday, Sept. 24, a celebration of everything most beloved about fall in Western North Carolina — sunrise pinks and oranges streaking the skies above the ridgeline; clear, dry air carrying an invigorating early-morning chill; bright sunshine focusing the world beneath warm rays as the sky brightened, revealing mountainsides tinged with hints of red and yellow, rogue branches overly eager for the autumnal wardrobe change.
"To see the beauty of the Great Smokies is a spiritual experience," said National Park Service Director Chuck F. Sams III, speaking to the group of park staff, partners and volunteers — along with representatives from the adjacent Qualla Boundary — gathered on the porch of the Oconaluftee Visitor Center Saturday morning.
Mike Leonard, former chairman of The Conservation Fund board, addresses the crowd at Waterrock Knob. Holly Kays photo
Established in 1994, National Public Lands Day is organized by the National Environmental Education Foundation and is the country's largest single-day volunteer event for public lands, held annually on the fourth Saturday in September. Last week, nearly 100 volunteers came out to pick up litter, maintain trails and remove graffiti in the Smokies.
Last weekend was Sams' first time in 33 years standing inside park boundaries, but as an enrolled member of the Confederated Tribes of the Umatilla Indian Reservation in Oregon, he's cultivated awareness of the tie between spiritual rejuvenation and natural beauty throughout his life. Since his December 2021 appointment as National Park Service Director — becoming the first Native American to hold the position — he's been working in pursuit of what he sees as a common goal of the U.S. government and the country's indigenous nations.
"Our (NPS) mission, under the Organic Act, is to steward America's resources, to steward those places that are so very special to the American people," Sams said. "Our job is also to do that in perpetuity. Just as my people must do it for seven generations, the National Park Service must do this for future generations, and not just now."
Wellness in the woods
With the nation finally emerging from the COVID-19 pandemic, speakers placed particular emphasis on the physical and mental health benefits of time spent in nature.
Rear Admiral Denise Hinton, who serves as the country's Deputy Surgeon General, said that the pandemic birthed "unprecedented mental health concerns," citing research that found that Feb. 21-March 20, 2021, emergency room visits for suspected suicide attempts were 50.6% higher for teenage girls and 3.7% higher for teen boys than during the same period in 2019. While these issues won't be solved overnight, public lands "are well-positioned to be part of that solution."
"Coming out to the parks, taking it all in, it's free. It's available to all of us," she said in an interview with The Smoky Mountain News. "And it's where we can really, truly all feel connected. And I do believe that the interconnectedness of our great world, it is important. And taking advantage of that, and letting it serve us as we serve it and taking care of it is incredibly important."
Meri-Margaret Deoudes, president and CEO of NEEF, said that during the pandemic hiking around Great Falls near her home in Washington, D.C., was "one of (her) greatest pleasures," consistently offering an opportunity for rejuvenation during a difficult time. Likewise, for Smokies Superintendent Cassius Cash, the period following COVID-19's arrival was "a dark time," but he sought — and found — solace in the mountains.
"Whenever I go into these mountains, I always come out feeling better than when I went in," he said. "I understand how indigenous people sought that inspiration and that wisdom, because that's exactly what I needed during that period in my career."
During that time, Sneed said, many in the United States got a firsthand lesson in a truth that indigenous tribes have known for generations.
"Our connection is first and foremost to the land, and equally as important, or maybe even more important, is our connection to one another," he said.
Bringing tribes to the table
It's a full-circle moment in the history of a nation whose story includes hundreds of years of subjugating indigenous people and dismissing traditional knowledge as fanciful and unscientific.
"Tribes have been managing lands across what is now known as the United States for thousands of years," Sams told SMN. "Science is based on observation, so who better to actually be at the table than the people who have been observing for the last ten thousand years? Being able to bring traditional ecological knowledge to the table to help in that management will enhance and help the parks flourish even more."
The National Public Lands Day celebration in the Great Smoky Mountains National Park drew several high-profile visitors. From left are NPS Director Chuck Sams III, EBCI Principal Chief Richard Sneed, Deputy Surgeon General Denise Hinton, National Environmental Education Foundation CEO Meri-Margaret Deoudes and Smokies Superintendent Cassius Cash. Holly Kays photo
A recent action from the U.S. Department of the Interior — combined with follow-through from the NPS — aims to ensure that tribes are at the table more often than in the past. This month, the U.S. Department of the Interior released new guidance aiming to strengthen co-stewardship relationships with Native American tribes. The NPS, which falls under the DOI, responded with new guidance of its own.
Requirements that Park Service leaders include tribes in their decision-making processes are nothing new, but the agency's specific obligations had never been very clear, Sams said. Now, all the regulations dealing with co-management, co-stewardship and cooperative agreements are together in one memorandum, making it easier for Park Service staff to understand their responsibilities and be held accountable for fulfilling them.
In Sams' office in Washington sits a framed photo taken when he was 25 years old visiting with then-Secretary Bruce Babbit to discuss co-management of DOI lands.
"I know for a fact that he took it seriously, but there were a number of impediments internal that were systemic issues, some of them having to do with racism, some of them having to do with not understanding their full federal responsibility and trust responsibility," Sams said. "So fast forward 27 years, I've visited with four sitting secretaries about this issue. And I felt very fortunate to be under the leadership of Secretary (Deb) Haaland, who already understood this issue."
In 2021, Haaland — a member of the Pueblo of Laguna — and Secretary of Agriculture Tom Vilsack signed Joint Secretarial Order 3403, directing all bureaus and subdivisions in their departments to find ways to improve consultation with Native American tribes.
Such consultation is not only respectful toward peoples with millennia-long relationships to the land now managed by the federal government, Sams said, but it also has the potential to improve the health of the entire landscape — through incorporation of traditional ecological knowledge, boots-on-the-ground volunteerism and Youth Corps participation, and promotion of a landscape-scale view of management. He used the example of the indigenous people who once lived between present-day Montana and Mexico, managing meadowlands and waterways for the herds of elk that roamed that entire area. While they didn't have formal meetings to discuss co-management responsibilities, each tribe understood its responsibility to ensure that the herds remained vibrant and healthy.
"Those are managed landscapes," Sams said. "What most Americans don't understand is that the tribes have been managing these landscapes since time immemorial. They used fire, they used replanting of meadows, they ensured that the water quality was there. All of those things are still very important today, and a tribe being at the table can help with those issues."
Since Cash took the superintendent job in 2015, Sneed said, the EBCI has seen a rekindling of its relationship with the park. The governments' collaboration to approve an agreement allowing tribal members to gather sochan, a culturally important plant also known as green-headed coneflower, is perhaps a symbol of that renewed relationship. The program has gone well, Sneed said, and he hopes to see additional species approved for gathering in the future. Ramps are the next priority, presenting an example of indigenous knowledge helping to safeguard the landscape for all.
"The harvesting method that people who are not familiar with the traditional way of doing it, is to go in and they pull the whole plant up," Sneed said. "Our methodology has been for thousands of years, trim it, you leave a little bit of the shoot remaining, and then you come back next year, and it will be there again. So that's why consultation is extremely important between the tribes and the Park Service."
Conservation, continued
A few hours later, up the mountain and 18 winding miles along the Blue Ridge Parkway from the Smokies, where volunteers labored for lands that have been part of the National Park Service for generations, about 70 people gathered at the Waterrock Knob Visitor Center to celebrate ongoing efforts to preserve additional acreage.
"I think that the average American may not understand that that work is still happening," said Parkway Superintendent Tracy Swartout. "They think, 'Well the Smokies, it was set aside, it's protected. The Parkway, it was set aside, it's protected.' But one of the big things that I want us to contribute to the public knowledge about national parks — and the Blue Ridge Parkway is included — is that it is still ongoing."
In 2016, many of the same people gathered on the same spot to celebrate four conservation groups' acquisition of 5,329 acres surrounding Waterrock Knob. They planned to transfer the land to the National Park Service, creating a park within a park that would forever preserve rare high-elevation spruce-fir forest and offer ample opportunity for outdoor recreation in some of the most beautiful places in the Southern Blue Ridge.
A trail runner enjoys an outing on the Bradley Fork Trail in the Great Smoky Mountains National Park. Holly Kays photo
"A mountain, it's a cone shape. There's a lot more land at the bottom, but when you get up high in the spruce fir-forest, there's less of it and whatever is left is even more important," said Brad Stanback, who in addition to being a major donor to the project along with other members of his family is also a board member on the N.C. Wildlife Resources Commission. "I'm also a big proponent of more wildlife habitat and wildlife connectivity, so one protected block of land can have a corridor at least to another protected block, and animals can migrate through that."
At the time of the celebration on Aug. 23, 2016, 2,986 acres — 56% of the total — had been officially transferred to the Park Service. This tract came from The Conservation Fund and included land to the east of the existing Waterrock Knob Trail. Additional acreage was still owned by Conservation Trust for North Carolina, The Nature Conservancy and the Southern Appalachian Highlands Conservancy.
Over the last six years, only 368 additional acreage has been transferred, with 3,354 acres of the total 5,329 now in Park Service ownership. Surveying costs and project phasing have proven a major obstacle. Before completing a transfer, an extensive — and expensive — survey of the rugged terrain must be conducted.
"This donation project is requiring $325,000 in survey costs," Mike Leonard, representative and former board chair for The Conservation Fund, said at the speaking program for the event. "Covering those survey costs was absolutely critical to allowing the nonprofits involved to donate these lands to the National Park Service."
Mainspring Conservation Trust, The Foothills Conservancy and Conserving Carolina have all donated toward covering those costs, Leonard said.
Because the Park Service can't acquire lands that aren't adjacent to its current boundary, a holdup on one tract can prevent progress on others. Due to survey costs, finalizing the 1,654-acre Yellow Face property, which is owned by The Nature Conservancy and sits opposite the Parkway from the visitor center, took longer than expected, said The Conservation Fund's North Carolina director Bill Holman. That in turn prevented progress on the transfer of 319 acres that abut the Yellow Face property but do not connect to existing Parkway lands.
"The wheels turn slowly," Holman said.
However, the partners involved say the final lap is imminent.
"I'm hoping by the end of '23 we'll have all the acquisitions done, and I would think it wouldn't take a full year," Swartout said.
On many of the properties, she said, all that remains is to gather final signatures and go through the actual closing process. The project is "very, very close" to completion, despite staffing and workload issues that often make those processes take longer than they otherwise would.
Meanwhile, the Parkway is working on plans for what will happen to the land once the transfer is complete. It recently received a $300,000 grant from the National Park Foundation to start recreation planning for the property. That process will begin with seasonally dependent data collection to better understand what's on the property now and to map out sensitive resources. Then the Parkway will work with stakeholders and gather public input to determine community priorities for conservation and recreation on the property. The whole process will likely take two or three years, said Parkway Cheif of Resource Management and Interpretation Alexa Viets.
Then, the Parkway and its partners can start seeking funding to implement the plan.
While it may seem that the work never ends, that's also kind of the point, Swartout said. Conservation is an ongoing task, and it takes philanthropic donations, volunteer labor and community engagement to keep moving forward. As difficult as the pandemic was for everyone, the spotlight it shone on the national parks and their connection to wellness may ultimately prove beneficial to conservation goals.
"Without all those simultaneously, we don't really have a chance to be standing here 100 years from now," she said. "So this idea that people are going to the parks for health, I think it helps us to communicate a different set of messages about the value it provides."
By the numbers
Nearly 100 people visited the Great Smoky Mountains National Park on Saturday, Sept. 24, to give back in recognition of National Public Lands Day. Their impact included:
• 40 tons of gravel spread along Oconaluftee River Trail
• 100-plus pounds of trash removed from roadsides and rivers.
• Almost 1,000 visitors given Leave No Trace information at Sugarlands and Oconaluftee Visitor Centers.
• Graffiti removed from scenic overlooks
• Scientific data gathered by Cherokee Central Schools students at the Appalachian Highlands Learning Center, and new citizen scientists recruited to download the iNaturalist app.