Archived Outdoors
'More than a road': New superintendent discusses her vision for the Blue Ridge Parkway
Wednesday, December 15, 2021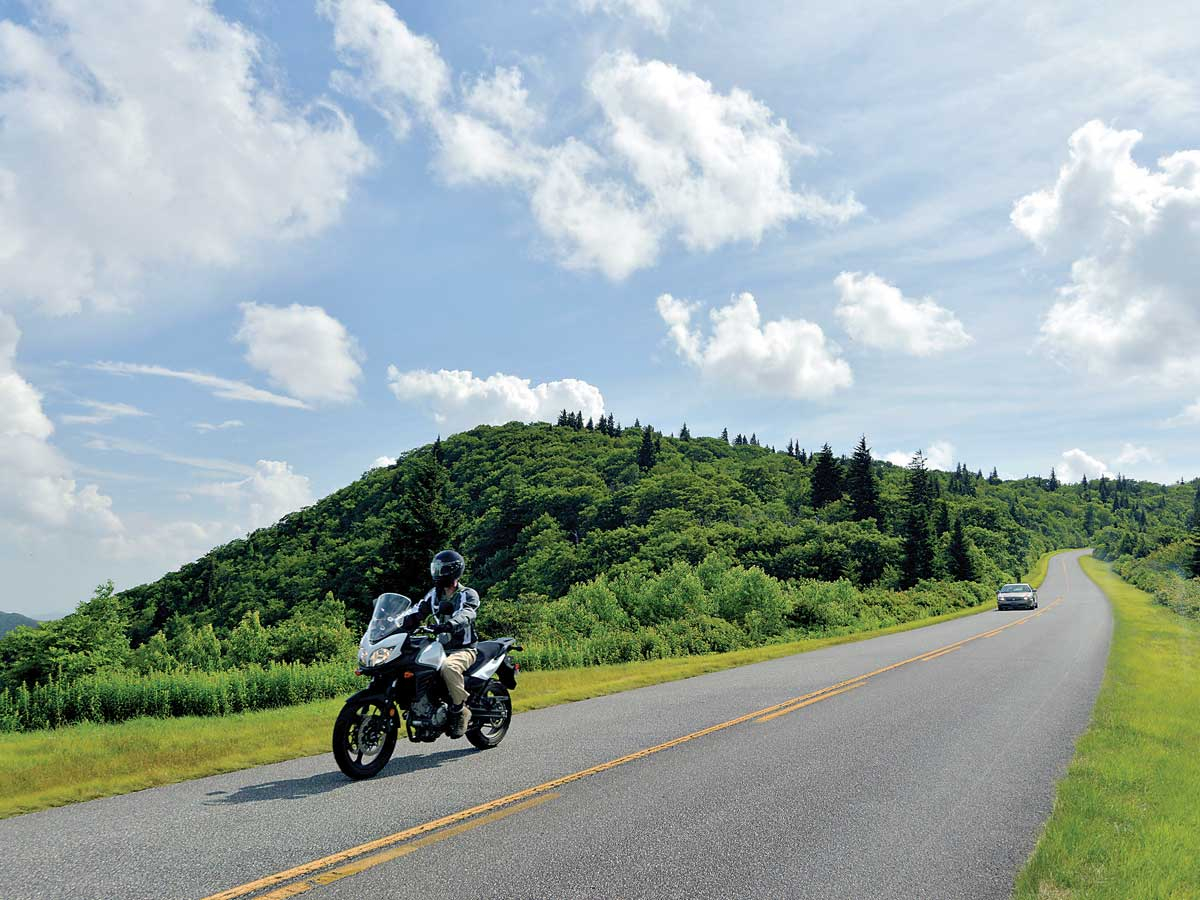 A motorcyclist cruises the Blue Ridge Parkway near Mt. Pisgah. NPS/A. Armstrong photo
Growing up in Columbia, South Carolina, Tracy Swartout made some of her favorite childhood memories traveling the 469-mile ridge road known as the Blue Ridge Parkway. Since May, she's been leading it as superintendent .
"For me this was my dream park, because I just love it so much," she said. "Having come a lot and visited different locations along the Parkway, I saw it as a route to all these other places too. It's a route to the Smokies, a route to Shenandoah, and a route to all the communities that I got to visit growing up."
Swartout has been an avid user of the national parks her entire life, but her route to the Parkway job — like the Parkway itself — took its fair share of twists and turns. She earned her bachelor's degree in geography from her hometown school, the University of South Carolina, and then went to the University of Waterloo in Canada for a master's of environmental studies before returning south for a master's of environmental studies from Duke University, a degree she describes as "an MBA for natural resources." During that program, she landed an internship at Arches and Canyonlands National Parks in Utah.
"I fell in love with the Park Service as an employment opportunity," she said. "I saw it as a way that I could combine the things that I thought I was getting good at with the things that I loved."
Swartout loved the outdoors, and she was getting good at understanding how economics played into their protection.
"I think people often don't think of national parks as businesses, but really in many ways managing a national park is like managing a small municipality, in terms of the different kinds of career fields covered and the different kinds of employees that we have and this idea that you're providing all the services within a line on a map," she said.
Tracy Swartout
Swartout began her NPS career with seven years at the agency's Business Management Group in Washington, D.C., where she worked to recruit, hire and mentor groups to develop business plans for more than 75 parks, including the Parkway. She left D.C. in 2006, spending six years as superintendent of Congaree National Park in South Carolina, where she was named the southeast region's 2012 Superintendent of the Year.
From there she headed west, taking the deputy director job at Mount Rainier National Park in Washington, and serving as acting superintendent at various times during her nine-year tenure. Then the Parkway job opened, and Swartout was eager to apply. She started work in May and arrived in Asheville with her husband and two children at the end of June.
A long to-do list
Swartout's business sensibilities will likely be helpful as she confronts two of the biggest issues facing the Parkway — aging assets and limited budgets.
Like the Great Smoky Mountains National Park, the Parkway doesn't charge visitors an entrance fee. Though the reasons are different, the effect is the same — declining federal budget contributions not supplemented by user fees. While the Parkway's 2021 allocation of $17.2 million was slightly higher than the $16.2 million it received in 2011, when budgets were slashed due to sequestration, in real dollars it's actually less. According to the U.S. Bureau of Labor Statistics , $16.2 million from October 2010, when the FY 2011 budget year began, would be worth $19.3 million today.
That's why the Great American Outdoors Act , a bipartisan 2020 bill that funds deferred maintenance in the national parks, is so important. Swartout will oversee expenditure of $200 million in GAOA funds, which will repave 122 miles of road and replace a bridge.
The Parkway's deferred maintenance is estimated at about $500 million, so while the $200 million from GAOA is expected to reduce that backlog by something significantly less than $200 million — similar to how fixing a $50 bathroom faucet might end up costing $500 by the time you replace the aging pipes and sink associated with it — it's still an important investment.
"For me the topline is that it's $200 million worth of projects over just a couple of fiscal years, and it is an order of magnitude higher than the amount we would normally spend on roads," said Swartout.
The park also receives funding from the Federal Highway Administration, so additional bridge replacements, pavement preservation and slope repairs are planned over the coming year as well.
The Parkway's 469 miles of pavement is its hallmark feature, but roads aren't the only capital projects on Swartout's priority list. She hopes to move forward with planning and project design for new water systems, picnic areas and resurfacing projects at the Parkway's campgrounds and picnic areas, and she also wants to get to work on prioritizing the myriad structures in need of repair along the Parkway's length.
The question is, which expensive repairs should jump to the front of the line, which should hang out at the back, and which don't need to be on the list at all?
"Those are some difficult decisions, because a lot of them are places that people love, but some of them are places that people maybe didn't even realize we owned, like that shed behind that building," she said. "Do we need to keep it still? Maybe we do. Maybe we don't."
Swartout also hopes to move along pending land acquisitions to expand the Parkway's footprint. Land transfers often move at a painfully slow pace, but she hopes to announce in the spring that the first parcels in the 5,000-acre expansion at Waterrock Knob celebrated in 2016 have officially become part of the Parkway.
Fall colors pop in the Graveyard Fields area. NPS/A. Armstrong photo
Puzzling population
Perhaps the most difficult challenge Swartout and the Parkway face is how to continue welcoming large numbers of people to this one-of-a-kind place while also protecting the pristine beauty that makes it so special.
Swartout recently took her children, ages 10 and 13, to hike Craggy Pinnacle on a beautiful, crowded weekend. They got to experience the feeling of being above everything, as well as the sight of people climbing dangerously around the cliffs and leaving their trash behind.
"We got to have a little talk about it in the car, because it's important for me that I raise good stewards," she said. "And we got to talk about how you can simultaneously love a place and hurt place, and how it was up to each one of us individually to take care of the place."
For Swartout, education and investment in the next generation are vital to protecting the Parkway's future, but they're not the only pieces of the puzzle that she's still actively puzzling.
"What does it mean that so many people want to come?" she said. "And how do we manage it?"
Unlike the neighboring Great Smoky Mountains National Park, the Blue Ridge Parkway has not spent the last few years setting consecutive visitation records. The Parkway's busiest year ever was all the way back in 2002, when it logged 21.5 million visitors. But the southern portion between Asheville and Cherokee is busier than it's ever been — in October alone, the 164-mile Pisgah Ranger District logged 588,000 visitors, more than the tally for the entire 217-mile Virginia portion. In all, 4.4 million people visited the southern section in 2020 — far more than the 3.6 million visits logged on the Parkway's overall busiest year in 2002.
With more visitors comes more traffic and litter, along with less solitude and available parking. Swartout said that urging visitors to recreate responsibly — and spelling out how to do so — will be key to addressing those challenges.
"I think most people who are making mistakes on the Parkway are doing so because they didn't realize the rules," she said.
By stepping up messaging via social media, signage and media coverage, Swartout hopes to address that knowledge gap and increase the Parkway's overall carrying capacity for human visitors.
But still, she acknowledged, the day may come when that's not enough.
" There are parks where if they have a really, really busy parking area, they can look at timed entry for that kind of parking area," she said. "And those are things we could look at long-term. I don't think we're there yet."
Swartout also said that public-private partnerships to offer shuttle rides with off-site parking could be another long-term approach.
The partnership park
The Parkway is different from parks like Congaree and Mount Rainier in that it's equal parts route and destination. Swartout has fond memories of visiting Parkway sites like Mabry Mill and Peaks of Otter, but also of using the high-elevation road to go buy Christmas trees, pumpkins and apple cider or to reach beloved trailheads like Mount Mitchell.
That, said Swartout, points to the Parkway's identity as a partnership-oriented park. In 2020, the Blue Ridge Parkway generated $1.1 billion in visitor spending to parkside communities, according to National Park Service data.
"If it weren't for those communities (along the Parkway), people wouldn't have the kind of rich experience that they do get to have from the Parkway," she said.
The Blue Ridge Parkway headquarters is in Asheville, but the road travels the ridgeline from Cherokee to Waynesboro, Virginia, where it joins Skyline Drive to traverse Shenandoah National Park. Swartout said in-person connections with employees and communities spanning that distance will be a priority as she settles into her new role. She aims to make those excursions once per quarter.
"It's important that we really understand the needs of all these various communities to try to provide that service in a way that's going to work for all those communities that are really divergent in terms of what they want, need and what they care about," she said.
So far, Swartout said, she's received a clear message from parkside communities that they value the Parkway, that it's important to their local economy and identity, and that they want to work with the Park Service to accomplish what are in many cases mutual goals.
"I know that some people say that it's just a road, but for me it's just so much more than a road," she said. "It's a connective tissue for communities and Appalachian lifeways and culture and history and the viewshed and opportunities for partnerships — this enriching place that is so much deeper than a ribbon of road."
Leave a comment
2

comments
Very good article on Superintendent Swartout's plan of management on what seems to be world hunger!

I would also like to bring to light another issue for the long list of needs. I ride the horse trail between Mill mountain and Explore Park at least three times a week, usually logging approximately 40-60 miles a month on the trail.

It is quickly becoming impassable due to fallen trees and lack of any maintenance for the past year and a half. The signs at crossings have rotted and fallen off or been stolen by bicyclist, which aren't supposed to be on this trail to start with.(foot and horse travel only)

At the Chestnut mountain overlook, there is a four foot ditch washed out in the trail which cannot be passed due to a horse possibly falling and causing injury to the horse and rider.

Throughout the entire trail, there are downed trees, causing bypass of the trail, some of which cannot be bypassed due to the war zone look of fallen trees. Many trees have fallen over the trail in "widow maker" fashion which makes it even more dangerous to cross under.

Due to the lack of maintenance, the trail is now being littered with trash and bottles and there is even occasional junk such as metal and tires dropped by the trail.

I understand the enormity of maintenance and upkeep to the parkway, but this is the main trail parallel to Roanoke and Vinton. It could be turned completely around if one person would travel the trail at least once a month.

Monday, 03/28/2022

Very good article!

Everything that Superintendent Swartout says, sounds great!

I too have fond childhood memories of trips along the BRP and it is an experience equally tied to the road, the trails, the exhibits and the surrounding communities.

As a fan of the BRP and an avid motorcyclist, I love riding along the BRP. I have had the pleasure of introducing many other riders to the BRP and everyone of them enjoyed the experience.

Motorcycles make up a large part of the vehicles that travel the BRP each year. I don't know what the exact count is, I do know that some days I'll see many more motorcycles than cars on the BRP.

I would suggest that motorcycles be taken into account with all planned changes. Especially when it comes to pavement.

In 2016 a repaving project used "pea" gravel to resurface the road. As best as I could tell the road didn't need resurfacing at the time. It is my understanding that it was supposed to extend the life of the pavement. From a motorcyclists perspective this project was a failure. Now the added pavement is coming up in areas that it should not be. Additionally, in 2016 there was a National motorcycle rally held in Roanoke,VA. Approximately, 500 motorcyclists had to be advised to steer clear of the BRP because the loose gravel was too dangerous for motorcycling. Potholes are a bigger problem for motorcycles than they are for cars. I know of at least one pothole on the BRP that has been there for 15+ years.

Transitions onto bridges can also be a safety issue for motorcycles. I know of one very rough bridge transition that has been "rough" for almost 30 years. Expansion joints on bridges are another potential safety issue. While there is little that can be done to change them, it is easy enough to make sure there is warning signage announcing their presence.

Again, I like the plans that Superintendent Swartout is making. I wish her nothing but the best of luck in implementing them.
I only ask that us 2 wheeled visitors to the BRP be taken into consideration as well.

Tuesday, 12/21/2021