Archived Outdoors
Ticket, please: Smokies to explore paid parking, shuttle service as crowd control tools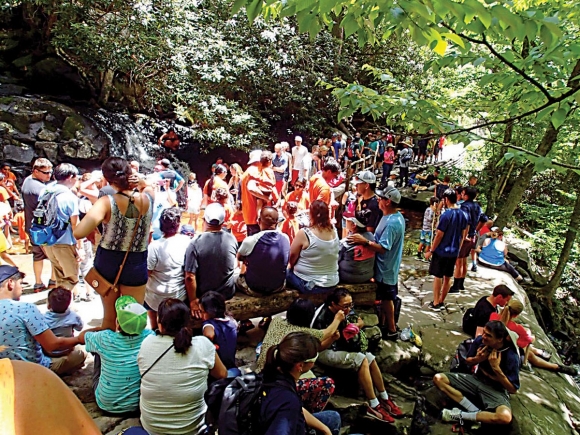 Crowded conditions are typical at Laurel Falls, which is located 1.3 miles past the trailhead. NPS photo
As visitor use in the already-crowded Great Smoky Mountains National Park continues to climb, for the first time ever the park will try out paid trailhead reservations as a potential answer to overcrowding.
From Sept. 7 through Oct. 2, visitors to Laurel Falls Trailhead — which accesses the most-visited national park's most-visited trail — will need a shuttle ticket or parking reservation to hike there. If things go well, the system could remain in place long-term.
"The park is in uncharted waters with this pilot project, so there are some things that we don't know what we don't know," said Superintendent Cassius Cash during a virtual meeting held Thursday, July 22, to discuss the project.
This isn't the first time the park has used the pilot project approach to try out a new solution and gauge its effectiveness. In 2020, the park implemented a pilot project at Cades Cove in which it closed the road to motorists every Wednesday to give cyclists and pedestrians a better experience. Positive feedback to the pilot spurred the Smokies to make the change permanent , also adding additional parking and shuttle service to better accommodate the volume of visitors.
In a similar manner, the park hopes that observations and written feedback gleaned from the Laurel Falls pilot will help it develop a more permanent management approach to the trail — and, possibly, for other areas as well.
"If you've been to this park you know there's not one size that fits all, and so we want to be able to look at each element of what we're going to be doing at Laurel Falls to see what makes sense at a place such as Alum Cave," Cash said.
Alum Cave is another example — though not the only one — of an immensely popular Smokies trail whose designated parking area is overflowing more often than not, with cars parked along shoudlerless Newfound Gap Road for a mile or more on either side of the lot. Not only is the situation physically dangerous in a park where 44 of 101 in-park deaths over the last 13 years have been due to motor vehicle accidents, but repeated roadside parking also degrades the asphalt and damages the environment. In addition, it contributes to unsustainable crowding on the trail.
It's not unusual for cars to park along the road for a mile or more near the parking lots. NPS photo
The pilot rules
During the pilot project, parking capacity will be extremely limited compared to what it is now with two parking lots and rampant roadside parking.
However, said Management Assistant Kendra Straub, during much of the year access to the site won't necessarily be reduced.
"If we look at the numbers for September — they're not one of our highest months — if the shuttle is full capacity, and our reservations are fully booked, we are not going to decrease capacity much," she said. "We're really more spreading use throughout the day. So, spreading that flow so that the same number of people give or take are able to participate, but they are not having that same crowded experience. Now there are months of the year where the level of crowding of course is beyond the physical facility capacity of the area."
During the pilot period, traffic barricades and staff presence will prevent roadside parking for Laurel Falls, and one of the two parking lots currently designated to serve the trailhead will be — for the most part, at least — closed to parking. The closed lot will serve as turnaround space for the twice-hourly shuttle that will run between Gatlinburg and Laurel Falls.
Portable restrooms will be available at the trailhead, as guests won't be able to stop at the Sugarlands Visitor Center on their way in. Drop-offs will not be allowed.
To be operated by Rocky Top Tours — the same company behind the newly announced shuttle to Cades Cove — the shuttle will cost $5 per person and run daily from 9 a.m. to 4 p.m. Shuttle parking at the Ober Gatlinburg parking lot in Gatlinburg will be $10 per car, though visitors who are staying in town may be able to walk to the shuttle and avoid that fee.
Visitors will also be able to park at the trailhead, but between the hours of 8 a.m. and 5:30 p.m. they will have to reserve a space through the timed reservation system at www.recreation.gov . Parking will cost $12 per car plus a $2 transaction fee for a total of $14.
Parking reservation blocks will open up on a rolling basis in order to allow for both advance planning and spontaneity in using the trailhead, Straub said. A portion of the reservations will go live early on, and a rolling window of tickets will pop up throughout the pilot period.
More than 350,000 people use the Laurel Falls Trail each year. NPS graph
A larger issue
The pilot project is a subset of a larger effort to plan a sustainable future for the Laurel Falls area.
By spring 2022, the park hopes to have a completed Laurel Falls Trail Management Plan, and information gathered during the pilot project will be wrapped into that plan.
"Congestion and visitor experience at Laurel Falls is a key issue," said Chief of Resource Management Lisa McInnis.
The 4-mile trail is located on Fighting Creek Gap Road about 5.5 miles from the Gatlinburg entrance and attracts about 350,000 visitors each year, most of whom walk only the 1.3 miles of paved trail to access 80-foot Laurel Falls. The less-used Sugarland Mountain Trail starts right across the road. Over the last four years, an average of nearly 40,000 people visited the Laurel Falls Trail in July, the busiest month, while the slowest month, February, still saw about 8,000 visitors. During busy days, hikers often have to wait in line to view the falls upon reaching them.
The plan will focus on the 1.3-mile segment between the trailhead and the falls, aiming to rehabilitate the trail surface and infrastructure; address crowding issues; improve pedestrian flow and reduce safety risk; enhance opportunities to view and enjoy the falls; reduce resource impacts related to user-created trails and roadside parking; address traffic safety concerns; and overall protect park resources and improve the visitor experience.
Park staff have been preparing for the effort since spring 2020, when they began community stakeholder engagement to better understand the state of the park and how congestion was impacting visitor experience. Last fall, the park followed up by hosting a series of virtual public meetings designed as workshops to further discuss those issues. Using this input, staff completed a site analysis of Laurel Falls, with an interdisciplinary team completing a deep dive into the issue in June. Ongoing natural and cultural resource surveys, as well as a review of existing data sources, seek to gather further information about the project's potential impact.
After the pilot project ends Oct. 2, park staff will begin working on a draft management plan for Laurel Falls that takes into account comments received up through that time. A public scoping process this fall will include a public meeting and discussion of draft management alternatives to be included in an Environmental Assessment. The EA will be completed this winter, spurring a formal public comment period, with a final management decision expected in spring 2022.
Staffing a challenge
Over the last decade, park visitation has exploded even as staffing has decreased, leaving park leaders scrambling to find solutions that protect the natural resources they're charged with preserving while also allowing as many people as possible to experience the beauty of America's public lands.
Unlike most other large national parks, the Great Smoky Mountains National Park doesn't charge an entrance fee. If it did, the park would have millions more for maintenance and visitor services.
The reason it's free stems from the 1951 legislation transferring Little River and Newfound Gap Roads from the State of Tennessee to the federal government. As a condition of the transfer, the state required that the federal government never impose any toll or license fee for use of the roads. A 1992 federal law further tied the park's hands, prohibiting the park from charging entrance fees for other roads unless it also charged fees for entrance on the main road.
However, the fees to be collected in the pilot project are legal, said Cash, because they are for use of an "expanded recreational amenity" — not for access to the roads. The park already charges fees for various activities, including backcountry camping, picnic pavilion rental and campsites.
Over the last decade, park visitation has increased from 9.4 million in 2000 to 12.1 million in 2020, and all indicators point toward a continued increase in demand. In June alone, the park recorded 1.66 million recreation visitors, a figure that significantly exceeds both the 1.54 million who visited in June 2020 and the 1.47 million who came in pre-pandemic June 2019.
But even as park visitation has shot upward, staffing has decreased. Over the last decade, staffing has fallen by more than 10 percent alongside a 32 percent increase in visitation.
That means that staffing requirements associated with the pilot project could be key to determining the long-term viability of the approach. For the duration of the pilot, Cash said, he expects it to be an "all hands on deck" staffing situation.
"For this pilot we're using the staffing that we have to see how this will work or what doesn't make sense," he said. "From a long-term standpoint, we would need to look at that information again to see if we're meeting the objectives, but most importantly, to see if it makes a good business case, to see if this did become permanent, will we have enough staff to be able to sustain that over a long period of time."
Be heard
The park is seeking public input as it formulates long-range management plans for Laurel Falls Trail.
Two public comment portals are open through Aug. 7.
Laurel Falls Management Trail Plan. Members of the public should share their observations, concerns and ideas for solving the issues facing Laurel Falls Trail. The park wants to achieve a number of objectives, including addressing issues associated with congestion and safety, enhancing opportunities to view and enjoy the falls and protecting park resources. Comments will be used to refine the concepts and alternatives under consideration, identify issues and ensure the park has the information it needs to move forward in the process. Comment at www.parkplanning.nps.gov/laurelfalls .
Laurel Falls Pilot Plan. The public is invited to share any feedback on the upcoming congestion management pilot plan at www.parkplanning.nps.gov/laurelfallspilot .
Leave a comment
1

comment
Grand Canyon has the best bus system. we stayed in the park and never moved our car. We would hop on and off the bus at different locations. We never waited more than 15 minutes on the next bus.We would walk a trail or just get off and view the overlook. Cades Cove would be the best spot for a bus system or just a drop off at the main Trails and pick back up.It also might help downtown traffic if there were pickup and drop off points.Another point was the seasonal retired help who were the bus drivers

Friday, 07/30/2021