Archived News
Sylva extends social district hours
Wednesday, September 14, 2022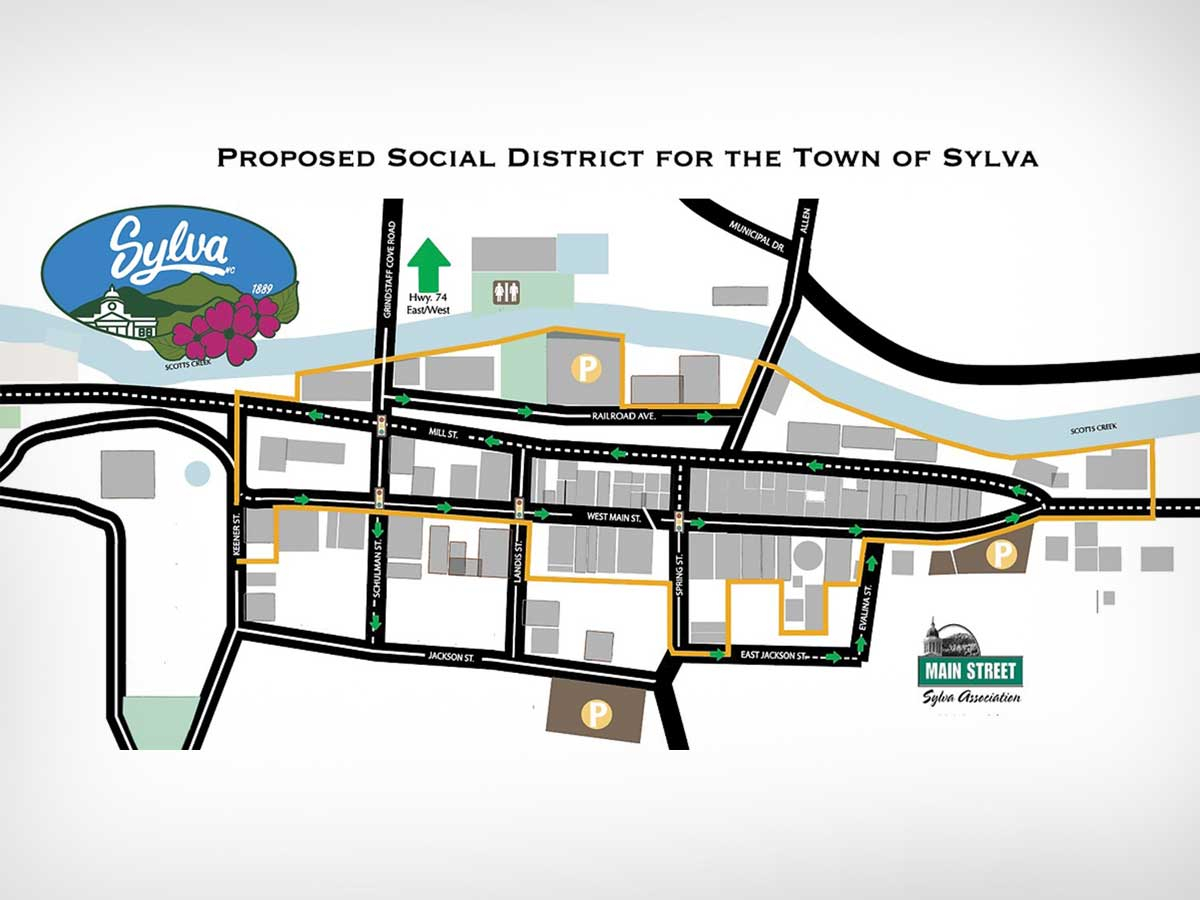 When the Town of Sylva instituted its social district earlier this year, it planned to revisit the ordinance six months later to determine how things were going. That six-month mark came up last week and the town board decided not only to keep the ordinance in place, but also extend the social district's operating hours.
"We've checked statistics for this time frame compared to last year's same time frame and there's no increase in police calls," said Sylva Police Chief Chris Hatton. "We checked everything, including traffic accidents in the district."
For the last six months, the social district has been in place from 8 a.m. to 9 p.m. on Fridays and Saturdays and 1 p.m. to 9 p.m. on Sundays. Moving forward, the social district will be in place Monday through Saturday, 8 a.m. to 9 p.m. and Sunday 10 a.m. to 9 p.m.
During these hours, alcoholic beverages may be consumed within the bounds of the social district, from Nantahala Brewing to Innovation Brewing within Main Street, Mill Street and Bridge Park. No outside alcohol is permitted within the district and all beverages must be purchased from a participating establishment within the district. For a list of participating businesses, visit mainstreetsylva.org/socialdistrict. After leaving an establishment where an alcoholic beverage was purchased, it must be consumed or disposed of before entering another business that serves alcohol.
According to Town Manager Paige Dowling, the main reason for extending Sunday hours was to make it easier on servers who were keeping track of both brunch bill hours and social district hours. The reduced Sunday hours were originally in place after public feedback indicated some concern by Sunday churchgoers.
"We did reach out to the social district task force to see if there have been any problems and one of the main things we heard was that they wanted to extend the hours on Sunday to not be so confusing to the public," said Commissioner Greg McPherson.
The Sylva Social District Task Force was created earlier this year and is made up of community members, business owners and local law enforcement. The group was formed to organize and provide feedback to the town regarding the ordinance.
"I can tell you from policing here we haven't seen any kind of uptick on anything in particular, not even alcohol related calls," said Hatton. "It feels the same."
According to Bernadette Peters, director of the Main Street Sylva Association, participating businesses sold 500 reusable social district cups within the first six weeks of operation. After that point businesses had to use plastic cups due to supply chain issues. For that reason, it is not possible to determine how many people are participating in the social district.