Archived News
Energetic debate: Duke's carbon plan 
proposal elicits criticism 

Wednesday, August 03, 2022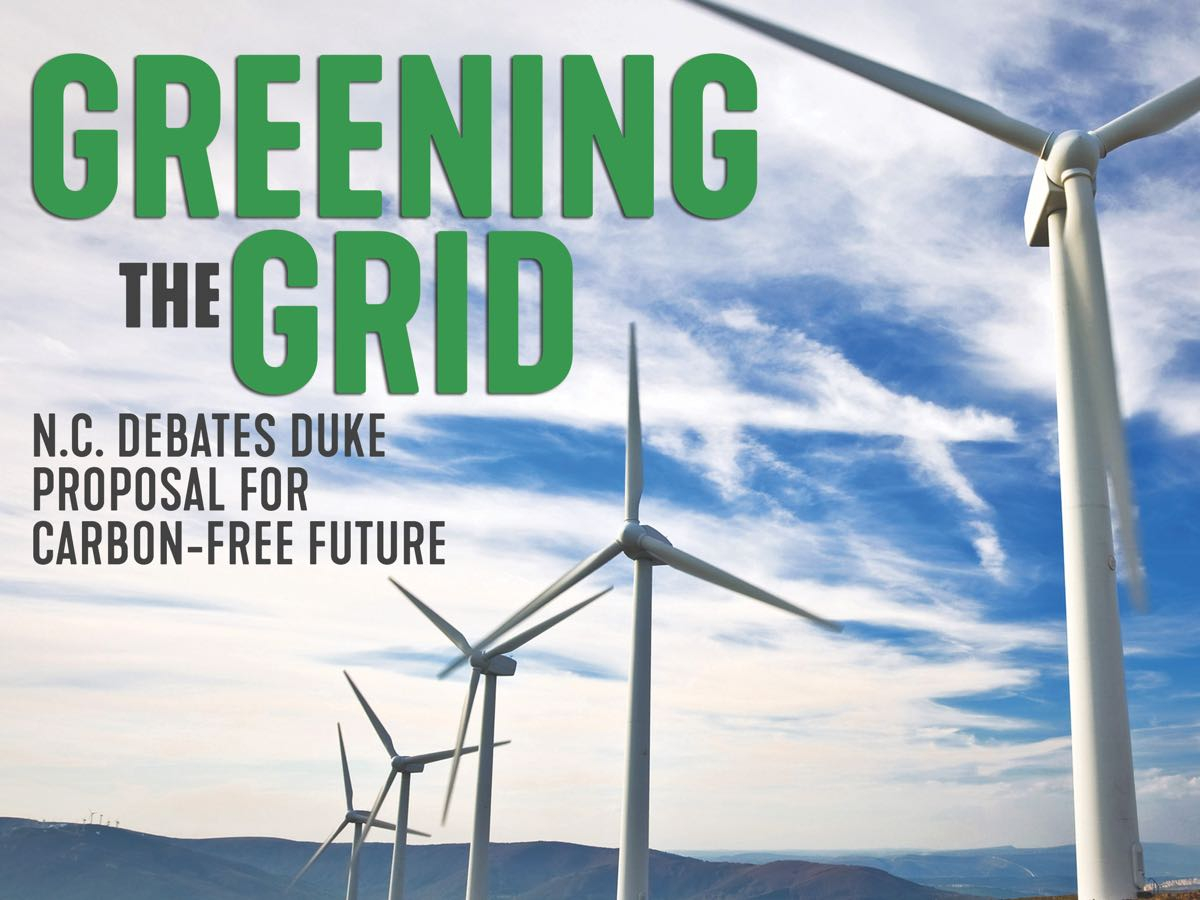 As a harsh late afternoon sun beat down on Asheville's city sidewalks Wednesday, July 27, a crowd of about 100 people gathered outside the Buncombe County Courthouse bearing signs with slogans like "Gas is so last century," "Declare a climate emergency," and "Solar is sexier." Two of them held aloft artistic representations of a bee and polar bear, orange paper flames encircling a nearby flagpole.
"The ruling class is terrified you will realize — we will realize — that we can collectively come together and choose a different path, one that doesn't depend on exploiting the planet and causes suffering within our community," Adam Hall, co-coordinator of the Sunrise Movement Asheville, said through a microphone to the protestors gathered around him.
The group had gathered in anticipation of the N.C. Utilities Commission's public hearing on a proposal from Duke Energy outlining how the company hopes to satisfy a state law mandating carbon-neutral energy production by 2050. Duke released its preferred plan in May, and the law, House Bill 951, requires the Utilities Commission to file a final document by the end of the year.
To say that the group gathered outside the courthouse was displeased by Duke's proposal would be an understatement.
"We are not surprised that Duke Energy's proposed carbon plan is abysmal, because it is the logical outcome of a profoundly undemocratic process," said Jodie Lasseter, co-founder of the N.C. Climate Justice Collective and the Energy Democracy Leadership Institute, who took the mic after Hall. "Like the children's story about how power holders often demand we choose their false narrative over reality, Duke Energy is the emperor parading around naked, and this carbon plan is its imaginary fine clothing we're told to admire."
Climate activist Jodie Lasseter rallies the crowd in song prior to the N.C. Utilities Commission hearing. Holly Kays photo
The proposed plan
Gov. Roy Cooper's signature on bipartisan H.B. 951 in October tasked state regulators with developing a plan to cut carbon emissions from energy plants to 70% of 2005 levels by 2030 and achieve carbon neutrality by 2050. While the Utilities Commission is responsible for crafting the plan, it gave Duke Energy the job of creating a first pass proposal and ordered it to hold at least three stakeholder meetings before doing so. More than 500 people representing 300 organizations participated in these meetings.
The result is a 136-page document — not including appendices — that outlines what Duke terms an "all of the above strategy" to achieving carbon neutrality. Duke's proposed plan offers four different energy portfolios capable of reaching carbon neutrality by 2050, but it's not asking the Utilities Commission to pick one of the four. Rather, it wants the Commission to let it initially pursue all four. House Bill 951 requires that the carbon plan be reviewed every two years — at these check-ins, Duke would make incremental decisions as to which portfolios rise to the top or fall to the bottom.
"Right now, this is all about keeping flexibility open for that new technology to develop," said Bill Norton, communications officer for Duke. "What are the things that we need to do today to keep them viable in the future if it turns out that yes, they are the best path forward?"
All four plans call for retiring all coal-fired power plants by 2035 — 6.2 gigawatts — and adding 1.2 GW of onshore wind and 7.6-11.9 GW of new solar. All except the third option would incorporate new offshore wind facilities — amounts vary between 0.8 and 1.6 GW by 2035. The plan also calls for significant increases in battery storage. Ratepayers are expected to see their bills go up 1.9%-2.7% annually through 2035.
Duke also wants to produce 0.6 GW of additional nuclear power using small modular reactors , a new technology that allows small nuclear reactors to be built offsite and installed on a much smaller footprint than a traditional nuclear facility requires.
Perhaps most controversially, three of the four plans call for 3.5 GW of new natural gas facilities by 2035, with the fourth option planning for a slightly smaller amount, at 3.2 GW. Duke anticipates that these facilities will be burn carbon-free hydrogen in the future and expects to begin hydrogen blending in 2035, but hydrogen power generation is not yet an established industry. Unlike natural gas, hydrogen isn't gathered in large deposits beneath the earth's surface, waiting for extraction. Rather, it must be produced commercially from existing compounds that contain the atoms, and that's still an emerging technology.
A graphic from Duke Energy outlines each of the four proposed energy portfolios in the carbon plan. Duke Energy graphic
Criticism from the public
In a press release published following the proposal's release in May, Duke Energy's North Carolina President Stephen De May said the plan would facilitate an "orderly energy transition that supports communities and maintains affordable rates," while ensuring "continued reliable service and economic competitiveness."
However, at both the rally and the three-hour public hearing that followed, speakers, most of whom hailed from Buncombe County, railed against Duke as an "evil" company, calling the carbon plan a "misguided" "failure" for future generations, an example of "fuzzy math."
"We can't go on like this," said Fairview resident Steven Norris. "The question before us tonight and before the North Carolina Utilities Commission is can the Utilities Commission find sufficient backbone, courage and caring for us, love for us, the people and the planet, so that we reject Duke's dirty energy plan and write as required by H.B. 951 a genuinely clean energy plan which unambiguously orders a rapid transition to wind, solar and battery storage?"
None of the speakers claiming their three minutes of time at the hearing endorsed Duke's proposal. Overwhelmingly, they opposed any new energy sources other than wind and solar and pleaded with the Utilities Commission to create their own carbon plan rather than rubberstamping Duke's.
"Our governing agencies set the rules and regulations that the power industry must live by," said Maggie Valley resident Ruffin Shackleford. "Although often these regulations are difficult to operate within, it is critically important that governing agencies look beyond profits and difficulties. It is critically important that these agencies are looking out for the health, safety and welfare of both the people served by the utilities and the environment we all share."
Many speakers criticized the structure of the plan itself, saying that the four-portfolio approach amounted to a "buffet of options" that doesn't provide the certainty needed to adequately address greenhouse gas emissions.
"Our climate emergency is much too serious for a hodgepodge of ill-conceived portfolios," said Asheville resident Rachael Bliss.
Perhaps the most-criticized aspect of the plan was its reliance on new natural gas facilities as coal plants go offline. When burned, natural gas produces about half the carbon dioxide per ton as coal, but much higher amounts of methane . Methane is much more effective at trapping heat than carbon, though carbon stays in the atmosphere for much longer — hundreds of years compared to an average of nine years for methane.
"When I hear Duke Energy is proposing a carbon plan using natural gas, using methane, a gas that will heat the environment 80 times more than carbon — it makes me sick to my stomach," said Melanie Chopko, an Asheville resident who left California in 2019 after a wildfire season so intense that venturing outdoors made her throat burn with each breath. "This isn't 1922. This is 2022. We have all the technology, all the creativity, all the courage we need to make a different choice."
Debating new technologies
H.B. 951 deals only with carbon and does not limit outputs of other greenhouse gasses like methane. However, said Norton, "greenhouse gas emissions are something we are focused on as a company."
"Duke Energy is committed to achieving net zero methane emissions from our natural gas business by 2030, and having net zero upstream and downstream methane emissions, which is the pipes leading to our facilities, by 2050," he said.
Duke plans to achieve this by converting its natural gas plants to run on hydrogen fuel. While green energy advocates see hydrogen power as a potentially major player in future energy generation, it's still a new technology. The recently completed Long Ridge Energy Project in Pennsylvania will be the first purpose-built hydrogen-burning power plant in the U.S. once it begins blending hydrogen into its fuel mix, but for now it runs on natural gas.
Gray Jernigan, who is the central regional director for the environmental nonprofit MountainTrue, said the technology is still too new to count on.
"It's a commercially unproven technology, and we can't have a plan that relies on technology that hasn't been proven on the electric market," he said.
Jernigan has the same criticism of Duke's plan to use small modular nuclear reactors as part of its energy portfolio. The U.S. Department of Energy sees these reactors as a "key part" of its goal to develop "safe, clean, and affordable nuclear power options." Reactors under development in the U.S. vary in size from tens to hundreds of megawatts. Compared to traditional nuclear plants, they offer small physical footprints, reduced capital investment, less stringent siting requirements, and opportunities for incremental power additions. However, like hydrogen power plants, small modular reactors are not yet mainstream.
"Beyond commercially unproven technology, we don't need to go down the road of creating more nuclear waste , which has its own issues in terms of disposal, handling, large public safety concerns," Jernigan said. "The energy that's already being generated by nuclear plants online can continue, but then again they have a finite lifespan. We would like to see the plan push us toward proven green technologies."
Norton, meanwhile, pointed to Duke's "very strong" track record of producing "safe, reliable and carbon-free" power at its existing nuclear fleet, the largest in the nation, and said that he is "very confident" that small modular reactors will play an important role in decarbonization. Duke's North Carolina customers currently get about half their power from nuclear energy.
"One of the things we are prioritizing is siting facilities at our retiring coal plants," Norton said. "Because those communities are dependent upon the tax base of those coal facilities and they want the new replacement generation, the odds are already in place in terms of folks who are working within the energy industry, and the transmission is already in place."
Asheville resident Shannon Bodeau speaks against the carbon plan in testimony to the Utilities Commission. Holly Kays photo
The path forward
Over the coming months, the Utilities Commission will review public input and alternative plans submitted by a list of intervening parties that runs the gamut from Walmart to Appalachian Voices. Then it will attempt to craft a plan that marks the best path forward for decarbonization in North Carolina.
If the July 27 hearing was any indication, there is a fundamental disconnect between Duke's perspective and the green energy advocates who told the Commission time and time again that, to them, the only acceptable new energy facilities are wind and solar.
"Experts might not agree on the nuances of one plan versus another, but there's a clean way to carbon neutrality in North Carolina ramping up investments in solar and wind energy," Jernigan said.
There's plenty of power in the sun and wind to supply all our energy needs, Jernigan said — the bottleneck is the transmission lines that get power from where it's produced to where it's needed, and that's an issue Duke's plan should tackle more aggressively.
But Duke maintains that it will take more than solar and wind to keep North Carolina's lights on, especially in light of the battery storage issue built into those technologies — there's typically a mismatch between peak generation of solar and wind and peak consumer demand.
"We believe a diverse, all-of-the-above mix of generation resources is really the best way to balance affordability and reliability for our customers," said Norton. "That energy diversity is what keeps the lights on when the sun is not shining and the wind is not blowing."
Be heard
Two additional public hearings on Duke Energy's proposed carbon plan will be held virtually via Webex Tuesday, Aug. 23, one at 1:30 p.m. and one at 6:30 p.m.
Members of the public can register to testify at these hearings through 5 p.m. Tuesday, Aug. 16, by emailing This email address is being protected from spambots. You need JavaScript enabled to view it. or calling 919.733.0837 with their name, telephone number, topic of testimony and the docket number E-100 Sub 179. Only the first 20 people registered for each session will be allowed to testify, but anyone can observe via livestream.
For more information about the carbon plan approval process and public hearing access, visit ncuc.net/Consumer/carbonplan.html . Duke's proposed plan is available at duke-energy.com/our-company/about-us/carolinas-carbon-plan.