Archived News
Mountain Projects takes steps forward in Jackson County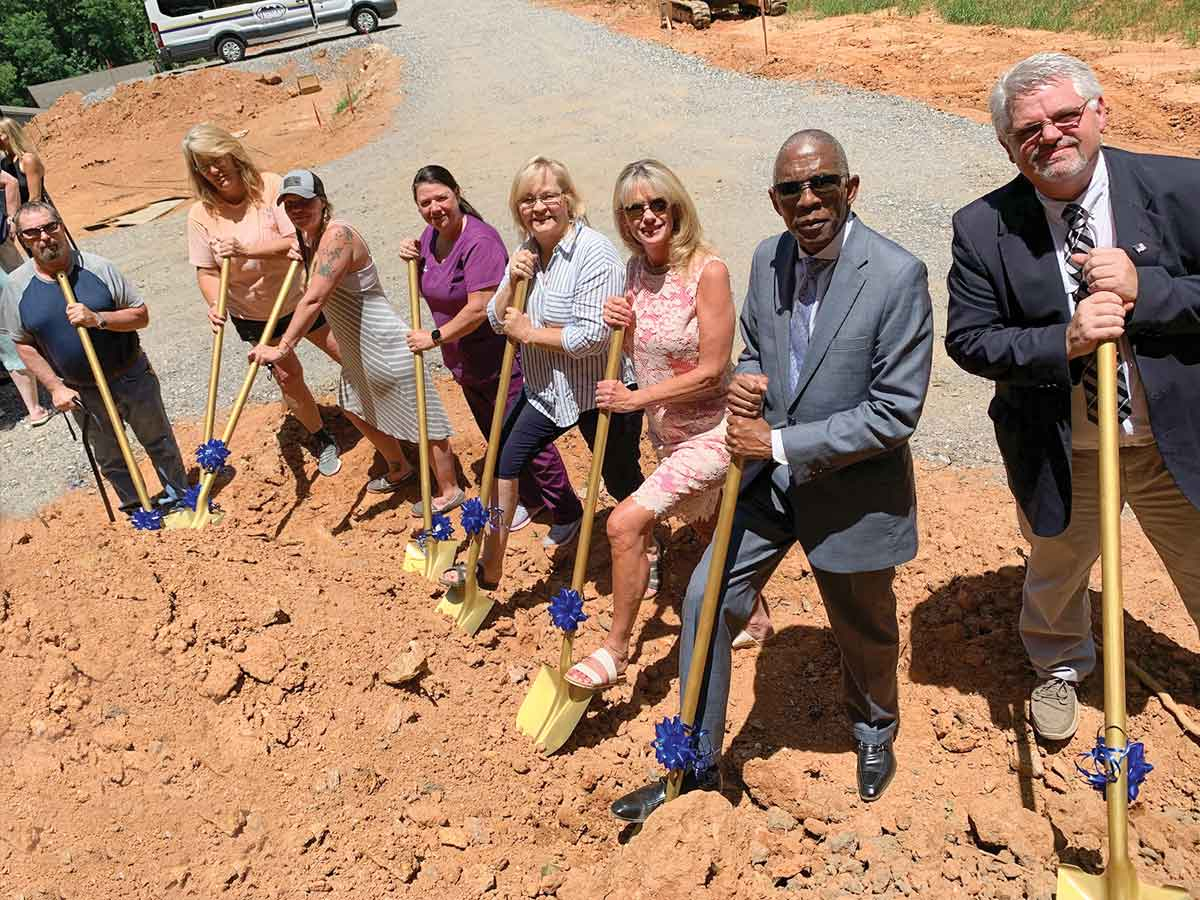 Several people were unhand for a groundbreaking at Mountain Projects' Harris Estates, a self-help project that will feature five new homes for first-time homeowners.
Mountain Projects had much to celebrate last week.
Last Tuesday, the nonprofit welcomed Reginald Speight, Director of the U.S. Department of Agriculture's North Carolina Office of Rural Development, who spoke to a round table at Mountain Projects' new Sylva office. Speight outlined current initiatives available to rural communities in the mountains. The round table featured several local entities, from municipal governments to other nonprofits. Following the roundtable, a groundbreaking ceremony was held at the future site of Harris Estates.
A press release sent out by Mountain Projects, which operates in both Haywood and Jackson counties, said Speight brought a distinctive energy that was shared by other attendees. He spoke of the money available and strong partnerships that will help the region.
"Right now, there's more money out there than you can shake a stick at," the release quoted Speight saying. "Money is not the issue now, but this is not going to last, it's going to dry up, and you just have to figure out how to get what you need and use it wisely."
"There are great partnerships here," he added. "I don't always see this in the eastern part of the state. I know community action, and I know what community action does, and trust me, the people in this room and their staff are some of the hardest working people in Western North Carolina."
Rural Development through the USDA provides loans and grants to help expand economic opportunities, create jobs and improve the quality of life for citizens in rural areas. This assistance supports infrastructure improvements; business development; housing; community facilities such as schools, public safety and health care; and high-speed internet access in rural, tribal and high-poverty areas.
Speight's conversation with a cross-section of leaders from municipal and community action organizations touched on ways to accelerate economic development and address housing needs in the western mountains, but to do so strategically.
He pointed out the challenges of effectively putting money to work in small communities with limited administrative resources to manage budgets and projects. Capacity building comes first. He suggested that foundation partners step up in that regard, and at the same time, that the USDA is currently in the position to make grants, rather than its more customary loans.
"How can a small county or a township that you work with, with a part-time administrator, engage with us?" Speight asked. "The places can't service any more debt. The population is drying up or is on a fixed income, so they can't service any more debt. So why not do some creative things while we have the opportunity, if we're serious about it? Money is all over the place."
The answer is capacity-stretching partnerships, whether they be regional or statewide.
"Consider the USDA to be a tool in your toolbox," Speight said, "but, if you go get funding from someplace else, you have shown your organization to be resourceful. Ultimately you have to do the best you can do for the people you serve."
Speight brought news to Sylva of an initiative to transform the way federal agencies partner with rural places to create economic opportunity in rural America. Called the Rural Partners Network (RPN), the goal is to help rural communities access government resources and funding to create jobs, build infrastructure and support long-term economic stability through a single network. The network is being rolled out now, with a North Carolina launch window of late summer or early fall.
Along with the release, Mountain Projects sent quotes from several attendees.
Area Specialist for the USDA Jody Lovelace said that while no single entity can know all the needs of a community, collectively, many can be covered.
"I would say that there are opportunities right now to look at more comprehensive approaches. That's what it takes," he said. "That's why we wanted to bring these stakeholders to the table to have these discussions. Our lanes are different, but we're all in the same bowling alley. We're all committed to serving our people."
Reginald Speight, Director of the U.S. Department of Agriculture's North Carolina Office of Rural Development, speaks with stakeholders at Mountain Projects' new Sylva office. Angeline Schwab photo
Andrew Mayronne, impact officer who focuses on housing for Dogwood Health Trust, said things are different in rural areas, including the impacts of poverty.
"You capture all those social determinants in your daily life. Your stress, the way you eat, the way you sleep or don't sleep. All those things run together, and they can't be compartmentalized," he said. "Housing can do a lot, but it never stops at housing. One of the biggest benefits of Dogwood is to partner with all these groups. We want to be the thread between all these things and also to remain humble to the work."
In an interview with The Smoky Mountain News, Mountain Projects Executive Director Patsy Davis said she was thrilled to have Speight on hand.
"It's only the second time in my career 30-plus years I remember a state director coming west of Asheville," she said.
"There was a spirit there … it was just a harmony in that room that day," she added. "Everybody was engaged and looking at lots of different things for our community and dialoguing about working together."
Davis noted that Harris Estates will provide first-time home buyers the opportunity to receive technical assistance to navigate the intimidating task achieving homeownership.
"Our job is to help them qualify," Davis said. "That can be a daunting task. Once they're qualified, our job is to identify a property to purchase and get it ready for them to build."
While there is assistance when it comes to building, Mountain Projects requires the new homeowners to put in their own "sweat equity," during which they work side-by-side with contractors to "learn their house from the ground up."
"They learn how to stay in budget and how to choose and deal with subcontractors," Davis said.
Davis made a point of praising community partners for helping make Harris Estates a reality.
"This was much bigger than Mountain Projects," she said. "We have had so much support … including from people in Jackson County government, the town of Sylva and Dogwood. Everybody supported our effort."
Mountain Projects has broken ground on 51 houses in Haywood County over the years, but Harris Estates marks the first five in Jackson County.
Davis made a point to encourage anyone who thinks they may be able to use Mountain Projects' services to reach out.
"They have nothing to lose by talking about the program and understanding how to qualify. They also need to understand we work with folks," she said, adding that the program has only had one foreclosure out of 51 homes in Haywood. "You have nothing to lose."