Archived News
Farmer, Buchanan win Jackson Sheriff primaries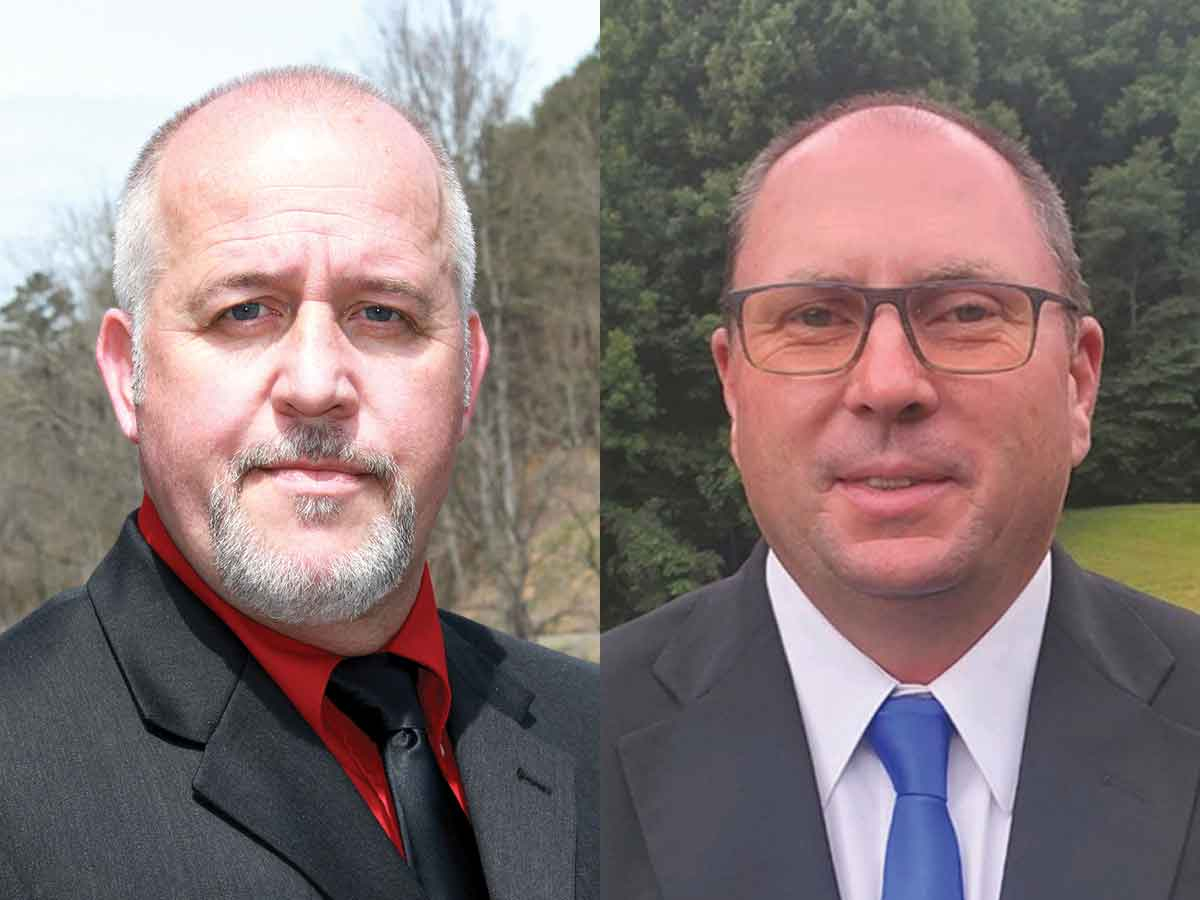 Doug Farmer (left) and Rick Buchanan.
Republican Doug Farmer and Democrat Rick Buchanan will compete to hold the office of Sheriff in Jackson County this fall after winning their respective primary races. Both men have an extensive background in law enforcement.
Doug Farmer beat his only opponent in the Republican primary, Andy Anderson, winning a whopping 91% of the vote to Anderson's 9%.
"I'm humbled by the number of people that came out and voted," said Famer. "Not just my supporters, but the number of people that came out and voted in general for all the candidates. I know I've got a lot of work ahead of me. I'm not gonna let grass grow under my feet, I'm going to keep going after this the best I can."
Farmer began his law enforcement career with 11 years at the Macon County Sheriff's Office. Following a short stint with the Highlands Police Department, Farmer spent a year in Iraq training that country's police officers. In 2010, he went to work for the Sylva police Department, where he remained until he retired in 2019.
It was this work, he says, combined with the help of his supporters, that set him apart in the primary.
"I've done a lot of work," said Farmer. "I've not stopped since I filed. I've got a lot of good people out helping me. I appreciate the help of everyone that's helped spread the word, and just the good Lord above, if it wasn't for the good Lord above I wouldn't be doing what I'm doing. I'm thankful for that, but I feel blessed to represent the Republican Party to win in November."
On the Democratic side, Rick Buchanan won handily, defeating both previous Jackson County Sheriff Jimmy Ashe and Robin Gunnels to become the Democratic nominee for Sheriff of Jackson County.
"I'm very happy and very humbled," he said.
Buchanan has been serving his community as a member of the Savannah Volunteer Fire Department for over 35 years and has been working at the Jackson County Sheriff's Department since 1991. He worked his way through the department beginning his career as a dispatcher, detention officer and patrol deputy. He has worked as an investigator and certified school resource officer, eventually moving up to sergeant, and is now a lieutenant. He was the only candidate, Democrat or Republican, who currently works in the Jackson County Sheriff's office, something he thinks contributed to his win.
"I had a humble response to an overwhelming request from so many in our community," said Buchanan. "People know that I'm courteous, compassionate and respectful, and I'll treat people the way that I wanna be treated. If they come to me with a need, I'll do my best to try to help them."
Buchanan won the race with 66% of the vote, while Ashe received 23% and Gunnels won 11%.
"I think that my being the one that's currently employed with the Sheriff's office may have had something to do with it," said Buchanan. "I'm up on all the current issues that's going on. I'm going to put my feet on the ground and move forward the same way I did in the primary."