Archived Arts & Entertainment
Home is where the meal is: Sylva restaurant specializes in authentic Thai cuisine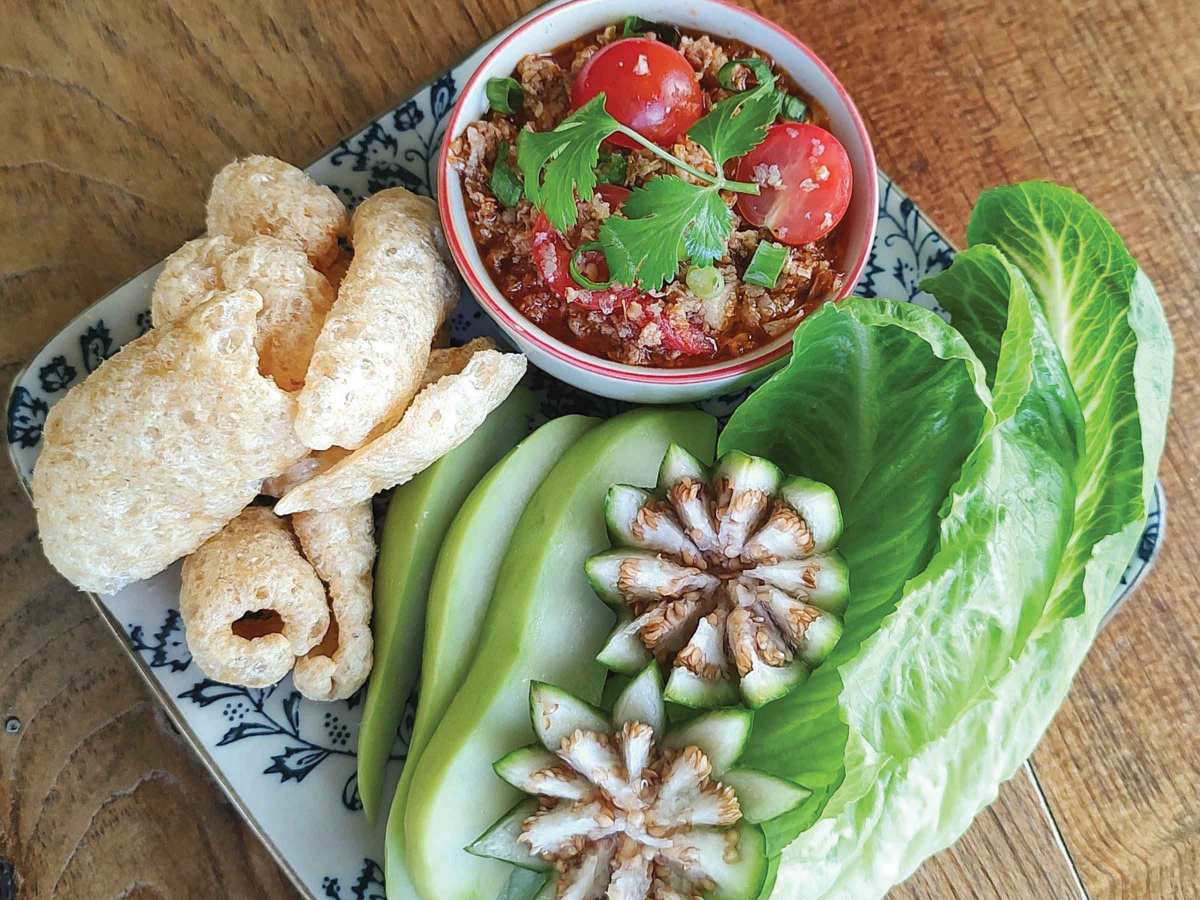 Although the 5 o'clock dinner rush is still a few hours away, Chef Kanlaya Supachana is zipping around the kitchen of Dalaya, preparing several signature northern Thai dishes with such meticulous and precise care — no small detail overlooked, whether for presentation or palate.
Sitting in the small, cozy dining area of the Sylva establishment (on the far end of West Main Street) is a hungry and curious journalist from The Smoky Mountain News. And even though yours truly only wanted to try a couple offerings and not overstay my welcome, Supachana won't let me leave until she brings out dish after dish (after dish) to sample.
"You can't write about this place without trying a little bit of everything," Supachana modestly stated. "I want this room to feel like my home, where everyone is welcome, where we look forward to introducing you to the real cooking of my native Thailand."
Chef Kanlaya Supachana of Dalaya, a popular northern Thai restaurant in Sylva. (photos: Garret K. Woodward)
Though many folks may think Thai food is all about "heat and spice," the style of authentic northern Thai, according to Supachana, is more of an emphasis on flavor, as well as color and beauty (the food is almost too aesthetically pleasing to consume, with Supachana a true artisan of her craft).
Fresh fruit (Thai pineapple salad), vegetables and sauces (krabong) come into play, often complemented by sweet and sour glazes (spicy fish sauce wings). There's also a keen knack for mouthwatering curry soups (khao soi, gaeng masaman), meat that falls off the bone (khao muu daeng) and seafood (plaa muk yang, khoong yang), not to mention homemade Thai tea ice cream for dessert.
Originally from the Chiang Mai region of northern Thailand, Supachana learned to cook from her late father, a beloved figure of culinary talent and delights in her hometown. He bestowed upon his daughter the ancient cooking instincts of feel and taste, instead of "going by the book" of exact recipes and regimented instruction.
But, initially, Supachana didn't see herself in the food world. She was more interested in computers, something that parlayed itself into Supachana immigrating to the United States to pursue a degree in the field. Ultimately, she found herself working in Thai restaurants in New York City to pay the bills.
"I started by just answering phones and putting together the takeout orders," Supachana reminisced. "And, on our days off, myself and my coworkers — who were also from northern Thailand — would cook the actual food we ate back home, not the usual things you see in [American] Thai restaurants."
Supachana's cooking became in high demand from friends and acquaintances, ultimately placing her in the kitchen of a handful of Thai spots in Brooklyn. Soon, she and a partner opened the pop-up restaurant Kao Soy. Located in Red Hook, the business was a smashing success — lauded by The New York Times, with lines out the door daily.
And it was in Brooklyn where Supachana met David Weeks, a self-proclaimed foodie who frequented Kao Soy (which has since closed). Weeks, who has family roots in Sylva, found himself with an opportunity to bring Supachana and her fine dining expertise to Jackson County.
The two became partners, and Dalaya (a combination of their first names) opened just about two and a half years ago, with most of its existence spent in the midst of the restaurant industry shutdown during the early stages of the pandemic.
But, the business survived, mainly due to a stream of loyal customers who ordered takeout on a regular basis. And now, with the dining room reopened, Dalaya is serving both lunch (takeout only) and dinner (sitdown/takeout), where a packed house is the norm these days.
"The support has been so great," Supachana said. "If it wasn't for that, when we had to shut down, I don't know if we'd be here today — but, we are, and the people are still coming in to eat and enjoy themselves."
So, what would her late father think of Dalaya, of Supachana and her renowned talents in the kitchen, of finding footing and friendship in the mountains of Western North Carolina?
"He'd be very proud, but he'd also be laughing a little, too, because when I was young, I didn't want to become a cook," Supachana marveled with a chuckle. "He loved cooking and I keep his memory alive with this food — it's pretty special."
Want to go?
Dalaya Thai Cuisine is located at 1084 West Main St. in Sylva. Lunch is takeout only, 11 a.m. to 2:30 p.m. Tuesday through Friday. You can place your order online at dalaya.square.site. Dining hours are 5 to 9:30 p.m. Tuesday through Thursday, 5 to 10 p.m. Friday and Saturday, and 5 to 8:30 p.m. Sunday. Closed Monday.
For more information, call 828.477.4945 or email This email address is being protected from spambots. You need JavaScript enabled to view it..