Archived News
Christopher's shadow looms large over Haywood sheriff's race
Wednesday, April 27, 2022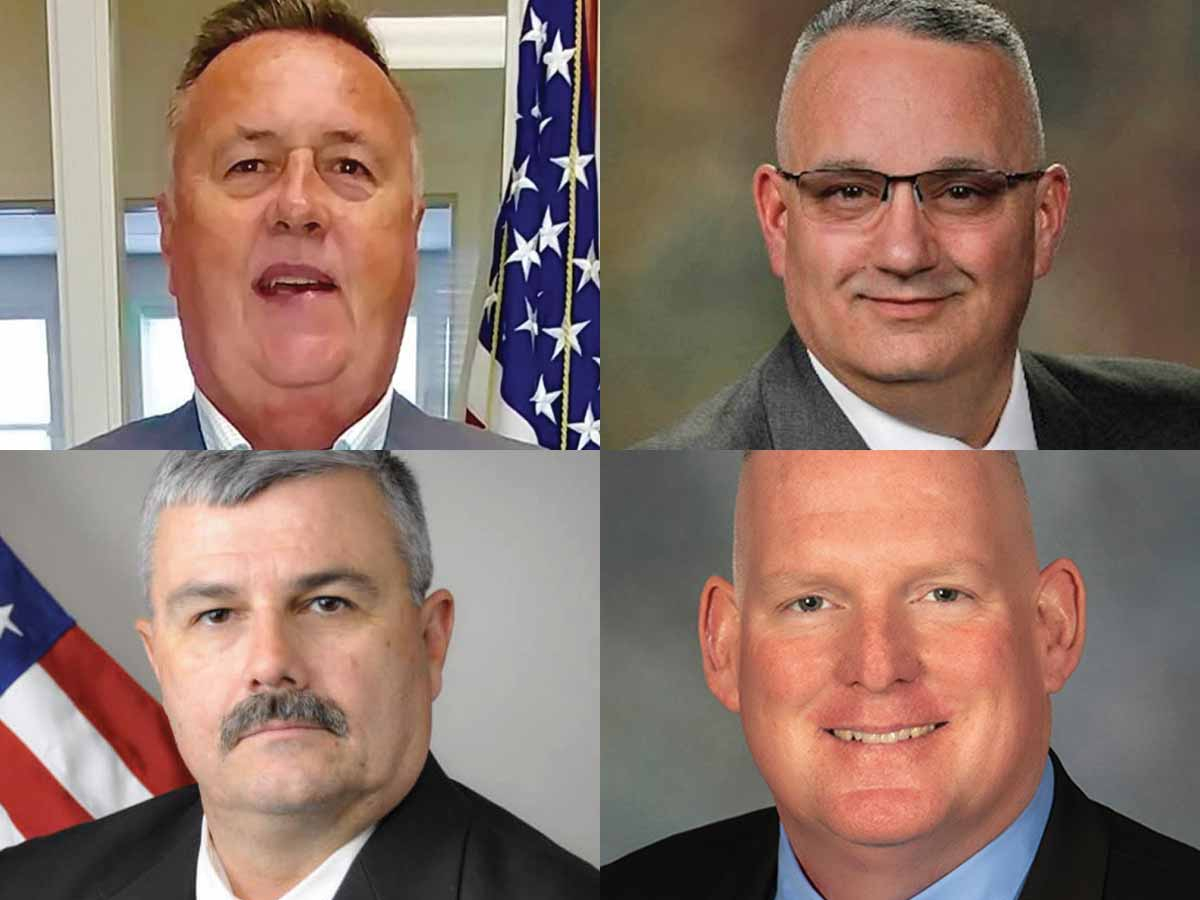 Clockwise from top, left: Larry Bryson, John Hemingway, Bill Wilke, Tony Cope.
As Greg Christopher enters his 43rd and likely final year in law enforcement, he goes out with his reputation intact and a scandal-free 10-year tenure as Haywood County's sheriff.
The fact that he's run unopposed and has won two straight elections, as a Democrat no less, is a testament to his integrity and appeal in a county increasingly run by Republicans and Republican voters.
Whether voters are willing to elect another Democrat on a county-wide basis is a pressing question — not only in the sheriff's race, but also in the county commission race — but whoever it is and whatever their party affiliation may be, Christopher has a good idea of what will make the next sheriff a successful one.
"There is a laundry list of things that the next sheriff is going to need. He's going to need a strong community relations package. He's going to have to get out in the community," he said. "Our motto here when it comes to community relations has been that we want to know our communities before we need to know our communities."
That was especially important during the Pigeon River flood in August of 2021, but community engagement has also informed Christopher's advocacy and involvement in big-picture issues from Russ Avenue all the way to Raleigh.
"Our legislators that I deal with here in Western North Carolina, they're very responsive to the things that law enforcement is talking about and the things that we need," Christopher said. "I'm very thankful for all of those people that will step up to the plate and run for that kind of office."
This year, five candidates have stepped up hoping to follow Christopher, two Democrats and three Republicans. Unaffiliated voters may choose either party's Primary Election ballot. The winners of each primary will face each other in November and usher in a new era in Haywood County's law enforcement history.
Larry Bryson (D)
While there are five candidates vying to become Haywood County's next sheriff, only one of them has actually served in that role before — sort of.
Larry Bryson always wanted to work in law enforcement, even while spending the mid-1970s at Wellco Enterprises. Bryson attended what was then the only law enforcement training program in the region, at Southwestern Community College, and first caught on with Jack Harrington's HCSO in 1976.
"I was a scared kid standing in front of this guy's desk and his glasses down his nose, he's this bigger than life guy," Bryson recalls. "He said, 'If you embarrass me, you'll never work in this state again.' I said, 'No, sir, I will not do that. I won't let you down.'"
Bryson went on to serve 10 years with the Waynesville Police Department, but left to work with Champion Paper's private police force before returning to Tom Alexander's HCSO as a drug agent.
During his long career, Bryson served as a detention officer, a deputy sheriff, chief of detectives, chief deputy and interim sheriff for a few months upon the resignation of Bobby Suttles in 2013. He later worked as a U.S. Marshal.
John Hemingway (D)
Born in Massachusetts, John Hemingway and his family moved to Florida to care for aging relatives right about the time he turned one year old. A decade or so later, they moved to Haywood County. Hemingway graduated from Tuscola High School and began driving a cab, but he soon went to work for the state in corrections, where he found himself in a 400-inmate medium security prison camp.
"That's where I learned how to talk to people. When there's two officers and 138 inmates, that's all you have. No gun. No nothing. Not even pepper spray back then," he said. "All we had was us and them. We learned to talk to people. Give respect, get respect."
Hemingway subsequently became an instructor in firearms, self-defense, baton and taser use, and later joined the SWAT team, ending up as its commander. In 2010, he opened a firearms shop that he sold earlier this month. Since 2016, he's been an alderman for the Town of Clyde and a corporal in the Haywood County Sheriff's office.
Tony Cope (R)
Raised in the Lake Logan area, Tony Cope is a Haywood County native. After high school, he felt the call of public service and rose through the ranks of the Center Pigeon Fire Department to become assistant chief, while also working in manufacturing. Except for a short stint with the Eastern Band of Cherokee Indians Tribal Police, Cope has spent his entire 23-year law enforcement career in the Haywood County Sheriff's Office and has worked in patrol, child abuse and narcotics. He's currently a captain.
"I've been very blessed to be a public servant in this county for 30 years," Cope said. "I've made some community relationships here, even from the time I was 18, that have lasted a lifetime. I think it's important that we to continue to be a part of the community and continue building those relationships."
Bill Wilke (R)
Growing up, Bill Wilke worked crab boats on the eastern shore of Maryland. After earning a psychology degree, Wilke spent four years as a Newport News police officer before being hired as a training officer with the North Carolina National Guard.
While training two MP battalions in Asheville Wilkie became an Asheville Police Officer, spending 16 years there before leaving in 2016. Along the way, he ran for Haywood County Sheriff in 2010, losing to Democrat Bobby Suttles. It was Suttles's abrupt resignation that led to the start of the Greg Christopher era in 2012.
Wilke left the Asheville department in October of 2016 to became a licensed private investigator.
"It's one of the most rewarding jobs I've ever had, in addition to law enforcement, because you get to help a vast array of people and clients," he told The Smoky Mountain News in 2021. "I handle murder cases. I've pursued people that don't pay their child support, I've done civil process, serving papers."
Haywood County Sheriff Greg Christopher (right), seen here speaking in Cruso in September, 2020, isn't seeking reelection. Cory Vaillancourt photo
Outgoing Sheriff Greg Christopher says the job has changed dramatically in his four-decade career. The next sheriff of Haywood County will have to address some issues that are relatively new, and relatively national in scope, however the core of the job remains unchanged and other issues are specific only to Haywood County. Chief among them is the forthcoming jail expansion.
"There's nobody in North Carolina that probably advocates for inmates more than I do when it comes to rehabilitation," Christopher said. "But we do have a certain number of individuals that we've got to get their attention by sending them to the penitentiary."
Christopher thinks the next sheriff has to have a solid understanding of the jail expansion and be actively involved with the build, but one of the biggest obligations of his office remains civil process — one of only three duties of a sheriff that's mandated in statute.
All four candidates who spoke to SMN for this story have experience and understand the significance of running an efficient, effective operation.
"Civil process is a very important aspect of working with the courts and court officials to ensure that the right things are done in the right time sequence, because it's very important to how the courts maintain the flow of the docket, everything from lawsuits to criminal cases," Wilke said. "Fortunately, that's one of the big areas of responsibility for me as a private investigator."
Bryson recalls being "inundated" with foreclosures following the 2008 real estate market meltdown, and Cope said staying on top of the process is critical.
Hemingway thinks the HCSO has a good system, as well as a good team that can help the department continue to avoid the consequences of failing to navigate the complex deadlines and procedures associated with service.
"Just imagine on domestic violence, if we don't get the paperwork served in time. Just imagine," he said. "You talk about a civil process problem, it could be a problem, if the person doesn't understand all the factors."
Understanding all the factors of service, and of the sheriff's job itself, also means getting out into the community, as Christopher has shown. Inevitably, that leads sheriffs to Raleigh to advocate for the tools law enforcement officers need to do their jobs effectively.
More often than not, it's about legislation needed to address problems law enforcement can't arrest their way out of, like opioids and homelessness.
"I have spoken in front of the North Carolina Sheriff's Training Standards Commission," said Bryson. "I've spoken in front of the attorney general. I've been down there [to Raleigh] several times. I don't have an issue with that." Hemingway cites his relationships with local legislators — a biproduct of his service as an alderman — as a plus, and Wilke has advocated for policies benefitting the private protective services industry from Raleigh to Washington, D.C.
Cope, meanwhile, has learned from one of the best.
"We want to make some changes in our drug laws. Me personally, I think that's important, stiffer penalties and more consequences for distribution. I think it's very important that we advocate for that and try to rid ourselves of some of this problem," he said.
Conversations centering on police reform have been taking place in communities across the country for some time now but have only gotten louder since the killing of George Floyd by a Minneapolis police officer in 2020. Transparency in particular is at the forefront of those conversations, nowhere more so than in North Carolina, which has some of the most rigid privacy laws for law enforcement officers in the country.
Wilke mentioned body cameras as an effective tool in maintaining public confidence in law enforcement agencies, but he thinks they're no substitute for community engagement. Bryson also brought up body cameras as something on his wish list.
"I'm very much in favor of body cams or anything anybody wants to use if it justifies or if it shows our work holds up to the test," he said.
Cope sees transparency as necessarily growing from personal accountability and community relations, something Hemingway also values.
"I want to start a program that we have representatives in every part of our county, every little community," he said. "Let's meet once every three months, once every four months so we know what's going on in Cruso, so we know what's going on in Saunooke, so we know what's going on in Fines Creek. I also want to start a committee about the use of force."
Most law enforcement officers agree that some reforms are needed, however, a growing segment is less interested in transparency and accountability than in asserting a sheriff's supposed right to interpret the Constitution and decide, personally, which laws to enforce and which not to enforce.
In early 2020, a movement spread out of Virginia and into neighboring states, including North Carolina, called the Second Amendment Sanctuary movement.
In essence, it asked Haywood County commissioners to approve a resolution stating that there would be no enforcement of gun laws that the sheriff found, in his own judgement, to be unconstitutional.
There's just one problem with that, Christopher told commissioners on Jan. 21, 2020.
"I support our citizens' protected right to bear arms under the Second Amendment and the doctrine of judicial review that grants to the United States Supreme Court and the lower courts the power to determine the constitutionality of any law, and sheriffs do not possess the legal authority to interpret the constitutionality of any law," he said.
Haywood opted for a " Constitution protecting county " resolution that expressed support for the entire Constitution, not just one specific amendment, however the push to fight tyranny by placing the ultimate power of judicial review into the hands of just one person — the county sheriff — hasn't abated.
Founded in 2011 by former Arizona Sheriff Richard Mack, the Constitutional Sheriffs and Peace Officers Association presents an aggressive view of the sheriff's powers and suggests they should decide for themselves which laws are constitutional, and which are not.
During a March 31 Republican candidate forum hosted by the Haywood County Republican Party, chair Kay Miller asked Cope and Wilke if they would join the CSPOA upon election.
"I told her absolutely," Cope said on April 22. "Sheriff Mack runs that, and he's very constitutionally conservative. That's very important, to be constitutionally-driven."
At the same time, Cope said that existing laws need to be enforced, like it or not.
"If you don't, you're going to be the one in trouble," he said.
Wilke was a bit more circumspect when asked if he'd join the CSPOA.
"I'm very cautious about joining or attaching my reputation or my office to any organization, simply because organizations change and what appears initially to be a good premise can very quickly turn into something that's not," he said. "I want to be clear, I'm not saying that about that organization [but] it's also very important to understand that only a court of law can determine what is constitutional and what is not. And if a sheriff decides what is constitutional, I will tell you that is not constitutional in and of itself."
Democrats Hemingway and Bryson weren't included in the forum and didn't get a chance to answer Miller's question, but both acknowledged the ongoing conflict over the vertical separation of powers that's been built into American government since its inception.
"Here's the thing. The Constitution — I believe in it," Bryson said. "It's one of the oldest things mandated with the sheriff. That's where he got his original authority and power anyway. But laws have been changed. Things have been repealed in this country. And I think you have to go by the law that's in place."
Hemmingway said that the sheriff is indeed "the last level of defense" against perceived government overreach, but didn't elaborate on the positions of the CSPOA, of which he said he was familiar.
The question of defense may be the a hypothetical one far removed from the day-to-day life of a Haywood County sheriff, but it may also determine which of the five candidates gets to put on that badge and serve the people of Haywood County, like sheriffs have for more than two centuries.
"I teach people that badge is like a magnifying glass," Hemingway said. "If your heart is good, if you are a good person, it's going to make you a bigger, better person. If you are one of those people, a 'bad apple,' it's going to make you even worse."
Republican Jason Hughes, also running for sheriff, was not available for an interview.
Sheriffs in Haywood County since 1809
1809: William Alexander
1810: Daniel McDowell
1811-1814: William Green
1815-1819: Ninian Edmonston
1820-1830: James McKee
1831-1838: Nelson G. Howell
1839-1853: J.B. Allison
1854-1858: "Sheriff" Hayes
1859-1864: William Green
1865-1866: John H. Boyd
1866-1867: Francis M. Davis
1868-1874: A.J. Murray
1874-1880: S.J. Shelton
1880-1882: A.J. Shelton
1882-1886: John H. Boyd
1886-1900: W.J. Haynes
1900-1902: Morgan Henson
1902-1906: Dave R. Nolan
1906-1910: W.R. Medford
1910-1914: William Palmer
1914-1920: John R. Hipps
1920-1926: John F. Cabe
1926-1930: J.C. Welch
1930-1934: J.A. Lowe
1934-1950: R.V. Welch
1950-1959: Fred Campbell
1959-1962: Frank Medford
1962-1963: Willis Beck
1963-1986: C. Jack Arrington
1986-2009: R.T. Alexander
2009-2013: Bobby R. Suttles
2013-2022: Greg Christopher
2022-2026: ?