Archived News
Haywood commissioners pass broad 'Constitution protecting' resolution
Wednesday, February 05, 2020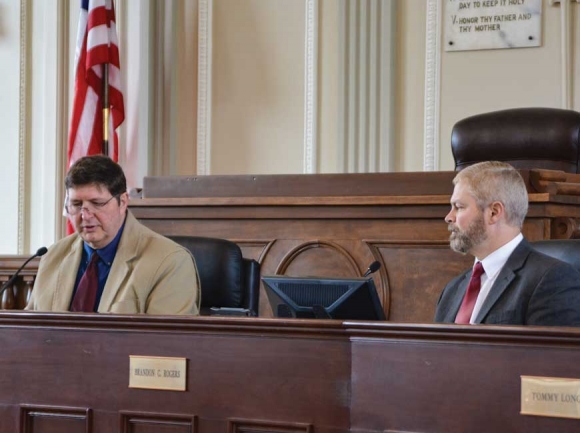 Haywood County Commissioners Kevin Ensley (left) and Brandon Rogers — both up for reelection this year — chat at the Feb. 3 commission meeting. Cory Vaillancourt photo
Haywood County didn't pass a Second Amendment sanctuary resolution on Feb. 3, but what commissioners did pass was somehow something more.
"We've been asked to do a Second Amendment sanctuary resolution and that to me is asking for us to violate the law, [and] violate the Constitution. Personally, I swore an oath to uphold the Constitution and that's what I intend to do, and that is to follow the law," said Haywood Board of County Commissioners Chairman Kevin Ensley. "I'm not going to pass something that I feel like breaks the law."
The Second Amendment sanctuary movement has been around for some time now, but recently gained momentum in neighboring Virginia, where a Democrat-controlled legislature attempted to pass a number of gun control measures. That led to a flurry of sanctuary resolutions there, and a Jan. 20 rally at the state's capitol in Richmond.
The resolutions generally assert that counties or cities will not enforce laws they feel violate the Constitution. Most people agree the resolutions carry no actual power, but most people also agree that they make a powerful statement to legislators and legislatures — whether they're currently working on gun control measures or not.
Two North Carolina counties — Cherokee and Rutherford — had sanctuary resolutions in place well in advance of the Jan. 20 rally, but in days both before and after the peaceful demonstration, sanctuary resolutions began appearing on agendas in more and more Western North Carolina counties.
On Jan. 21, hundreds packed the Historic Haywood Courthouse in downtown Waynesville asking commissioners for just such a resolution. After more than two hours of public comment by dozens of speakers — most for a sanctuary resolution — commissioners said they'd weigh the evidence and decide how to proceed.
What they came up with was a comprehensive resolution declaring Haywood County a "Constitution protecting county."
"We see cities having sanctuary cities where they do not enforce immigration laws and that's wrong, so we didn't want to go with the wording of 'sanctuary,'" Ensley said.
The resolution states, "in present and past times the Constitution has been and is under pressure and attack from foreign and domestic entities," and that "ALL RIGHTS contained in the United States Constitution are held in highest esteem, and PROTECTED by Haywood County."
In perhaps the biggest conciliation to the pro-sanctuary crowd, the Second Amendment is singled out in the resolution for special recognition among the other 26 amendments.
" … the Haywood County Board of Commissioners recognizes that the Constitution's 2nd Amendment guarantees that these rights are secure by allowing its citizens redress against a tyrannical government as witnessed by our nation's founders who crafted the 2nd Amendment … citizens deserve the right to 'keep and bear arms' if they so desire, for self-defense, the defense of others, protection of individual liberty and for the preservation of a 'free state' as guaranteed by the United States Constitution … the Haywood County Board of Commissioners are in opposition of any proposed law that infringes upon our constitutional rights, specifically the 2nd Amendment but not inclusive to it only."
The resolution goes on to state that commissioners will oppose "any efforts by any entity" to infringe on those rights and goes so far as to say that the board will take action against infringements by "any measures necessary and legal, including the withholding of funds."
But that's where it stops; a caveat declares that any action must be "within the bounds of the United States Constitution, the laws of the United States, the North Carolina Constitution and the laws of the State of North Carolina."
During the public comment session before commissioners unanimously passed the resolution during the Feb. 3 meeting, Paul Yeager, who's been at the forefront of the Seconds Amendment sanctuary movement in Haywood County, said it didn't nearly go far enough.
"When I review the resolution I'm reminded of an old Wendy's commercial, which I paraphrase here," Yeager said. "'Where's the teeth?'"
Yeager was among five people who signed up to address commissioners on the resolution, and none of them were completely happy with it. Although two speakers were more or less opposed, Yeager and three others asked for more time to evaluate the resolution and that the vote be postponed so that a beefed-up alternative might be presented instead.
"What I see when I read the 'Now therefore' clauses of the resolution is that you're dedicated to protecting my rights to the extent that folks in Washington, D.C., and Raleigh will allow you to," he said. "Gentlemen, that's not what we came to ask you for."
Commissioner and Vice Chairman Brandon Rogers has been perhaps the most vehement supporter of a strong resolution, but in the end agreed with fellow commissioners that this was the time to pass this particular resolution.
"I've heard the concerns about waiting until our next evening meeting when more folks can get here, which I understand that, but at the same time I've heard from plenty. We've all worked on this as [Ensley] mentioned," Rogers said. "Even though I hear the debate and understand the concerns there that it don't have enough 'teeth' as was mentioned, or enough meat, I even tend to agree somewhat. However, I think as you'll hear here today this board does not want to break any laws, and that is a concern for this board as we work through this resolution. I know that our law enforcement and our local sheriff does not want to break any laws. He took an oath to uphold the law and we as commissioners can't tell those folks what to do, even though sometimes we may want to. We can't tell them what laws to enforce and which ones not to enforce."
Commissioner Tommy Long, a proponent of the "whole Constitution" aspect of the resolution, said he'd talked with co-workers who told him they didn't care about the resolution at all, because no one was going to take their guns under any circumstances.
"They said, 'Just come and try it,' and I said, 'Well, I'm with you.' Somebody tries to come charging up to my house trying to take my guns away, I'll shoot all my bullets, then I'll throw all the rocks in my driveway and then I'll shoot you with a water pistol," Long said. "That's the way most of us are in this county, right?"
Before the vote, Long expressed satisfaction with the proposed resolution.
"This resolution I feel is a comprehensive resolution that covers the whole Constitution," he said.
The board's only Democrat Kirk Kirkpatrick is an attorney by trade and said he'd reviewed the resolution and didn't have any problems with it.
"It doesn't violate any rules, doesn't violate any laws and it doesn't put Haywood County in jeopardy. My primary concern was placing Haywood County in jeopardy by making some type of stance that was in violation of a present law or a future law," Kirkpatrick said. "So, I'm good with it."
Commissioner Mark Pless, who is also a candidate for the N.C. House District 118 seat currently held by retiring Republican Rep. Michele Presnell, R-Burnsville, maintained his position on protecting the Second Amendment by using the ballot box.
"One part of the resolution says, 'WHEREAS, the right to vote by citizens is guaranteed in the Constitution and free and fair elections are essential for 'we the people' to have government 'by the people,'" said Pless. "When we were in here the other night, my emphasis was on voting. Talk to your representatives. Let them know what you think. Michele Presnell, I have spoken to her on numerous occasions, she is completely in support of the Second Amendment. I spoke with [N.C. House] Speaker [Tim] Moore on Friday, he is completely in support of the Second Amendment. Both of their advice — go vote for people that believe the way that you do, and you have nothing to fear. If we don't vote, we have everything to fear."
More than 20 N.C. counties have passed explicit "Second Amendment sanctuary" resolutions this year. Macon County is expected to hear more arguments for one on Feb. 11, and Buncombe County residents asked commissioners for one during a meeting on Feb. 4.