Archived News
Early start for 2022 Haywood sheriff's race
Wednesday, March 24, 2021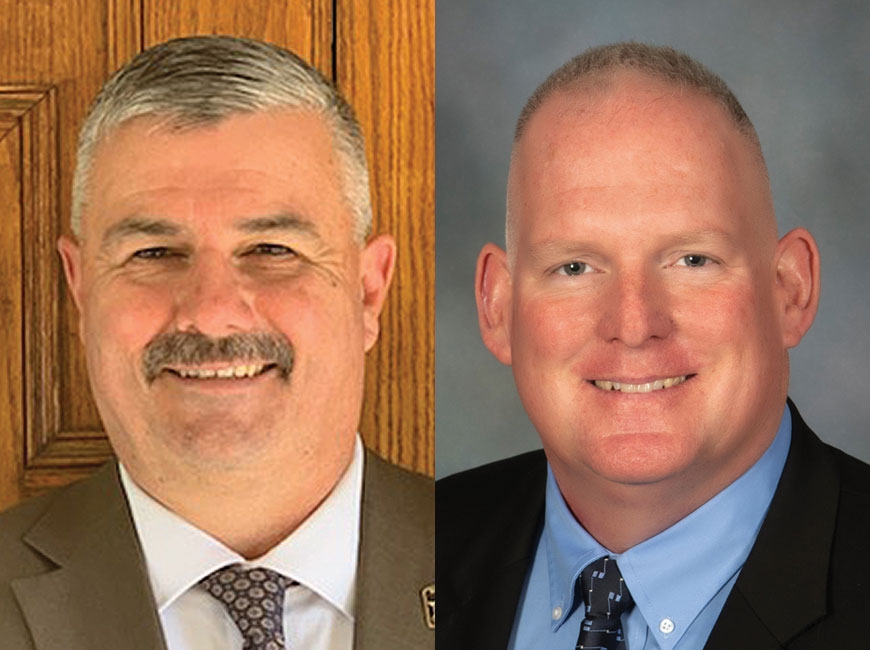 Tony Cope (left) and Bill Wilkie.
It's been an open secret for a while now, but two-term incumbent Democratic Sheriff of Haywood County Greg Christopher made it official last weekend — he's not running for a third term.
"I've been saying this to my staff for quite some time," Christopher told The Smoky Mountain News on March 19. "I wanted them to be able to prepare for the future."
Christopher, who will be 61 when his term ends in 2022, said that after a lifetime in law enforcement it's time for him and his wife to enjoy retirement. Christopher was appointed Haywood County sheriff in March 2013, after then-Sheriff Bobby Suttles retired abruptly with almost two years left on his term.
At the time, the Haywood County native Christopher was a lieutenant in the State Highway Patrol. After his appointment, Christopher won his first four-year term in 2014, and his second in 2018. Both times, he ran unopposed.
"God has been good to me, as have the citizens of this county," Christopher said.
The next sheriff of Haywood County will encounter a situation far different than Christopher walked into in 2013.
Since the death of Minneapolis man George Floyd at the hands of a Minneapolis Police officer late last spring, law enforcement officials and elected leaders are taking a hard look at best practices that could transform policing as a whole.
The political landscape has also shifted — a hard right turn in Haywood County politics made Christopher, a popular Democrat, an electoral rarity at a time when Republicans made gains on the county commission, and in the General Assembly.
Whoever that next sheriff ends up being, Christopher has some words of advice when he leaves his post in 20 months.
"I would say that they need to plan on being available to the public, to listen to the needs of the community, to put the office and citizens above themselves, and to adopt an attitude of servitude," he said.
Two contenders have already emerged as possible successors to Christopher, even though the election is still a long ways away.
Raised on the eastern shore of Maryland, Bill Wilkie grew up working on crab boats and eventually earned a bachelor's degree in psychology from Salisbury University. His career in law enforcement began in Virginia.
"I became a Newport News police officer for close to four years, so I cut my teeth in law enforcement basically as a beat officer there," Wilkie said. "Following that event, I was hired full-time with the North Carolina National Guard as a training officer."
While training the two MP battalions in Asheville, Wilkie, 51, concurrently became an Asheville Police Officer. He also ran for Haywood County sheriff in 2010, winning the Republican primary, but losing to Suttles.
"At the time, the standards for Asheville were really high. It was the place to go in Western North Carolina for law enforcement," he said. "I was there for 16 years. I made it to the rank of lieutenant. I worked in policy development my last year, but for the four years prior to my lieutenant-hood, I was a district commander."
Wilkie said that around 2013 or 2014, Asheville began "going in a direction that didn't align with my morals and my values," so he left in October 2016, and became a licensed private investigator.
"It's one of the most rewarding jobs I've ever had, in addition to law enforcement, because you get to help a vast array of people and clients," he said. "I handle murder cases. I've pursued people that don't pay their child support, I've done civil process, serving papers."
His Primary Election opponent is a familiar name in Haywood County's law enforcement community — Capt. Tony Cope.
Cope, 50, is a Haywood County native raised in the Lake Logan area. After high school, he began his career in public service with the Center Pigeon Fire Department, while working in manufacturing for about a decade.
"The company I was working for was going out of business. I developed a relationship with a couple of guys that I had went to high school with, Lt. Mike Price and Tim Henson, and did some ride-alongs," said Cope. "We were allowed to do ride-alongs as volunteer fireman at that time. Sheriff Alexander gave me a sponsorship and I went to rookie school, and here I am."
Aside from a short stint with the Eastern Band of Cherokee Indian Tribal Police, Cope has spent his entire law enforcement career in the Haywood County Sheriff's Office.
Cope had been registered as a Democrat until recently but changed his registration due to philosophical disagreements with the party's stance on several issues.
"I don't believe in defunding the police, I certainly don't believe in third trimester abortion, and I don't believe in any changes to our Constitution," he said. "That's the very foundation of this country and that's what I've stood on since I became law enforcement."
Cope doesn't think the change will affect his electability.
"I have worked in this county for over 20 years in law enforcement, no matter what the political affiliations were," he said. "I've served the citizens of this county for that amount of time. And I think that, I think that will stand for itself."
Cope and Wilke, and any other Republicans who may end up joining them, will face off in a Primary Election in 2022, but the timing of Election Day is still very much up in the air.
Problems with census data collected in 2020 may result in a delay in drawing new electoral maps. Those new maps will affect everything from congressional boundaries to state legislative districts, and a Primary Election can't be held until they're approved.
There's talk of pushing the primary from March to May, and that could make all the difference for Cope and Wilke — currently, there are no Democrats in the race, and if that continues, the Republican Primary Election alone will determine the face of law enforcement in Haywood County for the next four years.
Even if a Democrat does indeed enter the race, the winner of the Republican Primary should still have a strong electoral advantage.
Since Christopher's first election back in 2014, voters on a countywide level have been throwing more and more support to Republicans. At that time, the Haywood Board of Commissioners was firmly in Democratic hands, by a four-to-one majority. Today, it's the exact opposite.
The Smoky Mountain News: Being in law enforcement for more than 20 years, you've watched this county change quite a bit, and you've also watched how Buncombe County has changed over that same time. Do you see Haywood County going down the same path as Asheville, in terms of what law enforcement is called upon to deal with?
Tony Cope: I think we're kind of insulated over here. I think we're in pretty good shape. There's a lot of great people in this community, a lot of great leaders in this community that have been able to maintain our morals and our principles.
Bill Wilkie: What's happened in Asheville is a direct result of the leaders that were elected because those leaders were responsible for the policies. I would suggest to you that saying the police are a "necessary evil" — I knew when I heard that, it was time to go. I hold police officers and sheriff's deputies and people that put their own life on the line for our benefit in very high regard. These are the people that should be an example to our young folks. This is America. It's my duty as a future sheriff to protect how you want to live, regardless of whether or not I believe in that. That's my duty as a leader. I'm not going to sit in the judgment seat of how you choose to live your life. I think that's where Asheville got it wrong. I think that's where we're starting to get it wrong.
Sheriff Greg Christopher, pictured here in 2017, recently confirmed a longstanding rumor about his future. Cory Vaillancourt photo
SMN: We're about to construct a $16 million jail expansion. The numbers say we're going to need it as population grows over the next 25 years, but some folks are upset because there was no real thought given to using any of that money or any of that space for harm reduction. What are your feelings on the new jail and how would you proceed with harm reduction?
BW: One, nothing's ever perfect the way it is, and two, the expansion is necessary and I'm behind it, and three, I am generally opposed to handing out needles. I don't know how else to say it, because I think it's an enabler and I would love to engage in that conversation. Maybe there's some perspectives I don't understand, but as a law enforcement officer, particularly with my personal experience, it's very difficult for me to imagine that providing someone the means with which to harm themselves is a more viable alternative than leading them through recovery. I'm closely tied with a few cases that have affected this county, and I don't see [handing out needles] as a viable alternative. However, I do not want to shut off the conversation of how we best help. And if there are resources to help, I will do that, but I'm not going to do it if I think it contributes to harm or obviously if it's against the law.
TC: I'm not as familiar with the jail project right now, because that's kind of just got lifted off. We talk about mental health and that's one of the things that is very near and dear to my heart and affects people of all ages. Providing that mental health service has been a challenge in this county, across the state, really across the country, but we use all kinds of ways to reach out to people. There's education, there's prevention. We've worked on substance abuse issues in Haywood County with harm reduction and doing post-overdose response, mobile crisis [response], veteran's affairs. Just to have those community partners, I think we could work towards a better solution for the mental health and substance abuse issues out there. I'm not a big fan of the needle program, but I am of the other part of it where they talk to people, the follow-up the portion of it. They do offer them services and they try to get them into substance abuse treatment and so forth. I am a proponent of that.
SMN: And then, Pathways — certainly Sheriff Christopher has left quite a legacy in that project. It started off trying to reduce recidivism, but now it's also grown into a place where people who are off drugs can turn their lives around. Do you see yourself continuing to support that group's current mission? Or should we rethink what's going on there?
TC: There's some great people that's come out of Pathways. We've got some peer support folks that work in our jail right now. The part I'm in support of, by far, is the peer review and the peer support that they provide to the detention facility. I think that part of it is a great partnership.
BW: We need to keep the conversation open on best practices that reduce the impact to our businesses. And that's not just a Pathways issue. That's an issue that spans the homeless community, because the homeless community has got issues related to it that I won't say are unique to it, but are emphasized there – crime, mental health. Those have to be addressed, but by the same token, it doesn't excuse you from not obeying the law. Jail is a deterrent. I don't want to forget that we're in law enforcement to prevent crime. We're talking about modifying human behavior. That is very basic. Sometimes human behavior is modified when the consequences of your actions are not favorable. I want to make sure that the consequences of breaking the law are not favorable to you. That may include jail, but at the same token, [Pathways] is not going away. We need to engage in the conversation that helps them contribute to best practices.
SMN: Since the death of George Floyd in Minneapolis last year, elected officials and community leaders and law enforcement administrators are all looking at policing, and best practices. One of the major things that's been talked about is transparency in the personnel records of not only law enforcement, but also teachers, since it's still theoretically possible to just shuffle people around who have done bad things and the public doesn't have the opportunity to hear about it. What are your thoughts on opening up personnel records?
BW: There's a very simple answer to that. If you apply to the Haywood County Sheriff's office and you don't sign permission for me to see your previous records, you're automatically disqualified. Now, you must also understand that the source of that information has to be measured against its credibility. Can you imagine if an officer has a disagreement with a supervisor? I'm speaking from personal experience. If you have an officer that has a disagreement with a manager and that officer's right, and that manager is wrong, that manager has power over you. He can ruin your life. And he could say things about you that you could only write a response to and that goes to Raleigh, forever.
TC: Transparency is key. I do believe that in order to maintain a relationship with the public and rely on them to understand you and understand what you're up against, transparency and honesty is key. Some of that stuff is personal information and as long as they protect that personal information, I think we'd be OK. I do know that we take great pride in being transparent here in Haywood County, and we always have been. People make mistakes and we've always been able to address those and move on.
SMN: Haywood County cooperates with ICE, and honors ICE detainers. Asheville does not. There are some folks saying that we shouldn't be doing that, but Sheriff Christopher has continued to comply. How do you feel about that moving forward?
TC: I think just following the letter of the law on the ICE detainers. That's what we've done and that's what we'll continue to do.
BW: As sheriff, I will honor ICE detainers because it keeps this community safe. It's about safety and it's about the law. That's just how terrorists get in, and if the county just to the east of us isn't going to honor ICE detainers, where are these folks coming in? What are they doing? It's very conceivable to think that they're there within this county.
SMN: About a year ago, the "Second Amendment sanctuary" movement rolled out of Virginia and into North Carolina. Citizens asked their counties to pass these resolutions stating that we will not enforce anything that we feel is unconstitutional, particularly in regard to guns. There are two bills in Congress right now that are widely seen as gun control bills. One is enhancing background checks and the other is closing a gun show/internet loophole. If those pass and your constituents come to you and say, "We feel this is unconstitutional," what do you do?
BW: My life is about supporting and defending the Constitution of the United States — period, end of sentence. I will stand and I will hold the line to support and defend it. Anything that is "unconstitutional" is ruled such by court and it's not for Bill Wilkie to sit in the judge's seat and decide. However, the Constitution was written so that normal people could read it. I can clearly see and understand what it says. If we're going to talk about the Second Amendment, it says the right of the people to keep and bear arms shall not be infringed. It's not just the Second Amendment, let's talk about the fourth, fifth and sixth. When it comes to due process, when it comes to advocating for and protecting those rights, I will stand in the gap between people who want to infringe on those rights and people that are exercising their rights in a free and appropriate and legal manner.
TC: I think we have to maintain the Constitution as it is. I think it's very well laid out in a very well thought-out process. The Second Amendment is a huge topic, and I hear all this stuff about background checks. Well, they're doing background checks. It's not like it's not being done. I saw that they were looking to extend that [three-day] time a little bit, to maybe 10 days or so.