Archived News
Candidate filing period ends with some surprises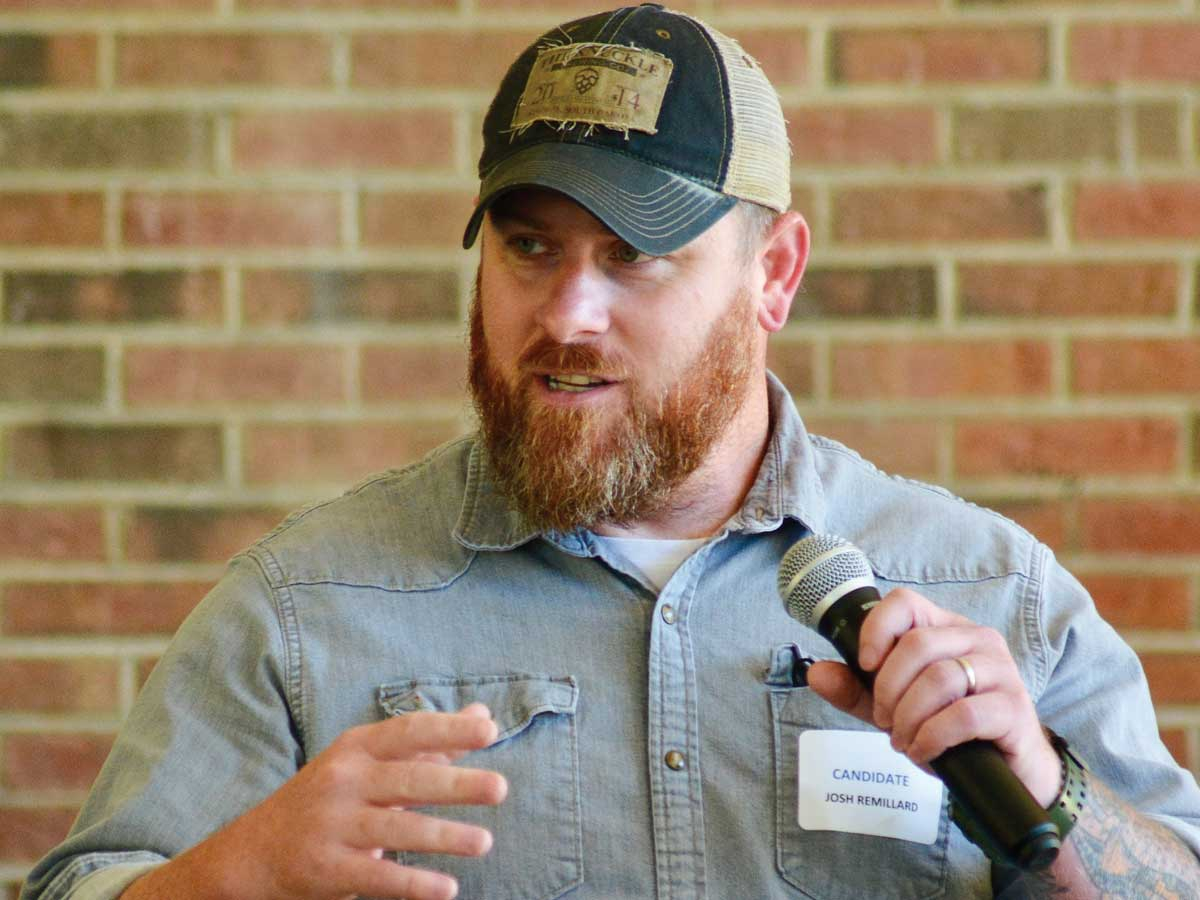 Josh Remillard, seen here at an event in Haywood County last fall, is now a candidate for state House. Cory Vaillancourt photo
While much of the field has been set for weeks in many of the races that will appear on Western North Carolina Primary Election ballots this May, it wouldn't be election season without a few unforeseen, last-minute election moves.
Federal & State
Candidate filing ended at noon on March 4, meaning anyone who isn't on the list won't be on the ballot.
Probably the most surprising omission is Henderson County Democrat Eric Gash, who earlier that morning announced that due to his mother's failing health, he wouldn't continue his congressional campaign after spending nearly a year campaigning for the Democratic nomination in North Carolina's 11th Congressional District.
"Last week, my family experienced a life changing medical crisis," Gash said in a press release. "If you've met me, you've likely heard me say that my mom is the strongest person I know. She's always been there through my and Sam's darkest days, and now it's my chance to be strong for her."
Gash, widely viewed as one of the more conservative Democrats in the race, had raised more than $320,000 as of the end of 2021. That total was far more than other candidates in the field, but far less than Buncombe County Commissioner Jasmine Beach-Ferrara 's $1.2 million.
"I got into this race because I saw an overwhelming absence of leadership," Gash wrote. "I'm truly grateful for the wisdom, guidance, and encouragement I've received this past year from Democrats and Republicans alike eager for a return to accountable, responsive leadership in Western North Carolina."
Although the release didn't include any endorsements by Gash in the ongoing Democratic Primary campaign, he did say he would "look forward to supporting whichever well-qualified Democrat the voters nominate in the primary."
In addition to Beach-Ferrara, fellow Democrats Jay Carey , Katie Dean and Bo Hess remain in the race.
Newcomers Marco Gutierrez and Bynum Lunsford also joined the race on the Democratic side, and David Coatney , a Libertarian from Fletcher, has also filed.
Incumbent Rep. Madison Cawthorn's return to NC-11 makes him the "newest" candidate on the Republican side of the NC-11 race, after he rescinded his Nov. 11 announcement that he planned to run in another district. Bruce O'Connell, Wendy Nevarez, Matthew Burril, Sen. Chuck Edwards, Rod Honeycutt, Michele Woodhouse and Kristie Sluder are all in, but Highlands developer Ken McKim has dropped out.
In the race for retiring Republican U.S. Senator Richard Burr's seat, 11 Democrats have filed, including presumptive frontrunner Cheri Beasley. Libertarian Shannon W. Bray is in, as are 14 Republicans, led by former Gov. Pat McCrory, former congressman Mark Walker and Rep. Ted Budd.
Two state Supreme Court seats are up this year and could swing the balance of the 4-3 Dem court, if Republicans can pick up both.
Democrat Robin Hudson is retiring, leaving seat 3 open for one of two candidates, Democrat Lucy Inman or Republican Richard Dietz. Both are N.C. Court of Appeals judges.
Another Democrat, Sam Ervin, IV, is seeking reelection to seat 5, but first, three Republicans will compete in the primary for the right to face him – General Counsel for the NC Administrative Office of the Courts Trey Allen, Appeals Court Judge April Wood and Lexington family law attorney Victoria Prince.
General Assembly
The second surprising omission from the congressional field is that of Haywood County Democrat and Army veteran Josh Remillard.
In a viral video he released last fall, Remillard explained the concept of a "ruck" as carrying one's gear for miles on end. With his surprise announcement earlier today, Remillard made clear that he's going to keep on ruckin'.
"While our campaign for Congress has ended, it is not the end of our movement to stand up to the Radical Right," Remillard wrote in a March 4 press release.
Remillard, who lives in Haywood County, says in the video that he bounced around foster homes until the age of 4, and then bounced around jobs until serving in combat as a Humvee gunner.
Over the past year, Remillard has also bounced around Western North Carolina's political landscape until setting his sights on the District 118 seat currently occupied by Haywood County Republican Rep. Mark Pless .
Almost exactly a year ago, Remillard announced that he'd become the second Democrat (Beach-Ferrara) to challenge Cawthorn for the 11th Congressional District seat.
Then came new maps and Cawthorn's Nov. 11, 2021 decision to run in the newly drawn 13th Congressional District. Remillard said he'd follow Cawthorn to that district. Those maps were then thrown out by one court and redrawn by another after the North Carolina General Assembly again failed to meet court approval. Cawthorn subsequently announced he'd return to the 11th District ballot, and Remillard refocused on the state House.
"I refuse to help Madison Cawthorn by engaging in a contentious primary and believe our best chance of defeating him is to support Jasmine Beach-Ferrara," Remillard said.
Pless is a former Haywood County commissioner who was elected in 2020. At the time, the 118th District included Yancey, Madison and most of rural Haywood County.
Under the court-drawn maps, the district now contains all of Haywood and Madison counties, but no Yancey County. Pless won the 2020 General Election with 64% of the vote, including almost 65% in Haywood County and just over 60% in Madison County.
Stats on the new district say then-President Donald Trump earned 62% of the vote there in 2020.
Remillard's popular video helped him raise more than $330,000 by the end of 2021, however his FEC filing from that period says he's spent almost $300,000.
Pless' filing for the 2020 election shows he raised almost $16,000 for that cycle, and his year-end report for 2021 shows he began 2022 with about $700 in cash on hand.
Pless and Remillard are the only candidates in the 118th District, so there won't be a primary at all in that race.
District 120 Republican Rep. Karl Gillespie gets a free pass back to Raleigh in January – no one from any party filed to challenge Gillespie in his far western district of Cherokee, Clay, Graham and Macon counties.
Western North Carolina Sen. Kevin Corbin, representing District 50, drew a General Election opponent, Democrat Karen McCracken of Almond. No primary challengers emerged on either side, and the district remains a deep red – 63% of voters went for Trump there in 2020.
Part of Corbin's senatorial district, in eastern Haywood County, was broken off and tacked onto the newly drawn 47th District, which runs from Canton up through Madison, Yancey, Mitchell, Avery, Caldwell, Watauga, Ashe and Alleghany counties.
Interestingly, two powerful Republican incumbent senators were double-bunked there, and both are running – Ralph Hise, of Spruce Pine, and Deanna Ballard, of Blowing Rock. The district is 63% Republican, based on 2020 Trump votes.
No Democrats filed in the 47th, which means for Hise and Ballard, the primary is the general, and one of them won't be returning to Raleigh in January, so Haywood County's going to have to get used to hearing one of those names for the foreseeable future.
Haywood County's other state rep, Swain County Republican Mike Clampitt, does have a General Election opponent in Democrat Al Platt, of Brevard. Clampitt was drawn out of Haywood County during the redistricting process, and his new district now includes Swain, Jackson and Transylvania counties.
In 2020, 55% of voters in the new district voted for Trump. Clampitt earned a pass in the primary this year, despite rumors that a Republican challenger might emerge from Transylvania County.
Local Government
Two county-level races will draw lots of attention in Haywood .
Democratic Sheriff Greg Christopher retires this winter after a lifetime in law enforcement, and several candidates have stepped up in the race to succeed him – Democrats Larry Bryson and John Hemmingway, and Republicans Tony Cope, Jason Hughes and Bill Wilke.
The only elected tax collector in the state, Haywood Democrat Greg West, will face Canton Republican Sebastian Cothran, in the fall. Tax collectors in North Carolina's other 99 counties are appointed, not elected.
Three seats are up on the Haywood County Board of Commissioners – two Republicans, and one Democrat. Currently, the board is held by a 4-1 Republican majority, so no matter the result, Republicans will still hold a majority come December.
Longtime commissioner and lone incumbent Democrat Kirk Kirkpatrick filed, as did retiring Chief Deputy Sheriff Jeff Haynes. Both will automatically advance to the General Election, as Democratic and unaffiliated voters can select their top three choices in the Primary Election.
The Republican field is a bit more crowded; five Republicans have filed, and the top three will advance to face Kirkpatrick and Haynes in the General Election, where voters will again select their top three choices.
Republican incumbents Jennifer Best and Tommy Long are both in the race; Best was appointed upon the resignation of former Commissioner Mark Pless, who won his 2020 race for House District 118. Long is seeking a second term after his 2018 victory.
James Nash and Erich Overhultz, both of Waynesville, also filed, as did frequent candidate Terry Ramey.
Register of Deeds Shari Rogers and Clerk of Superior Court Hunter Plemmons, both Democrats, drew no opponents. Neither did Republican District Attorney Ashley Welch, who oversees most of Western North Carolina.
Republican District Court Judges Donna Forga and Kristina Earwood are completely unopposed, as is Democratic District Court Judge Roy Wijewickrama.
In Jackson County, Board of Commissioners Chairman Brian McMahan, a Democrat, seeks to defend his seat from two Republican challengers, Rick Wood and Mark Letson.
Incumbent commissioners Gayle Woody, (District 1) and Boyce Dietz (District 2) also hope to retain their seats.
Neither Woody nor Deitz have opponents in the Primary Election, but in the General Election Dietz will face either Edward Thurston or John Smith, and Woody will face Todd Bryson, David Brooks, Jarrett Crowe or Rainy Summer Brake. Republicans would have to turn two of the three Democrat-held seats on the ballot to win a majority on the Commission.
Jackson County's Sheriff, Democrat Chip Hall, isn't running for reelection, but five candidates from two parties are eager to replace him. Former Sheriff Jimmy Ashe, Rick Buchanan and Robin Gunnels have all lined up on the Democratic side, with Doug Farmer and Andy Anderson on the Republican side.
With longtime Jackson County Clerk of Court Ann Melton stepping down this year, Democrats Albert Reagan and Kim Coggins Poteet will face off in a primary race that will determine the next person to hold that seat. Shandra Sims will run unopposed for the Register of Deeds seat. She has held that position in November, when she was appointed following the retirement of longtime incumbent Joe Hamilton.
Like Hall, Macon County Republican Sheriff Robbie Holland won't seek another term, and five Republicans – Bob Cook, Dereck Jones, Chris Browning, Brent Holbrooks and Clay Bryson – have lined up in hopes of securing the nomination. Since no Democrats have filed for the seat, whoever emerges from the Primary Election will succeed Holland.
There's a Clerk of Superior Court race in Macon County this year, as well. Incumbent Democrat Vic Perry didn't file, but Democrat Dinah Mashburn did. Mashburn will see one of three Republicans on the ballot in November, either Justin Stamey, Shawna Lamb or Mike Trammel.
Three Macon County Board of Commissioners seats in two districts are up, including those of Democrat Ronnie Beale and Republican Gary Shields.
Both Beale and Shields represent District 2, and voters can select two candidates from their party in the Primary Election for advancement to the General Election.
Betty Cloer Wallace was the only other Democrat to enter the District 2 race, so she and Beale will advance to the General Election automatically.
Shields will face Richard Lightner, Danny Antoine, Danny Reitmeier and Gregg Jones. The top two will then face Beale and Wallace in November, with voters again choosing two candidates of any party.
The other seat, for District 1, is currently occupied by Republican Jim Tate, who didn't file for reelection. No Democrats are running, so the Primary Election will decide if Don Willis or John Shearl will take his place.
As with Macon County, Swain County voters will have to choose a chair for the Board of Commissioners, either incumbent Democrat Ben Bushyhead or Republican Kevin Seagle, who is currently a commissioner.
Two seats on the commission are up, and like Macon County, voters can choose two candidates from their party in the Primary Election, and then two candidates from either party in the General Election.
Deborah Smith was the only Democrat to run, so she'll advance through the Primary Election.
Republicans Isaac Herrin, Donna Cole, David Loftis and Phillip Carson will compete for the top two slots, and then face Smith in the General Election.
Swain County Sheriff Curtis Cochran, a Republican, is seeking reelection and will face Doug "Tank" Anthony, a Democrat, in November.
Most counties in Western North Carolina will also feature races for school board.
The Primary Election takes place on Tuesday, May 17, but voting begins much sooner than that. For those who've requested them, absentee ballots will begin appearing in mailboxes shortly after Monday, March 28.
The deadline to register to vote in North Carolina or to change party registration is April 22.
In-person early voting begins on April 28 and ends on May 14. Hours and days may vary by county.
If no candidates garner more than 30% of the vote in any election, then the top two candidates will enter a runoff.
The runoff for state and local races will be held on Tuesday, July 5.
The runoff for federal races will be held on Tuesday, July 26.
For more information on voter registration, candidates, voting locations or anything else related to the 2022 elections, call or visit your county board of elections, or visit the North Carolina State Board of Elections website, ncsbe.gov .