Archived News
Incumbents carry Canton
Wednesday, November 03, 2021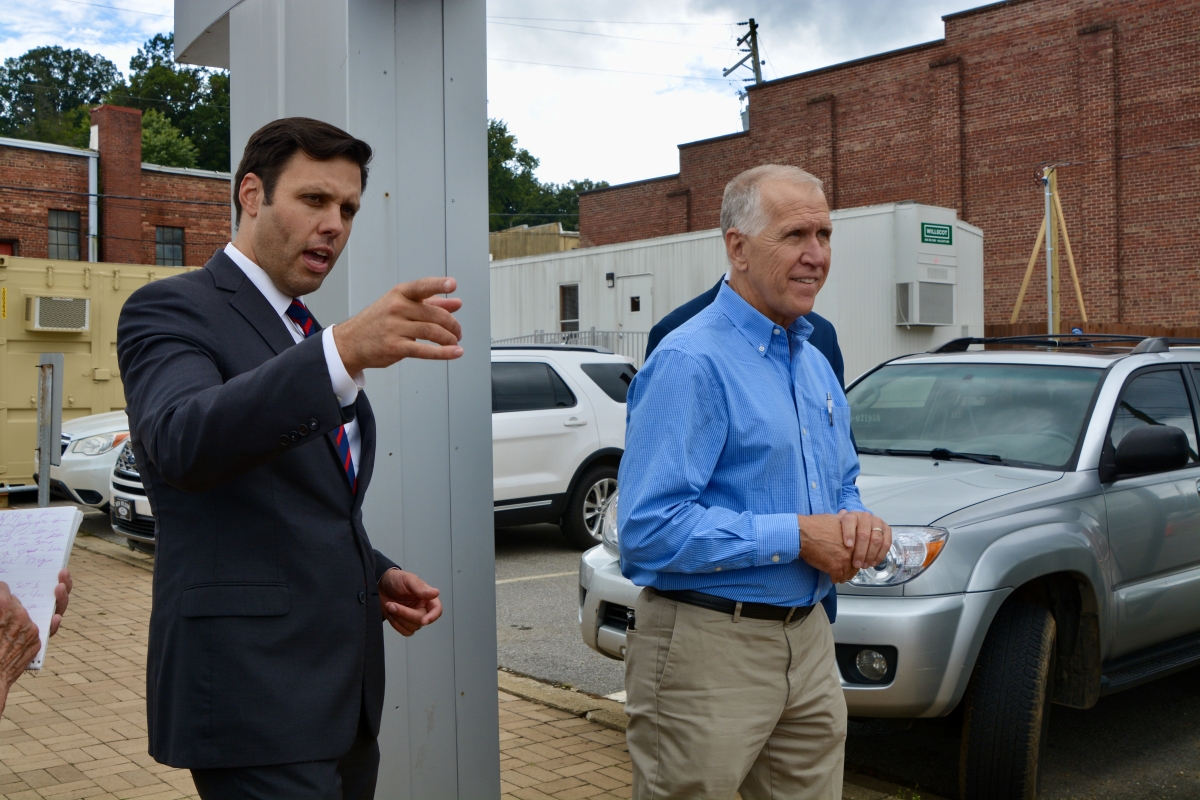 Canton Mayor Zeb Smathers (left) leads Sen. Thom Tillis through Canton, touring the damage caused by deadly flooding this past August.
Cory Vaillancourt photo
The mountain mill town known for its downtown rejuvenation as well as its " grit and grace " in the face of tragedy may still be recovering from the raging floodwaters of the Pigeon River, but on Nov. 2, voters night kept the town government on solid ground.
"It feels good to have this over, and Kristina and Tim and I look forward to getting back to work," said Canton Mayor Zeb Smathers.
Smathers will go on to serve another four-year term as Canton's mayor after winning his second unopposed election. In 2017, then-Alderman Smathers garnered 294 votes while outgoing Mayor Mike Ray, who didn't file to run, received 60 write-in votes. This year, Smathers fell short of that total with 157 votes in a contest with markedly lower turnout. There were also 19 write-in votes.
That same election year, Kristina Smith led a four-way contest by a large margin and came away with 270 votes. James Markey came in second, but resigned midway through his term due to a change in residency. Shepard won a special election to serve out the remainder of Markey's term.
This year, Shepard topped the list with 137 votes. Smith was close, with 126.
Challenger Matt Langston, a music producer and relatively new resident of Canton, came away with 49 votes.
Langston, Shepard, Smathers and Smith all filed to run for office in July. When they did so, they couldn't have known that deadly flooding along the Pigeon River would drastically alter the agenda , and thrust them into a largely unfamiliar world of federal and state disaster declarations.
Since the Aug. 17 deluge that killed six and flooded parts of Bethel, Canton, Cruso and Clyde, Smathers, Shepard and Smith — along with incumbents Dr. Ralph Hamlett and Mayor Pro Temp Gail Mull — have led recovery efforts. Voters recognized that, but now they'll all be faced with some tough decisions about how to proceed after their downtown took on four feet of water for the second time in less than two decades.
Results are unofficial.