Archived News
Candidates file for municipal seats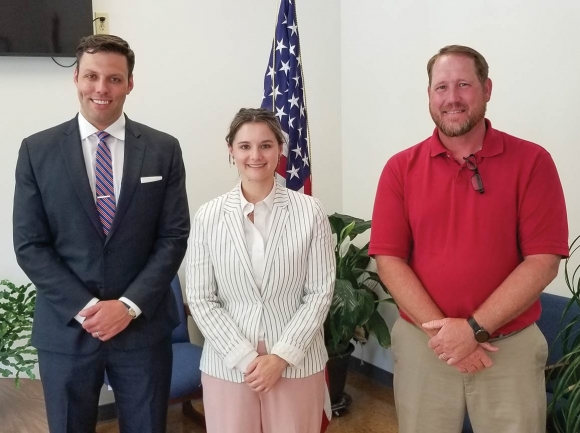 Candidates sign up to run in Canton. Pictured from left are Canton Mayor Zeb Smathers, Alderwoman Kristina Smith and Alderman Tim Shepard. Donated photo
The filing period for candidates seeking municipal governing board seats in November began at noon on Friday, July 2, with several challengers and incumbents already declaring their candidacies.
In Haywood County, elections will be held in Canton, Clyde and Maggie Valley.
Canton Mayor Zeb Smathers and Alderwoman Kristina Smith both filed on July 2, seeking reelection. Alderman Tim Shepard, who was appointed to fill the seat of Alderman James Markey after Markey changed his residency midway through his term, also filed for what will be his first full four-year term if he wins.
Maggie Valley resident John Hinton also filed for a seat on the board of aldermen, but as of press time on July 6, no other candidates had filed in any other Haywood races. Two seats are up for re-election and those seats are currently held by Twinkle Patel and Clayton Davis.
A total of 16 municipal seats are up for election in Jackson County, but as of press time only two people had filed to run. Incumbent Sylva Mayor Lynda Sossamon and incumbent Sylva Commissioner Barbara Hamilton are seeking re-election to their existing seats.
The open seats include the mayoral office for all four incorporated towns and all five aldermanic seats in Dillsboro. In Sylva, the board seats held by Hamilton and Mary Gelbaugh are up for election, as are the Webster board seats held by Leigh Anne Young, Allan Grant and Danell Moses. In Forest Hills the seats held by Ron Yount and Jerry Rice will be on the ballot.
In Macon and Jackson counties, Patrick Taylor hopes to be re-elected mayor of Highlands, and Thomas Craig will seek a seat on the Highlands Board of Commissioners.
The Town of Franklin will be getting a new mayor as well as a new town manager this year. Mayor Bob Scott, who has served four consecutive two-year terms as mayor after serving on the town council, will not be seeking another term in office.
"Most politicians bow out saying 'to spend more time with family,' which is code for getting out before an indictment or a scandal breaks. Not me. I am just too darn old. Franklin needs a new mayor," Scott wrote in a resignation-type letter to the editor.
So far, Jack Horton is the only candidate who has signed up to run for mayor. Horton, 70, is currently serving his first term as a Franklin Town Councilmember, but he's no stranger to local government. He served as the manager of Macon County from 1985-1991 and from 2008-2013 and as Haywood County's manager in between.
"I would have run again, but Council Member Jack Horton has filed to run for mayor. Jack is qualified and well known across the state. I can leave knowing that if elected, Franklin will be in good hands with Jack," Scott wrote in his letter.
Councilmember David Culpepper's seat on the board is up for re-election, but he has not yet signed up to run for another term.
The town board seat left vacant by the death of Councilmember Barbara McRae will also need to be filled this year. No one has signed up to run for the open seat yet.
The Town of Bryson City also has two board position up for election. The seats are currently being held by Ben King and Janine Crisp. King, co-owner of Bryson City Outdoors, is completing his first term on the board while Crisp is finishing up her second term. Neither had signed up to run for another term as of press time Tuesday.
Western North Carolina's General Elections will take place on Tuesday, Nov. 2. Voters must be registered 25 days before the election in order to vote. The candidate filing period ends at noon on Friday, July 16. For up-to-the-minute updates on candidate filings, or to register to vote, visit www.ncsbe.org.
— Staff reports